Why waste your money or counter space on a coffee maker that's just too big? It's always better to enjoy your coffee fresh, and for small households or single coffee drinkers, that often means getting one of the best 4-cup coffee makers instead of a single-serve machine or a 12-cup monstrosity. 
Whatever your budget, there's definitely a 4-cup coffee maker that will fit your needs. Whether you want the best cup of coffee of your life or just a decent cup of joe, you'll find something that fits your needs in this list of drip coffee makers, French presses, Moka pots, and more!
Quick Take: Best 4-Cup Coffee Makers
Why Buy a 4-Cup Coffee Maker?
For the typical coffee lover, 4-cup coffee makers are the sweet spot between single-serve coffee machines and full-carafe (8–12 cup) coffee makers. 
Larger coffee makers are incredibly convenient for big families or offices, but they are more expensive and don't work well for smaller families or individual coffee drinkers. You can sometimes make just a few cups of coffee with a 12-cup coffee maker, but they often have a minimum brew size of about 6 cups.
Keeping coffee on a hot plate too long can burn it and reheating changes the flavor, so you don't want to brew a big batch if you aren't going to drink it quickly. 4-cup coffee makers let you enjoy your brew while it is still maximally fresh. No more worries about leftover coffee!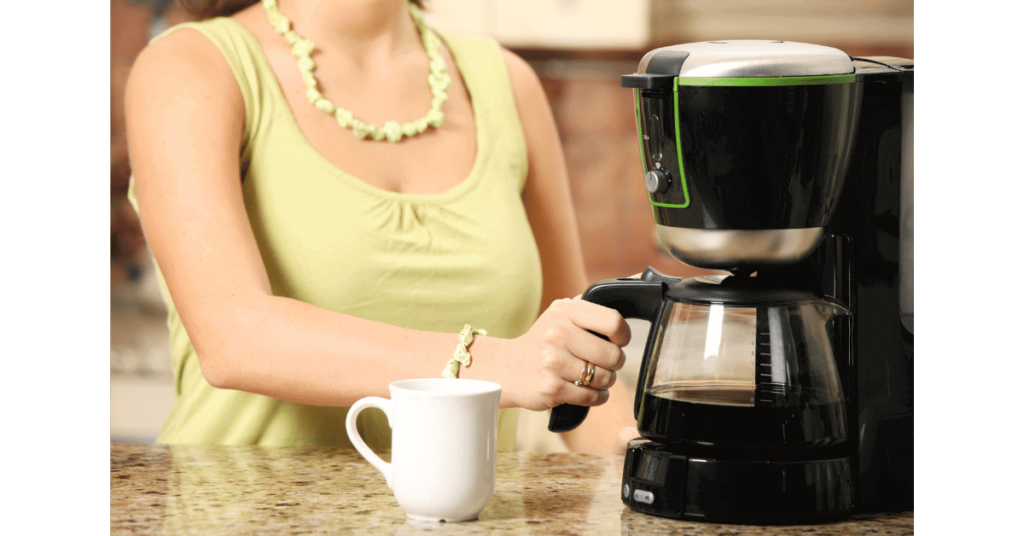 With a 4-cup coffee maker, you can typically make as little as 1–2 cups of coffee at a time. That makes them an excellent alternative to single-serve coffee makers. Unlike single-serve machines, they also allow you to brew enough coffee for guests without waiting for multiple batches of coffee to brew.
Of course, 4-cup machines aren't the smallest coffee makers, but they take up much less space than 12-cup carafe machines. And the other leading alternative for brewing both small and large batches — a dual coffee maker — takes up much more counter space and is much more expensive.
Best 4-Cup Coffee Makers
Best 4-cup coffee maker: Cuisinart DCC-450BK 4-cup coffee maker
Unless you drink all of your drip coffee immediately, you need a thermal carafe. These alternatives to cheaper glass carafes keep your coffee hot longer without keeping them on a hot plate. Your hot coffee stays fresh for hours without developing a burnt flavor or wasting extra electricity.
This Cuisinart is one of the cheapest coffee makers that offers a stainless-steel thermal carafe. That's a feature you'd typically see on more premium options like the best Ninja coffee makers. You'll rarely see a thermal carafe on a coffer maker under $100.
Cuisinart's carafe is designed to be easy to pour. The spout uses a dripless-pour design, and the knuckle guard keeps you from burning your fingers on the hot pot of coffee.
The indicator light makes it easy to see whether your coffee maker is running, and the machine has an auto-off feature that kicks in after 30 minutes. There's also a brew-pause feature that pauses the brew cycle if you remove the carafe to grab that first sweet cup of joe.
Cuisinart's coffee maker easily fits most countertops with a size of just 10 x 8 x 5.25 inches.
Between the features, the price, the compact design, and especially the thermal carafe, Cuisinart easily took the top spot on this list. It's not the most powerful or versatile 4-cup coffee maker, but no other drip coffee maker offers even close to the same value for this price and size.
5-cups is small enough for this list, right? I hope so because the Bonavita is just too good not to mention. It's more expensive than the Cuisinart, but it's worth every penny.
To start with, this is the only automatic pour-over coffee maker that made the list. If you aren't familiar with this class of machines, think of them as next-gen auto-drip coffee makers.
That old coffee machine on your counter is pretty much the same as the ones they sold in the 1970s. Sure, it has cool new features. Maybe it's even a smart coffee maker. But internally, it's making coffee the same way it has for 50 years. And our understanding of coffee brewing has improved a lot in that time.
Automatic pour-over coffee makers like the Bonavita take all that new knowledge and incorporate it into the same easy-to-use structure as classic coffee makers. Think of it like having a professional barista making a pour-over coffee right in your kitchen.
The Bonavita precisely controls the brew temperature in the ideal range of 195–205 degrees Fahrenheit. It also has a pre-infusion mode that saturates and degasses the grounds before brewing coffee. The water passes through a special, wide showerhead that ensures all of the grounds are evenly extracted, so you don't get the bitter or sour notes that come from over- or under-extraction.
These are the same steps that professionals do manually, but the machine does it all for you. With that kind of optimal coffee extraction, you won't find more delicious coffee outside of a coffee shop.
Once the coffee is brewed, it can be kept warm for hours in the stainless-steel carafe. After all, you wouldn't want a hot plate or microwave to ruin your perfectly crafted cup of coffee. A thermal carafe is a must-have for coffee of this caliber.
Best Budget coffee maker: Mr. Coffee 4-cup coffee maker
Coffee lovers of all budgets are welcome here. When it comes to budget 4-cup coffee makers, Mr. Coffee is really the only brand you need to know. Their machines are simple and reliable, and they offer them at ridiculously low prices. 
This coffee maker has only a single switch with an on/off indicator light, making operation a breeze. It isn't programmable, but it does have an auto-pause function that lets you grab a cup before the brewing cycle is complete.
At just 1.6 pounds, this may be the lightest and most compact machine you'll find. It also features a removable filter basket for easy cleaning and water gauge windows on both sides for easy viewing when filling the tank.
Best programmable coffee maker: Capresso 5-cup mini drip coffee maker
There's nothing better than waking up to the smell of freshly brewed coffee. Capresso's programmable coffee maker allows you to schedule the brew start up to 24 hours in advance. That way, you can add the grounds and water before going to bed and have the coffee brew at the same time as your alarm goes off.
The machine is easy to use, with a digital clock that doubles as the delay timer display. There's an on/off indicator light, so you know whether it has started brewing. It also has all of the great features you'd expect from a quality drip coffee maker, including a brew-pause function and 2-hour keep-warm.
Best 4-cup French press: Frieling USA double-walled stainless-steel French press
French press coffee has a lot of fans, but it also has a lot of haters. Some people thoroughly enjoy the full-bodied, rich coffee that you get from a French press.
Many of the complaints about French presses, like sediment getting into the coffee, are actually caused by the use of low-quality coffee makers. A good French press should eliminate those issues and even makes excellent French press espresso and French press cold brew.
I have never come across a French press that can beat the Frieling. Its double-walled stainless-steel body locks in heat, ensuring that you have fresh coffee for a very long time after brewing. There are no plastic parts, so you don't need to worry about anything dangerous leaching into your cup. The design is beautiful and incredibly durable. It's even 100% dishwasher safe!
The best part about the Frieling, though, is the filter — or should I say filters. It uses a dual-screen filtering system to eliminate any sediment while still maintaining all the flavors and textures that make French press coffee unique. 
Best stovetop coffee maker: Bialetti New Brikka 4-cup Moka pot
Moka pots, or stovetop espresso makers, are great ways to brew rich, flavorful coffee for small groups. Traditional espresso machines make 1–2 shots of espresso at a time, but you can buy Moka pots that can make anywhere from 1—12 servings of coffee at a time.
Bialetti is the name in Moka pots; nobody else comes close to their quality. The Brikka is one of their better models, able to produce an even more flavorful coffee with a rich crema (that layer of foam on top of espresso).
The only caveat is that Moka pots don't have the full pressure of an espresso machine, so they can't make real espresso. Instead, you'll be getting a concentrated coffee. That's fine for Americanos, lattes, and cappuccinos, but hardcore espresso fans will likely prefer a regular espresso machine.
Gastrorag 4 Cup Electric Coffee Percolator
Stovetop percolators were the classic coffee machine, predating even drip coffee makers. However, they were harder to use, and it was very easy to accidentally brew bitter coffee. Electric percolators like this one offer a simplified alternative to stovetop models, giving you the deep flavor of percolated coffee with none of the hassle.
Once the brewing process is complete, Gastrorag's percolator automatically switches to a gentler keep-warm mode. There's even a handy indicator light to let you know when you have coffee ready to drink.
The entire interior is made of stainless steel, with no plastic elements that come into contact with the coffee. There's a permanent filter basket, so you don't need to buy paper filters. The basket and the stem are both dishwasher safe, so the cleanup process is very easy.
Capresso 303.01 4-Cup Espresso and Cappuccino Machine
Let me preface this by saying that there are far better ways to make espresso. There are even better espresso machines under $200. 4-cup espresso machines are steam machines, which — much like Moka pots — don't produce enough pressure to brew real espresso.
That being said, you'll still get a deeper, richer coffee from these machines than you would from a drip coffee maker. And with the built-in milk frother, you can also make lattes and cappuccinos without any extra equipment.
Bayka Double-Walled French Press Coffee Maker
Most budget French presses are made of poorly insulated glass. My favorite thing about Bayka is that they introduced a double-walled stainless steel French press that is no more expensive than a glass model. The added durability is great, but the big advantage is that it keeps your coffee warm for far longer than other budget French presses.
Their 4-level filtration system reduces the sediment in your cup. The filter is also made of stainless steel, so it's durable and rust-resistant. Even the handle is made of steel, but the build and insulation ensure that it stays cool to the touch. 
Takeya Deluxe Cold Brew Coffee Maker
Cold brew coffee is experiencing a resurgence recently thanks to nitro cold brew. Many coffee fans have already experienced the deliciously mellow, low-acid coffee taste of cold brew. Sure, it takes 12–24 hours to make this coffee, but the process is so incredibly easy.
You can make cold brew in a mason jar, but cold brew pitchers like this one are very cheap and eliminate the need to worry about filtering your cold brew. It takes an already simple process and makes it even easier.
Zojirushi EC-DAC50 Zutto 5-Cup Drip Coffeemaker
At first glance, this is just a regular drip coffee maker, albeit with a rather unique design. But when you look closer, Zojirushi's coffee maker has a few really cool features. 
First, it has a removable water reservoir, something that you typically only see in some Keurig models, Nespresso machines, and other single-serve coffee makers. That means no lugging a water pitcher over to fill it up, and it also makes cleaning your coffee maker much easier.
The water tank contains a charcoal water filter. If you use tap water to make your coffee, you'll immediately notice the difference in flavor from this little change. Even if you are using filtered water already, it doesn't hurt to have this extra precaution in place. The filter lasts two years, so you rarely have to worry about finding a replacement.
This machine uses conical coffee filters instead of the basket filters used by most drip coffee makers. Conical filters bring out some of the more citrusy, sour, or berry notes from coffee. That can be a nice change of pace from your typical drip coffee.
Zojirushi's coffee maker also has a few standard features like the automatic keep-warm function. The machine is covered by a 1-year limited warranty, which offers some great peace of mind.
BLACK+DECKER 5-Cup Coffeemaker DCM600B
This Black and Decker coffee maker was built with two goals in mind: simplicity and durability. The reinforced Duralite glass carafe offers more stability than most glass carafes, but it still isn't quite as solid as a thermal carafe. The machine is operated by a single on/off switch, which couldn't be easier to figure out.
One of my favorite things about this machine is that it features two sets of cup markers. One side tells you how much water to add, and the other tells you how much coffee that will make. It's hard to find a more intuitive setup than that.
Hamilton Beach 48136 5-Cup Switch Coffee Maker
Almost any switch-operated coffee maker can be turned into a voice-controlled coffee maker with a smart switch. Hamilton Beach went the extra mile, though, and tested this machine to ensure that it was smart switch-compatible.
Beyond that bonus, you are basically getting the typical features like pause-and-serve with this simple coffee maker.
Frequently Asked Questions
Final Verdict
Gigantic coffee makers are great, but there's a lot of convenience to be gained from a 4-cup coffee maker. Whether you are a moderate solo coffee drinker or looking to share a morning cup of joe with your roommates, these machines offer the perfect alternative to 12-cup coffee makers and single-serve machines.
Once you have your new machine, you should consider getting a new coffee grinder and learning how to grind coffee beans. That's a great way to enjoy the freshest, most delicious brew and avoid bitter coffee. After all, it would be a shame if your new coffee maker wasn't producing the best brews possible.