This post may contain affiliate links. Please read my disclosure for more info.
---
It's hard to beat the quality of pour-over coffee, but who has the time and energy to make it first thing in the morning? Wouldn't it be cool if you could just walk into your kitchen, hit a button, and have a pour-over made for you?
No, I'm not talking about a personal barista. I'm talking about the best automatic pour-over coffee makers for your personalized coffee experience. I'm not saying that coffee drinkers don't deserve our own personal baristas, but delicious coffee will have to be enough for now.
Quick Answer: Best Automatic Pour-over Coffee Makers
| | Image | Product | |
| --- | --- | --- | --- |
| Best automatic pour-over coffee maker | | OXO Brew 9 Cup Stainless Steel Coffee Maker,Silver, Black | Check price |
| Best premium automatic pour-over machine | | Technivorm Moccamaster 79112 KBT Coffee Brewer, 40 oz, Polished Silver | Check price |
| Most customizable automatic pour-over coffee maker | | Breville Precision Brewer Thermal Coffee Maker, 60 oz. Brushed Stainless Steel, BDC450BSS | Check price |
| Best single-serve automatic pour-over maker | | OXO Brew 8 Cup Coffee Maker, Stainless Steel | Check price |
| Best budget automatic pour-over coffee maker | | Bonavita Connoisseur 8 Cup Drip Coffee Maker Machine, One-Touch Pour Over Brewer w/Thermal Carafe, Hanging Filter Basket, SCA Certified, 1500 Watt, BPA Free, Stainless Steel, BV1901TS | Check price |
What Is an Automatic Pour-Over Coffee Maker?
An Automatic pour-over coffee maker is a premium type of drip coffee maker. Most drip coffee makers dump water over the grounds in a steady stream and let gravity take care of the rest. These machines haven't advanced terribly far since the first drip coffee makers were introduced in the 1970s.
Sure, many of them have more bells and whistles, but that's not enough. Our understanding of how temperature, pour rate, and other factors impact coffee brewing has come a long way in the last 50 years.
Automatic pour-over machines are built to mimic the way that a barista makes a pour-over coffee. They control the rate of water flow and the water temperature to brew the ideal cup of coffee, something that the average drip coffee maker could never hope to accomplish.
Automatic Pour-Over vs Manual Pour-Over Coffee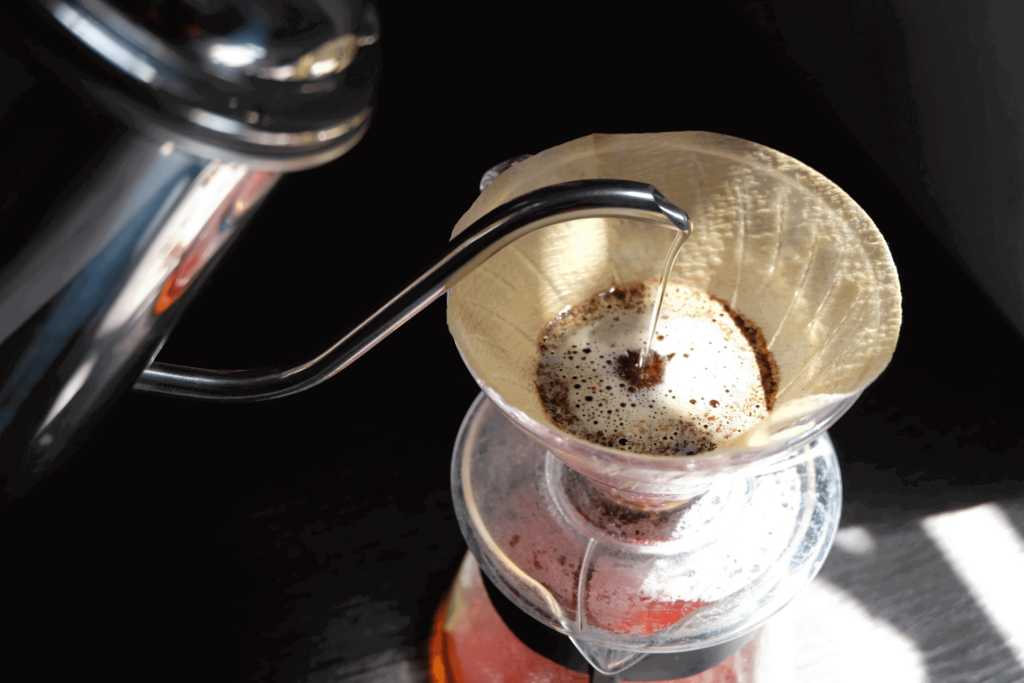 Coffee experts swear by their pour-overs. They have their favorite equipment, their favorite techniques, and they know exactly how to account for the unique characteristics of each batch of coffee grounds.
The thing is, that process takes a lot of expertise to master and each brew takes several minutes of devoted effort. Most of us simply don't have that kind of time or energy to spare in our morning routines. 
A pour-over aficionado can certainly make a better manual brew than you'd ever get from an automatic pour-over coffee machine. For the rest of us, though, these machines are a welcome improvement in quality over the coffee we've had in the past.
Keep working on your technique and learning about bloom times, optimal temperatures, etc. — but enjoy the advantages of modern coffee technology along the way. 
Best Automatic Pour Over Coffee Makers
Best automatic pour-over coffee maker: Oxo Brew 9-cup coffee maker
BetterBrew Precision Brewing controls water temperature and optimizes brew cycles for rich, flavorful coffee – whether you're making two cups or a full pot
Fully programmable and easy to use, a single dial lets you choose cups, program the time and set the automatic wake-up timer
Temperature-controlled brewing keeps the water between 197.6–204.8°F /92-96°C – the ideal range for drip coffee
Rainmaker shower head evenly disperses water over coffee grounds for better flavor extraction
Internal mixing tube ensures your last sip is as delicious as your first
Voltage is 120V/60Hz
Pause and pour feature lets you grab a quick cup before brewing is complete
Double-wall stainless steel thermal carafe keeps coffee piping hot; freshness timer shows freshness at a glance
Certified by the SCA (Specialty Coffee Association) for gold-standard home brewing
Okay, I'm slightly biased by my love for Oxo's excellent coffee grinder, but I'm not the only one that loves their pour-over machine — its quality has earned it the distinction of a Specialty Coffee Association (SCA) certification.
Uneven water dispersal is a huge flaw in most drip coffee makers, resulting in over-extraction of some sections of the grounds and under-extraction of others., but the Oxo's rainmaker shower head is built to evenly distribute water across the grounds, ensuring the perfect extraction levels. 
The machine is controlled by a microprocessor that is tuned to recreate the entire pour-over process, including strictly maintaining the water temperature between 197.6 and 204.8 degrees Fahrenheit. 
Its LED interface and intuitive dial make the machine incredibly easy to use. The display even shows a coffee freshness indicator.
Once the brewing process is complete, the double-walled stainless steel thermal carafe will keep your coffee hot for hours without worrying about a reheat ruining your perfect brew.
The Oxo has a capacity of 9 cups and it can brew 2-9 cups in a single run. It's fully programmable, so you can set your brew up to 24 hours in advance.
Note: 1)Too coarse a grind, too little coffee, or insufficiently tamping the grounds before brewing can all lead to inadequate pressure for a proper brew. 2)It is important to note that the amount of espresso extracted will vary depending on the grind size and amount and reprogramming may be needed when the size and amount are adjusted
The top coffee maker choice of coffee brewing experts
Easy use, one button Operation and 4-6 minute brew time for 40 oz. of Coffee
Manual adjust brew basket allows you to customize your Coffee
This Coffee maker features a stainless steel thermal carafe to keep Coffee hot longer. Sturdy, durable, and well-made construction
Backed by a 5-year Warranty
Technivorm's machines have a certain industrial look to them that just makes you think of rugged dependability, and the machines deliver on that promise.
The KBT features a thermal stainless-steel carafe that can easily keep coffee warm for an hour without reheating. It even comes with a travel lid which extends that keep-warm time to multiple hours.
The glass tube and copper boiling element maintains a strict brewing temperature between 196 and 205 degrees Fahrenheit.
From there, the cone-shaped basket regulates the 6-minute steep time to ensure the perfect coffee extraction every time. Although the manual-adjust, drip-stop brew-basket does allow you three settings for adjusting how quickly coffee flows into the carafe.
You can brew 10 cups of coffee (each 4-ounces) at once with the KBT, and it automatically shuts off after the brew cycle is complete.
Most customizable automatic pour-over coffee maker: Breville Precision Brewer thermal coffee maker
Please refer to user guide or user manual or user guide (provided below in PDF) before first use
Breville's machine has a ridiculous amount of customizability, but they didn't skimp on quality either. In the Gold Cup preset mode, it delivers coffee that meets SCA standards, with water temperatures between 197 and 204 degrees Fahrenheit.
The real fun of this machine comes when you are ready to start dialing in your ideal brew. You can customize the bloom time, brew temperature, and choose between three flow rates to make a cup of coffee perfectly suited to your tastes and your favorite coffee beans. All of this is readily accessible from the LCD screen and easy-to-use dial.
Precise digital temperature control (PID) is usually reserved for espresso machines, but that didn't stop Breville from including it in this pour-over maker. They've also included both flat bottom and cone filter baskets, making this one of the few machines that lets you truly sample the full range of automatic pour-over options.
If you don't want to get too custom, 5 of the 6 preset modes offer excellent defaults for quality coffee: gold cup, fast, strong, iced, and cold brew. The 6th is reserved for your favorite brew settings, which I'm sure you'll want to keep around to show off your coffee prowess.
This machine makes up to 60 ounces of coffee, and the stainless-steel thermal carafe keeps your coffee hot for long periods without reheating.
Best single-serve automatic pour-over maker: Oxo Brew 8-cup coffee maker
Gold-standard coffee certified by the Specialty Coffee Association (SCA). Brew by the cup or the carafe.
Single-serve capability with optional brew basket accessory optimizes flavor
BetterBrew precision controls water temperature and brew cycles; meeting the Specialty Coffee Association's Golden Cup standard
Rainmaker shower head evenly distributes water over grounds
Double-wall, vacuum-insulated thermal carafe with brew-through, pour-through carafe lid
Removable well cover elevates short mugs or makes room for tall mugs
Features convenient cleaning mode
Sized to fit under cabinets
Includes 10 paper coffee filters and a coffee scoop
This machine has much of what I love about the 9-cup Oxo model I described above: the rainmaker showerhead that evenly coats the grounds, the thermal carafe, and the SCA certification.
This model sacrifices the digital display and 9-cup capacity, but in doing so it adds a brew mode that allows you to brew a single cup at a time, either a regular-sized mug or a larger travel mug. If you don't need to brew single cups, I'd still recommend the 9-cup model, but this one is a much better replacement for Keurigs and other single-cup coffee makers.
SPECIALTY COFFEE AT HOME: Bonavita's Connoisseur coffee maker brews a full carafe in about 6 minutes; The artisan café style brewer has a compact design and is great for coffee lovers to use in their kitchen or office
AWARD WINNING RESULTS: Golden Cup Standard Coffee Machine is curated with features to mimic the artisan pour-over brewing method; Hanging flat bottom filter basket leaves less mess and large showerhead creates perfect flavor for cafe quality coffee
BETTER FLAVOR, FAST: Powerful 1500W heater maintains professional recommended brewing temp of 198°-205°F (91°-96°C) for optimal flavor extraction; Stainless steel thermal carafe is durable and double-walled to keep coffee's ideal temperature longer
TASTE THE DIFFERENCE: Showerhead and filter basket work in harmony to evenly saturate coffee grounds for uniform flavor extraction; Optional Pre-Infusion Mode allows fresh roasted coffee to bloom before brewing to enhance its flavor
BREW WITH BONAVITA: Our coffee brewers and kettles create enriching and delicious coffee experiences without fuss; As your trusted home barista, our appliances are designed to fit with all kitchen decors and deliver great brews all day, every day – cup after cup!
Yep, it's another SCA-certified machine, but this one delivers that certification at a more affordable price with a lot of value for the dollar.
Courtesy of its 1500-watt heater, Bonavita's coffee maker is able to brew eight cups of coffee in about 6 minutes, all while maintaining the water temperature between 198 and 205 degrees Fahrenheit.
This machine also introduces a pre-infusion mode that adds a pause before the rest of the process to mimic the coffee bloom step in a manual pour-over. Combine this with the extra-wide showerhead that is designed to uniformly coat the grounds, and you get an excellent pot of coffee every single time.
The Bonavita also features a stainless-steel thermal carafe and automatic shut-off with a 40-minute keep-warm timer.
Although Bonavita's older model, the BV1900, had a larger carafe, I recommend sticking with the newer model for two reasons. First, the thermal carafe holds heat much better at this size. Second, They've added an audible signal for when the filter basket is finished draining, so you'll easily be able to tell when it's safe to grab your coffee.
Cuisinart CPO-850 coffee brewer
SCAA Certified - meets the Specialty Coffee Association of America's rigorous technical requirements for exemplary home brewers
Flavor strength control - mild, medium, bold
Temperature control - hot, extra hot
Dimensions: 14.5x13.75x9.5 inch (WxHxD), Unit Weight: 10.2 pounds
capacity: 64 oz, 8 cup carafe
This is another SCA-certified machine, which should immediately give you an idea of its quality.
It does offer significantly more customizability than some of the others on the list. You get three brew strength options — mild, medium, and bold — and two temperature control settings — hot and extra hot.
The Cuisinart includes a pre-wetting phase to allow the coffee to bloom before the primary brewing period, an important step toward recreating real pour-over flavor. 
This model comes with a thermal carafe. you could opt to save a few dollars by switching to glass, but I wouldn't recommend it.
They've also included all of the typical features you'd expect from a normal drip coffee maker — auto-in, adjustable auto-off, brew pause, self-clean, and 24-hour programmable timer. It's everything you'd want from an automatic pour-over coffee maker combined with everything you'd expect from a drip coffee maker, all at a very reasonable price. 
Redline MK1 Coffee Brewer
If you want a cheap automatic pour-over that delivers quality without all the bells, Redline has delivered just that.
While they skimped on many features, the MK1 does have a pre-infusion mode to mimic the blooming process. This already makes it better than standard drip coffee makers, especially those in the same price range.
There really aren't any other exciting add-ons to mention here, but the machine delivers water in the 195-205 degree Fahrenheit temperature range needed for an ideal brew and it brews a pot of coffee in about 6 minutes.
My main complaint: no thermal carafe. It's also not programmable, but since it uses a manual switch you may be able to turn it into a smart coffee maker by using a smart plug.
Brim 8-Cup Auto Pour Over Coffee Maker
MASTER THE POUR OVER ARTISTRY: Elevate your morning ritual with brim's elegant 8-cup coffee machines. Brew the perfect barista-style cup right at home as the pour-over shower head evenly saturates grounds, unlocking deep flavors and enticing aromas
TIME-SAVING AUTO SHUTOFF: Never rush your coffee again! Our smart coffee maker boasts a 30-minute auto shutoff, ensuring you savor every sip without worry. Enjoy leisurely mornings with easy one-touch operation and forget the frantic double-checking
BLOOMING FLAVOR, IDEAL TEMPERATURE: Unleash coffee's full potential and intense body. The pour-over method allows your grounds to bloom, creating layers of flavor. Coupled with our perfect brew temperature, each cup becomes a symphony of taste
TIMELESS DESIGN: Crafted for both form and function, our coffee machine features a cool-touch silicone sleeve to avoid accidental burns during those sleepy mornings. The sleek, sophisticated design makes the coffee pot shine on any countertop
EXPERT TOUCH: The box includes a measuring scoop for perfect portions and a permanent stainless steel filter. Say goodbye to paper filters and hello to easy cleaning. It's a gift-ready delight that brews sustainably, enhancing every coffee moment
There's nothing wrong with a little vanity. If that means that you don't want to be serving your automatic pour-over coffee out of a regular carafe, then Brim is the way to go. Personally, I'm not a fan of it's chemex-inpsired carafe because it's not thermal, it's hard to pour from, and it's hard to clean — but it certainly does give the pour-over vibe.
The quality of the coffee is great straight out of the box, which is a good thing because there are no customization options here. Brim's machine is about as no-frills as it gets.
Brim uses pulse brewing, a blooming cycle, and a strict temperature control between 197.6 and 204.8 degrees to achieve a consistently good brew in about 5 minutes. After that, it keeps the coffee warm at 176 degrees for 30 minutes before the auto-shut-off kicks in. 
KitchenAid KCM0802MS Pour-Over Coffee Brewer
Re-create every step of the pour-over method at the touch of a button with an advanced electronic brewer that brews a flavorful and rich, full bodied coffee
Meets the Gold Cup standards of the Specialty Coffee Association of America (SCAA)
Carefully timed and calibrated release of the water evenly saturates the grounds to extract every nuance of coffee flavor and aroma
Heats water to optimal brewing temperature of a precise 200 degrees Fahrenheit and has pre-infusion cycle
Other features include Medium and Dark Roast settings, cup selector and easy-to-read digital display
KitchenAid's automated pour-over system has a pre-infusion phase and temperature control, resulting in excellent quality coffee.
It can brew 2,4,6 or 8 cups at a time, and the digital display makes it easy to set up. It even has separate brew settings to optimize for medium or dark roasts. Sadly, it has a glass carafe, not a thermal one.
Frequently Asked Questions
What coffee beans should I use with an automatic pour-over coffee maker?
You can use any beans you want, but lighter roasts or more floral, fruity flavors will really come alive in these machines. I'd recommend trying single-origin Costa Rican coffee beans and Ethiopian coffee beans as starting points, but you really can't go wrong with using any high-quality beans in these machines.
What grind size should I use with an automatic pour-over coffee maker?
A medium grind is usually ideal for brewing coffee in these machines. Play around with the grind (within reason) though, as the type of beans you are using and your own personal preferences can certainly have an impact on exactly what grind is the best. Most importantly, make sure you grind your own coffee beans, as the freshness of the ground coffee matters just as much — if not more — than the quality of the brew.
Are automated pour-over coffee makers harder to use than regular drip coffee makers?
Nope! You just fill the water reservoir, add the grounds, and let them go. The entire brewing process — from setting the optimal brewing temperature to pre-infusion blooming to controlling the flow rate — are all taken care of by the automatic machine. Some have different brewing modes, but that's true of some drip coffee makers too.
Final Verdict
What do we want?
The simplicity of a regular drip coffee machine with the method, perfect temperature, and optimal extraction of a manual pour-over.
When do we want it?
Now! (After 5-7 minutes of brewing time!)
Okay, so I'm not great at chants, but you get the point. Automatic coffee makers should provide high-quality coffee, and that's what you'll get with these machines.