AeroPress coffee is already amazing, but did you know that you can make it even better?
If you are still using a blade grinder — or, worse, buying pre-ground coffee — you are missing out on the true potential of your favorite coffee maker. Grinding your own coffee with one of the best Aeropress grinders gives you the freshest brew possible, and it allows you to perfect the setup for each of your favorite Aeropress recipes.
Are you ready to discover the ultimate upgrade for your AeroPress experience?
Quick Take: Best Coffee Grinders for AeroPress
Can't You Just Buy Pre-Ground Coffee?
Pre-ground coffee is incredibly convenient, but learning how to grind coffee beans is the single most important step you can take on your path to coffee mastery.
Making the perfect cup of coffee is all about controlling which acids, oils, and sugars are extracted from the coffee grounds. We have a few tools to control that extraction, most prominently water temperature, coffee-to-water ratio, and grind size.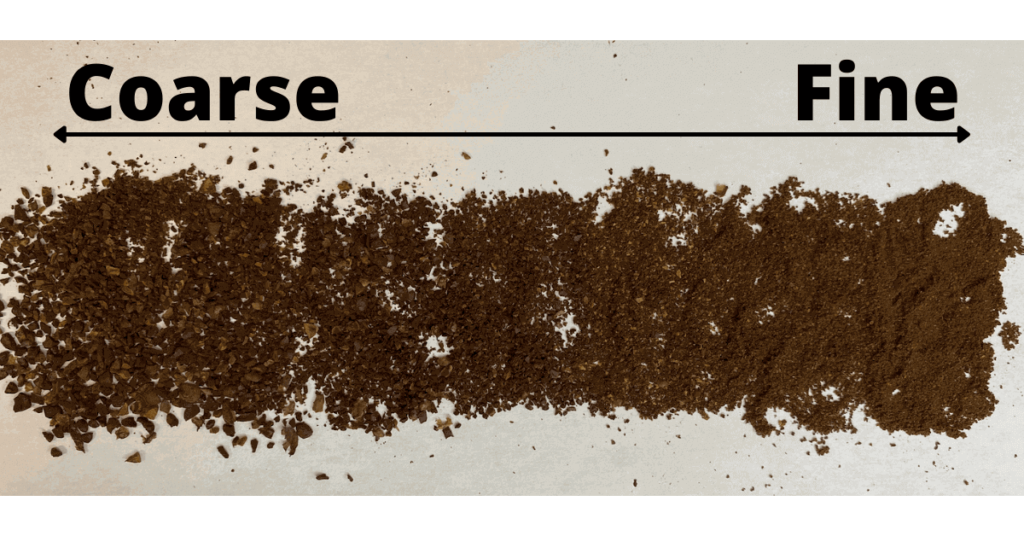 Every coffee-brewing method has an ideal range of grind sizes. If you use too coarse a grind, you'll end up with under-extracted, sour coffee. With too fine a grind, you'll over-extract the grounds, resulting in bitter coffee.
Most pre-ground coffee you'll find in stores is a medium-grind, which is intended for drip coffee makers. If you look hard enough, you can find coarse-ground coffee (cold brew, French press) and fine-ground coffee (espresso). That's not a lot of options, and if you need anything other than a drip grind you lose access to some of the best coffee beans for AeroPress and other coffee makers.
The other advantage of buying whole-bean coffee is freshness. Ground coffee goes bad very quickly. Since most grocery store coffee has been stuck in warehouses or on a shelf for weeks, you are almost certainly going to end up with stale coffee that is lacking many of the sweeter flavors that dissipate early.
Whole bean coffees with their smaller total surface area stay fresh much longer, so you can enjoy your beans at the peak of freshness when they are most complex and flavorful.
How to Grind Coffee for AeroPress
AeroPress grind size
The standard AeroPress brewing methods work best with a fine to medium-fine grind, but you can also use a medium grind in a pinch. When you are starting off, I would go with a medium-fine grind as that seems to be the fan-favorite.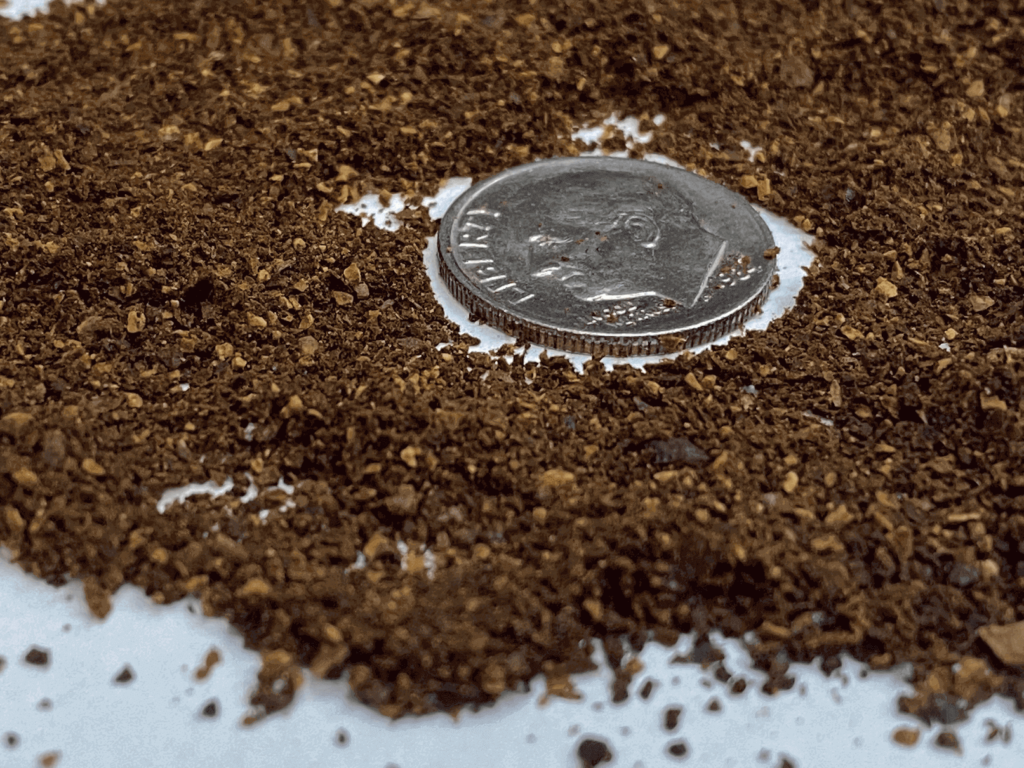 One of my favorite things about the AeroPress is its versatility. From the standard brewing method to AeroPress espresso or AeroPress cold brew, there is a wide range of recipes available. The best grind for AeroPress will heavily depend on which recipe you are using. For that reason, grinding for AeroPress requires a grinder that can handle a range of grind sizes.
How much coffee to grind for AeroPress
The ideal coffee-to-water ratio for AeroPress also varies quite a bit by recipe. For basic brewing, a ratio of about 1:11 to 1:13 is good. For a single cup of coffee, that means you'll be using about 18–21 grams or 3.5–4.5 tablespoons.
For comparison, a level AeroPress scoop holds 2.5 tablespoons and a heaping scoop is about 3 tablespoons. That's why a lot of AeroPress recipes simply tell you to use one heaping tablespoon per cup, which is at the weaker end of the range that I would recommend.
Choosing an AeroPress Coffee Grinder
Electric vs manual
The first choice you'll need to make is between a manual or an electric coffee grinder. If you want a budget grinder or a small coffee grinder that you can take while traveling, a manual grinder offers a huge advantage. You can buy cheap manual grinders that are very high quality, whereas low-priced electric grinders tend to grind coffee poorly and be very lacking in durability.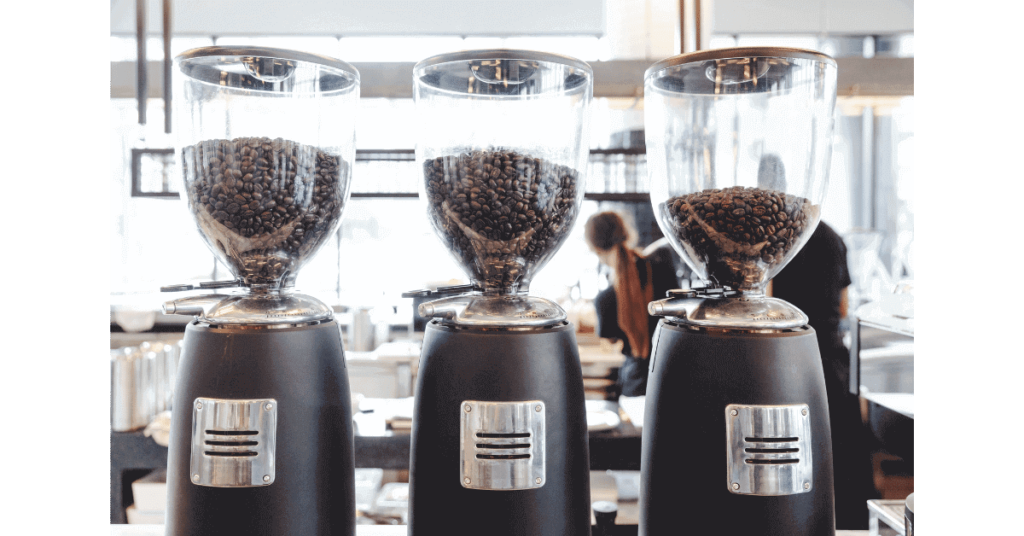 In the mid-to-high price range, you can easily find electric grinders that are as good and often better than manual grinders in terms of their grind quality. Electric grinders typically have a larger capacity and are easier to use, so they are better for frequent coffee drinkers. Of course, the large capacity doesn't matter as much when you are grinding for your AeroPress.
Blade vs burr
Blade grinders — the ones that feature spinning blades like you'd find on a blender — should be avoided. They don't grind coffee beans so much as they chop them apart indiscriminately. They don't offer a way to control the grind size, and they don't produce a consistent grind. Instead, you'll get a range of particle sizes, some of which are too small and others too large. It's a mess!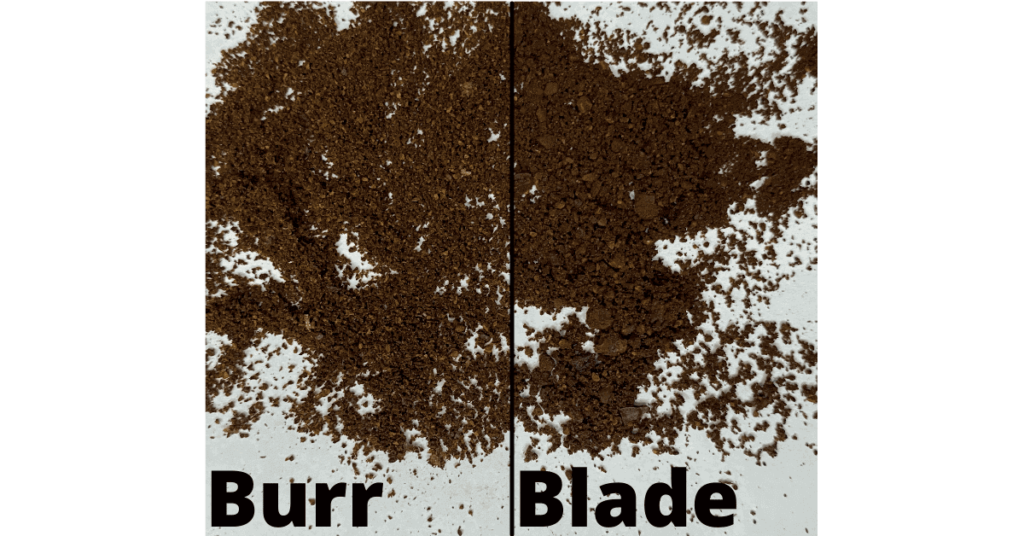 Burr grinders act like mills, crushing the beans between toothed plates as they fall through the grinder. The grind size is adjusted using a knob that changes the spacing between the plates. Grounds that are too large can't pass through until they are further crushed. Grounds that are too small will flow through unharmed. The result is a highly uniform grind with a size that is readily reproducible.
The AeroPress requires a uniform grind size to produce good coffee. It's important for most coffee brewers, but the AeroPress is particularly susceptible to incorrectly sized particles clogging up the works. If you have too many particles that are overly large, water can squeeze right by and you'll under-extract the grounds. Too many extra small particles and you'll over-extract them. The result is a coffee that just won't hold up to the AeroPress standard for flavor.
That's a long way of saying: I absolutely recommend getting a burr grinder instead of a blade grinder.
Flat vs conical burrs
The burrs in a grinder come in two shapes: flat and conical. Flat burrs look like horizontal plates that press against one another. Conical burrs are two concentric circles, one solid one inside the other hollow one.
Conical burrs are cheaper than flat burrs. They also require a slower rotation speed, so the quietest coffee grinders tend to use conical burrs. Flat burrs are more expensive and louder, but they produce the most consistent grind size of any coffee grinder. A conical burr is fine for most home baristas, whereas commercial users typically prefer flat burrs.
Steel vs ceramic burrs
Ceramic burrs aren't as sharp as steel burrs, but they retain their sharpness for much longer than steel burrs. Steel starts off incredibly sharp, but they won't last nearly as long as their ceramic counterparts. Ceramic burrs are more expensive to purchase, but they often end up being cheaper in the long run.
Best AeroPress Grinders
Best grinder for AeroPress: Baratza Encore burr grinder
This first machine is in the mid-range price tier for an electric grinder, and it easily outperforms most machines that cost twice as much.
In the coffee grinder world, Baratza is one of the best. They have a reputation for providing high-quality machines. Their grinders are built to last, and they also make them very easy to repair, including offering world-class customer service and readily-purchasable replacement parts. Their goal is to make sure your grinder lasts a lifetime.
Baratza's entry-level Encore grinder has 40 grind settings. That offers enough precision for any AeroPress recipe, but advanced users might want a few more options. The Virtuoso Plus, which I'll mention below, offers more features overall, but the Encore offers everything that beginner and novice coffee enthusiasts without too much added complexity.
The Encore's 8-ounce hopper (the part that holds the whole beans) is tinted, as is the grounds bin. Since your grinder probably sits in a well-lit kitchen, this tinting offers important protection from light that can degrade the freshness of the coffee.
One peculiarity of the Encore is its lack of a timer. Instead, they opted for an on/off switch and a pulsed-run button. I have mixed feelings about that decision because the pulse button is incredibly useful, but a timer is a fairly standard feature on electric grinders.
The Encore is sleek, beautiful, and professional. It's backed by Baratza's one-year warranty and the world-class support that makes them such a beloved brand in the coffee world.
Best hand grinder for AeroPress: 1Zpresso Q2 manual coffee grinder
The Q2 is made to be a durable, portable, powerhouse of a manual coffee grinder. Its stainless steel structure is much hardier than cheaper models, many of which are made of glass or use cheap plastic parts. The Q2's handle is removable, which further enhances the portability of this 5.5 inches long and 2 inches diameter beauty.
This grinder is built to last, with a level of quality that AeroPress lovers have come to expect from all their equipment. The Q2's 60+ grind settings offer incredible versatility for a hand grinder. In fact, that's even more than you'll see in some low-to-mid-end electric grinders.
Comfort matters with a hand grinder, and the Q2's ball handle is one of the most comfortable ones you'll find. If you plan on making more than a cup of coffee at a time, that's a feature you will certainly grow to appreciate.
As with most hand grinders, the Q2 is not built for large capacity. You'll only be able to grind enough for 1–2 cups of coffee in a single run. But that should be plenty for most Aeropress users. If you need more, you may want to consider an electric grinder.
The Virtuoso+ is an upgraded version of the old Virtuoso, which was already an incredible electric coffee grinder. The 40 grind settings might seem low for a premium grinder, but it offers enough range and precision for nearly all use cases. You'll certainly have no problem finding the ideal grind for any AeroPress recipe. (If you want more grind settings, check out the Baratza Vario below).
Unlike the Encore, the Virtuoso Plus includes an easy-to-use digital timer that is adjustable down to the tenth of a second. Its grounds bin is backlit and the screen is designed to be read in low-light situations. When you are trying to get that first cup of coffee without waking the entire house, a grinder that can be operated in a dim kitchen is a huge plus.
The tinted hopper on the Virtuoso+ holds 8 ounces of coffee. That's more than enough for AeroPress users, and — combined with the tinted grounds bin — it provides good light protection for the beans and grounds.
Aside from the timer, the biggest upgrades of the Virtuoso+ are its commercial-grade hardened alloy steel burrs and high-powered motor. That's a level of capability that you don't see in most personal coffee grinders, and all of these parts are backed by Baratza's customer service, repair services, and one-year warranty.
Best budget AeroPress grinder: Cuisinart DBM-8 burr mill grinder
A long-lasting, quality grinder is well worth the price. It's the most important purchase that most coffee lovers can make to up their brewing game. But not everyone wants to spend $100+ on a grinder. I get that, and it seems that Cuisinart does, too.
The DMB-8 is an excellent entry-level budget grinder. Its compact size allows it to fit most countertops, but it still manages to hold enough grounds for 32 cups of coffee. That's far more than most of the other grinders on this list, so the Cuisinart is an especially good choice for large families or heavy coffee drinkers.
With 18 grind settings, the Cuisinart is at the low end of what I would accept. It will work fine for most AeroPress needs, but you might have a hard time dialing in the perfect size for some of the more finicky recipes.
Be careful using the Cuisinart before the family is awake. It's one of the loudest grinders on this list. That's good if you want a coffee grinder that can double as an alarm clock but bad if you want a quiet cup of joe.
Best budget hand grinder: JavaPresse manual coffee grinder
If you want a really good budget grinder, you have to go with a manual grinder. Low-end electric grinders tend to use cheap parts that break far too quickly, but it's not too hard to find a cheap manual grinder that will last until you are ready for your next major upgrade
JavaPresse's grinder is quite a bit cheaper than the 1Zpresso, and it's an excellent option for anyone that wants an inexpensive travel grinder or camping grinder. It's capable and built with quality parts that offer an excellent grind. Impressively for its price, this grinder even uses high-quality ceramic conical burrs instead of steel.
Like the Cuisinart, the JavaPresse has 18 grind settings. In this price range, that's not bad, and it should allow you to make most if not all of your AeroPress recipes.
Aside from the number of grind settings, the biggest problem I have with the JavaPress is that it has a handful of plastic internal parts. It's still better than most budget grinders, but those parts are more prone to breakage than what you'll find in a higher-end grinder like the 1Zpresso.
Oxo Brew burr grinder
There's a lot to love about the Brew. It's one of only a handful of mid-tier grinders that can compete with the Encore. It has an easy-to-use timer knob that runs up to 30 seconds, a feature that some would say actually makes it better than the Encore. There's a reason it's ranked so highly amongst the best coffee grinders, even if it doesn't earn the number one spot for the AeroPress.
Oxo's grinder has 15 major grind settings, each of which has 3 micro settings. That's a total of 45 grind sizes, which is slightly more than its typical competitors. Those settings should be fine for all your AeroPress needs, but the most advanced users will wish they'd gone with a premium model.
If quality matters, Oxo is one of your best options. Their machine is made with stainless-steel conical burrs that provide a highly uniform grind. They still can't compete with Baratza's world-class service, but Oxo is a company that clearly cares about providing excellent equipment, care, and service.
The Brew's bean hopper holds 3/4 pounds of coffee, which is enough for several AeroPress batches. The hopper's tint is perfect for protecting your unused beans from kitchen light sources. The grounds bin is entirely opaque (except the lid, which is tinted), so your grounds are also well protected from the light.
Khaw-Fee HG1B manual coffee grinder
Khaw- Fee's HG1B is clearly a budget grinder, but it offers a level of quality that most budget grinders simply can't provide. They use stainless steel parts instead of the cheap plastic used by other low-end grinders. The main downside of this tiny, travel grinder is its glass body, but even that is pretty sturdy.
The grinder's conical burrs are made of ceramic, which is a great find for a grinder in this price range. The crank handle is very well designed and easy to use with minimal effort.
Like many manual grinders, the Khaw-Fee offers a continuous grind-size adjustment instead of discrete settings. That's great for the added precision, but it doesn't let you easily recreate a previous setting. If you use multiple different AeroPress recipes with different grind sizes, a grinder with discrete settings would probably be easier.
Secura electric burr coffee grinder
The Secure is about the lowest-end electric grinder that I feel comfortable recommending. Its 17 grind size settings won't give you a lot of precision, but they do cover the range used by AeroPress recipes. The dial conveniently shows you the amount of grounds produced instead of the time, although the accuracy of that measurement can vary. The dial allows you to choose enough grounds for anywhere from 2–12 cups of coffee.
The reason Secura's grinder is so cheap is that they use block burrs, a cheaper alternative to conical or flat burrs. You get what you pay for, though, as the block burrs can't match other burrs in grind uniformity. They are still a huge step up from a blade grinder.
Aside from the price, the biggest advantage of the Secura is its size. At 6 x 4 x 8.75 inches, it can fit even the tiniest kitchen counters with ease.
Capresso Infinity burr grinder
<
Capresso's Infinity grinder has very intuitive grind size selection settings. There are 16 total sizes separated into 4 large groups for extra-fine, fine, medium, and coarse. The extra-fine settings likely won't matter for the AeroPress. They do, however, allow the Capresso to be used for Turkish coffee, something that few budget grinders can handle. The rest of the settings work for most AeroPress users, but you might have a hard time with some of the AeroPress's more finicky coffee recipes
The Infinity's stainless-steel conical burrs are designed to grind more slowly than typical. That's annoying if you crave speed, but it's actually a really good thing to have. The slower speed won't risk overheating the grounds, which better preserves the flavor and aroma of the beans.
Baratza Vario flat burr coffee grinder
You are never too advanced to use a Baratza grinder. The Virtuoso Plus's main limitation was its 40 grind size settings. If all the Vario did was double or triple that number, it would already be one of the best consumer grinders. Instead, it offers a whopping 230 grind settings. That's a level of precision that would make even the most ardent coffee snob crack a smile.
Baratza breaks those grind size settings into 10 macro and 23 micro settings on separate knobs, making it easy to recall which option you were using for a previous recipe. If you want to find the perfect grind for every single one of your AeroPress recipes, the Vario is the absolute perfect grinder.
The Vario grind time is programmable to a tenth of a second, which is about equivalent to 0.2 grams. You can also define three grind time presets for your favorite recipes.
For this price, you'd expect high quality, but the Vario will exceed all of your expectations. It uses flat, ceramic burrs that are professional-grade. I've seen grinders with shorter lifespans than these burrs, and because it's a Baratza grinder you know help is always there if anything goes wrong.
The Vario comes with a burr adjustment and removal tool that you can use to keep your machine in pristine condition. They also include a professional-quality portafilter and a portafilter holder in case you use an espresso machine alongside your AeroPress.
Hario Skerton Pro manual grinder
The Skerton Pro is made to be a high-capacity (100 grams) travel grinder. If you want to take your grinder with you — but you can't stand the small capacity of standard hand grinders — the Skerton pro is probably the right grinder for you.
For its size, the Skerton Pro has a very compact design, and the detachable handle ensures even more portability. The Pro isn't Hario's first manual grinder, but it's the strongest and sturdiest one they've made to date. Between the large capacity and the high-quality ceramic conical burrs, you could easily make this your full-time grinder.
Porlex Mini manual grinder
How tiny does a grinder need to be before it qualifies as adorable? Whatever your answer, the Porlex Mini is smaller than that. At only 6 x 2.3 x 1.8 inches, it's one of the most compact stainless-steel hand grinders on the market.
The burrs are also stainless-steel, and they offer a very consistent grind. The Mini's handle does stick out more than I'd like, but it's removable with a convenient rubber band to keep it in place during travel.
Breville BCG820BSS Smart Grinder Pro
The AeroPress is no smart coffee maker, but that doesn't mean you can't pair it with the Smart Grinder Pro. Despite the name, this isn't actually a connected (smart) appliance, but the sleek display sure makes it look like one. More importantly, the LCD screen gives you an easy view of the number of cups or shots you've selected, the grind size setting, and the grind time.
The 60 grind size settings on the Breville are more than enough for most AeroPress users. Espresso lovers can get extra utility out of some of these settings and the small and large portafilter cradles that come with the Smart Grinder.
Breville's hopper holds 18 ounces of beans, which is plenty large for even the most intense AeroPress user. Breville tints both their grounds bind and their hopper for extra light protection and the grounds bin has an airtight seal that keeps the grounds fresh longer than almost any grounds bin I've seen.
Quality won't be an issue with the Smart Grinder. From its stainless-steel conical burrs to its durable internal parts, this is a machine that is built to provide a professional-grade, uniform grind.
KitchenAid KCG0702ER burr grinder
KitchenAid has one of the most loyal fanbases of any kitchen brand. If you want to prove yourself a part of that group, the KitchenAid burr grinder is the way to do it. The design will remind you of your favorite KitchenAid mixer, and this grinder delivers that same level of quality from its stainless-steel burrs.
This grinder has a 450 rpm engine that generates very little heat, thus preserving the flavor of the beans. The biggest downside of the device is its limited grind size options. With only 15 size settings to choose from, you could have a hard time with some Aeropress recipes.
Final Verdict
Whether you use the Aeropress as a travel grinder or your all-in-one solution to delicious coffee at home, you need a quality grinder. Delicious coffee comes from fresh grounds, and the freshest grounds are the ones you grind yourself.
The best AeroPress grinders come in a range of prices, sizes, and designs. Whether you are on a budget or looking to upgrade your barista skills to god mode, you'll find a great option somewhere in this list.
If you are looking for other AeroPress accessories to complete your setup, don't forget about a coffee scale and a gooseneck kettle. Remember, coffee extraction is all about controlling the grind, the coffee-to-water ratio, and the temperature. With the combined power of a grinder, a scale, and a kettle, there's no coffee recipe you can't master.