French press lovers aren't looking for plain, old drip coffee. They want something especially suited to their favorite brewing method. 
But the best French press coffee is not one-size-fits-all. Some of us like our coffee sweet. Others like it complex, slightly bitter, rich, fruity, or earthy. Whether you are a dark roast fan, a devoted single-origin drinker, or just someone that wants a heavy dose of caffeine — you'll find the best coffees for French press lovers of all shapes and sizes in this list.
Quick Take: Best Coffees for French Press
What Kind of Coffee Is Best for French Press?
There are so many coffees out there, that we really need to set down some criteria if we're going to find the best ones. Three of the most important factors for good French press coffee are roast level, grind size, and freshness.
Roast level
The roast level (or roast type) will greatly impact the flavor of your brew. The best roast for French press isn't going to be the same for everyone, so you are going to have to rely on your personal preferences.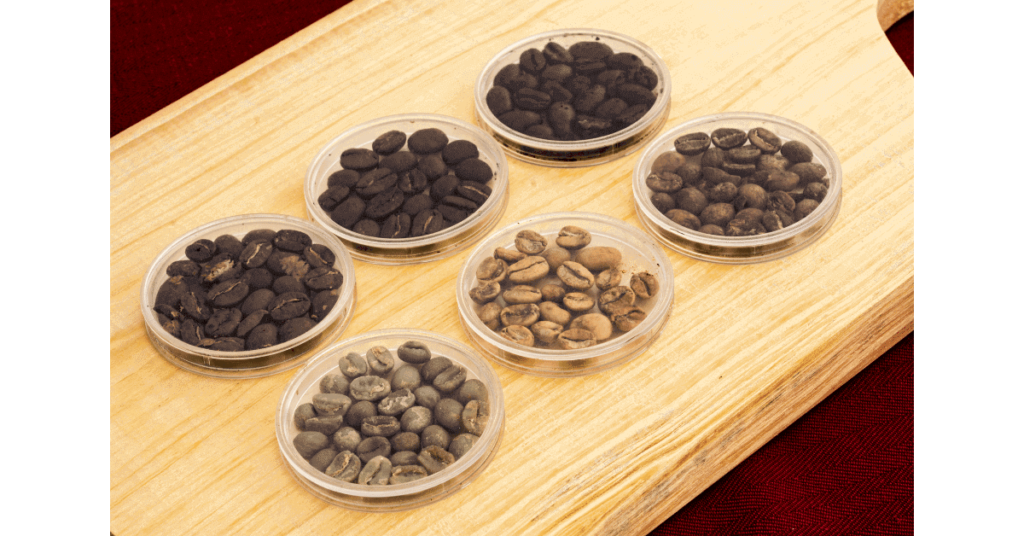 Light roasts tend to have sweeter, more acidic, and more complex flavors and a lighter body. A light roast's flavor will be heavily impacted by the origin and type of coffee bean. Basically, you are tasting the bean instead of tasting the roast.
Medium roasts are smooth and balanced. They have heavier bodies and a stronger overall flavor than light roasts, but they still maintain much of the bean's unique flavor profile.
Dark roasts have a lower acidity and bolder flavors than light or medium roasts. They often taste smoky or roasty. Dark roasts often have a more bitter flavor, although you can find several dark roasts designed specifically to balance or eliminate the bitterness. Most dark roasts are heavier-bodied than light or medium roasts.
Grind size
Buying beans that taste good matters, but it's actually more important to get the right coffee grind size.
If you use coffee that is too finely ground in your French press, you'll over-extract the beans, leading to overly bitter coffee. If you use grounds that are too coarse, you'll under-extract the beans, and your coffee will taste sour.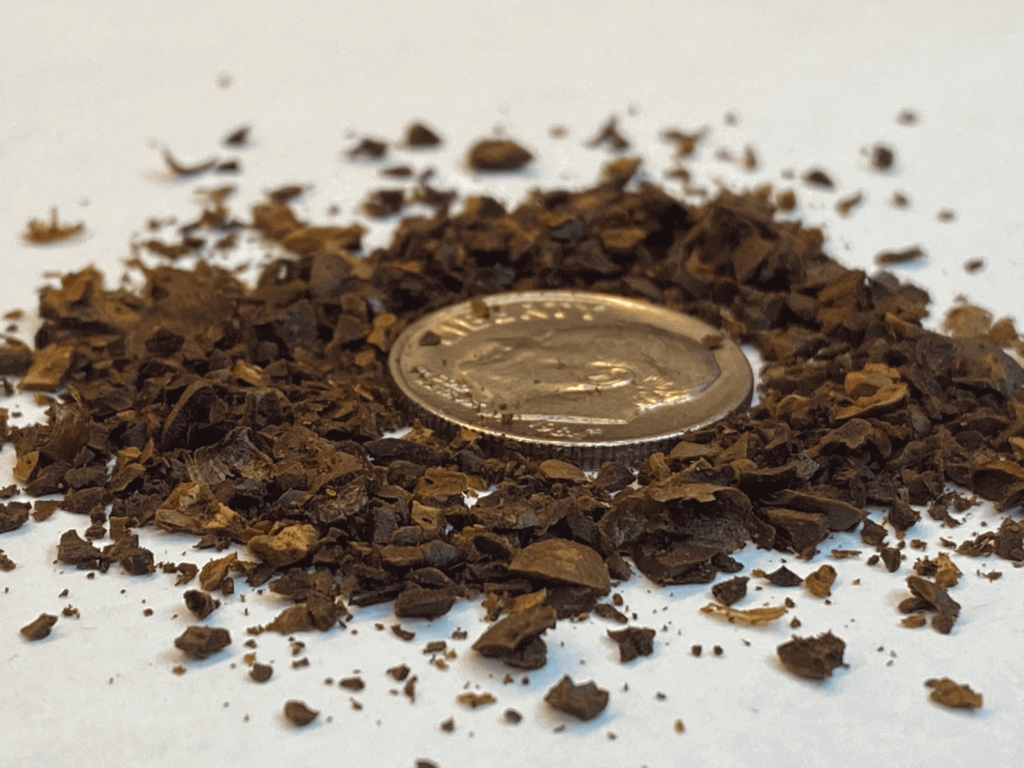 In the case of a French press, there's also one more reason to avoid using too fine a grind. French press coffee should be coarsely ground, with a texture similar to coarse salt. Finer grinds can slip right through your French press's filter, leaving a gritty mess behind in your cup of coffee.
Most pre-ground coffee is made either for drip coffee (medium grind) or espresso (fine grind), so you can't just pick up any bag of coffee grounds and use them in your French press.
If you are going to buy pre-ground coffee for your French press, make sure it is labeled as either a French press grind or a coarse grind. Coffee that is ground for cold brew may also work, although cold brew grinds are sometimes too coarse for a French press. As I'll discuss in the next section, though, you probably shouldn't be buying pre-ground coffee if you care about freshness.
Freshness matters
Coffee grounds go bad very quickly. They remain safe to use for quite a while, but they lose much of their flavor within days or even hours after they are ground. Whole bean coffee lasts longer, but you still only have a matter of weeks after they are roasted.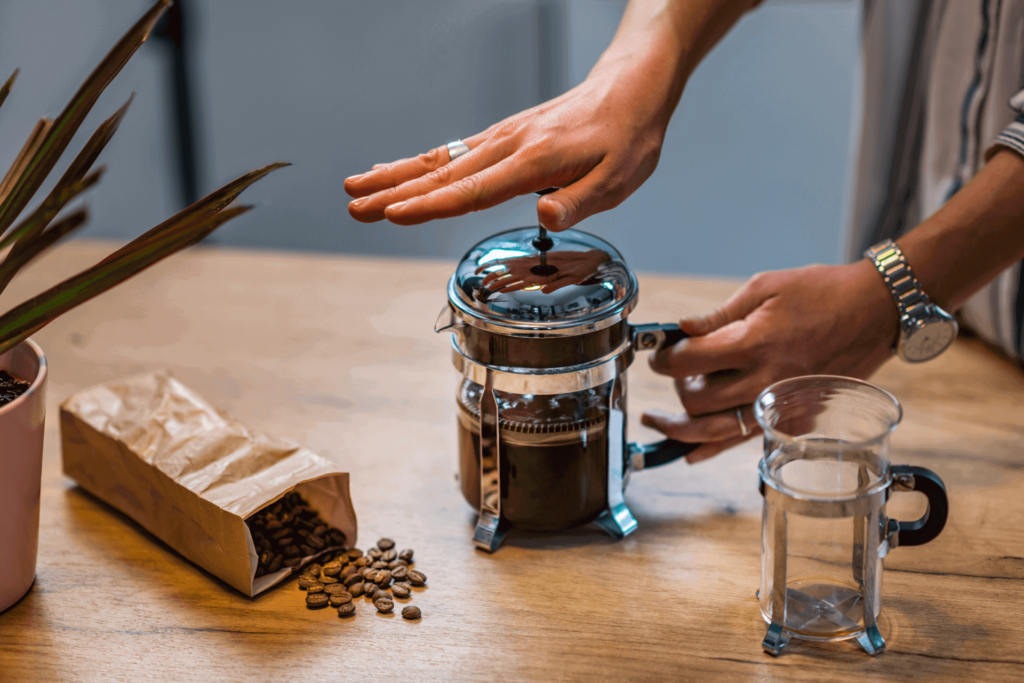 Grocery store coffee is rarely fresh. Most of the brands in grocery stores don't ship fresh. Even if they do, those beans have often been sitting on the grocery store shelf or in a warehouse for far too long. Instead of taking the risk, you are better off buying coffee online from a reputable brand or going to a local coffee roaster. 
Since pre-ground coffee goes bad faster, you should also learn how to grind coffee beans. Buying one of the best French press coffee grinders and grinding your own coffee beans is one of the easiest, most effective ways to improve the quality of your coffee. Getting a good coffee grinder can be even more important than upgrading your coffee maker, especially if you have been buying pre-ground coffee or using a blade grinder. 
Best French Press coffees
There's not a single coffee in this list that isn't amazing, but let's start off with the best of the best.
Best French press coffee beans: Volcanica Coffee Ethiopian Yirgacheffe
There are only a handful of coffee brands that I can recommend with zero hesitation. Volcanica is at the top of that list for numerous reasons.
First, they source incredibly high-quality beans from nearly all of the world's best coffee countries. Second, they ship all of their beans fresh roasted to ensure that you never have to deal with stale coffee. Third, they offer a wide range of USDA organic, Rainforest Alliance Certified, and Fair Trade beans. 
If you want the best coffee beans for your French press, Volcanica's Ethiopian Yirgacheffe is as good as it gets. There's already a lot to love about Ethiopian coffee beans, especially coffee from the Yirgacheffe region's small, family-owned farms. This region is known for producing coffees with vibrant floral and fruity notes.
Volcanica's single-origin Ethiopian simply takes what the world's oldest coffee-producing nation is already doing right and kicks it into high gear. They start with organic beans from indigenous, wild-grown Ethiopian coffee trees. Then, they medium-roast those beans to bring out a medium body, bright acidity, and flavor that is both sweet and sophisticated, with notes of blueberry, lemon, and blackberry.
This one is a must-try for French press coffee fans.
Best French press ground coffee: Primos Coffee Co. specialty coffee
If you're going to buy pre-ground coffee, you may as well buy the good stuff. Primos is a family-owned coffee farm that brings the best Nicaraguan coffee traditions to every bag of coffee.
They use beans that are strictly high-grown, shade-grown, and hand-harvested. Their small-batch roasting process ensures the consistent quality of their beans. Their medium-roast has a mild flavor, low acidity, and a medium body. Its flavor is sweet and smooth with gentle notes of citrus.
Primos sells their coffee coarsely ground, so it's ready to be used in your French press. The only real downside of this coffee is the mild flavor. If you're looking for an intense brew, you should look elsewhere. But if you want something smooth and subtle, that's where Primos shines.
Best coffee for French press espresso: Kicking Horse Coffee Cliff Hanger Espresso
French press coffee has its own unique place in the world of coffee. That being said, sometimes you want something a little different from the norm. French press espresso was created as a way of offering a more espresso-like beverage to coffee lovers who don't want to splurge and buy an espresso machine.
When choosing coffee beans for French press espresso, you can generally just go with your favorite espresso beans. If you want a specific recommendation, though, I'd start with Kicking Horse's Cliff Hanger Espresso blend.
Cliff Hanger is silky and complex with notes of wild berry syrup, and an ultra-smooth cocoa finish. The blend's aroma is filled with notes of blackcurrant, brown sugar, and milk chocolate. 
To achieve this effect, Kicking Horse uses a mixture of 100% Arabica beans from Africa, Indonesia, and Central and South America. All the beans they source are Fair Trade Certified and USDA Organic.
Best strong French press coffee: Death Wish Coffee
French press coffee is already richer and more flavorful, but that doesn't mean you can't give it an extra caffeine boost. There are several high-caffeine coffees to choose from, but none have the bold, delicious flavor of Death Wish. 
Death Wish uses a mixture of specially selected Arabica and Robusta coffee beans to create a brew with over five times as much caffeine as a normal cup of coffee. They use a small-batch roasting process to ensure the consistency and freshness of their dark roast. Death Wish has an intense flavor with notes of cherries and chocolate.
Best French press decaf coffee: Volcanica Coffee decaf Ethiopian Yirgacheffe
Yes, this is the same Volcanica Ethiopia as I raved about above, but this time it's decaf.
Most decaf coffee is terrible. I'm not going to try to hide that, but I can tell you how to find great decaf. It starts, of course, with all the usual markers of good coffee beans: freshness, origin, etc.
The decaffeination process, though, is just as important as the beans. Typical decaf is made using harsh chemicals to strip away the caffeine. Those chemicals also strip away much of the coffee's flavor, which is why decaf coffee is often bland or bitter.
Volcanica's decaf is so good because they use the Swiss water decaf process, a chemical-free method that leaves the flavor of the coffee intact while removing 99.9% of the caffeine. It's also much better for the environment than other decaffeination methods.
Two Volcanoes Coffee gourmet Guatemalan
Guatemala owes its rich, coffee-growing soil to the country's many volcanoes. It's fitting then that the makers of some of the best Guatemalan coffee beans, would choose to name their brand after the two volcanoes of San Marcos. 
Two Volcanoes grows their coffee on an estate in the San Marcos region, and they small-batch roast to ensure that all of their beans have a consistent quality and freshness. Their medium-roast has a low acidity, a mild sweetness, and a full, silky body that is perfect for French roast coffee. The nutty, floral notes are also a nice touch.
Koffee Kult dark roast coffee
Koffee Kult provides the rich flavors and heavy body you'd expect from a dark roast without the bitterness that plagues many of the alternative brands. Their dark roast is approachable enough for the average coffee lover. And the bold, smooth flavor with notes of cinnamon is intense enough even for the biggest dark-roast fan.
Koffee Kult's biggest trick is that they use only 100% Arabica beans from some of the best coffee sources, including Colombian, Sumatran, and Brazilian coffee beans. They ship their beans at the peak of freshness, giving you plenty of time to enjoy your coffee.  
One of my favorite things about Koffee Kult is how versatile their coffee is. It's one of the best black coffees, but the strong flavors and thick body also allow the coffee to shine in coffee drinks that include milk or creamer.
Koffee Kult Sumatran coffee
If you aren't quite ready for Koffee Kult's dark roast, their single-origin Sumatran coffee is a great way to try out this premium coffee brand. Sumatran coffee beans are the secret ingredient in Starbucks espresso, and they produce full-bodied brews with earthy, spicy flavors and aromas that make a delicious French press coffee.
Koffee Kult medium-roasts their Sumatran coffee, which produces a rich, smooth brew that has notes of baker's chocolate and a clean finish.
Peet's Coffee Major Dickason's Blend
Peet's coffee produces some of the best single-origin coffees, and I highly recommend you try them all. The pinnacle of their brand, though, is the Major Dickson's Blend. 
This dark-roast blend is rich and complex, with smoky and chocolatey flavors. The strong flavors and full body make it an ideal coffee for French press lovers.
Fresh Roasted Coffee Ethiopian Yirgacheffe
I like it when a coffee company makes their values clear, and Fresh Roasted Coffee puts their biggest feature right in their name. Their roasting and packaging processes focus on getting you the freshest coffee possible.
This isn't the first Ethiopian Yirgacheffe on the list, but I'm including it because Fresh Roasted offers their Yirgacheffe at an incredible price for the quality of the beans. I still recommend Volcanica if you want to experience the best of Ethiopian coffee, but Fresh Roasted offers an excellent alternative for more price-conscious coffee lovers.
Coffee Bros Costa Rican coffee
Costa Rican coffee culture includes a dedication to premium beans that most countries just can't compete with. Their government went as far as outlawing low-quality coffee beans! That's why you only find 100% Arabica in Costa Rican coffees.
Coffee Bros offers single-origin coffees from a few countries, but their Costa Rican micro-lot coffee is particularly great for French Press. You'll find notes of lemon, toffee, and cocoa in this sweet brew that has a crisp, clean body.
Coffee Bros Specialty Blend coffee
Along with their single-origin coffees, Coffee Bros has a few blends that are well worth trying. For French press, their Signature Blend is my top recommendation. They use a mixture of Brazilian, Colombian, and Ethiopian beans to create this medium roast. The rich, nutty flavor includes notes of strawberries, hazelnut, and brown sugar. 
Stone Street Coffee Company Colombian cold brew
Stone Street's Colombian single-origin is actually intended as a coffee for cold brew. All of the characteristics that make it perfect for cold brew also make it an excellent choice for French press coffee.
This coffee is made from 100% Colombian Supremo beans that are dark-roasted. It is smooth and balanced with a low acidity, slight sweetness, and a bold flavor. 
Real Good Coffee Company French roast
French press, meet French roast. This extra dark roast is not for everyone, but if you are looking for something richer and more flavorful than your standard dark roast, you may be a French roast fan. 
Real Good Coffee Company's French roast is made from a mixture of Central and South American coffee beans. It has an especially rich flavor with notes of raspberry, dark chocolate, and anise.
Valhalla Java Odinforce Blend
The creators of Death Wish coffee definitely aren't one-hit wonders. They also created Valhalla Java's Odinforce Blend — another dark roast made from select Arabica and Robusta beans sourced from Indonesia and Central and South America.
This USDA Certified Organic blend delivers a richly intense flavor and a deep aroma that rivals Death Wish's original blend. I'd still suggest trying Death Wish first, but you should definitely add Valhalla Java to the rotation if you are already a Death Wish lover.
Strong AF Coffee Rude Awakening
Rude Awakening is a different take on French press coffee beans. As with most Vietnamese coffee brands, they use 100% Robusta beans. These beans offer a heavier hit of caffeine, a more intense flavor, and a dose of bitterness that might turn off Arabica drinkers. 
They dark-roast their organic coffee beans to further enhance the flavor, leading to a brew that can only be described by the name: Strong AF.
San Francisco Bay Coffee Fog Chaser
Fog Chaser is a medium-dark roast that is smooth, balanced, and flavorful. This delicious blend is made a mix of Central and South American coffee beans that are meticulously checked and double-checked for quality. If dark roasts are too much for your palate, this is a good stepping stone that still delivers the roastier flavors without going full dark.
Intelligentsia Frequency Blend coffee
I'm going to have to admit a little bias here: The intelligentsia roastery is not too far from my old apartment in Chicago. Living there got me hooked on the brand, but don't worry — they still had to earn their spot on this list.
Their Frequency Blend has a chocolatey, molasses-rich flavor that really stands out for French press coffee. Although it's good by itself, I especially recommend you try this one with a bit of milk as that really brings out the full flavor.
Frequently Asked Questions
Final Verdict
French press coffee is a bold, rich, and delicious experience that every coffee lover should try. To get the most out of your French press, though, you need to find the best French press coffee beans.
Whether you like your coffee strong, complex, bold, or sweet, there is something for every French press lover in this list. I've tried to call out a few especially great options, but just go with whichever coffee sounds like it will fit your taste. Or just pick at random until you've enjoyed all the French press coffees around the world.