Colombian coffee is everywhere in American grocery stores, but why is that? Is it better than other coffees? Is it cheaper? 
In this article, I'll do a deep dive on what Colombian coffee is, how it go to be so popular, and what it tastes like compared to coffees from other countries. I'll also highlight some of the best Colombian coffee brands and some of the best coffees from Colombia that you can buy online.
Quick Answer: Best Colombian Coffee Brands
A Brief History of Colombian Coffee
The first coffee plant was brought to Colombia sometime during the 18th century. However, significant cultivation of Colombian coffee beans didn't take off for several decades. In 1808, the first commercial coffee production in Colombia was registered, and Colombian coffee exports didn't become significant until the latter half of the 19th century.
The turn of the century brought setbacks to the growing Colombian coffee market. The Thousand Days' War caused a lull in production and depressed international coffee prices led to a rethinking of the Colombian farming system.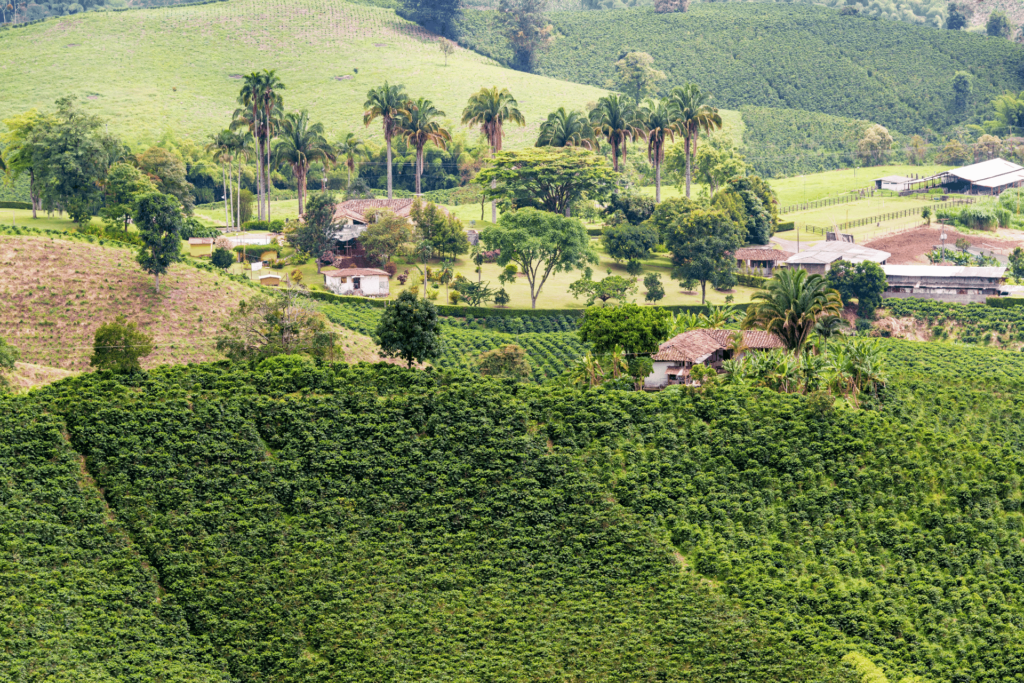 From those struggles arose a new coffee sector, driven by small, rural farmers. These farmers were protected and boosted by the  1927 creation of the non-profit National Federation of Coffee Growers of Colombia. This organization launched several masterful marketing efforts, including the famous Juan Valdez campaign.
Colombian Coffee Bean Production Today
Over the last century, the Colombia coffee industry has grown incredibly fast, rising as high as second place amongst the world's largest coffee producers, although they never quite overtook the production levels of Brazilian coffee beans. Colombia has recently fallen back to third, having been overtaken by Vietnamese coffee brands.
Colombia produces over 750 thousand metric tons of coffee every year, almost all of which is Arabica. Unlike Costa Rica's coffee producers, they don't go as far as outlawing lower quality types of coffee beans, but Colombia's excellent coffee growing conditions make Arabica a natural choice given its higher price point and consistently high worldwide demand.
What Does Colombian Coffee Taste Like?
Colombian coffee tends to be well-balanced and mild. The flavor typically has Fruity notes of red berry and apple as well as caramel, chocolate, sugar cane, and floral notes. The aroma is also commonly fruity along with hints of citrus and spice. Bright acidity is typical in Colombian coffee, as is a medium body. 
The mild, balanced flavor of Colombian coffee is a huge reason for its popularity. It's a coffee that is easily accessible and enjoyable for even casual coffee drinkers, without the harsh bitterness that drives newcomers away from some other coffee sources.
Colombia's Coffee Regions
Colombia has 22 coffee growing regions which are grouped together into four larger zones: Central, Northern, Southern, and Eastern. These regions each have their own flavor and aroma profiles as well as their own harvesting schedules — allowing Colombian coffee to be enjoyed nearly year-round.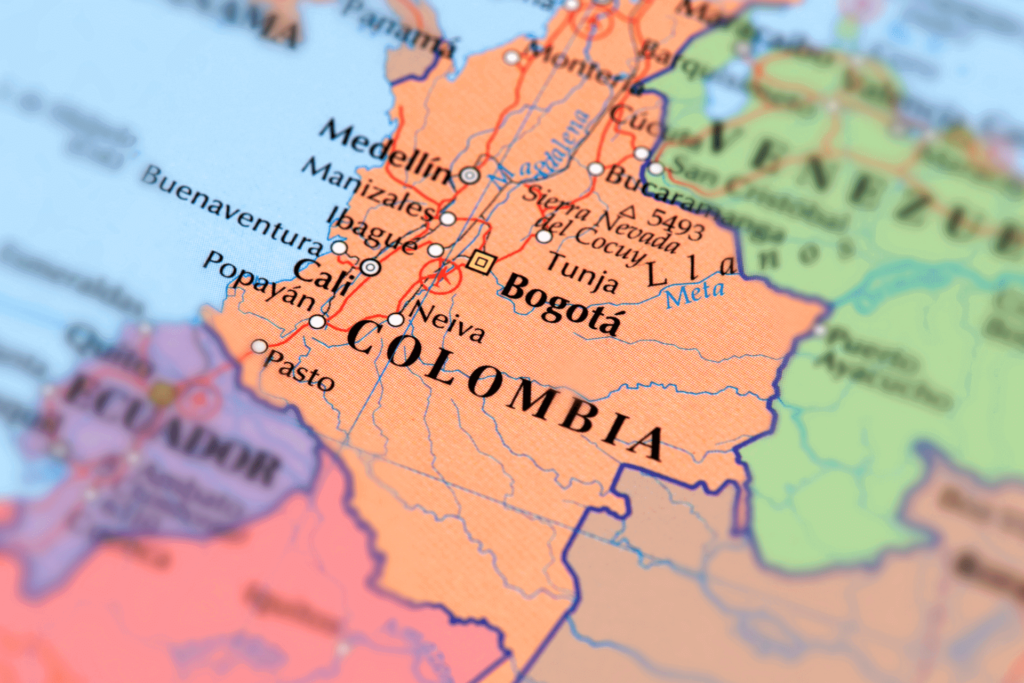 Northern coffee zone
The Northern region has only one dry season and one wet season per year, and their coffee is harvested in October and November at the end of the wet season.
The growing conditions are more similar to those of Central American coffee countries than the rest of Colombia, with lots of low altitudes and high temperatures. Shade-growing is commonly employed to accommodate these differences.
Coffee from Colombia's Northern zone tends to have less acidity and a heavier body than most Colombian coffee. These beans also exhibit more chocolate and nut flavor than is common in the other zones.
Central coffee zone
The Central zone contains some of the largest and well-known coffee-growing regions in Colombia, including Antioquia and Tolima.
Since there are two wet and two dry seasons per year in the Central zone, they are able to have a main harvest from October to December and a secondary harvest from May to June.
Southern coffee zone
The Southern zone is close to the equator and allows for higher altitude coffee growth than most of the rest of the country. These features allow Southern zone Colombian coffee beans to achieve very high quality and distinct acidity.  
Three of the Southern regions — Nariño, Cauca, and Huila — make up what has been called the new Colombian coffee triangle. These regions, Nariño and Huila in particular, have become incredibly popular in the specialty coffee industry. Huila even achieved the coveted Denomination of Origin distinction in 2013.
The Southern zone has only one wet and one dry season, with a typical harvest between April and June.
Eastern coffee zone
The Eastern zone is the smallest production zone, partially due to a history of conflicts in the region. There is significant investment happening to bring production numbers up for future years, but you probably won't find much coffee from this region for now.
Colombian Instant Coffee
Instant coffee is just coffee that has been brewed and dehydrated. During this process, it typically loses much of the flavor — and especially the subtle, distinct characteristics — of the coffee beans. For this reason and because of their price, most instant coffees are made from Robusta beans.
Why, then, am I even bringing up instant coffee when talking about a country that specializes in Arabica?
Well, because Colombia simply wasn't content letting Robusta dominate that important part of the coffee market. They've managed to get their beans into some of the most popular brands of instant coffee. I don't want to devote too much space to them, but here are a few of the best Colombian instant coffees.
Best Colombian Coffee Brands
Back to our main event. Here are the best Colombian coffee beans that you can purchase online right now.
Best Colombian Coffee Beans: Volcanica Coffee Colombian Supremo coffee
Where there is volcanic soil, Volcanica is sure to produce a hit coffee. These single-origin beans are grown on a coffee estate in the Colombian Andes mountain range. The altitude and volcanic soil produce an incredibly high quality coffee that is a perfect example of what Colombian coffee can be.
This medium roast coffee produces a balanced cup with a smooth finish and a delightful aroma. You'll find notes of dark chocolate, fruits, and nuts in the flavor profile.
It's organically grown, Fair Trade and Rainforest Alliance certified, and shade-grown — making this a Colombian coffee that you can feel good about purchasing.
Best dark roast Colombian coffee: Cooper's Cask dark roast coffee
Dark roasts aren't typical from Colombian coffee brands, but Cooper's Cask makes it work — defying the mild flavors that most would associate with coffee from Colombia.
These single-origin beans have a low acidity with hints of cocoa and dark fruits. They're roasted in small batches to ensure that you get only the freshest beans. 
Best Colombian coffee blend: Juan Valdez Coffee Organic Gourmet Colombian coffee
Juan Valdez may be fictional, but his coffee is as real as it gets. This organic medium-roasted coffee is their most popular choice, but I highly recommend trying a few of their other options as well. 
This particular blend has a medium body, medium acidity, and a balanced, mild flavor that is contrasted by its intense aroma. It's cerfied organic by the not only the USDA but also the JAS and EU. 
Best budget Colombian coffee: AmazonFresh Colombia coffee
No, not the river; it's the other Amazon. This is the first blend on our list, and it's one made for people that want good Colombian coffee that won't break the bank.
The citrus aroma and notes of chocolate and brown sugar in this coffee are great, but they certainly aren't strong. If you like your flavors more subtle and mild, this medium roast might be a good place to start — and the price is certainly right.
Best Colombian coffee k-cups: San Francisco Bay OneCup Colombian Supremo k-cups
The best coffee tends to be found in whole beans, with single-serve often being an afterthought if it even enters the minds of coffee roasters. Then there is San Francisco Bay, who consistently deliver high quality coffee in a form that Keurig fans can enjoy.
Their Colombian Supremo is another hit, bringing flavors of cherry and dark chocolate together with a mildly sweet taste and a smooth finish. All of this is contained in a reasonably-priced k-cup that is fully compostable and much more eco-friendly than the typical k-cup.
Best Colombian decaf coffee: Volcanica Coffee Colombia Supremo decaf coffee
This is really just the decaf version of my pick for the best coffee from Colombia. If you are going to drink decaf, it really should be Swiss-water processed. This method is more eco-friendly than the typical decaffeination processes with their harsh chemicals. It also maintains the flavor of the original beans better than most decaffeination methods. 
Just like Volcanica's other offerings, these beans are organically grown, Fair Trade and Rainforest Alliance certified, and shade-grown. Combined with the Swiss water decaffeination process, this makes them a very eco-friendly decaf option.
Blackwelder Coffee Colombian Supremo Bucaramanga single-origin coffee
Blackwelder sources their single-origin beans from an estate in the Bucaramanga, Santiago, in the Northern Colombian coffee zone. This coffee is balanced, smooth, and sweet, with notes of chocolate and orange. They roast their beans in small batches and ship them fresh, giving you the opportunity to try Colombian coffee at its finest.
Fresh Roasted Coffee LLC dark Colombian Supremo coffee
This is very far from being a mild coffee. With a smoky flavor and hints of cherry and honey, Fresh Roasted's beans are some of the darkest in this list. The earthiness of the brew is something you'd expect more from Sumatran coffee than Colombian brews, but it's delicious if you like your coffee dark and smoky.
Koffee Kult Colombia Huila coffee
Now entering the Southern Colombian coffee triangle, home of some of the finest coffees the country has to offer. Our first stop is Huila, the soure of this Koffee Kult option that is made only with specialty-grade, organically-sourced coffee beans.
These beans have a chocolatey aroma, sweet and chocolatey flavors, a bold body, and a clean finish. Although the flavor might be a bit milder than some coffee connesuirs would prefer, it's a great intro to the Colombian coffee triangle.
Peet's Coffee Colombia Luminosa coffee
Let's get away from the medium and dark roasts for a minute with some of the best light roast Colombian beans on the market. If you were asking for brighter acidity or a more delicate profile, Peet's must have heard you. Their brew is smooth and sweet, with hints of caramel. 
Cubico Coffee Single Origin Nariño coffee
Back to the coffee triangle we go. Next stop: Nariño, home of high altitudes and rich, volcanic soil that produce very high quality beans.
The flavors in this brew are unique, with vibrant lemon and lime accompanied by maple and brown sugar sweetness and nutty notes. It's produces a more complex cup of coffee than some of the options we've discussed thus far.
Java Planet Single-Origin Colombia organic coffee
Java Planet's coffee offers the quality that you would expect from a premium, single-origin Colombian brew — featuring balanced flavors, a full body, and medium acidity.
However, they assume you can find good coffee anywhere, so their focus is much more on what happens behind the scenes.
They ethically source their beans from USDA Organic Certified, Fair Trade certified, and Rainforest Alliance Certified sources. They also focus on wildlife safety, including the difficult-to-achieve Bird Friendly status — a feat that only the most eco-friendly coffee companies achieve.
Volcanica Colombian peaberry coffee
Every best-of coffee list should have at least one peaberry entry. Peaberries are an anomaly in coffee plants that results in a coffee cherry growing a single bean where it should have two. This only child is able to sop up the extra nutrients, growing denser and sweeter than a standard coffee bean. 
Volcanica's Colombian peaberry is full-bodied, with floral notes, a fruity flavor, and hints of cocoa and cinnamon. It's also Fair Trade certified and shade-grown.
Don Pablo Colombian Supremo coffee
Don Pablo has been in the coffee business since 1989, and they consistently deliver high quality brews. Their Colombian Supremo is full-bodied and sweet, while still maintaining the mildness that is characteristic of Colombian coffee.
Frequently Asked Questions
Final Verdict
The world's third-largest coffee producer has a lot to offer to coffee newcomers and coffee lovers alike — as long as you like your coffee relatively mild. I've highlighted the best Colombian coffee beans I've found, but feel free to comment with new suggestions for the list. Coffee exploration is a group activity, after all.