This post may contain affiliate links. Please read my disclosure for more info.
---
Espresso machines are so expensive! And so many cheap espresso machines either can't make real espresso or are made with poor-quality parts. 
Can you get good espresso without breaking the bank?
You sure can! In this list, you'll find some of the best espresso machines under 200 dollars, and I'll show you how to pick a budget espresso machine that is actually worth your money.
Quick Answer: Best Espresso Machines Under $200
| | Image | Product | |
| --- | --- | --- | --- |
| Best espresso machine under $200 | | Mr. Coffee Espresso and Cappuccino Machine, Programmable Coffee Maker with Automatic Milk Frother and 15-Bar Pump, Stainless Steel,Silver | Check price |
| Best cheap espresso machine | | De'Longhi Stilosa Manual Espresso Machine, Latte & Cappuccino Maker, 15 Bar Pump Pressure + Milk Frother Steam Wand, Black / Stainless, EC260BK, 13.5 x 8.07 x 11.22 inches | Check price |
| Best pod espresso machine under $200 | | Nespresso BEC430TTN Pixie Espresso Machine, 24 ounces by Breville, Titan | Check price |
| Best manual espresso machine under $200 | | Flair Espresso Maker - Classic: All manual lever espresso maker for the home - portable and non-electric | Check price |
| Best portable espresso maker under $200 | | WACACO Nanopresso Portable Espresso Maker Bundled with Protective Case, Upgrade Version of Minipresso, Mini Travel Coffee Machine, Perfect for Camping, Travel and Office( Black) | Check price |
Do Cheap Espresso Machines Make Good Espresso?
Most cheap espresso machines are terrible. Few of them can achieve the pressures necessary to make real espresso. The ones that can make good espresso typically lack the durability or features you'd expect in a better espresso machine.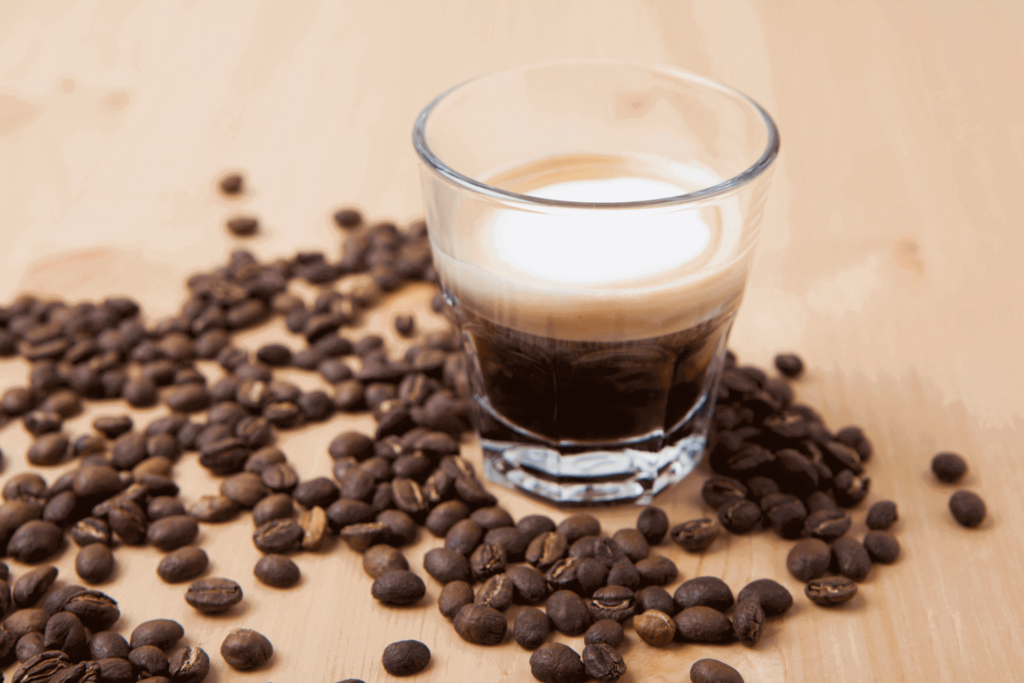 If you have the money, I'd definitely recommend looking into the best espresso machines under $1000 instead. That being said, most of us don't have that kind of money.
When you choose your machine carefully, you can get a good cup of espresso from an under-$200 machine. If you are an espresso drinker on a budget, these machines will get you there.
Espresso Machine Buying Guide
Let's go through a few of the specs and features that you should be looking for in a budget espresso machine.
Brew pressure and temperature
Espresso is brewed by quickly blasting pressurized water through finely-ground coffee.
For that to work, you need a minimum of 9 bars of pressure. Most baristas prefer using machines that produce at least 15 bars as that produces a far superior shot of espresso.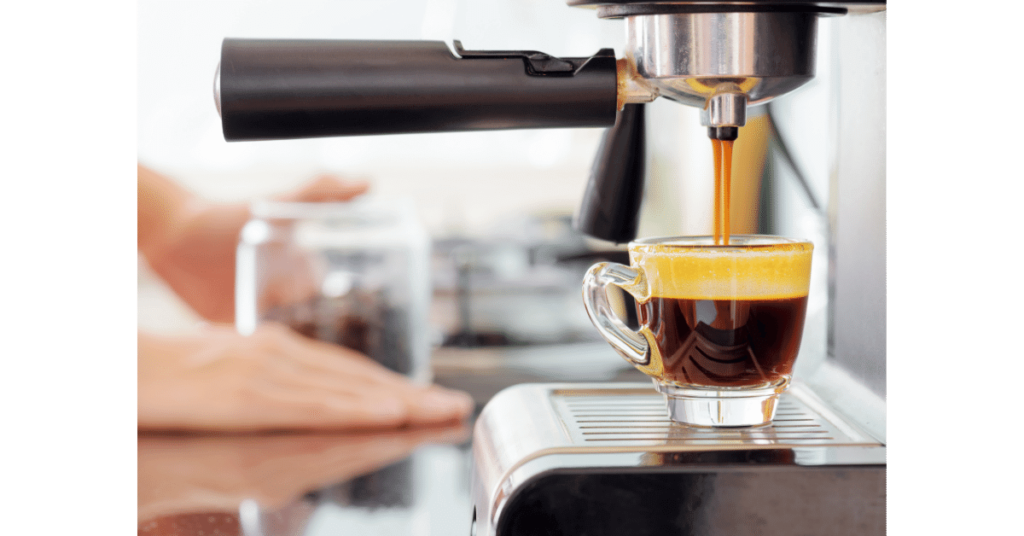 High water temperatures are important for all coffee brewing, but they are especially critical for espresso. Espresso needs to be brewed at a minimum of 194 degrees Fahrenheit. Any less than that, and you will get under-extracted coffee that is weak, sour, or overly acidic. 
In particular, you'll want to avoid steam espresso machines, not to be confused with espresso machines that have steam wands. Steam espresso machines typically produce only 2–3 bars of pressure. That means you'll really just be getting slightly concentrated coffee instead of real espresso.
 Semi-automatic vs automatic vs manual espresso machines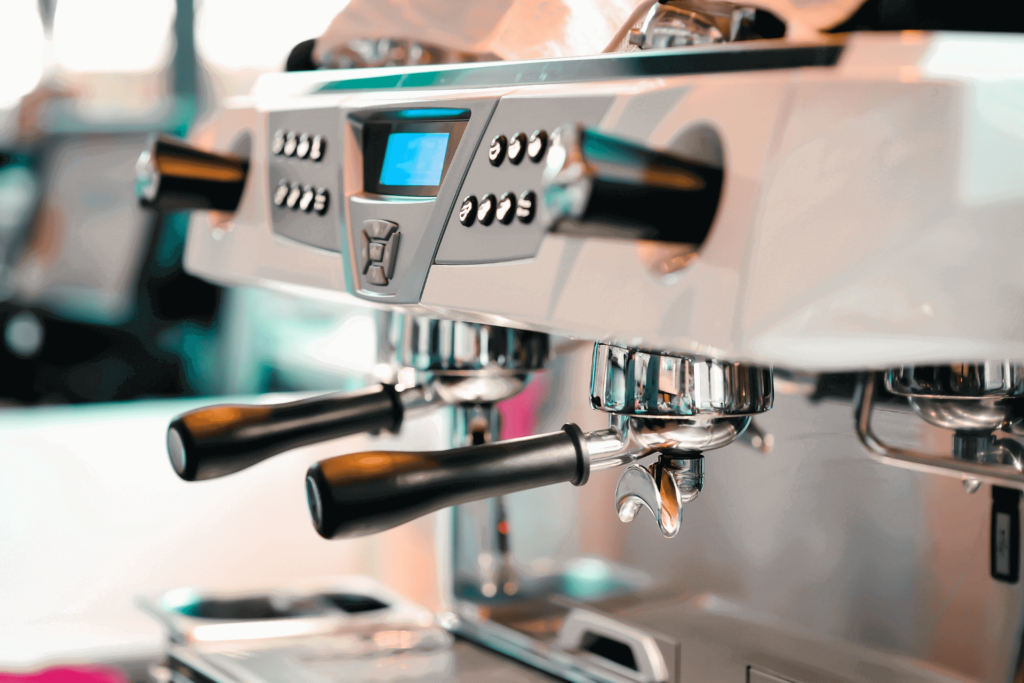 Most espresso machines are semi-automatic. These machines require you to fill a portafilter (that long handle with a grounds basket at the end), pack down the grounds, attach it to the machine, and turn on the brew cycle. They are relatively easy to use, but the process is involved and can be hard to master.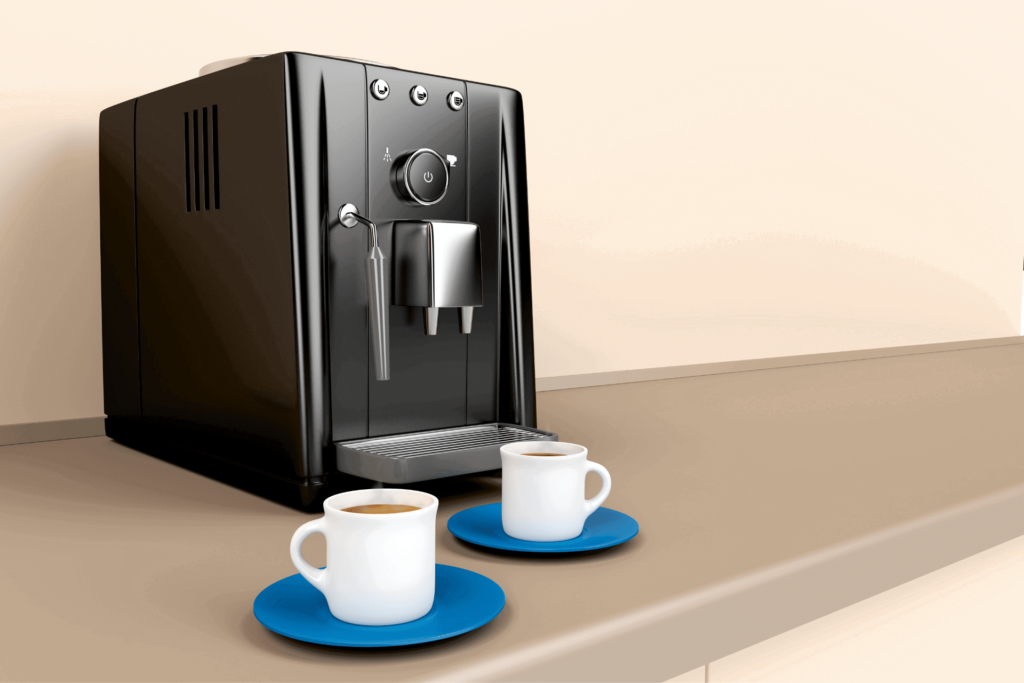 Automatic or super-automatic espresso machines are more like coffee vending machines. You keep them filled with beans and water, and they do the rest — including grinding the beans and measuring the grounds for you. At the touch of a button, they can produce espresso and often Americanos, lattes, cappuccinos, and more.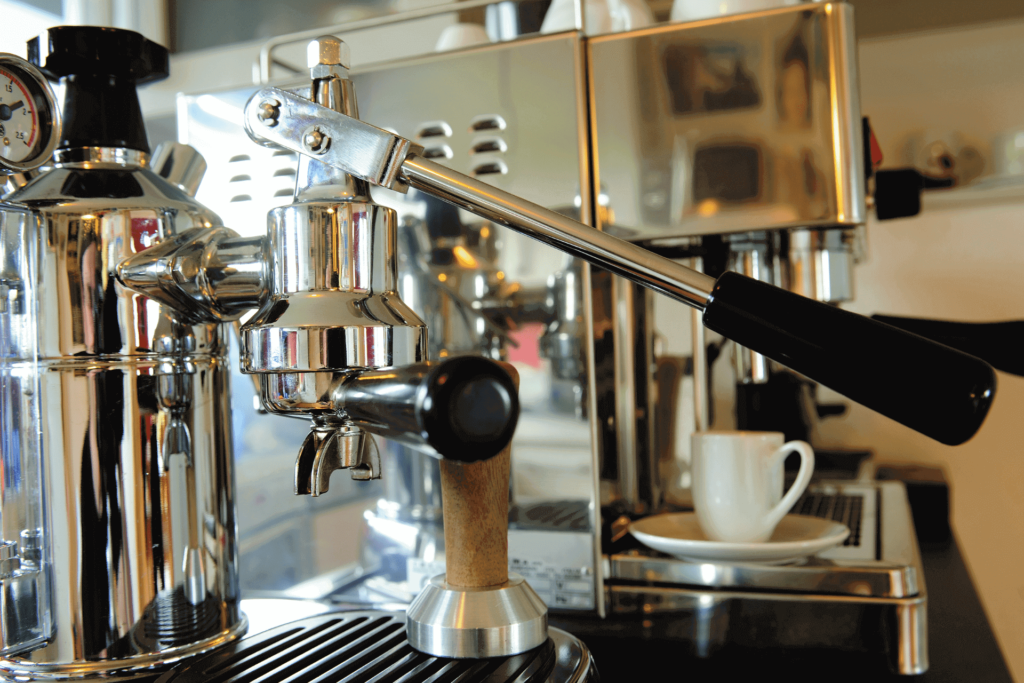 Manual or lever espresso makers are the least common. Setup for these machines works a lot like semi-automatic machines, but the actual brew process is more involved. To brew your shot of espresso, you have to pull down a lever that manually powers the extraction. The rate at which you pull the lever controls the brew time, so they take quite a bit of practice.
Aspiring home baristas will typically want a semi-automatic espresso machine. Automatic espresso machines are by far the most convenient, but you won't find any in this price range.
What about pod espresso machines?
Pod espresso machines have become a popular alternative to automatic espresso machines. Instead of loose ground coffee, they take capsules or pods containing pre-measured coffee grounds.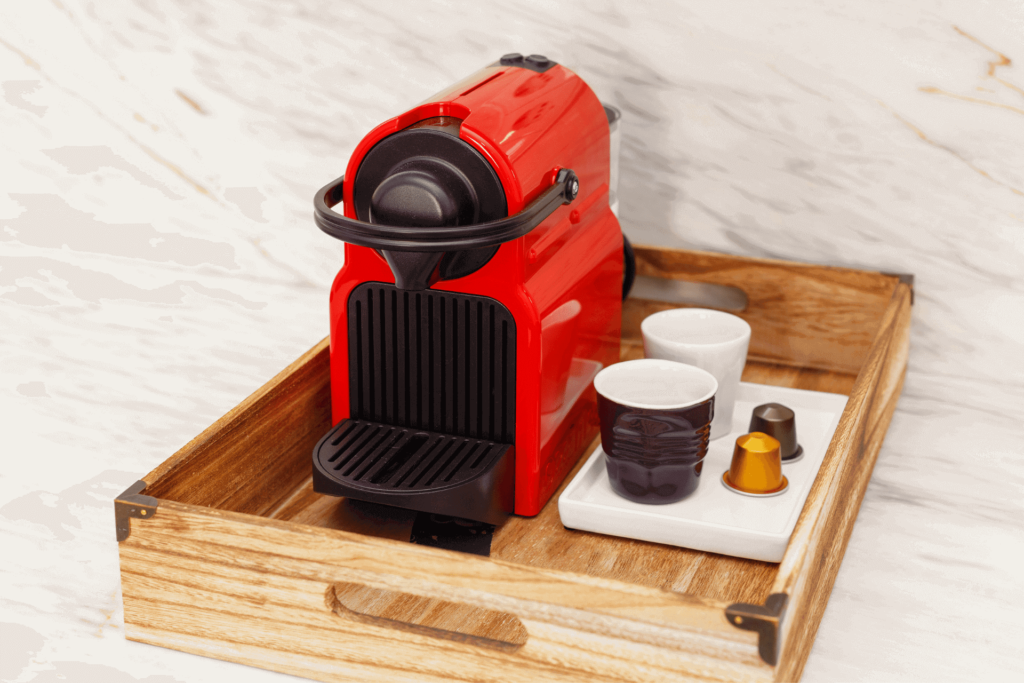 These machines are almost as convenient as automatic espresso makers. Further, the leading capsule espresso brand, Nespresso, makes several machines in this price range.
But is Nespresso worth it? For the extra convenience, you'll be paying around $0.70 each for the pods, and there's a lot of extra waste if you don't recycle the pods. You can negate both of those issues with reusable Nespresso pods, which are still more convenient than a semi-automatic or manual espresso maker.
Ease of use and cleaning
More automatic machines are easier to use, but there's still a lot of variance within a group. For instance, some semi-automatic machines operate by just a single dial whereas others have several settings to figure out. The latter is good if you care about customizability, but it can make the machine more difficult to use if you just care about getting a decent shot of espresso.
Cleaning is important for all espresso machines. You're definitely going to need to descale the machine about once a month. While that process isn't hard, some espresso machines claim to require specialized descaling solutions that can get expensive. Daily cleaning can also vary, especially with machines that are more prone to leaks or messes related to user error.
Size and portability
Many budget espresso machines are on the smaller side, which can be great if you don't have a ton of counter space. Often, though, you are sacrificing useful features to get that smaller-sized machine.
Some of the smallest machines are durable and have a handle, making them easy to carry between locations. For true portability, though, you'll probably have to forego espresso in favor of something like the AeroPress or a travel French press.
Build quality
A good espresso machine should last at least 3–5 years. Many of the cheapest machines, however, use shoddy parts that often break in less than a year. To avoid this problem, stick to only brands with high-quality standards and good warranties.
You can save a few bucks with a newer or less known brand, but you'll likely pay for it in the long run.
Steam wand
If you want to make lattes, cappuccinos, and other specialty espresso drinks, you need a steam wand or a milk frother. You can buy one separately, but you may as well get a machine with a built-in steam wand. It's one of the few features that I would consider to be a must-have, at least for semi-automatic machines.
Best Espresso Machines Under $200
Best espresso machine under $200: Mr. Coffee espresso and cappuccino maker
Mr. Coffee's 3-in-1 coffee maker offers a ridiculous amount of value for the price. It's able to produce 15 bars of pressure, resulting in shots of espresso that are far superior to most of the competition. 
If they'd stopped at delicious espresso, I'd be happy, but they went much further. Their machine includes an automatic milk frother which powers the one-touch creation of lattes and cappuccinos as well as espresso. You can even make double shots of any of these drinks.
The Mr. Coffee controls are very intuitive, which is impressive for a machine with this much versatility. Cleanup is a breeze, too, particularly because of the removable water reservoir and milk container.
They include filters for single- and double-shot espresso and a scoop that doubles as a tamper. That's everything you need for your first cappuccino, well except some espresso beans and milk.
Best cheap espresso machine: De'Longhi Stilosa espresso machine
De'Longhi is one of the most trusted brands in espresso. Every product they make is built with quality in mind, and it shows even in this — one of their most affordable espresso machines.
The stainless steel boiler is particularly impressive for a machine in this price range. These boilers are ruggedly built, ensuring consistent brews for the lifetime of the machine.
The Stilosa produces 15 bars of pressure, perfect for brewing espresso. It has a manual steam wand that can be used to turn your shots into lattes or flat whites. They include two filters for the portafilter, allowing you to brew either a single or double espresso.
My biggest complaint with this machine is that the steam wand is on the weak side. It's usable, but I expect more from DeLonghi.
Best pod espresso machine under $200: Nespresso Pixie capsule espresso machine
The Pixie is one of the smallest, cheapest machines from Nespresso. It is from Nespresso's Original Line, so it only makes espresso, not coffee. But it does produce an impressive 19 bars of pressure!
As with all Nespresso machines, it's made with quality parts and produces delicious espresso. The taste of the espresso easily competes with most espresso machines in this price range. Sadly, though, the crema (the foam layer on top of espresso) produced by this and the other Original Nespresso machines is pretty thin.
Because of the compact design, aluminum casing, 6.6-pound weight, and handle, the Pixie is incredibly portable.
You may notice that there are actually two versions of this machine on Amazon. If you are trying to choose between the DeLonghi vs Breville Nespresso Pixie options, don't think too much about it. There's no real difference in quality, and the designs are very similar. As of now, the Breville option is cheaper, so that's the one I'm suggesting.
Don't forget to pick up some of my favorite Nespresso pods to go with your new, easy-to-use Pixie! It can even take third-party capsules, so you have all kinds of great options for this machine, many of which are less than half the price of the branded Nespresso pods.
Best manual espresso machine under $200: Flair manual lever espresso maker
I don't generally recommend manual espresso machines. With all the excellent semi-automatic options out there, these lever machines feel more gimmicky than practical. But they are a fun gimmick.
Maybe you think you can make better coffee with a manual machine. Or maybe you just think they look cool. Either way, if you want a budget manual espresso maker, you can't go wrong with Flair.
I can't call this machine easy to use, but it is easy to clean. The detachable brew head can just be rinsed under cool water and you are done. The Flair is easier to maintain than any other machine in this list.
One of the nice things about manual espresso machines is that they are built to last. Flair offers a 5-year warranty on the brew head and stand, the two main components of the machine. 
Aside from the difficult use, the biggest downside is that the Flair can only produce about 10 bars of pressure. That's enough for a decent cup of espresso, but it can't compete with the 15-bar models.
Best portable  espresso maker under $200: Wacaco Nanopresso portable espresso maker
Camping and espresso didn't always mix. Automatic and semi-automatic machines require power, and even manual machines don't do well without a solid countertop. 
Then, along came the Wacaco Nanopresso.
The Nanopresso lets you produce a decent cup of espresso by hand, applying pressure by squeezing a tube. The entire thing is barely larger than a portafilter, requires no plug or batteries, and comes with a handy carrying case.
Squeezing the Nanopresso isn't particularly easy, and it's definitely not for anyone with arthritis. Fans of travel and espresso will be hard-pressed (yea, I said it) to find a better alternative. 
The Nanopresso doesn't heat water, so you'll need some way of either bringing hot water or heating it on site. Cleanup afterward is incredibly easy, which is a plus because most campers don't have a kitchen sink handy.
Mr. Coffee automatic dual-shot espresso/cappuccino system
Mr. Coffee's cheaper dual-shot espresso machine is a top contender to the DeLonghi Stilosa.
It has a removable water tank and most of the rest of the advantages of Mr. Coffee's more expensive model. Instead of the automatic frother, though, it just has a steam wand, which is why it isn't at the top of this list.
Nespresso VertuoPlus capsule espresso machine
If you want a pod machine that can make both coffee and espresso, you need one of the Nespresso VertuoLine machines. And when put head-to-head with the other VertuoLine models, the VertuoPlus is consistently the best for most espresso lovers. 
First, when comparing the Nespresso Vertuo vs VertuoPlus, the VertuoPlus's adjustable water tank and the extra capacity of the VertuoPlus Deluxe are big advantages, even if the Vertuo is somewhat sturdier. With the Vertuo Next vs VertuoPlus, the larger, adjustable tank of the VertuoPlus beat out the Next unless you need the carafe-size pods of the Next.
Capresso 124.01 Ultima Pro espresso machine
The Capresso Ultima Pro is able to generate the preferred 15 bars of pressure. It has a steam wand for making specialized drinks and filters for both single and double shots. My biggest complaint is the lack of a removable drip tray, which makes this model a bit messier than others on the list.
Hamilton Beach 15-bar espresso machine
Hamilton Beach's entry in this list has a sleek shell, although the control panel could be simplified. It can produce 15 bars of pressure, has a swiveling steam wand, and all the usual accessories. The quality of the espresso leaves a bit to be desired, which is why it didn't rise higher on the list.
Gevi espresso machine with milk frother
I absolutely love the stainless-steel design of the Gevi, and the swiveling steam wand is great for making lattes. The machine heats up fast and can produce 15 bars of pressure. The removable water tank makes cleanup a breeze.
Klarstein Passionata Rossa 20 espresso machine
This is a cute, powerful espresso machine that is great for beginners. The water reservoir is removable, and the control panel is very intuitive. With 20 bars of pressure and a swiveling steam nozzle, you'll have no problems making quality espresso drinks.
The biggest downside of this machine is the portafilter. It has some plastic parts and just doesn't seem to be particularly high quality. Fortunately, portafilters are pretty easy to replace if you don't like them.
Krups XP3208 15-bar pump espresso maker
Krups' budget espresso machine has everything you need to make an espresso or latte, from a 15-bar pump to a rotating steam nozzle. 
The coolest aspects, though, are the giant 50-ounce removable water tank and the built-in cup warmer. If you've never used a warmed cup to make a shot of espresso, you're missing out. 
De'Longhi ECP3120 15-bar espresso machine
DeLonghi couldn't stop at just one amazing, cheap espresso maker. They differ in features and style, but they are all made with superbly high-quality standards.
The ECP3120  has the usual single-shot and double-shot filter holders, and they include an additional holder for easy-serve espresso pods. That's a nice little addition if you want a standard espresso machine that also allows for lazy mornings.
DeLonghi EC155 15-bar espresso and cappuccino machine
Okay, the EC155 holds a special place in my heart: It was the espresso machine we had in my first office job and the machine that fostered my love of straight espresso. More importantly, though, it's a powerful and easy-to-use espresso machine.
The built-in frother and tamper give you everything you need to make a shot of espresso or a cappuccino. And in case you ever need a low-effort espresso fix, the portafilter can handle not just ground coffee but also easy-serve espresso pods.
Yabano 15-bar espresso machine with milk frother wand
Yabano's espresso machine offers the 15-bar pump that you'll need to make great espresso. It also has one of the slimmest, sleekest designs of any budget espresso maker.
The centrally-placed pressure gauge allows you to brew consistent espresso shots and really perfect your game. The stainless steel exterior and removable water tank and drip tray are very easy to clean. The steam wand and cup warming grill round out this quality espresso machine.
The only reason I didn't place it at the top of the list is the brand. Yabano seems great so far, but I can't give them the top spot until they've got a bit more history of quality products and service behind them. I've got nothing negative to say about them, but the jury is still out.
 Final Verdict
You don't have to sacrifice quality to get an affordable espresso maker. These machines may not have all the features of a more expensive model, but they are powerhouses in their own right. Whether you want rich lattes, sippable espresso cups, or easy-to-use coffee capsules, hopefully, this list provided plenty of options in your price range.
Espresso machines aren't your only option for budget coffee. If you are looking for a decent latte, you should try the concentrated coffee option available on the best Ninja coffee makers. You can also try imitation espresso options like French press espresso or AeroPress espresso. Or, if you just want convenient, high-quality coffee, your money is probably best spent on an automatic pour-over coffee maker.