Here it comes: The single easiest way to make your French press coffee better. Coffee lovers are always looking for ways to improve the experience — from changing water temperature to trying new single-origin beans. But none of that will level up your brew as fast as fast as learning how to grind coffee beans. 
French Press coffee is no different. The specifics (grind size, etc.) may be different from espresso machines or automatic pour-over coffee makers, but you still shouldn't be using pre-ground coffee. That's why I'm excited to introduce you to the best French press coffee grinders. 
Quick Answer: Best French Press Coffee Grinders
Why Does Grinding Coffee Matter?
Grinding coffee beans is all about perfecting the extraction of flavors from the coffee grounds. We use grounds instead of whole beans in coffee makers because they have more surface area, so the water can quickly and fully extract the oils, acids, and sugars from the coffee.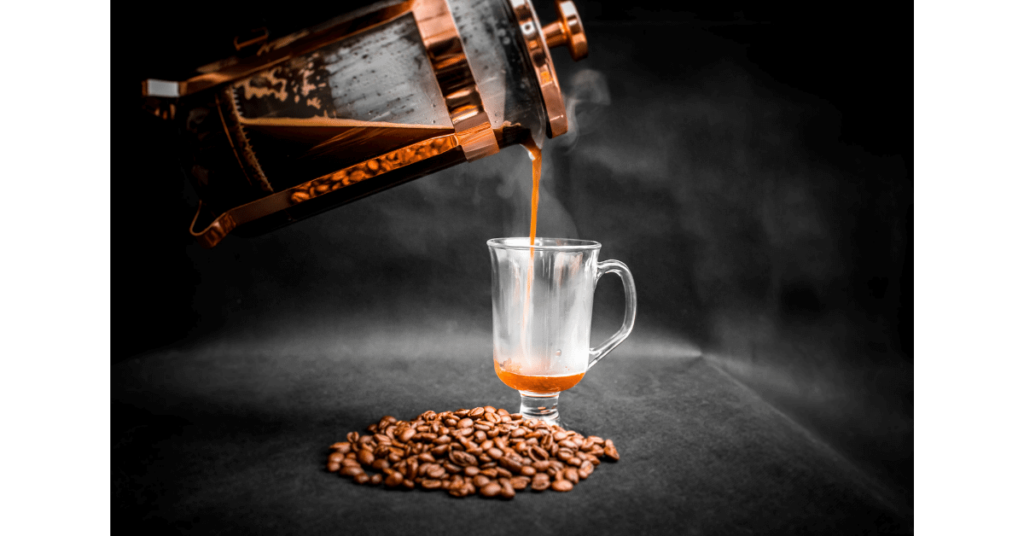 Controlling the extraction levels is critical for a great-tasting cup of coffee. If you over-extract coffee grounds, you'll end up pulling extra bitter compounds out of the grounds, leading to a bitter-flavored coffee. If you under-extract the grounds, you'll leave the sweet flavors in the grounds, and your coffee will end up tasting sour.
By controlling the grind size and the amount of grounds used (as well as factors like water temperature), you can find the balance between those extremes. That balance is the perfect extraction that leads to the ideal cup of coffee.
How to Grind Coffee for French Press 
French press grind size
For a French press, you want to use a coarse grind size. The grounds should be about the texture of coarse (or kosher) salt.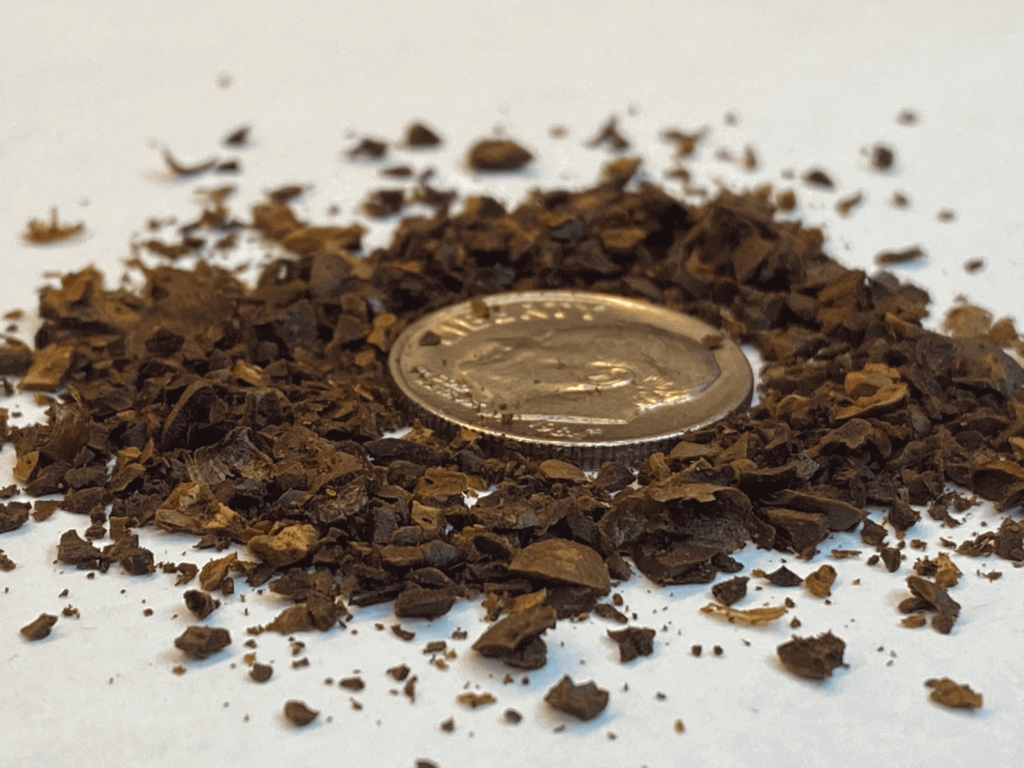 Every coffee brewing method has an ideal grind size. If you use too coarse a grind, and you'll under-extract them. With too fine a grind, you'll over-extract your grounds instead. Fine grounds are even worse in a French press because they can pass right through the filter and into your final brew. So not only will your coffee be bitter, but it will also be crunchy!
Most pre-ground coffee is either sized for drip coffee (medium grind) or espresso (fine grind), so they won't work properly for a French press. Then again, you should really be grinding your own coffee beans anyway as pre-ground coffee goes stale very quickly.
How much coffee to grind for French Press
The best coffee-to-water ratio for french press depends on how strong you like your coffee. A 1:16 ratio will make a pretty normal French press brew. If you like strong coffee, you can go as high as a 1:10 ratio without worrying about under-extracting the coffee.
No matter what size your French press, you can find the exact right amount of coffee grounds using my coffee-to-water ratio calculator. I built it for just such an occasion, and it also works with other brewing methods.
Choosing a French Press Coffee Grinder
There are many coffee grinders to choose from, but most of them just aren't that great. When looking for the best coffee grinder for your French press, there are a few key characteristics to consider.
Manual vs electric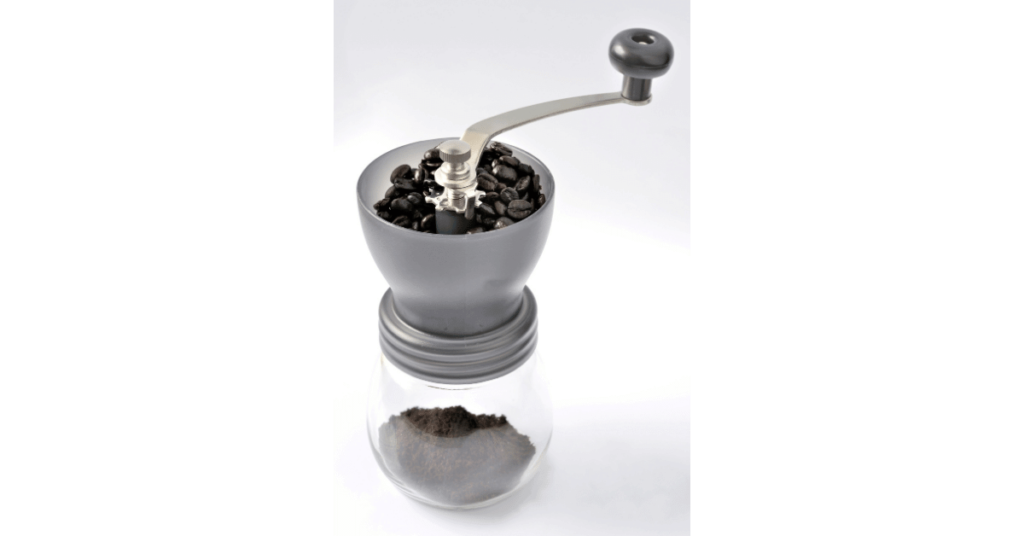 There are pros and cons of both manual and electric coffee grinders. Electric coffee grinders vary a lot more in quality than manual grinders. If your budget is limited, you'll almost certainly be able to find a higher-quality manual coffee grinder than you could an electric one. However, at higher price ranges electric grinders are far superior to their manual counterparts.
Manual grinders are great for grinding small quantities of coffee. If you want a small coffee grinder that you can travel with, there are few portable electric grinders that offer both quality and durability. But grinding large amounts of coffee can be cumbersome with even the best manual grinder. If you're using a large French press or making coffee several times a day, you may want to consider going with an electric grinder.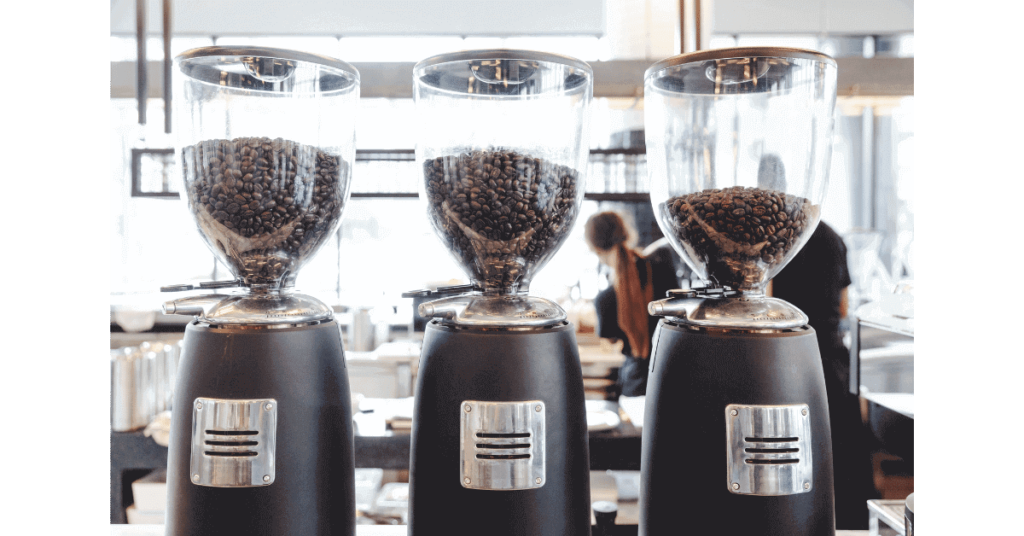 Burr vs blade
There's no nuance on this decision: Burr grinders are far superior to even the best blade grinders. The cheapest electric coffee grinders tend to use blades, which is why many people have opted for blade grinders. But it's just not worth it. 
Let's back up for a moment and look at what blade and burr grinders are.
Blade grinders
Blade grinders operate much like blenders or food processors. They have spinning blades that chop the beans apart rather than truly grinding them. Blade grinders are simple to operate because they just have an on/off button.
The size of the grind is controlled by how long you let the machine run — longer runs produce finer grinds. If that sounds imprecise, it's because it is. Worse, it's inconsistent. Some grounds hit the blades more frequently than others, so they end up being chopped up much faster. The result is that your coarse grind actually has a large number of coarse particles and medium (or even fine) particles mixed in.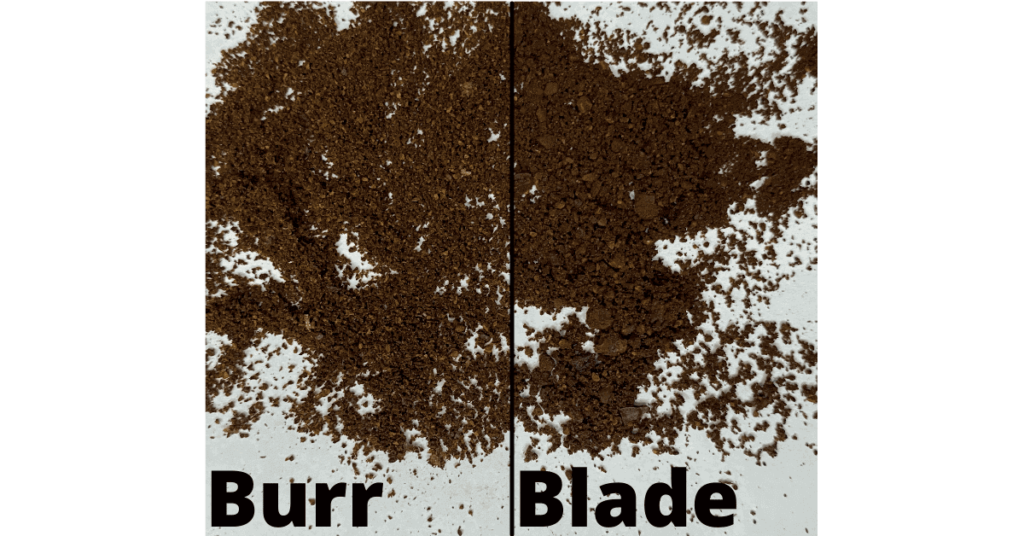 When you make coffee with a mixture of grind sizes like that, you end up with the coarser particles under-extracting and the finer particles over-extracting. Your French press brew from a blade grinder will be a little sour, a little bitter, and probably cloudy from particles that passed right through the filter. In other words, it will be terrible.
Burr grinders 
Burr grinders work like mills. Beans are crushed as they pass between steel or ceramic plates that are covered in tooth-like blades.
The size of the particles is controlled by the spacing between the plates. Grounds that are too big can't make it through until they are crushed. When the grounds are small enough, they fall right through, so there is no chance of grinding them smaller than they are supposed to be.
The result is a very uniform grind that can readily be controlled by a dial on the grinder. Some blade grinders only have a handful of these size settings, but others have upwards of 200 grind sizes to choose from!
Conical vs flat burrs
The burrs used in burr grinders come in two shapes: conical and flat. Conical burrs are shaped like two concentric circles, a solid one placed inside a hollow one. Think of a donut and a donut hole but flatter. Flat burrs are more like two identical plates pressed against each other, like two hands rubbing together.
Flat burr grinders are more expensive, and they produce a somewhat more consistent grind than conical burrs. Along with being cheaper, conical burr grinders also tend to be moderately quieter coffee grinders than those with flat burrs.
Either will work fine for a French press grinder. In general, conical burrs are more popular for home grinders, and flat burrs are more frequently found in commercial grinders.
Ceramic vs steel burrs
Shape is not the only thing that distinguishes different grinder burrs. You'll find them in two materials: ceramic and steel. Steel burrs start off sharper than ceramic burrs, but ceramic burrs retain their edge better over time. Steel burrs are almost always cheaper, but they won't last nearly as long as ceramic.
Best Coffee Grinders for French Press
Best French press coffee grinder: Oxo Brew burr grinder
Let's start off with a machine that has everything you'll need to easily grind coffee for your French press — all without breaking the bank.
The Oxo uses conical stainless-steel burrs to produce a uniform grind over a range of sizes. There are 15 major grind settings and 3 mico settings for each, for a total of 45 grind sizes to choose from. For more advanced users, that may not be enough options, but it offers plenty of precision for novice users. More importantly for French press users, it has several multiple coarse grind settings.
You can control the amount of coffee that the Oxo grinds using the timer knob, which runs up to 30 seconds. This is a pretty standard way to control grind quantities, although some higher-end models include built-in scales so you can select by weight instead of time.
The bean hopper (the part that holds the beans before they are ground) holds a decent 0.75 pounds of coffee. It's tinted, which is especially important for larger hoppers. The tint protects the coffee beans from light-induced degradation prior to grinding. It's not as good as an opaque container, but it's a huge improvement over the fully transparent hoppers found on cheaper grinders.
The grounds bin can hold enough grounds for about 12 cups of coffee. It's metallic, offering additional protection, which is great because coffee grounds go bad very quickly otherwise.
Best travel French press grinder: 1Zpresso Q2 manual coffee grinder
When it comes to manual coffee grinders, the glass ones tend to be cheaper, but it's hard to beat the durability of stainless steel. The 1Zpresso is incredibly portable, measuring just 5.5 inches long and 2 inches in diameter. The removable handle is also a huge plus for portability.
And it's built to last, so expect this to be a faithful companion to your French press for years to come. The Q2 has a whopping 60+ grind settings, which is huge for a hand grinder, giving you plenty of options to perfect your brew.
The Q2's ball handle is really comfortable, which is especially important if you intend to use it as your main grinder.
The main downside of the Q2 is that it can only grind enough beans for 1–2 cups of coffee at a time. Then again, you wouldn't expect a travel grinder to be much larger than that.
Baratza has earned one of the best reputations in the coffee grinder world. They are known for providing incredibly high-quality machines. Their grinders are also very repairable, with excellent services and the ability to readily buy replacement parts. Baratza does everything they can to make sure your grinder lasts a lifetime.
The Virtuoso was already an amazing high-end coffee grinder, and the Virtuoso+ takes it to a new extreme. The 40 grind settings cover all of the standard use cases, including multiple settings that work well for a French press grind.
Its digital timer allows for very simple operation, and it's adjustable to a tenth of a second for high precision and reproducibility. The digital screen and the backlit grounds bin allow you to use the Virtuoso+ even in low lighting situations. If you are like me to turn on all the lights in your kitchen before your first cup of coffee, that's just a nice little feature.
The hopper on the Virtuoso+ can hold 8 ounces of coffee, and both it and the grounds bin are tinted to offer protection from light-induced degradation of the beans. 
Finally, the Virtuoso+ uses commercial-grade hardened alloy steel burrs coupled with an impressively powerful motor. These parts of the rest of the machine are backed by Baratza's 1-year warranty.
Best budget French Press grinder: Cuisinart DBM-8 burr mill grinder
Cuisinart's grinder is a great entry-level, budget grinder. It's small for a countertop grinder, but it holds an impressive amount of coffee grounds — enough for 32 cups of coffee.
The machine has 18 grind size settings, which is enough to handle French press and other basic methods like drip or percolator. 
The DBM-8 is high volume in every sense of the phrase, so be prepared for some extra noise when you turn it on, especially if your family isn't fond of waking up to the sound of milling beans.
Best budget manual grinder: JavaPresse manual coffee grinder
The JavaPresse is a good balance between capability, quality, and budget. it's much cheaper than the 1Zpresso, but it still maintains all of the basics that you need in a French press grinder.
It has 18 grind settings, which is decent for its price range. The ceramic conical burrs are very high quality, as is the overall build of the JavaPresse. The only downside in that regard is the few plastic internal parts, which can be more fragile than what you'll find in higher-end grinders.
Khaw-Fee HG1B manual coffee grinder
Khaw-Fee's grinder offers impressive quality in what is clearly a budget grinder. Instead of cheap plastic parts, the grinder uses stainless steel. It does have a glass body, but it is very sturdy. The tiny size of the grinder makes it a great option for travel.
The grinder uses conical ceramic burrs which are made to last, and the crank handle is very easy to use.
Instead of discrete grind settings, the Khaw-fee allows for continuous adjustment. This allows an impressive level of precision, but it can make it hard to recover a setting if you use the grinder for multiple coffee makers. If you only need a grinder for your French press, though, it should work great.
Secura electric burr coffee grinder
The Secura is another budget grinder that offers a huge step up from blade grinders, but it can't quite compete with higher-end burr grinders. This largely stems from its use of so-called block burrs, which are much cheaper than conical or flat burrs but provide a somewhat less consistent grind size.
Secura's grinder has 17 grind size settings. Although that's not a lot, it does cover the range you'll need when grinding beans for a French press. There is an easy-to-use dial to control the amount of grounds produced — which can be enough for 2 to 12 cups of coffee.
The Secura is very compact, measuring only 6 x 4 x 8.75 inches. If you have limited counter space, that's a huge plus.
Capresso Infinity burr grinder
The Infinity has 16 grind size settings, conveniently groups into 4 major settings: extra-fine, fine, medium, and coarse. Those extra fine settings make the Capresso one of the few budget grinders that can work for Turkish coffee, but the coarse settings also make it a great option for a French press. 
Capresso's grinder uses stainless-steel conical burrs that grind slowly to avoid overheating, preserving the aroma and flavor of the coffee beans.
Baratza Encore burr grinder
The Encore, Baratza's entry-level grinder, has 40 grind settings, offering a reasonable level of precision for most brewing methods — including French press. It's doesn't have all of the features of the Virtuoso Plus, but it's also a significant step down in price. 
It still has the tinted hopper and grounds bin for the protection of the coffee beans. You can control the Encire with an on/off switch or a pulse button, the latter coming in handy when you need to get a small amount of grounds or test out a new setting.
Just like the Virtuoso, the Encore is sleek and professional. And it's backed by the same one-year warranty and the world-class support that makes Baratza such a beloved brand in the coffee world. 
Baratza Vario flat burr coffee grinder
The Encore is entry-level and the Virtuoso Plus is great for those ready to get serious. The Vario, though, is the machine for those ready to enable coffee god mode. 
The Vario has 230 grind settings — that's almost six times as many as the Virtuoso Plus! Even the most snobbish coffee drinker can dial in the perfect grind size for French press (or any other coffee brewing method) with that many options to choose from. Those 230 settings are split into 10 macro settings each with 23 micro settings for easy use.
The grind time on the Vario is programmable down to 0.1 seconds, which is an increment of about 0.2 grams. It also has three presets, so you don't have to try to remember all of your favorite settings. 
This is one of the few home coffee grinders that uses flat burrs, offering incredibly uniform grinds that you just can't get with a cheaper machine. They are professional-quality ceramic burrs, so they'll maintain their edge for years. Vario even includes a burr removal tool and an adjustment tool, so you can easily maintain the machine in prime condition. If that's not enough, you've always got Baratza's quality support to help with any issues that might arise.
In case you aren't just a French press drinker, the Vario also comes with a heavy-duty portafilter and a portafilter holder, perfect for making espresso. 
Hario Skerton Pro manual grinder
Between the compact design and the detachable handle, the Skerton Pro is a great option for a high-capacity travel grinder — perfect for families on the go (or one person that just really likes their coffee). It uses high-quality ceramic conical burrs that are built to last. The grinder holds 100 grams of ground coffee, enough to make up to eight cups of French press coffee.
Compared to earlier Skerton models, the Pro is stronger and sturdier, further enhancing its ability to serve as your on-the-go grinder. Given the capacity, though, you could pretty much use it anywhere.
Porlex Mini manual grinder
The Porlex Mini is tiny, measuring only 6 x 2.3 x 1.8 inches. The stainless steel burrs offer excellent grind consistency, and the overall build quality is great. There's even a built-in rubber band made to hold the removable handle during travel — a simple but effective concept that I wish other travel grinders would start adopting. 
Breville BCG820BSS Smart Grinder Pro
The Smart Grinder Pro has a sleek, LCD screen that shows the grind size setting, grind time, and the number of cups or shots you have selected.
With 60 grind settings, you can easily find a great option for your French press. If you want to go beyond just French press brewing, the Smart Grinder comes with two portafilter cradles (one small, one large) that can take the place of the grinds bin.
Both the bin and the hopper are tinted to offer protection for both the beans and the grounds. The hopper holds 18 ounces of beans, making it one of the largest options in this list. The grounds bin has an airtight seal for further protection.
Brevillle's grinder has stainless steel conical burrs, which offer excellent uniformity of grind size. They even include a cleaning brush to keep your burrs in peak condition.
KitchenAid KCG0702ER burr grinder
If you have a KitchenAid mixer, the design of their burr grinder will look right at home in your kitchen. It uses stainless-steel burrs that provide a uniform grind at any of 15 grind settings. That's not a huge number of options, but it does have 1–2 sizes that will produce good French press coffee.
The biggest claim-to-fame of the KitchenAid grinder is the 450 rpm engine that is designed to avoid producing excess heat that can tarnish the flavor of the beans.
Eparé Manual coffee grinder
Epare has solved one of the biggest annoyances of manual grinders: the complicated handle removal. When you need to load the hopper or stow the handle for travel, all you have to do is pop it right off. Instead of a screw or other standard hardware, the handle is attached via a built-in magnet.
While it is a handheld grinder, the Epare is also designed for easy countertop operation due to its anti-slip base. Its ceramic burrs offer both a quality grind and long-lasting durability.
Epare's grinder has 15 grind sizes, which offers enough range for French press and a few other brewing methods, but it won't let you play around too much with optimizing your grind size. The grinder holds 60 grams of coffee, so you can make 4 cups of coffee with a single batch.
Mueller Ultra-Grind coffee grinder
Mueller's coffee grinder includes a tinted hopper with a half pound capacity and a tinted grounds bin large enough to grind enough coffee for nine cup of French press coffee at once.
The Ultra-Grind has 100 grind size settings on an easy-to-use coarseness adjustment knob. That makes it one of the more precise models in this list, and it's an incredible number of settings for a grinder in this price range.
The machine uses hardened alloy steel conical burrs for uniform grind size, and the entire machine is designed to be easy to clean and maintain. The burr assembly is removable and has an embedded cleaning brush to streamline the process of keeping it working in prime condition.
Bodum Bistro burr grinder
The Bistro is made to be simple, and I love a product that knows exactly what it is. With only 12 grind settings, you won't find a lot of precision here, but you will get a quality grind thanks to the stainless-steel conical burrs.
Its bean hopper holds up to 7.75 ounces of coffee beans. The hopper lid doubles as a guide to grind settings, which is always handy to have in a pinch. 
Handground precision manual grinder
From a mechanical perspective, top-mounted knobs make sense for manual coffee grinders. But they are unstable and turning them just isn't a natural motion. 
Handground seems to have heard my annoyance, because they created a hand grinder that has a side-mounted handle. It's much easier to use than the typical manual grinder. 
The grind quality is excellent, courtesy of the conical ceramic burrs. There are only 15 grind size settings, but that's enough for basic users that just want freshly ground coffee for their French press or other simple brewing methods.
The compact and manual nature of the grinder makes it great for travel, and it can grind up to 100 grams of coffee at once – enough for an 8-cup French press.
Hario Mini Slim Pro manual coffee grinder
Hario's Slim Pro looks like a pepper grinder. That's an aesthetic that I adore, but it may not be for everyone. It's slim and sturdy, making it an excellent travel grinder. It can grind enough beans for about 2 cups of French press at a time, and the ceramic burrs provide a high quality grind.
Heihox manual coffee grinder
Heihox's manual coffee grinder has 24+ grind size settings, a decent amount for a handheld grinder. It's also plenty to give you the options you need to optimize your French press brew.
The stainless steel conical burrs offer a quality, uniform grind, and the ergonomic handle makes the grinder easier to use than most cheaper models.
Final Verdict
In an ideal world, you'd have a powerful electric burr grinder for home and a versatile manual burr grinder to travel with. Both would have a wide range of settings for coarse-ground coffee and a simple grinding process that requires minimal effort. And you'll find that with some of the best French press coffee grinders in this list.
But here's the real secret:
Any burr grinder will be a huge step up from a blade grinder or pre-ground coffee. The simple truth is that your coffee experience is taking a huge hit if your grounds aren't fresh or if you are using coffee that was not ground specifically for a French press.