This post may contain affiliate links. Please read my disclosure for more info.
---
Most decorations don't taste very good — unless you lived in 17th-century Guatemala where coffee plants adorned the halls instead of filling your mug.
While Brazilian coffee brands and many other large producers imported coffee plants with the intent of selling the staple bean, Guatemala's coffee sector followed a more winding path. It worked for them, though, because they now produce some of the best coffee in Central America and possibly anywhere in the world.
Are you ready to discover all the variety available in the best Guatemalan coffee beans, what they taste like, and maybe even a bit of their storied history? Grab your best lava-proof boots, because there are a lot of volcanoes on today's journey.
Quick Answer: Best Guatemalan Coffee Beans
| | Image | Product | |
| --- | --- | --- | --- |
| Best Guatemalan coffee | | Guatemala Peaberry Coffee, Whole Bean, Antigua, Medium Roast, Single Origin, 16-ounce | Check price |
| Best Guatemalan cold brew coffee | | Organic Cold Brew Coffee - Guatemalan Coffee Beans Crafted For Cold Brewing - Whole Bean, Medium Roast, 16oz (Whole Bean) | Check price |
| Best Guatemalan Antigua coffee | | VOLCANICA COFFEE COMPANY Guatemala Antigua Coffee, Reserve, Dark Roast, Whole Bean, Fresh Roasted, 16-ounce | Check price |
| Best Guatemala Huehuetenango coffee | | Fresh Roasted Coffee, Organic Guatemala Huehuetenango | 2 lb (32 oz) | Single Origin | Medium Roast | Mold & Mycotoxin Tested, Kosher | Whole Bean | Check price |
| Best Guatamalan coffee pods | | Peet's Coffee, Single Origin Guatemala - Medium Roast Coffee - 32 K-Cup Pods for Keurig Brewers (1 Box of 32 K-Cup Pods) | Check price |
| Best Guatemalan coffee brand | | Two Volcanoes Coffee - Gourmet Guatemala Whole Bean Medium Roast Single-Origin Coffee. 1 lb | Check price |
A Brief History of Guatemalan Coffee
Would you believe that coffee in Guatemala wasn't originally farmed for consumption? In the mid-1700s, coffee was brought to Guatemala by Jesuit missionaries to serve as an ornamental plant. You read that right: In Guatemala, Coffee was a decoration, not a drink!
We might never have started drinking Guatemalan coffee if it weren't for the invention of synthetic chemical dyes in Europe in the 1800s. Indigo and cochineal dyes were a huge export for Guatemala, and their demand collapsed when Europe found artificial alternatives.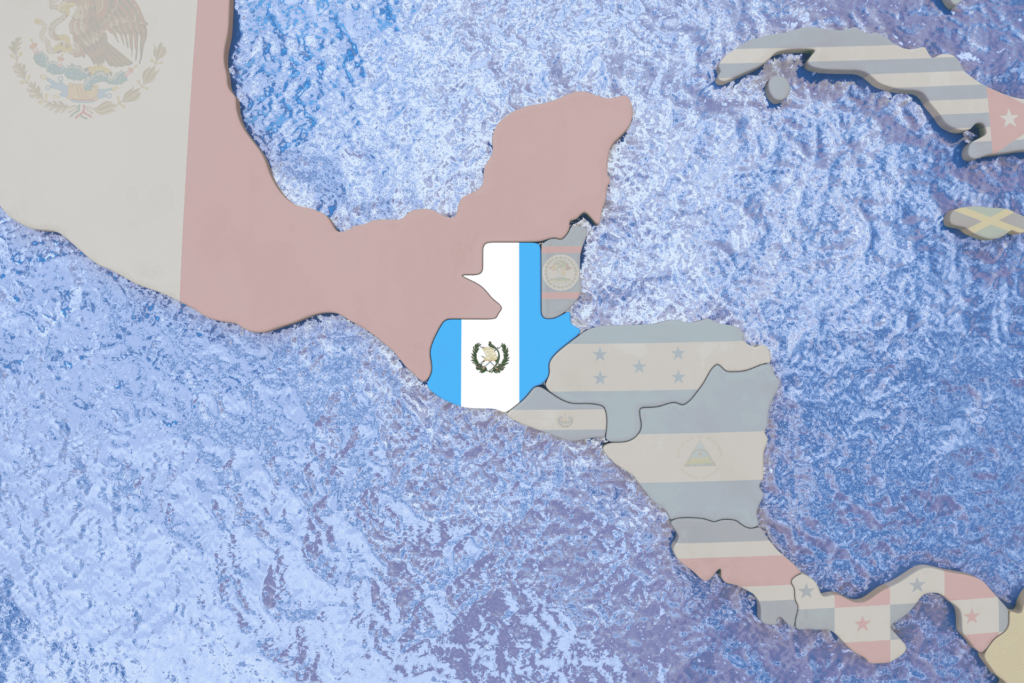 The country needed a new export crop, and coffee was in a prime position to become that crop. The government was able to establish coffee plantations, and they used trade agreements and preferential taxes to further boost the coffee industry. The result was dramatic, with half a million coffee trees planted across Guatemala by 1859.
Local farmers and small plantations struggled to grow because of limited technology and knowledge. Loans helped, but much of the growth through the latter 19th century was due to foreign companies providing investment and purchasing Guatemalan coffee plantations. Once that occurred, the explosive growth of coffee production in Guatemala was only limited by the scarcity of labor.
Guatemalan Coffee Production
Guatemala was the largest coffee producer in Central America for most of the 20th and 21st centuries, but they were overtaken in 2011 by the rapid rise of Honduran coffee beans. Even still, they remain the 9th largest of the coffee-producing countries and the 2nd largest in Central America.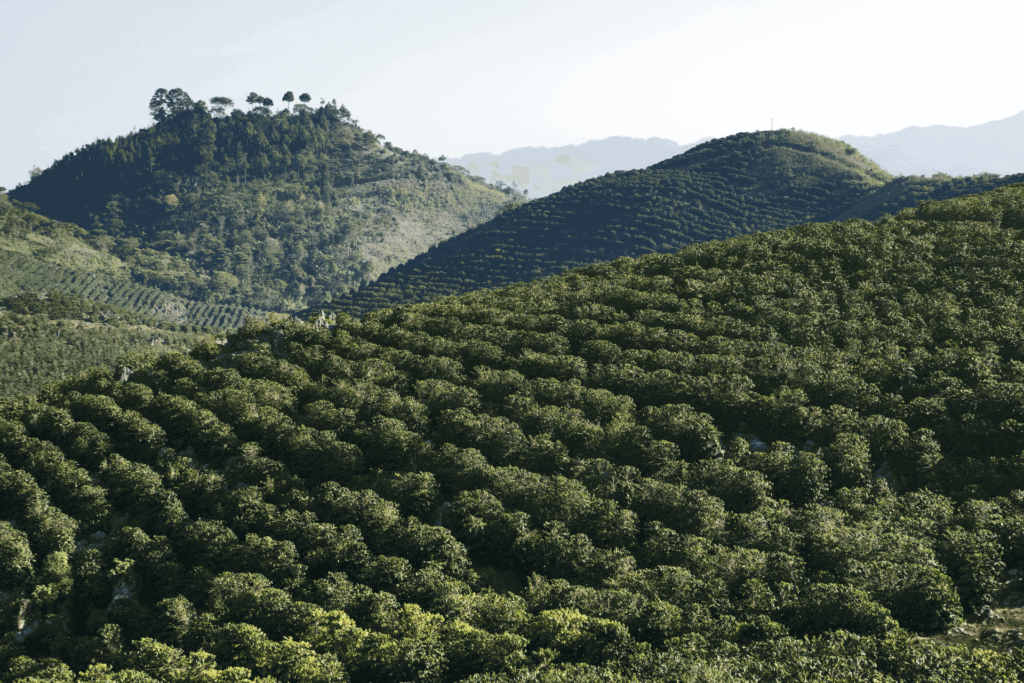 Guatemala currently produces 245,441 metric tons of coffee per year, 98% of which are Arabica — the most popular type of coffee bean. That's 2.5% of the world's total coffee production. Coffee makes up 40% of Guatemala's agricultural exports, although bananas and sugar are still more profitable crops overall for the country.
125,000 family coffee farms are currently producing coffee across Guatemala. These small family farms have rapidly taken over the country's coffee production. Currently, 97% of the country's farms are family-owned and that number continues to grow.
What Is Guatemalan Coffee Like?
Guatemalan coffee is very high quality, especially in the higher altitude or heavily volcanic regions. Similar to the nearby Honduran and Mexican coffee brands, Guatemala produces quite a bit of organic coffee.
Of course, what really matters is the Guatemala coffee taste. Who cares about quality if you won't enjoy the characteristics of the brew.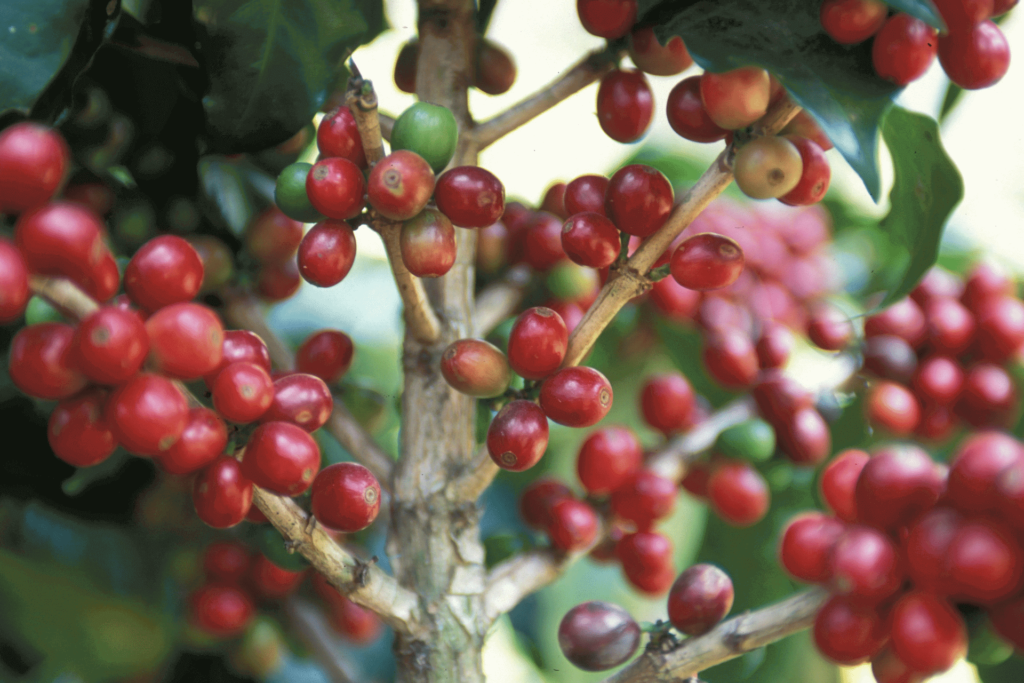 Most frequently, coffee from Guatemala is full-bodied with a delightful acidity. Citrus and floral aromatic notes are very common, as are sweet flavors with gentle hints of caramel and chocolate. 
You may also find Guatemalan coffee brands that offer rich-bodied coffees, vibrant cacao flavors, and other characteristics that are common to Central American coffees. 
Guatemalan Coffee Growing Regions
The country has eight major coffee-growing regions containing 300 unique microclimates. Depending on which region and even which microclimate your coffee comes from, the flavor, aroma, and other characteristics can vary significantly.
Guatemala's coffee-growing regions are Acatenango, Antigua, Atitlan, Coban, Fraijanes Plateau, Nuevo Oriente, and San Marcos.
Acatenango Valley
The Acatenango Valley is full of dense shady areas, and it is very close to the slopes of the Fuego Volcano. The soil here is rich, full of minerals and nutrients from the eruptions of the volcano. Some of the best coffees in the world grow in volcanic soil, and this is no exception. Acatenango stacks the deck in their favor by growing the rare Geisha Arabica varietal — one of the most sought-after types of coffee beans in the world.
Antigua
If you've heard of any Guatemalan coffee, it's probably Guatemalan Antigua, and there's a good reason for that. Acatenango Valley's single volcano is good, but it's hard to beat the ultra-rich volcanic soil of Antigua. The region is surrounded by three volcanoes, resulting in some of the best coffee-growing lands anywhere in the country. 
Antiguan coffee often has sweet flavors, notes of chocolate, and an apple-like acidity.
Atitlan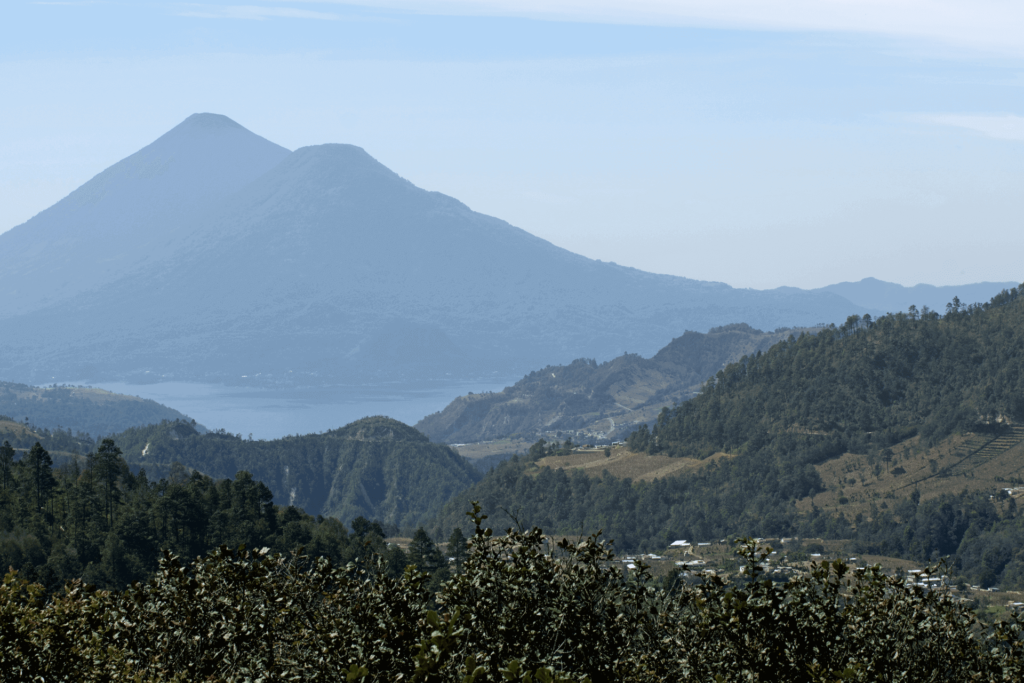 Much like Acatenango and Antigua, Atitlan is a region with abundant volcanic soil. The soil in Atitlan contains more organic matter than anywhere else in the country, which has a huge impact on the coffee's quality and flavor. The proximity to Lake Atitlan also offers an excellent irrigation source for the crops.
Atitlan coffee is loved for its floral or spicy acidity and full body.
Coban
Coban's year-round rainfall produces incredibly fertile soil, perfect for growing coffee trees. Farmers in this region are renowned for their meticulous coffee cherry sorting practices, often requiring 10 rounds of sorting to select only the most premium beans for roasting.
Coban coffee is much less acidic than most Guatemalan coffee, and it tends to be bright and medium-bodied.
Fraijanes Plateau
The Pacaya volcano in Fraijanes Plateau is still active to this day, providing plenty of volcanic richness to the sol throughout the region. The area also has very high altitudes, frequent rainfall, and high humidity.
Coffee from this region tends to be full-bodied, with a complex flavor and sweet aroma. It's also notoriously hard to find in the United States.
Huehuetenango
Huehuetenango is probably the most atypical coffee region in Guatemala. It's very dry, non-volcanic, and has a particularly high elevation. These unique characteristics have allowed them to become a leading producer of specialty coffee beans, particularly those with a mild acidity and wine-like flavor.
Nuevo Oriente (New Oriente)
Nuevo Oriente is a region dominated by small coffee farmers, and the coffee sector there is older than just about any other region in Guatemala. The region has a wet, cool climate and the soil is rich from remnants of a former volcanic range.
The premium beans grown in Nuevo Oriente are beloved for their strong aromas, high acidity, and full-bodies.
San Marcos
San Marcos is one of the hottest, rainiest areas of Guatemala. Typically a region that hot wouldn't be great for coffee production, but the extra rainfall and high-altitude volcanoes make up for it. Coffees from San Marcos are vibrantly acidic and have floral aromas and flavors.
Best Guatemalan Coffee Brands
Best Guatemalan coffee: Volcanica Coffee Guatemala peaberry
100% Pure Guatamala Antigua Peaberry Coffee Beans distinguishable by a heavy body, lively cup with subtle smokey spicy overtones with a superb sweet finish.
Medium roasted whole beans allowing the true flavor characteristic to come through for a remarkable taste.
Fresh roasted then immediately packed and sealed to assure freshness.
100% Customer Satisfaction Guaranteed.
Wherever the word volcano is uttered this many times, Volcanica is bound to appear. They are a company devoted to producing freshly roasted, premium coffees from Volcanic lands across the world. Few companies can even come close to the quality or variety available from this singular coffee brand. 
Volcanica has multiple Guatemalan coffee offerings, so you'll see them show up again later in the list, but there was simply no question which would achieve the top honors. Peaberry coffee is a delicacy — a specialty coffee to rival any competitor. Peaberries are a rare mutation in the coffee plant which results in a sweeter, more flavorful coffee bean.
This Antiguan peaberry coffee is medium roasted and has a smooth, rich body and a deliciously strong fragrance with notes of brown spice and cocoa. You'll notice a subtly smoky and spicy overtone and a uniquely sweet finish. The flavor is clean, bright, and balanced and has notes of juicy strawberries.
Volcanica partnered with the Santa Barbara Estate to create this single-origin brew. As with all of their products, it's shipped freshly roasted for maximum freshness — an absolute necessity for a true premium coffee.
Best Guatemalan cold brew coffee: Cooper's Cask Coffee Guatemalan organic cold brew
Organic Cold Brew Coffee Guatemalan Reserve - Whole Bean - Medium Roast - by the Master Roasters at Cooper's Cask Coffee, a 100% USDA Certified Coffee Roaster!
Roast Profiles: We've created vibrant and bold profile. Smooth taste of caramel with touch of cherry and orange. A well balanced medium roast coffee.
Grade 1 Single Origin: We constantly cup every new lot to ensure the best possible cup of coffee.
Cooper's Promise: We've spent thousands of hours working on our craft. Therefore, we are confident that you will enjoy our coffee. If for any reason you do not love it, simply let us know, and we will issue a refund or replacement free of charge.
Roasted by Cooper's Cask Coffee - We are a small batch roaster. Roasting in small batches gives us the ability to maintain full control of the roast profile. This allows us to create amazing taste profiles for you to enjoy
Cooper's Cask Coffee is another roaster that is constantly making waves by distributing some of the best single-origin coffees around the world. They are most well known for their barrel-aged coffees which take on flavor characteristics of the wine or liquor barrels for a unique naturally-flavored coffee experience. While those are definitely worth trying, their Guatemalan beans make for an amazing cold brew.
You can use any coffee beans for cold brew, but the experience is greatly improved by picking beans that are selected and roasted for the task. Cooper's Cask goes out of their way to pick the perfect batches of beans for cold brew, and their small-batch roasting process ensures a consistently perfect roast and allows them to always ship their coffee fresh.
These single-origin Guatemalan beans are medium-roasted to create a smooth, sweet flavor profile with hints of milk chocolate, orange, and creamy caramel.
Best Guatemalan Antigua coffee: Volcanica Coffee Guatemala Antigua
Guatemalan whole coffee beans from Antigua, Guatemala that provide a rich, full bodied taste with a smooth, sophisticated flavor and an intense roasted aroma - the perfect dark roast for any morning.
This single origin, whole bean brew is from the Santa Barbara Estate in Antigua, Guatemala, comfortably located between two Caribbean volcanoes in the high altitudes in which coffee thrives.
The young volcanic soil found in this area is nutrient-rich and fresh, the ideal growing place for gourmet, small batch coffee.
Brew a pot of this dark roast coffee for a remarkable taste distinguishable by its heavy body, a lively cup with subtle smoky-spicy overtones with a superb, sweet finish.
USDA Organic Certified
100% Customer Satisfaction Guaranteed
Antigua's rich, volcanic soil allows the region to grow so much amazing coffee that it's hard to pick a favorite. You could pick up almost any freshly roasted premium Antigua coffee and be happy with the outcome. But we're here to talk about the best coffees from Guatemala, not just those that are good enough.
Best. Volcanic. Fresh. Coffee. Anytime I see all four of those words, Volcanica Coffee is the first brand that comes to mind. Their Guatemala Antigua coffee is the platonic ideal of Antiguan coffee.
It starts with beans grown at high altitudes in only the richest volcanic soil. They take those beans and dark roast them to bring out smoky, earthy, and deep caramel flavor notes and spicy overtones. This coffee is smooth, with a creamy, heavy body and a vibrant acidity.
Best Guatemala Huehuetenango coffee: Fresh Roasted Coffee organic Guatemalan
This organic Guatemalan coffee is revered for its balanced flavor and velvety smooth body. The forward flavors from the initial profile of this coffee present hints of milk chocolate and rounds off into a sweet orange finish. The acidity of this medium roast coffee is mild and citrusy, making the overall cup absolutely delectable.
Unlike some other coffees you could choose, this is not a blend. This bag contains 100% Arabica coffee from Guatemala, no additives, artificial flavors or preservatives.
FAIR TRADE CERTIFIED & USDA ORGANIC. Single-Origin From Huehuetenango, Guatemala. Bourbon and Caturra Varietals. Grown over 1,650 meters ASL. Fully Washed and Patio Sun-Dried.
Mold and Mycotoxin Tested - This coffee has undergone a full screening and has been declared toxicologically safe and compliant. Our certified laboratory was not able to detect any trace levels of mold, Aflatoxin or Ochratoxcin in either of these sampled coffees.
COFFEE FOR EVERYBODY whether you're a casual coffee drinker or a third wave connoisseur. Fresh Roasted Coffee is family-owned, sustainably sourced and proudly roasted, blended, and packaged in the United States of America. We offer more than 80 varieties of whole bean and ground coffee, coffee pods, and unroasted coffee.
GROWN RESPONSIBLY, ROASTED RESPONSIBLY. We're committed to sustainability from sourcing to roasting to packaging. There's also nothing artificial in these single-origin selections - no additives, no fillers, no flavorings.
100% ARABICA COFFEE. Certified Orthodox Union (OU) Kosher. Approved for use in standard drip coffee makers as well as espresso machines, automatics, pour overs, Aeropress, French press, moka pot, and percolators.
Antigua is definitely the starter region for new Guatemalan coffee exploration, but everybody should try Huehuetenango coffee at some point in their journey. Their specialty coffees are a wholly different experience from anything else the country's coffee plantations have to offer.
As the name implies, Fresh Roasted Coffee is very focused on providing the absolute freshest coffee beans you can buy. That alone would be laudable, but there is so much more to love about their coffees.
These single-origin beans are USDA certified organic, Fair Trade certified, and sustainably sourced. They use a special type of roaster — the Loring Roaster — that is designed to deliver the same high quality with a lower environmental impact.
They medium-roast their Huehuetenango coffee to give it a mild, velvety smooth body and a balanced flavor with hints of milk chocolate and a sweet orange finish. The acidity level is mild and slightly citrusy, striking a good balance that is both enticing and approachable.
Best Guatemalan coffee pods: Peet's Coffee Guatemala k-cups
Single Origin Guatemala: Select, aromatic beans from the San Marcos appellation surprise the senses with the scent and smoothness of chocolate.
Flavor & Roast: Fruity, Milk Chocolatey Sweet. Medium roast.
For Keurig Brewers: Peet's recyclable K-Cup Pods are compatible with all Keurig K-Cup Brewers.
Peet's Commitment: To achieve our signature rich flavor, we source the world's best coffee beans, hand-roast them in small batches, and uphold the strictest standard of freshness.
Quality Guaranteed: 100% Arabica Coffee, Single Origin, Certified Kosher.
Contents: This pack contains one box of 32 K-Cup pods of Single Origin Guatamala medium roast coffee.
 The next stop on our travels is the San Marcos region. Peet's Coffee is another company that focuses on providing freshly roasted, single-origin beans from a variety of countries and regions.
Peet's whole bean options are fantastic, but they particularly stand out above the crowd when it comes to Keurig k-cups. They provide the same level of quality to the grounds and packaging in their capsules as they do to all of their other coffee offerings. The pods are fully recyclable, and they maintain the freshness of the grounds exceptionally well.
The flavor of this medium roast is potent, sweet, and milky chocolatey with notes of fruitiness and a smooth body. 
Best Guatemalan coffee brand: Two Volcanoes Coffee
GREAT TASTING GUATEMALAN ORGANIC RARE, SINGLE ORIGIN GOURMET COFFEE - This single origin specialty brings out the best possible aroma and flavor every morning. No blending in from other regions, countries or types of coffee, gives this rare but delicious tasting coffee, a flavor compared to no other. This specific single estate coffee is grown at the base of Two Volcanoes in Guatemala. Great for House or high end restaurants. Better tasting than french roast coffee.
THE BEST FLAVOR AND UNIQUE AROMA THANKS TO IT'S FRESHLY MEDIUM ROAST - Medium roasted fair trade, arabica coffee beans retain a great deal of their natural earthy flavors in comparison to a dark roast, bringing out the best possible flavor & aroma. This coffee is grown organically at the base of two volcanoes, where rich minerals enhance the flavor and smell of each and every bean, even before it's roasted. Medium roast exhibits the perfect balance in flavor, aroma and acidity.
ROASTED IN SMALL BATCHES TO GUARANTEE AN EVEN, MEDIUM ROAST - Small batch roasting is more expensive because of labor costs, but ensures that each bean of coffe is of superior quality and roasted evenly to desired specifications. This process draws out the best possible flavor in each batch. Small batch roasting permits a higher quality standard in coffee throughout the complete process: from picking out the correct size of each coffee bean, to slowly roasting each small batch to perfection.
PRESERVE THE BEST TASTE, AS LONG AS POSSIBLE - We know consuming your premium coffee bags as soon as roasted is the best way to go, but sometimes, coffee is stored in warehouses, shelves or even in your home's pantry kitchen. For this reason, each bag of Two Volcanoes Coffee is not only packaged as soon as roasting permits it, but also comes with a degassing valve built into it, to ensure only natural gas goes out, but not in, preventing it from staling. Makes great cappuccino.
Two Volcanoes is singularly focused on producing the best Guatemalan coffees. It's not just one in a line of products for them; It is everything they do. They grow the coffee on an estate in the San Marcos region, at the base of — you guessed it: two volcanoes! 
They roast their coffees in small batches for maximum freshness and consistency. Their medium roast is floral and nutty, with a low acidity, a mild sweetness, and a full, silky body. 
Portland Coffee Roasters Guatemala
You may have noticed a distinct lack of light roasts so far in this list. I love my light roasts, but they are less common in Guatemalan coffee. Portland Coffee Roasters decided to buck that trend, and I'm glad they did. Their single-origin Guatemalan light roast is clean and smooth, with delicate notes of chocolate, raisin, cinnamon, and molasses. 
Volcanica Coffee Guatemala Huehuetenango
100% Guatemalan coffee from the Huehuetenango region that provide a rich, full bodied taste with a smooth, sophisticated flavor and an intense aroma - the perfect roast for any morning.
FLAVOR NOTES: Honeysuckle, pistachio, baking spices, apricot, molasses in aroma and cup. CUP NOTES: Spice-toned, richly sweet and savory in structure with balanced, lively acidity; plump, syrupy mouthfeel.
The Huehuetenango region also known and pronounced as "Way-Way-Ten-Nang-Go Wee-Chock" and this excellent and Fair Trade coffee originates from a group of small farmers with an amazing flavorful experience.
Medium roasted ground coffee allowing the true flavor characteristic to come through for a remarkable taste. Fresh roasted then immediately packed and sealed to assure freshness.
100% Customer Satisfaction Guaranteed.
If you've worked your way through their peaberry and Antigua selections, Volcanica has one more Guatemalan hit waiting. Their Huehuetenango coffee is single-origin, 100% organic, and responsibly sourced.
It has spiced tones, a rich sweetness, and a slight savoriness coupled with a balanced acidity and a syrupy mouthfeel. The flavor profile includes notes of pistachio, baking spices, molasses, honeysuckle, and apricot. And of course, you can expect Volcanica's usual level of quality and freshness.
Don Pablo Pablo's Pride Guatemalan coffee
Bold, rich, & complex with low acidity, and never bitter
Notes of stone fruit, chocolate, with a slightly spicy and rich & complex finish
Medium-Dark Roast - Whole Bean Arabica Coffee - GMO Free
Origin: Guatemala
REFUNDABLE - Try Don Pablo Risk-Free: Buy now, and if you don't love our coffees, contact Burke Brands LLC directly through our Amazon Seller page, and we will happily refund your order.
Don Pablo slow roasts their coffee in small batches, a painstaking process that ensures the utmost quality and allows them to deliver coffee beans at their peak of freshness.
Their Guatemalan coffee has a deep, rich, chocolatey flavor, a clean cocoa and caramel finish, and a velvety smooth body. There are notes of spice, chocolate, and stone fruit in the flavor of this medium-dark roast. It's low in acidity and has a very pleasant aftertaste.
Java Planet organic Guatemalan coffee
Our Second Most Popular Low Acid Coffee! This single-origin Guatemala coffee is grown in the Huehuetenango region. It is shade-grown under guava, plantain, and banana trees which give the coffee it's fruit undertones along with the caramel and chocolate notes. We roast the coffee only to medium so as to maintain those flavors.
No Pesticides or Mold! We use only 100% organic specialty grade arabica coffee beans that are independently tested for mycotoxins. In drinking our coffee you will only absorb beneficial antioxidants naturally found in coffee grown at high altitudes.
Peace of Mind! Not only is this coffee certified Organic, it is also Smithsonian Bird Friendly & Fair Trade certified, rewarding farmers for their sustainable practices.
Whole Bean is Better! We only package whole bean coffee for the best flavor and so you may grind your coffee for any brewer - regular drip, pour over, French press, espresso etc...
Family Owned and Operated! We want you to be happy! If you are not satisfied with your coffee please contact us so we can make it right!
Java Planet believes in quality that doesn't come at the expense of the people involved or the planet we all live on. Their Guatemalan coffee is shade-grown, certified organic, and Fair Trade certified. Even more impressive, they have achieved the rare Bird Friendly certification, something you rarely see in coffee brands because of how difficult it is to obtain.
This coffee is a medium roast and the flavor profile has fruit undertones and notes of caramel and chocolate. It has a creamy body and a low acidity.
Cubico Coffee Guatemala Antigua
100% Guatemala Antigua Coffee - Cultivated in the High Altitude and rich Volcanic soil of the Guatemalan Antigua Region
Freshly Roasted Guatemala Beans - Cubico Coffees are roasted in small batches and our roasters sign and date each bag to ensure freshness
Cupping Notes - A medium-bodied, bright and tangy cup with hints of lemon and orange, and milk chocolate undertones.
Premium Guatemalan Coffee - Medium Roasted to preserve the coffee's complex flavors and intense aroma
16oz. Whole Coffee Beans - Packaged in bags with a one-way valve to lock in the freshly roasted taste
 Cubico is owned by a family that has been in the coffee business since 1887 — four whole generations! That's a lot of coffee experience that they bring to bear on every coffee they produce. 
They medium-roast their Guatemalan Antiguan coffee in small batches for consistency and freshness. It has a medium body and a tangy, complex flavor with hints of orange and lemon as well as chocolatey undertones and an intense aroma. 
Final Verdict
Guatemala produces some of Central America's best coffee and some of the highest quality beans anywhere in the world. Their coffees are highly approachable for newcomers — on par with larger producers like Colombian coffee brands. And they also offer the high qualities that you would expect from popular premium options like Costa Rican coffee beans.
With the wide range of coffees available from their eight regions, there's a lot to explore in Guatemala's coffee. Start with something from Antigua and you'll get a decent feel for what the country has to offer, but I don't think you'll stop there. Once you try one cup of coffee from Guatemala, you're going to want to catch them all.