This post may contain affiliate links. Please read my disclosure for more info.
---
Waking up to the aroma of freshly brewed coffee is the best way to start your day, but nobody likes to be shocked awake by a noisy coffee grinder. Trust me, I've been on both sides of that. 
Whether you need the quietest coffee grinder available or you just need a relatively quiet top-of-the-line coffee grinder, this article should help you find your best quiet coffee grinder. I'll include some manual options, a few electrics, and lots of commentaries to help in your decision.
Quick Answer: Best Quiet Coffee Grinders
| | Image | Product | |
| --- | --- | --- | --- |
| Best quiet coffee grinder | | Baratza Virtuoso+ Conical Burr Coffee Grinder with Digital Timer Display | Check price |
| Quietest coffee grinder, electric | | Krups Silent Vortex Stainless Steel and Plastic Coffee and Spice Grinder 12 Cup 5 Times Quieter 175 Watts Coffee, Spices, Dry Herbs, Removable Bowl, Dishwasher Safe Bowl Black | Check price |
| Best premium quiet coffee grinder | | Baratza Vario-W Grind by Weight Flat Burr Coffee Grinder | Check price |
| Best manual coffee grinder | | 1Zpresso Q2 Manual Coffee Grinder Mini Slim Travel Sized Fits in the plunger of AeroPress, Assembly Stainless Steel Conical Burr, Numerical Internal Adjustable Setting Coarse for Filter, Capacity 20g | Check price |
| Best quiet budget grinder | | KONA Manual Coffee Grinder, Conical Burr Mill with Adjustable Setting, Best Ceramic Burr Coffee Grinder for Aeropress, Drip Coffee, Espresso, French Press, Turkish Brew | Check price |
Blade vs Burr Coffee Grinders
Coffee grinders come in two main varieties, one using blades and the other using burrs.
Blade grinders operate much like a blender, with spinning blades that chop beans apart instead of grinding them. These grinders are cheaper than their burr counterparts, which has made them quite popular. However, they create a less consistent grind, and the grind size that they produce is controllable only by changing how long the grinder runs.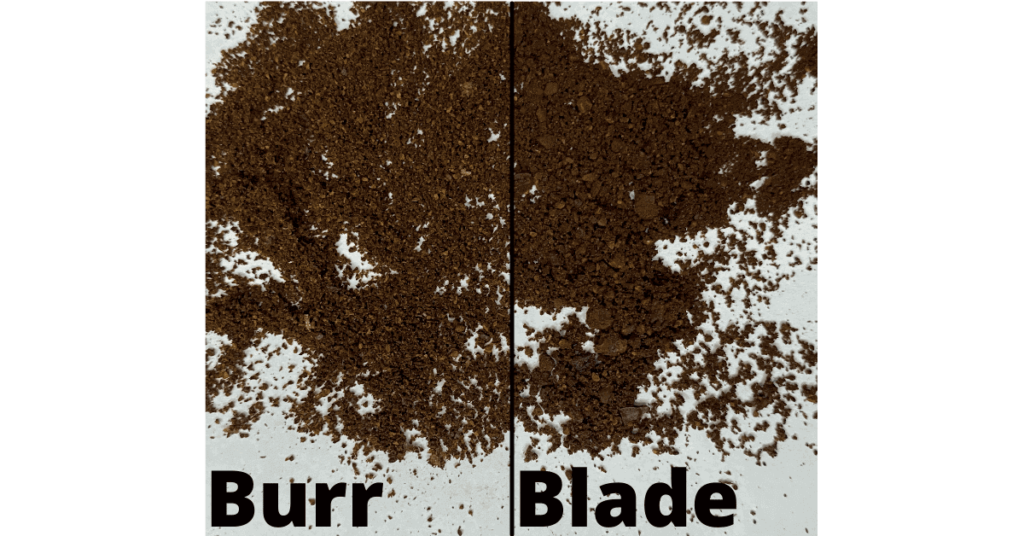 Instead of blades, burr grinders have serrated plates that oscillate against each other to grind the coffee beans. This produces a much more uniform distribution of particle sizes than blade grinders, resulting in better coffee regardless of what brewing method you use.
Burr grinders allow you to control the grind size, usually having at least 12 and sometimes upwards of 100 grind sizes, ranging from fine (espresso grind) or extra-fine all the way to the coarse grind needed for cold brews and french presses. This level of control means you can use the ideal grind for your percolator or drip coffee maker and your favorite espresso beans.
When it comes to noise, burr grinders are usually quieter. There are some blade grinders that manage to muffle their noise (more on that later), but aside from these rare cases, a burr grinder is usually your better option for a quiet coffee bean grinder. Burr grinders come in two main types — conical and flat — and conical burr grinders are almost always the quietest.
Manual vs Electric Coffee grinders 
I'll just go ahead and state the obvious: electronics make noise. Manual grinders will generally be quieter than their electric counterparts. If you want the absolute quietest coffee grinder available, you should definitely go with a manual grinder.
Further, manual grinders are generally smaller, making them great options for travel or for homes with limited counter space. They are not generally difficult to use, especially if you get a quality hand grinder. I'm no powerlifter, but I have never had a problem using a decent manual grinder.
The size of most manual grinders is great for travel, but it's less than ideal if you want to make a large pot of coffee. This is why many people opt to use a manual grinder as a supplement rather than replacing their electric grinder. If you need to make a single cup of coffee or espresso before anyone else wakes up, a manual grinder is a quiet way to get that done.
Best Quiet Coffee Grinders
Best quiet coffee grinder: Baratza Virtuoso+ conical burr coffee grinder
SPECIALTY COFFEE ASSOCIATION AWARD WINNING GRINDERS - Baratza grinders are preferred by coffee professionals and backed by Baratza's world class support.
DIGITAL TIMER and BACKLIT GROUNDS BIN - a 40-second digital timer, adjustable to a tenth of a second, and an LED backlit grounds bin to dose ground coffee accurately and consistently.
40 GRIND SETTINGS - With enhanced commercial-grade conical burrs to help you explore an extensive range of brew methods (espresso, Aeropress, Hario V60, Chemex, French Press, and automatic brewers).
STYLISH - A sculptured metal top and base give the Virtuoso+ a modern image that highlights your coffee corner.
WARRANTY/QUALITY PARTS - Engineered with 40mm hardened alloy steel burrs manufactured in Liechtenstein, Europe, plus a powerful DC motor. This combination creates a consistent grind and durability ensuring the longevity users have come to expect from the Baratza brand. The Virtuoso+ is backed by Baratza's world class support and a 1 year warranty.
This machine's sleek appearance works in a professional setting or your home kitchen, and its compact design won't take up a lot of precious counter space. Baratza knows how to make a quiet electric coffee grinder, and they don't sacrifice quality in the process.
This machine's stainless steel conical burrs provide a highly uniform particle distribution, and you can choose from 40 grind settings to get the best grounds for your preferred brewing method. The display allows you to dial in the runtime that will give you the amount of grounds you need, and it can be set at intervals of 0.1 seconds. 
If you are looking for a quiet coffee maker, you probably also want one that you can use without turning on all the lights in the house. The digital display and LED backlit grounds bin on this machine make it easy to use in low light situations. 
One of my favorite things about Baratza is that they pride themselves on making very fixable machines. They firmly believe that consumers shouldn't have to replace old machines when things go wrong, so they offer the parts and service necessary to keep your grinder working far longer than the typical competitor's appliance.
Quietest coffee grinder, electric: Krups Silent Vortex
POWERFUL, EFFICIENT AND SUPER SILENT: Grinds coffee beans for 12 cups in 15 seconds for drip coffee with minimum grinding noise.
INNOVATIVE TECHNOLOGY: Patent Pending Vortex Spin Technology pulls ingredients into the blades for fast and efficient grinding.
VERSATILITY: 3-in-1 Grinder for coffee, spices, and dry herbs. Effortlessly grinds whole coffee beans, hard spices like whole peppercorns, and dry herbs for flavorful meals.
LARGE CAPACITY AND DISHWASHER SAFE: The removable dishwasher-safe stainless-steel grinding bowl. Holds ground coffee for up to 12 cups of drip coffee. Power: 200W
MESS-FREE: The removable bowl comes with a dedicated storage lid that seals the grinding bowl to perfectly store your freshly ground coffee, dry herbs, or spices. Dishwasher safe.
EASY ONE TOUCH OPERATION: Continuous and pulse grinding.
There are exceptions to every rule. This is the grinder that proves stainless steel blade grinders can be quieter than even the quietest burr coffee grinders, but only when they are heavily muffled. The Silent Vortex is not perfectly silent, but it's the quietest electric coffee grinder that I've ever seen. If you absolutely must have an electric grinder, and you need to keep noise to a minimum, this grinder could be your new best friend.
This nearly silent blade grinder produces enough grounds for 12 cups of coffee. Cleanup and transferring grounds are made easier by the dishwasher-safe grinding bowl. It is a blade grinder, so you won't get any grind settings. You can control the size of the grind by running the grinder for longer or shorter periods of time, but don't expect a uniform result. 
SPECIALTY COFFEE ASSOCIATION AWARD WINNING GRINDERS - Baratza grinders are preferred by coffee professionals and backed by Baratza's world class support.
230 GRIND SETTINGS - For dialing in espresso and all brewing methods (Aeropress, Hario V60, Chemex, French Press, and automatic brewers). Offers exceptional cup quality for home, office or light commercial use.
HIGH PERFORMANCE GRINDING - 54mm professional ceramic flat burrs by Mahlkonig, provide high throughput and maintain sharpness, and a built in scale provides precise dosing.
GRIND BY WEIGHT - Built in digital scale for accurate weight based dosing. Programmable buttons to save up to 3 different presets for a repeatable, one-touch grinding.
WARRANTY/QUALITY PARTS - engineered with 54mm professional ceramic flat burrs by Mahlkonig in Germany, plus a powerful DC motor. This combination creates a consistent grind and durability ensuring the longevity users have come to expect from the Baratza brand. The Vario-W is backed by Baratza's world class support and a 1 year warranty.
If you want to adjust the amount of coffee produced with a typical coffee grinder, you change the grind time. This is not the most intuitive method, and it's certainly not the most precise. Baratza's Vario-W grinder replaces those grind time measurements with a built-in scale that allows you to grind by weight instead.
Between the 230 grind settings and grind-by-weight feature that claims accuracy within 0.1 grams, this grinder gives you all the tools you need to easily make exactly the grounds you need for any use case. The tinted hopper and tinted grounds bin limit the degradation caused when coffee beans are exposed to light for long periods of time.
Flat burr grinders are generally louder than conical burr grinders, but this machine is impressively quiet. If you want a high-end grinder that won't wake the neighbors, it's hard to find a better option.
As with all of Baratza's machines, this one is made to last. You'll pay a bit more upfront, but the quality build and easily replaceable parts mean this coffee grinder will last many years longer than cheaper models.
Best manual coffee grinder: 1Zpresso Q2 manual coffee grinder
☕SAVE SPACE - Goodbye bulky machine! The Q grinder only takes up little space, under 500g weight, small than a can of soft drink! Making it comfortable to grip and easy to grind. Just at the right size for you to pack in your bag, even fits perfectly in the plunger of your AeroPress.
☕SMALL but PREMIUM - Fixed with dual bearing and triaxial design, increased stability for better consistency of the grind. Over 60 clicks for the general setting. Grinding coffee no longer has to equate to hassle, having a fun time while traveling or camping!
☕DISASSEMBLED STRUCTURE - Simply unscrew for a general cleaning. Easy apart off cleaning thoroughly without any tool. With assemble properly, you don't even need to recalibrate again.
☕ PRODUCT GUARANTEES - The burr was calibrated and fixed in place by the 1Zpresso team, ensure no wobbly parts or burrs that come loose as time goes on. Estimated grind approx 100-200KG by general use. Includes a one-year limited warranty, you will definitely get 100% customer support.
☕COFFEE IS LIFE - With users vision, we are working on the products what are you actually need! Chose a 1Zpresso product to stay with you.
Electric grinders are convenient, but you'll never find one that is as quiet as a hand coffee grinder. When you want that first cup of coffee without waking your roommate, you probably need a manual grinder. 
One of the biggest downsides of manual grinders is that they often have fewer grind settings, making it hard to dial in the perfect grind size for your needs. The 1Zpresso's 60+ grind settings buck this trend, giving you a level of control that you won't find in the typical manual grinder.
The 1Zpresso is very portable, and it can easily be taken apart for cleaning and other needed care. The ball handle is very comfortable, and ergonomic comfort is important when you are using a manual grinder. 
The primary downside — and this is true for most manual grinders — is that the 1Zpresso only makes a small amount of coffee at once. It holds about 1-2 cups of coffee worth of beans, so this likely won't replace a larger electric grinder. But if you just need a quick cup of coffee in the morning before everyone else wakes up, you can make it quickly and silently using the 1Zpresso.
Best quiet budget grinder: Kona manual coffee grinder with ceramic burrs
PREPARE INCREDIBLE COFFEE EVERY TIME ~ Built-in Stabilizer and adjustable coarse to fine grind selector with over 18 click settings ensures you have 100% precision control over the coarseness of your Pour Over, Drip, Chemex, Cold Brew, French Press, Percolator, AeroPress, Turkish, Espresso, Keurig K Cup, Herb, or Spice grind.
NO MORE GUESSING ~ see your results instantly after each grind rotation thanks to the static free & crystal clear glass jar which is able to store up to 50 grams of ground beans for 3 cups of coffee
BRING YOUR COFFEE ANYWHERE ~ No batteries, power, or long plastic cords needed to operate your portable compact coffee grinder, allowing you to travel with and brew freshly roasted ground coffee beans for two on your next camping, hiking, backpacking, or outdoor trips. Ergonomically designed manual crank handle detaches from grinder for compact storage
QUIET BY DESIGN ~ eliminates over 90% of the obnoxious noise that large electric grinders produce.
If you want a high-quality budget grinder that won't make a ton of noise, there aren't a lot of options out there. This manual grinder is so cheap that I just ignored it at first glance, assuming that there must be something wrong with it.
Well, it turns out I'm the one that was wrong — Kona somehow managed to bring the quality of a mid-range grinder to the budget market.
Its 18 grind size settings don't offer a huge amount of flexibility, but there are enough options to work with most basic brewing methods. The size of Kona's grinder makes it an ideal travel companion, and it holds enough beans to make about 3 cups of coffee. The simple design makes this an incredibly easy grinder to clean and care for. 
One note of warning: there have been reports of quality issues with the Kona's handle. These issues are rare, though, and customer service has done a stellar job of addressing them.
Breville BCG820BSS Smart Grinder Pro
Stainless steel conical burrs designed to minimize grinding heat and protect the essential oils in the coffee bean
60 precise grind settings from the finest Espresso to the coarsest French Press Grind. Voltage: 110 120 Volts. Power: 165 Watts
Precision Electronic Timer allows users to adjust grind time in 0.2 second increments and consistent dose every time
18 ounce coffee bean capacity with locking system for easy removal, storage, and transfer of the bean hopper
Grind directly into portafilter, grinds container, gold tone filter basket or paper filter
Portafilter cradle small 50 54 millimeter; Portafilter cradle large 58 millimeter
Note: Refer user manual before use
I am obsessed with technology. I blame the sci-fi shows that I grew up on, especially Star Trek. If you are like me, and you like a sleek, digital display instead of analog settings, this is the grinder you want.
The full-width digital display on this Breville grinder shows your selected grind setting, the grind time, and the number of cups or shots that you'll be able to make with the grounds. Both the 18-oz hopper and the grounds bin are tinted to avoid light-induced degradation of the beans. If you prefer espresso, there is a portafilter holder that you can use in place of the grounds bin. 
This grinder has 60 grind size settings, which is enough for a wide range of coffee brewing methods, and the stainless steel conical burrs offer a high-quality, uniform grind for any of these grind sizes.
KitchenAid burr coffee grinder
Controlled rate grinding with 15 grind settings allows for excellent grind consistency and lower grinding temperatures.
Stainless steel cutting burrs offers durability and powerful performance.
7 oz. glass bean hopper and grind jar minimizes the static "cling" of coffee grinds.
The sleek, streamlined design allows it to be stored on your countertop or in a cabinet. Durable and easy to wipe clean.
Burrs turn at 450 rpm, minimizing frictional heat build-up and preserving flavor.
Includes Burr grinder, handheld scoop and burr cleaning brush.
Okay, so this one looks weird. The design was clearly inspired by KitchenAid's famous mixer line. 
This machine is incredibly durable, and it is built to grind at 450 rpm to minimize frictional heat build-up during the grinding process. Friction doesn't just produce heat, it also produces noise. By optimizing for less heat, KitchenAid significantly reduced the overall volume of this grinder. It's not the quietest model on the market, but the noise level is well below average.
Beyond durability and volume reduction, there aren't a lot of bells and whistles with this grinder. It has only 18 grind size settings, which is low for an electric grinder.
Capresso Infinity conical burr grinder
PRECISION GRINDING: Commercial-grade, solid steel conical burrs with advanced cutting design
WIDE GRINDING RANGE: From ultrafine Turkish to French Press coarse and everything in between
PRESERVES AROMA: Gear reduction motor grinds slow with reduced noise and little static build-up
LARGE CAPACITY: 8.8 ounce bean container and 4 ounce ground coffee container
EASY TO CLEAN: Removable upper burr allows access for easy cleaning
ABS stainless finish plastic
Capresso may have made the most inconspicuous countertop grinder in history. This thing just blends into the background in virtually any kitchen. 
There are a few ways to reduce the volume of a coffee grinder. In the case of this one, they do it by grinding the beans slowly. It'll take a little longer to get grounds from this machine, but that sacrifice in speed earns you an impressive reduction in the overall noise level. 
Beyond noise reduction, there's not a lot going on with this grinder. Its 16 grind size settings don't give you a lot of options for an electric grinder. 
JavaPresse manual coffee grinder
ENJOY THE PERFECT CUP OF FRESH COFFEE ― The Manual Coffee Grinder by JavaPresse Coffee Company has a built-in adjustable ceramic burr with over 18 manual grind settings to ensure you have 100% precision & control over the coarseness of your grind. This hand coffee grinder is great for all brewing methods to enjoy the perfect cup of fresh coffee and espresso in the morning.
CONVENIENT, PORTABLE AND EASY-TO-USE ESPRESSO GRINDER ― The hand crank coffee grinder mechanism eliminates over 90% of the noise that electric coffee bean grinders produce. Unlike electric burr grinders for coffee beans, the patented JavaPresse dual plated manual ceramic burr coffee grinder assembly requires no batteries, power or long plastic cords to operate. This allows you to enjoy fresh ground coffee beans at home or on the go as the best camping coffee grinder.
THE BEST WAY TO START YOUR DAY ― This manual coffee grinder is equipped with a professional grade ceramic conical burr for an incredibly consistent coffee grind that heightens flavors of the most exquisite beans in the world. Smell the fresh aroma of fresh ground coffee as you brew them on your espresso machine, AeroPress, French Press or pour over coffee maker!
TREAT YOURSELF TO THE HIGHEST QUALITY MANUAL COFFEE GRINDER THAT IS BUILT TO LAST ― Crafted with the same essence as traditional Japanese cookware, our patented ceramic handheld coffee grinder burr is tested through three quality inspections to last 5 times longer than comparable stainless steel coffee burrs. Combined with an impeccable frame and convenient size, this is the pinnacle travel coffee grinder that is a great gift for Father's Day or travel enthusiasts.
ENHANCE YOUR MORNING WHILE MAKING AN IMPACT AROUND THE WORLD ― Your deliciously crafted cup of coffee from our manual coffee grinder is helping empower coffee farmers to chase a brighter future. A portion of our profits go towards positively impacting our partner's coffee supply chain and their local communities. Our mission hinges on one fundamental idea: when we care, happiness flows and everyone wins. Including you with this hand coffee bean grinder by JavaPresse.
This is one more great option for a manual coffee grinder. It exists somewhere in between the Kona and 1Zpresso models that I talked about above. Its 18 grind settings offer a decent — although far from impressive — level of precision for a hand grinder. 
As a manual grinder, it is significantly quieter than any of the electric grinders on this list. It is also very portable due to its size, and the build quality is excellent. The most common complaint is rust forming on the handle, but that shouldn't be an issue with proper care.
Final Verdict
Silence is golden, but these quiet coffee grinders are what really shine. Okay, that was terrible, but you get my point. There are excellent options for grinding coffee beans that won't wake the neighbors.
Be sure to consider when and how you'll be using the grinder before you purchase. Manual grinders, for instance, are always going to be the quietest options, and they are great for making small amounts of coffee or traveling with. But they are not the most convenient for heavy use. Fortunately, there are quiet electric coffee grinders available as well.
Whether you need the absolute quietest coffee grinder out there or you just need your top-of-the-line coffee grinder to be quieter than average, I hope you found some great options in this article.