This post may contain affiliate links. Please read my disclosure for more info.
---
Coffee should be convenient. The advent of programmable coffee makers was a huge step in that direction, but there is so much more potential. The best smart coffee makers can offer a level of flexibility and ease of use that older coffee machines could never hope to match.
If you are looking for a wifi-enabled coffee maker, a Google Home coffee maker, an Alexa-compatible coffee maker, or just a coffee maker that works with your smartphone (iPhone or Android), I've put together this list to help you find just that. 
Take a seat, say "Alexa, make me a coffee" (okay, hold on that for now), and get ready to find the ultimate smart coffee maker that works with Google Home, Alexa, Nest, IFTTT, and more.
Quick Answer: Best Smart Coffee Makers
| | Image | Product | |
| --- | --- | --- | --- |
| Best smart coffee maker | | Atomi Smart WiFi Coffee Maker - 2nd Gen., Easy Connectivity, Coffee-Ready Notifications, No-Spill Carafe Sensor, Black/Stainless Steel, 12-Cup Glass Carafe, Reusable / Washable Filter | Check price |
| Easiest Alexa coffee maker | | Hamilton Beach Works with Alexa Smart Coffee Maker, Programmable, 12 Cup Capacity, Black and Stainless Steel (49350) – A Certified for Humans Device | Check price |
| Best smart grind-and-brew coffee maker | | Smarter SMC01 iCoffee Remote Brew App, 1.5 L, Black | Check price |
| Best smart espresso machine | | Nespresso Expert Original Espresso Machine by De'Longhi, Anthracite Grey | Check price |
Why Buy a Smart Coffee Maker?
Smart coffee makers are the next evolution of programmable coffee makers. Even the best programmable coffee makers offer limited flexibility, and they are not particularly user-friendly in many cases. Let's take a look at what you can do with a smart coffee maker.
Not every morning starts at the same time
A standard programmable coffee maker allows you to program a brewing time 24 hours in advance. Some also let you set how long the coffee will be kept warm after brewing is complete. This is great if all you need is to set your coffee to start at the same time every day.
If your schedule varies at all, though, programmable coffee makers don't adapt well. I wake up later on weekends than on weekdays, and even that minor change diminishes the usefulness of a programmable coffee machine.
My phone's alarm lets me set different times on different days, so why can't my coffee maker do the same? 
With a smart coffee maker, it can. You can change your brew time on the weekend vs weekday or even have a different brew time for each day of the week. Need to wake up early tomorrow? That's a much easier change to make with a smart coffee maker.
Phone, tell my coffee to meet me in the kitchen
There are several cases in which you'd like to be able to have coffee just waiting for you when you get into the kitchen. Maybe you woke up early and you don't want to wait until the programmed time. Maybe you are on your way home and just want that coffee aroma to greet you at the door.
Smart coffee makers let you do all that and more by giving you control of your coffee maker through your phone.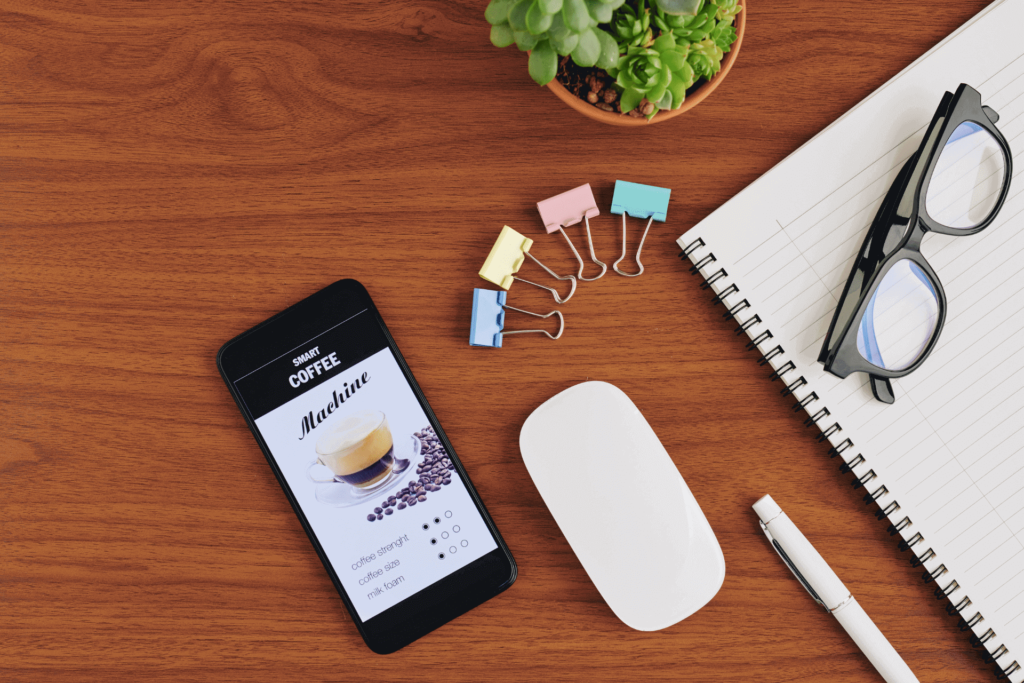 Wouldn't it also be great to have voice control over your coffee maker with your favorite smart home device?
While I'm sure Amazon and Google are just itching to release their own Google Home coffee maker edition and Alexa coffee maker prime (okay, I'll work on better names),  several companies have already started releasing Alexa-enabled coffee makers and smart coffee makers that work with Google Home.
Using these devices, you can easily control your coffee maker from any room that has a smart speaker. Does life get any better than that?
Can I turn my coffee maker into a smart coffee maker?
Maybe you don't want the full functionality or a smart coffee maker. Or maybe you just love your favorite Ninja coffee machine or dual coffee maker too much to trade them in. I get that, and there is an alternative: you can use a smart plug.
By connecting your coffee maker to a smart plug, you can turn your current coffee maker into an Alexa-compatible coffee maker or a Google Home coffee maker.
There is one important caveat, though: this won't fully work if your coffee maker doesn't have a physical on/off switch.
You can use a smart plug to turn any coffee maker off, but you can only use the smart plug to activate a coffee machine if it has a physical switch. The reason why is pretty simple: all a smart plug can do is send electricity to your coffee maker, it can't start pressing buttons.
Looking for a coffee maker that is compatible with a smart plug?
The Hamilton Beach 5-cup switch coffee maker is a convenient choice at a low price point.
Hamilton Beach 5 Cup Switch Coffee Maker
The Best Smart Coffee Makers
Let's take a look at a few of the best smart coffee makers currently on the market.
Best overall: Atomi smart coffee maker
Atomi is no newcomer to the world of smart electronics. They've done A/C controllers, aroma diffusers, light bulbs, and more. So they were an obvious choice to make a smart coffee maker.
Atomi's coffee machine has revolutionized this entire domain. It is the best smart coffee maker. It's the best WiFi coffee maker. It's the best google home coffee maker. It's the best Alexa coffee maker. There are few titles I wouldn't give to this fantastic machine.
What makes it so great?
There's a lot you can control remotely with this machine. As I hinted at above, it's compatible with both Alexa and Google Assistant. It's also wifi compatible, and there is a full-featured app for both iOS and Android. 
You can create daily and weekly schedules, so it can meet the challenge of even the most non-standard schedule. You can even set it to warm up your coffee at specified times throughout the day, letting you make a whole pot of coffee in the morning and still have warm coffee to drink later in the day.
The Atomi coffee maker has a brew strength option, which is also controllable via the app or voice command. You can swap between mild, medium, or strong coffee, giving you even more ways to brew the perfect cup of coffee for your particular tastes.
Atomi includes an easily washable, reusable filter, so you don't have to worry about the complication, cost, and environmental impact of paper filters. 
Their coffee maker uses a 12-cup glass carafe. Now, I've mentioned my preference for thermal carafes in the past, so that's a point against the Atomi. However, it's also pretty minor compared to all the positives.
I'm also really excited about Atomi's newest offering: a smart coffee maker with a built-in burr grinder. I can't recommend it just yet, but I have high hopes given the quality of their first machine. I'll definitely update this list once I have time to fully explore this new offering.
Easiest Alexa coffee maker: Hamilton Beach Works coffee machine
Amazon's Certified for Humans badge is only awarded to smart machines that are easy to use with Alexa, even for beginners. These are the machines that are:
Quick and easy to connect with Alexa
Reliable and have automatic software updates for bug fixes and security
 Have a high user rating
As far as I'm aware, the Hamilton Beach Works is the only coffee maker that has received this impressive honor.
Instead of having a separate app like the Atomi, this machine works with the Alexa app. Using either the app or voice control, you can tell the coffee maker to start brewing, change between regular and bold brew strengths, or turn off the coffee maker. There is also an automatic shut-off after 2 hours in case you forget.
Programming this machine is done through Alexa routines, which means there is one less thing to learn as long as you are already used to using Alexa-enabled devices. 
The front-fill brew basket and water reservoir of this machine are great if you want a coffee maker that can fit snugly under a cabinet and be used without having to move it around.
The Hamilton Beach Works has a 12-cup capacity, just like the Atomi. Unfortunately — and also like the Atomi — its carafe is glass instead of my preferred thermal option. Alas, no machine is perfect.
Bad news for Google Home users: The Hamilton Beach Works does not work with Google Assistant or any other non-Alexa smart home system.
Best grind and brew: Smarter SMC01 iCoffee Remote Brew with smart app
The best coffee grinders are always sold separately, but if you look hard enough you can find a high-end coffee maker with a built-in grinder for convenience. What could be simpler than having a single machine that grinds your coffee beans and brews your coffee?
Having all of that in an app-controlled, voice-activated coffee maker, of course.
Smarter's machine is compatible with Google Home and Amazon Alexa. Because of its compatibility with IFTTT, you can also use it with Nest or any other IFTTT-compatible smart home services. Through the app or voice control, you can remotely set the strength of your coffee, the number of cups to brew, and start the brewing process.
One of the coolest features of the iCoffee is its home mode, which sets a perimeter around your home and automatically starts the coffee maker when you cross that perimeter. By the time you open the door, your coffee will be ready and waiting. You can even set it only to work during particular hours, so you can have coffee when you come home in the evening without it prematurely triggering when you decide to grab lunch at home.
Their app has one other feature that is worth a shout-out: in-app replenishment. You can order coffee right from their app, although you will be limited to only the varieties provided by Smarter.
My biggest issue with most grind-and-brew coffee makers is that they use blade grinders, which produce inferior quality coffee. Smarter's machine has a high-quality burr grinder, providing a more even particle distribution that produces consistently better coffee than you could ever get with a blade grinder.
Just like the last two options, this one has a 12-cup capacity glass carafe.
The biggest downside to this machine is the 40-minute keep-warm limit. This is much shorter than standard, which is not great if it takes you more than an hour to get through your pot of coffee.
Best smart espresso machine: Nespresso Expert Original Espresso Machine
Let me say right off the bat that this machine is not compatible with Alexa or Google Home. I couldn't find a good espresso machine that was compatible with those services, so this is the next best thing.
There are not a lot of options for smart espresso machines. And it's not hard to figure out why: Most budget espresso machines are not super-automatic. Semi-automatic and lever espresso machines are too involved to be practical options for the automation that you would expect from the best smart espresso makers.
Since most of us don't want to spend upwards of $1000 to get a high-end super-automatic espresso maker, the alternative is capsule-based machines. 
The Nespresso Expert is Bluetooth-enabled and offers impressive usability through its Android and iPhone apps. You can schedule brew times, create custom coffee drinks, order replacement OriginalLine capsules, and even get support all from the app.
This machine can brew four sizes of coffee:
Ristretto (0.85 ounces)
Espresso (1.35 ounces)
Lungo (3.7 ounces)
Espresso Americano (Ristretto + 4.2 ounces of hot water)
Espresso requires at least 9 bars of pressure. Good espresso machines use 15 bars. Not to be outdone, the Nespresso Expert uses 19 bars to produce professional-grade espresso in just 30 seconds. 
Cleanup and setup are easy with this machine due to the use of coffee pods instead of grounds. Between the 38-ounce water reservoir and 14-pod used capsule holder, you can make several drinks at a time without the need to take any additional steps to refill or clean the machine. 
Want to see the range of coffees you can make with this machine? Check out my rundown of the best Nespresso pods.
Final Verdict
I'm all about two things: convenience and coffee. At the intersection of those two ideas, you'll find the best smart coffee makers. 
There aren't a lot of options for smart coffee makers yet, which is just disappointing to us coffee and smart home aficionados. There are even fewer that are easy-to-use and high quality enough for me to recommend. 
If you want an Alexa-enabled coffee maker or a Google Home coffee maker, I've tried to highlight the best options currently on the market. These machines give you the opportunity to have great coffee waiting for you whenever you need it, with more flexibility and simplicity than you can find with a standard programmable coffee maker.