This post may contain affiliate links. Please read my disclosure for more info.
---
Vietnam is the coffee giant you've never heard of. They are the second-largest coffee-producing country — only Brazilian coffee beans are more numerous. Sure, Vietnamese iced coffee has become a popular drink across the world, but Vietnamese coffee is so much more than that.
Are you ready to discover the best Vietnamese coffee brands and all the amazing coffee beans they have to offer?
Quick Answer: Best Vietnamese Coffee Brands
| | Image | Product | |
| --- | --- | --- | --- |
| Best Vietnamese coffee brand | | Trung Nguyen — Premium Blend — Roasted Ground Coffee Blend — Strong and Bold — Arabica & Robusta — Chocolate Flavor — Vietnamese Coffee 1 Can (15 oz) | Check price |
| Best Vietnamese coffee beans | | Chestbrew Whole Bean Coffee. Strong Dark Roast Vietnamese Coffee - Moon Bear Premium 20 Ounce Bag | Check price |
| Best Vietnamese instant coffee | | Vinacafe Instant Coffee Mix, 1-Pounds (Pack of 5) | Check price |
| Best coffee for Vietnamese coffee | | Saigon Phin Daklak (Vietnamese Coffee) | Check price |
| | | Dalat Highlands Robusta Whole Bean Coffee, 1lb | Check price |
| | | Authentic Vietnamese Coffee, VN Roaster Butter Roasted Coffee, 12 Ounce | Check price |
| | | Nguyen Coffee Supply - Loyalty Signature 50/50 Blend: Medium Roast Ground Coffee Beans, Vietnamese Grown and Direct Trade, Organic, Single Origin, Premium Ground, Low Acid with High Caffeine Content, Roasted in Brooklyn [12 oz Bag] | Check price |
History of Vietnamese Coffee
Coffee was first introduced to Vietnam by French missionaries in 1857, but Vietnamese coffee production didn't really take off until about 1888. Vietnam's coffee sector grew steadily until the Vietnam War caused disruptions in the critical Buôn Ma Thuột region.
In the early days, Vietnam's coffee farms were mostly small and family-owned. The early 20th century saw a shift to large-scale commercial plantations, and the entire industry was collectivized after the war. Collectivization was disastrous for the industry, leading to low production until the private coffee industry was allowed to return in 1986.
Over the past few decades, Vietnam's coffee production has grown at a rapid pace. In the early 2000s, they passed Colombia's production levels, taking the number 2 spot on the list of top coffee-production countries. Since then, they've only continued to grow, and they now produce 1.5 million metric tons of coffee annually, over twice as much coffee as any other country besides Brazil.
Vietnam's Robusta Coffee Beans
Given the size of their coffee sector, you are probably wondering why you don't see Vietnamese coffee beans in every grocery store.
Vietnamese grows mostly Robusta beans… for now
About 97% of the coffee grown in Vietnam is Robusta, which the mainstream coffee community considers inferior to Arabica, the most popular type of coffee bean. Arabica beans are very finicky about their growing conditions, so Robusta beans are often chosen when the local environment simply doesn't allow for Arabica production.
According to an International Coffee Organization report, The Vietnamese government has recently launched a number of initiatives to increase Arabica cultivation. Since Vietnam is the leading producer of Robusta beans — accounting for almost 40 percent of worldwide Robusta production — these initiatives may have a huge impact on the global coffee landscape. 
Instant coffee and espresso blends prevail
Robusta beans are more bitter than Arabica and have twice as much caffeine. They also produce a richer crema, that layer of foam that sits atop a shot of espresso. These characteristics make Robusta beans popular for espresso blends, but you'll rarely see 100% Robusta roasts flaunted the way coffee brands flaunt 100% Arabica. 
Most instant coffee is made with Robusta beans, making it a particularly prominent use of Vietnam's coffee beans. The instant coffee industry is very heavily influenced by price, so the lower cost of growing Robusta makes it an obvious choice for their use. Instant coffee also tends to lose much of the flavor of the coffee that goes into it, so the extra bitterness of the Robusta can be a strength.
Making Vietnamese Coffee
The unique nature of Vietnam's coffee doesn't stop at the beans — they also have their own ways of preparing the brew.
Vietnamese coffee filter (phin)
Traditionally, Vietnamese coffee is made using a special type of coffee maker known as a phin — but you may have also seen it called a Vietnamese coffee filter or Vietnamese coffee maker.
This Vietnamese Coffee Filter is made in Vietnam out of HIGH QUALITY stainless steel
The Ca Phe Phin is 8 oz. Enjoy with traditional ground coffee such as by Trung Nguyen
The GRAVITY INSERT on this Vietnamese Coffee Filter is easier than the screw down type
This Viet filter comes with a LIFETIME WARRANTY and is DISHWASHER SAFE. Satisfaction guaranteed!
Slow dripper brews a perfect hot or iced coffee (cafe sua da) with this Vietnamese Coffee Filter
Phins are metal filters that allow water to slowly drip through them, and into a container underneath. Visually, they look like someone put a French press where your pour-over filter belonged.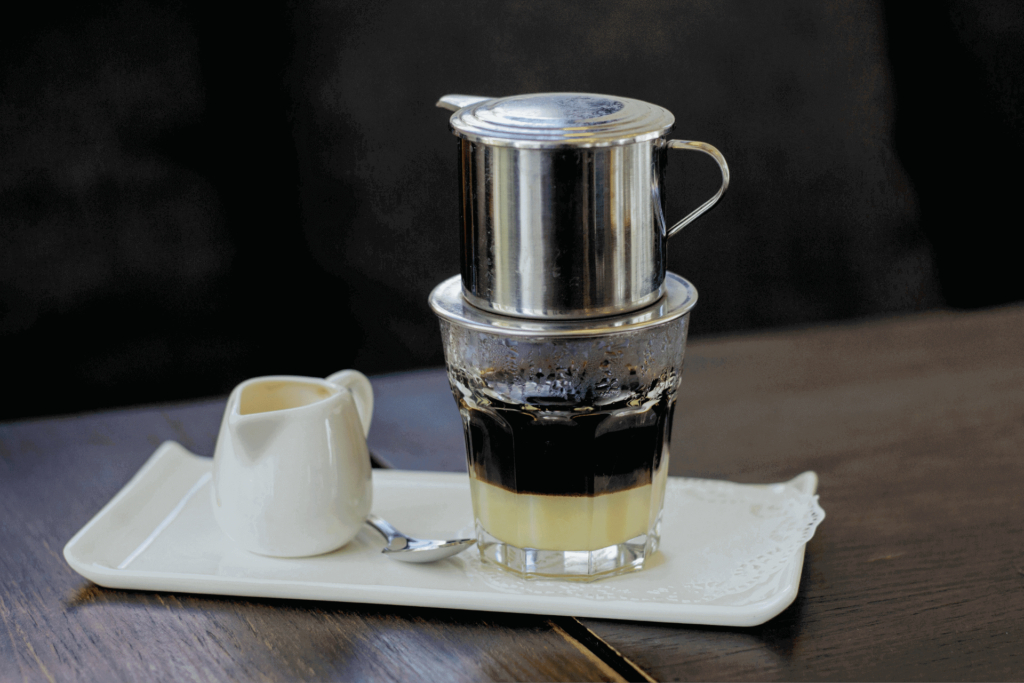 Using a phin is incredibly simple and  — after the initial setup — entirely hands-off. The only real learning curve involves getting the proper tight fit between the two filter components. Phins are incredibly cheap and durable, and they produce consistently delicious coffee that is stronger than standard drip coffee but less intense than a pour-over.
If you don't want to use a phin but still want to maintain some tradition, consider using a French press. It's second only to the phin in popularity for Vietnamese coffee brewing. 
Vietnamese iced coffee
I can't write about Vietnamese coffee and not mention that drink that introduced me to the country's coffee traditions. Vietnamese iced coffee, or ca phe sua da, is one of the most delicious types of coffee drinks you will find in any culture, and it's an incredibly simple beverage.
The drink originated in rural Vietnam, where Vietnamese coffee farmers would use condensed milk to sweeten their coffee. Today, it's typically made by brewing coffee in a phin over a glass of condensed milk (typically 2 ounces of coffee to 2 tablespoons of milk) and then adding ice to the concoction.
The potent and bitter nature of Robusta beans brewed in a phin contrast perfectly with the intense sweetness of the condensed milk.
The Best Vietnamese Coffee Brands
Best Vietnamese coffee brand: Trung Nguyen coffee
Founded in 1996, Trung Nguyen has become synonymous with Vietnamese coffee — the brand is everywhere. You've probably already tried it if you've ever had coffee from Vietnam, and you should certainly seek it out if you want an authentic Vietnamese coffee brand.
☕【TRUNG NGUYEN'S G7 PREMIUM BLEND】 — Trung Nguyen offers a premium blend of arabica and robusta beans with notes of chocolate — 15 ounces per can
☕【BOLD FLAVOR & FRAGRANT AROMA】 — With an exclusive recipe and meticulous bean selection process, TRUNG NGUYEN Premium Blend is bold, strong, and creates a lasting aroma
☕【VIETNAMESE BLEND】 — By using Vietnamese traditional roasting techniques, TRUNG NGUYEN Premium Blend delivers a quality cup of coffee
☕【VERSATILE PREPARATION】 — Trung Nguyen Premium Blend is ground to be suitable for various brewing methods including a Vietnamese Phin Filter, drip brewer, moka pot, and French Press
The premium blend is the most ubiquitous of all Trung Nguyen's coffees. It's a blend of 60% Arabica beans, 40% Robusta, and just a hint of chocolate.
You'll find this medium-roast to be intense, owing to the large amount of Robusta. The hints of chocolate and nut, combined with the fruity aroma, smoothness, and low acidity make for a delicious overall experience.
Trung Nguyen Legendee Gold Coffee
Only Heirloom Coffee LLC ships this product with full-color card insert that explains the coffee's rich history, great for gifting
Ships on next business day after order, by Priority Mail.
Trung Nguyen's flagship coffee; Traditional SE Asian roast style. Blend of Arabica, high-altitude Robusta and Excelsa coffees.
Natural enzymatic simulation of the rare and expensive Kopi Luwak coffee
Please note that this is NOT civet coffee and no animals are used or abused
Trung Nguyen has done some truly creative things with their blends, but this one — their flagship product — goes above and beyond.
Legendee, also known as Creative 8, is an attempt to recreate the taste and other characteristics of the world's most expensive coffees — Kopi Luwak — using natural enzymes. They accomplish this with a mixture of Arabica, Robusta, and the rare Excelsa coffee beans
Trung Nguyen Creative 1 ground coffee
☕【TRUNG NGUYEN'S CREATIVE 1】— Trung Nguyen offers premium Culi Robusta (single, unsplit, peaberry) ground coffee of the Buon Ma Thuot Highlands — 8.8oz per bag
☕【MILD AND BALANCED FLAVOR WITH A SWEET AFTERTASTE】— With an exclusive recipe and meticulous bean selection process, Trung Nguyen Creative 1 is a medium roast with a mild taste and balanced flavor, creating a lasting aroma
☕【VIETNAMESE BLEND】— By using Vietnamese traditional roasting techniques, Trung Nguyen Creative 1 delivers a quality cup of coffee
☕【VERSATILE PREPARATION】 — Trung Nguyen Creative 1 is ground to be suitable for various brewing methods including a Vietnamese Phin Filter, drip brewer, moka pot, and French Press
If you want to jump right in and experience coffee from Vietnam the way the native Vietnamese people do, you want a brew that is 100% Robusta. Trung Nguyen has you covered with Creative 1.
Creative 1 is made from highland-grown peaberry Robusta. Peaberries, in case you haven't read my many rants about them, are an anomaly that occurs in about 5% of coffee cherries, resulting in the cherry growing a single coffee bean where it should have two. This single bean gets all the nutrients of the cherry — growing denser, rounder, and sweeter than a typical coffee bean.
As a 100% Robusta blend, a cup of coffee made with Creative 1 will have a very high caffeine content and a strong, bitter flavor that is best suited for use with a Vietnamese phin or an espresso machine.
Trung Nguyen Creative 2 ground coffee
☕【TRUNG NGUYEN'S CREATIVE 2】— Trung Nguyen offers premium Heirloom Robusta and Arabica ground coffee of the Buon Ma Thuot Highlands — 8.8oz per bag
☕【MILD AND BALANCED FLAVOR WITH A SWEET AFTERTASTE】— With an exclusive recipe and meticulous bean selection process, Trung Nguyen Creative 2 is a medium roast with a mild taste and balanced flavor, creating a lasting aroma
☕【VIETNAMESE BLEND】— By using Vietnamese traditional roasting techniques, Trung Nguyen Creative 2 delivers a quality cup of coffee
☕【VERSATILE PREPARATION】 — Trung Nguyen Creative 2 is ground to be suitable for various brewing methods including a Vietnamese Phin Filter, drip brewer, moka pot, and French Press
There is something distinctly uncreative about naming your coffees Creative 1, Creative 2, etc. I'll forgive them though because the range in their coffees more than makes up for the names.
Creative 2 is their balanced blend, consisting of both Arabica and Robusta beans. If you want a Vietnamese coffee that is intended to be accessible to locals and international coffee drinkers alike, this is the one to try.
Trung Nguyen Creative 4 ground coffee
Like Creative 1, Creative 4 uses peaberries, but they are Arabica this time. They mix these peaberry Arabica beans with Robusta to create a beautiful contrast. This blend has the highest caffeine content among their Creative series, a strong aroma, and a robust body.
As with many of Vietnam's coffee brands, Trung Nguyen also has instant coffee options. If you aren't familiar with 3-in-1, it's a popular variant of instant coffee that includes the instant coffee itself, non-dairy creamer, and sugar all mixed into one pack. It's very common internationally for its simplicity — you can easily drink it with just hot water instead of needing extra milk, creamers, or sweeteners.
G7 3-in-1 is made with a blend of Jamaican, Brazilian, Vietnamese, and Ethiopian coffee beans. This blend and the added creamer and sugar help with the typical blandness of instant coffee, but if you are used to whole bean brews, you'll still find the flavor to be lacking.
Best Vietnamese coffee beans: Chestbrew Moon Bear single-origin Arabica
Try the UNSTOPPABLE coffee that every other coffee is scared of.
Fuel your insane drive to GET IT DONE and crush your goals with these bold beans.
Up your COFFEE GAME with the only single origin premium Arabica coffee beans from Vietnam.
Enjoy every sip of the STRONGEST, smoothest and exotic full flavor Vietnamese coffee.
Crafted to be BEST BEANS for Cold Brew Coffee, Vietnamese Iced Coffee or Hot Brew.
Where Trung Nguyen is the exemplar of the current state of Vietnamese coffee, Chestbrew is showing the potential power that premium Vietnamese coffee beans can bring to the world market. Their brand is not as ubiquitous, but the quality of their product can't be denied.
Moon Bear is a dark-roasted single-origin Arabica coffee made from premium beans sourced from local Vietnamese farmers. It's strong, smooth, and weakly acidic, and it is a noticeably sweet coffee — something you might not expect from a dark roast. This profile makes it perfect for standard brewing methods as well as cold brewing.
Best Vietnamese instant coffee: Vinacafe Bach instant coffee
Buy Local Market
Brought to you by your local merchant
Thank you for supporting your local economy
If you want to experience Vietnam's instant coffee at its finest, Vinacafe is really the only answer. They've been around since 1983 and have been consecutive winners of the Highest Quality Vietnamese Product award since 1995!
Vinacafe's instant coffee is a 3-in-1, meaning that it contains coffee, creamer, and sugar all in one packet. It's creamy, aromatic, and has a sweet flavor that is much stronger than most instant coffees. I won't claim it's as good as freshly ground coffee beans, but it's a huge step up from any instant coffee you've tried before.
Best coffee for Vietnamese coffee: Lang Thang Coffee Co. Saigon Phin Daklak
Lang Thang sources Robusta and Arabica beans — including a portion of peaberries — from the Central Highlands region of Vietnam for this blend. The blend also includes some soybeans, a common Vietnamese tradition. 
This coffee has a mellow, mild flavor that makes it great for Vietnamese iced coffee, and it doesn't have the harsh bitterness common to many of the higher Robusta blends.
Dalat Highlands peaberry Robusta
Chocolatey taste, very smooth
Great for espresso by itself or blended with Arabica to increase crema. Used in many award-winning Italian espresso blends
High caffeine, high body, low acid
Back palate coffee appeals to coffee lovers who like persistance of taste and rich, dark flavor profile
This is a highland-grown, Dalat Province, very select Robusta, quite different from lowland-grown Robustas
Now packed in Biotre 100% Biodegrable coffee bags
Two things make the Dalat peaberry Robusta beans stand apart from lower-quality Robusta. First, they are grown in Vietnam's highlands, which gives them unique characteristics not found in the more common lowlands Robusta beans. Second, they are peaberries, so their extra sweetness overcomes the typical bitterness of Robusta. 
This medium roast is very smooth, with a chocolatey taste, heavy body, low acidity, and high caffeine content. 
VN Roaster butter roasted coffee
Authentic Vietnamese Coffee delivered at your doorstep. Our coffee beans are source from the Dak Lak region, known as the "capital" of Vietnamese coffee
The coffee beans are perfectly roasted in butter, resulting in a very rich and smooth finish.
100% Robusta Beans provide smooth and bold flavor with a buttery finish.
The beans are conveniently grounded so that you can brew a cup of coffee whenever you need a caffeine kick.
Butter roasting is a traditional Vietnamese coffee-roasting method, used to naturally counteract the bitterness of the Robusta. The butter provides smoothness and a rich flavor to this 100% Robusta blend, with a flavor that comes off as more chocolatey than buttery. 
Bach whole bean Robusta
Bach is another high-altitude Robusta blend, made only from grade A beans. They air-roast their beans for a smooth taste with notes of chocolate.
Nguyen Coffee Supply Loyalty 
BEST SELLING BLEND, MEDIUM ROAST: With our unique roasting method, our Loyalty brings out distinct flavor profiles of each bean for the perfect balance of sweet, smooth, and nutty.
GROWN IN VIETNAM, ROASTED IN BROOKLYN: Our quality Vietnamese beans are roasted in Brooklyn, NY. Our unique method uses no additives, flavorings, or oils & allows the distinct flavors of the beans to shine.
ROBUSTA & ARABICA BEAN BENEFITS: Bringing together the unique qualities of both Robusta and Arabica coffee beans, Vietnam is famous for Robusta coffee, which requires fewer resources and has 60% less sugar and fats than Arabica coffee beans for a cup that packs a punch.
FINELY GROUND, POWERFUL FLAVOR: Our Loyalty coffee beans are ground finely for brewing with a Vietnamese Phin filter. This grind is also suitable for making espresso or cold brew, or using a French press.
DIRECT TRADE WITH VIETNAMESE FARMERS: We are proud to partner directly with a 4th generation farmer, Mr. Ton, who owns and operates his family farm in Vietnam's famed Central Highlands.
Nguyen Coffee Supply is a Brooklyn roaster, but they partner with a 4th-generation Vietnamese coffee farmer to source their single-origin premium Robusta and Arabica beans. This is their most balanced option, a 50/50 blend of the two Vietnamese beans. It's a great starting point, but I also recommend trying their 100% Arabica and 100% peaberry Robusta options.
Final Verdict
Brazil is still the biggest producer of coffee beans, but Vietnam is bringing Robusta and premium Arabica beans that are quickly garnering the attention of coffee connoisseurs all around the world.
Vietnamese coffee blends and instant coffee products are only continuing to rise in popularity. Given the strong coffee delicious taste of Vietnamese brews (like their iced coffee!), it's no surprise that they've come this far. As they continue to invest in supplementing their Robusta farms with premium Arabica coffee trees, their coffee bean blends will only continue to improve.