This post may contain affiliate links. Please read my disclosure for more info.
---
Keurig has outdone themselves recently with their superb options for small coffee makers. If you are looking for a low-cost Keurig that will fit easily into any kitchen, the K-Slim and K-Mini Plus are both excellent options.
But how should you decide between the Keurig Slim vs Mini Plus? That's where this guide comes in, with a detailed analysis of the coffee quality, features, and value of these two tiny Keurig models.
Quick Take: Keurig Slim vs Mini Plus
Cup Sizes (ounces)
8, 10 ,12
Dimensions (inches)
12.1 x 4.5 x 11.3
Water Tank
Single-cup, removable
Dimensions (inches)
12.1 x 4.5 x 11.3
Water Tank
46 ounces, removable
Does the K-Slim or K-Mini Plus Make Better Coffee?
The biggest difference in K-Slim and K-Mini Plus coffee comes from the Keurig strong button on the Keurig K-Mini Plus. The K-Slim is lacking this important option that really optimizes how Keurigs work.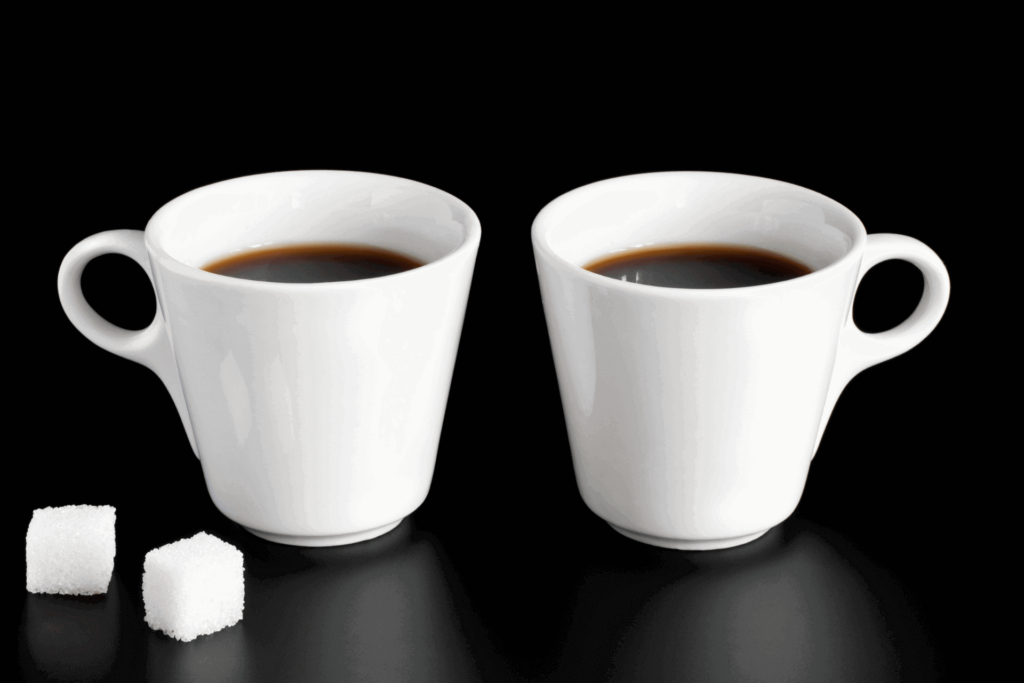 The strong brew button is an incredibly useful feature on recent Keurig models. It makes Keurig coffee more flavorful by slowing the brewing process by 30 seconds. It's a huge plus, and I would describe it as a must-have for anyone that wants rich, tasty coffee from their Keurig.
This category is a big win for the K-Mini Plus. If you are used to regular drip coffee or found coffee from older Keurig brewers to be weak or watery, you need the strong brew option, and the K-Slim just can't deliver.
Brew Size Options: Keurig K-Slim vs K-Mini Plus
The Keurig K-Slim can brew three cup sizes: 8, 10, and 12 ounces. These are the largest single-serve cup sizes that any Keurig offers.
While those larger sizes sound useful, keep in mind that they all come from the same k-cup pods. Larger sizes are made by passing more water through the same amount of coffee grounds. K-cups are best for brewing 6–8, and anything larger than that will have a weaker flavor. 12-ounce cups are particularly watery, so you'll probably want to avoid that setting.
The K-Mini Plus doesn't have size selection buttons. Instead, it brews with all the water you put in the tank. Effectively, that means you can make between 6 and 12 ounces of coffee.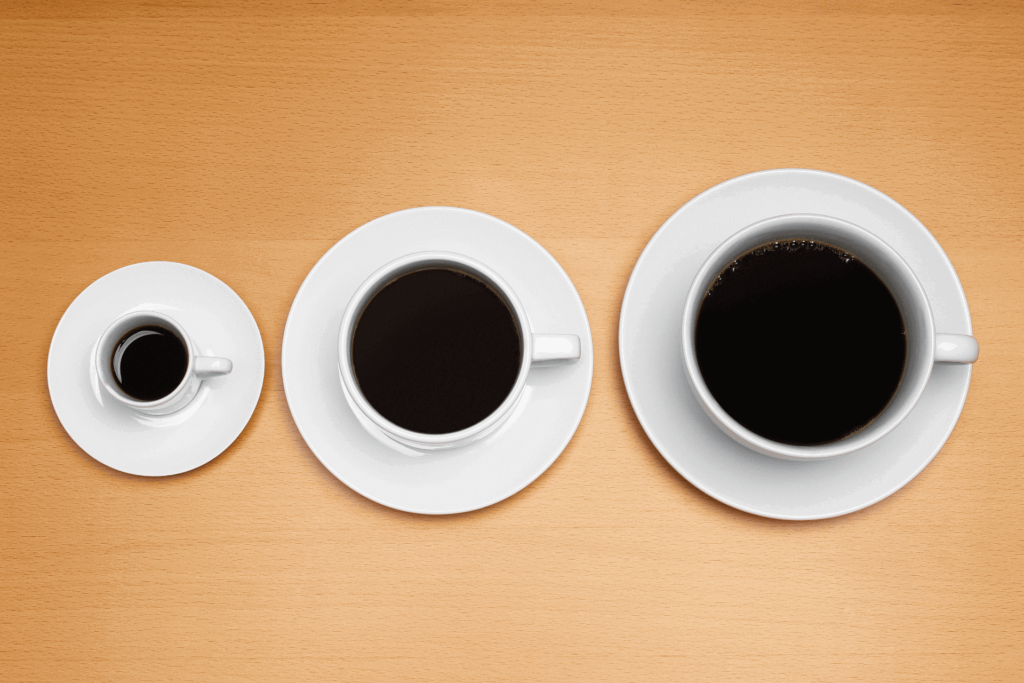 This category is a draw. The K-Mini Plus has a wider range since it can brew as low as 6 ounces. However, you need to measure the water for it, whereas you can select any size from the K-Slim just by pressing a button.
Machine Size: K-Slim and K-Mini Plus
These are two of the smallest Keurig coffee makers. In particular, they are both two inches narrower than any other Keurig model. The K-Mini Plus is even narrower than the K-Slim, but only by two-tenths of an inch.
The two machines differ much more in-depth. In that dimension, the K-Mini Plus has a whopping four-inch advantage, with an 11.3-inch depth compared to 15.2 inches for the K-Slim.
This category is an easy win for the K-Mini Plus as it is the same size or shorter in every dimension. That being said, either will easily fit in even the most limited space.
K-Slim vs K-Mini Plus: Water Tank 
The K-Mini Plus's water tank only holds enough water for a single cup of coffee. The K-Slim has a much larger 46-ounce water tank. Depending on which cup size you use, that's enough to make 3–5 cups of coffee between refills.
Both the K-Slim and K-Mini Plus have removable water tanks. That makes refills a lot easier since you can just bring the reservoir right to your faucet. It's even more important for keeping the water tank clean since you can take the tank out and wash it right in your sink.
The K-Slim is the clear winner here. Refilling your tank every single time just isn't convenient, so the multi-cup water reservoir is pretty great. 
Color and Design of K-Slim and K-Mini Plus
Both the K-Slim and K-Mini Plus have sleek, thin designs that are very similar to one another. The K-Slim is only available in white or black. The K-Mini Plus has six color options: matte black, cardinal red, studio gray, evening teal, matte white, and cool aqua. 
The K-Mini Plus's extra color options give it an easy win in the color and design category. Then again, if you like the classic black or white options over the K-Mini Plus's more colorful variants, either coffee maker will do just fine.
K-Slim vs K-Mini Plus: Other Features
Both machines have a removable drip tray which makes cleanup much easier. These drip trays are large enough to hold an entire accidental brew, just in case you ever forget to place your mug before hitting the start button.
They also both have built-in cord storage which is great if you need to tuck the machine away to save precious counter space. That's especially great if you ever need to store your coffee machine or pack it for a move.
Keurig has done a great job of designing their machines to fit travel mugs, and that includes these machines. Both brewers can dispense delicious coffee right into travel mugs up to 7 inches tall. 
The K-Mini Plus has a handy pod storage container that can keep up to 9 k-cups available for quick use. When you aren't using the machine, the pod storage container tucks right into the front of the machine under the dispenser.
Which Offers the Better Value: K-Slim or K-Mini Plus?
The Keurig K-Slim coffee maker is slightly cheaper than the K-Mini Plus but both are under $100. Since they both use k-cups, there's no difference in the per-cup cost between the two machines. Overall, I'd say the price difference probably isn't as critical as other factors when comparing these two machines.
You may even be able to catch one of these machines on a sale if you are lucky. In that case, the price difference between the two models might be smaller or even non-existent. If you are really lucky, you might even see a sale where the K-Mini Plus coffee maker is cheaper than the K-Slim, but those are incredibly rare.
K-Mini vs K-Mini Plus
We've focused on comparing the K-Mini Plus and K-Slim here. There's also a lower-cost variant of the K-Mini Plus, though: the K-Mini. It's cheaper than either the K-Mini Plus or K-Slim, but it's lacking a couple of key features from the K-Mini Plus.
The K-Mini doesn't have a strong brew option. Its water tank is not removable, and the machine doesn't come with pod storage. Finally, the K-Mini has far fewer color options to choose from. 
Keurig K-Slim vs K-Mini Plus: Which Is Better?
Both of these machines have some pretty significant advantages. If you want the best quality coffee, you have to go with the K-Mini Plus and its strong button. The K-Mini is also the smaller option, and the pod storage can be handy if you have limited drawer or counter space near your machine.
The K-Slim's biggest advantages are price and water reservoir size. The K-Mini Plus will have you running to refill the tank with fresh water between cups. The K-Slim, on the other hand, holds enough ounces of water to get your entire family through the morning.
Once you've decided on your tiny Keurig, be sure to pick up a refillable k-cup and a small coffee grinder to augment the best coffee k-cups, espresso k-cups, and strongest k-cups. If you aren't sure about Keurig, now might be a good time to see if Nespresso is worth it, or maybe check out all the different types of coffee makers you could be choosing from.