This post may contain affiliate links. Please read my disclosure for more info.
---
Real Good Coffee Co Review
Conclusion
Real Good Coffee may be an understatement. Their coffee are consistently flavorful, whether you are looking for a light or French roast. Their blends are as simple as their packaging, and that's a real good thing.
Delicious coffee blends
Offers whole bean, K-cups and Nespresso pods
Has a subscription program
Recyclable packaging
No single-origin coffees
Only 2-pound bags for whole bean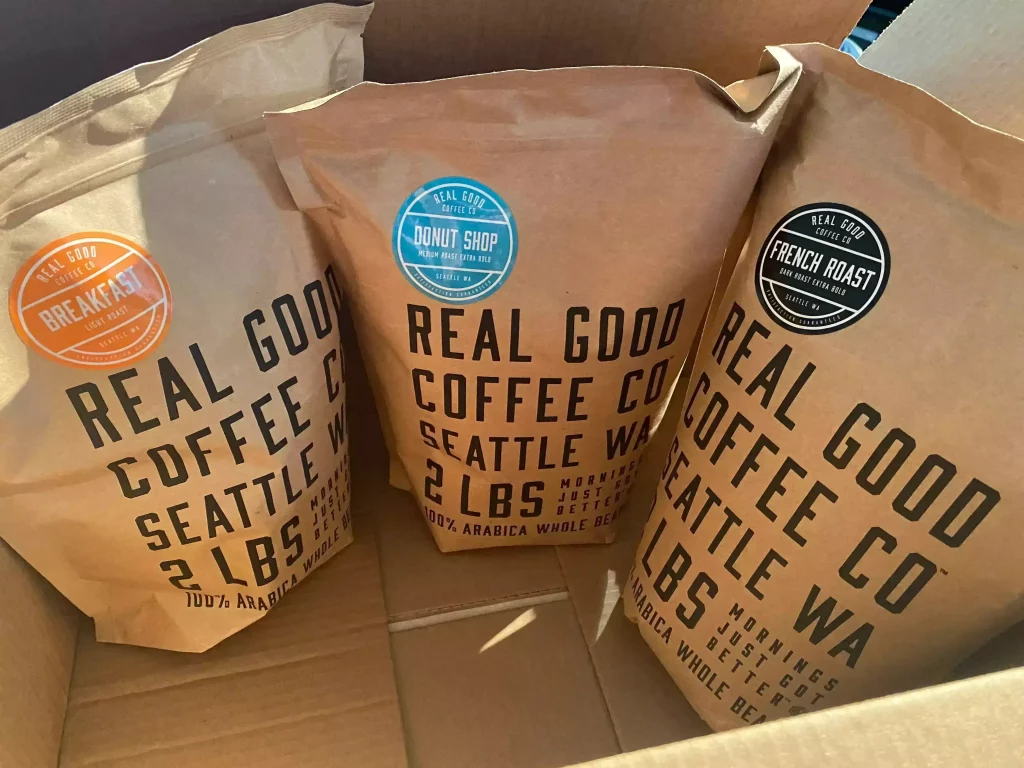 Real Good Coffee Company doesn't use flashy packaging and their blends don't have exotic names. Even the company name screams simplicity. Clearly, they think their coffee can speak for itself—but is Real Good Coffee really that good?
Well, I tried three of their top blends, and I'm ready to tell you all about it. Here's my Real Good Coffee Co. Review, complete with info about the variety, quality, and sustainability of their coffee.
Spoiler alert: I'll definitely be placing another order.
Coffee Variety
Whole bean blends
Real Good Coffee has five blends available: A light roast, a medium roast, a French Roast, an organic dark roast, and a decaf medium roast.
Breakfast Blend is their light roast. It's brisk and citrusy, with notes of milk chocolate and cream. You can find their medium roast under the name Donut Shop. It has hints of sweet plum and notes of hazelnut and brown sugar.
A French roast—in case you're not familiar—is darker than a standard dark roast. Real Good's French roast carries on that tradition, with strong notes of dark chocolate and raspberry, hints of anise, and a rich, full-bodied flavor.
Their only organic coffee is another dark roast (not a French roast this time). It has a bold, rich flavor and notes of cedar, bell pepper, and lemon. Finally, there's the decaffeinated medium roast. This blend has notes of dark chocolate and caramel and hints of cream.
Keurig K-cup pods
Real Good Coffee offers all of its blends as Keurig-compatible coffee pods. These pods work with any Keurig coffee maker.
You can also buy a variety pack that features the breakfast blend, donut shop blend, French roast, and organic dark roast. The only thing missing from the variety pack is the decaf blend.
Nespresso compatible pods
Last—but certainly not least—we have Real Good Coffee's Nespresso compatible capsules. As with any third-party Nespresso pods, they'll only work with Original machines, not Vertuo machines. So be sure to check what type of Nespresso machine you have before buying these pods.
Real Good's Nespresso pods are available in five varieties: strong, stronger, strongest, organic, and decaf. There's also a variety pack that features all but the decaf blend.
Strong is a medium roast that scores a 4 on the Nespresso intensity scale. It's pretty mild, with a tangy, creamy flavor and notes of vanilla and caramel.
Stronger is a dark roast with a 7 on the Nespresso intensity scale. That's about average for a Nespresso pod, and it has a smooth, tart taste with floral, nutty, lemon, and grapefruit notes.
Strongest is another dark roast with a 10 on the Nespresso intensity scale. It's not quite the strongest Nespresso pod I've seen, but it's still pretty bold. Its spicy, clean, woody flavor has notes of butter, spices, and chocolate.
The organic pods are also dark roast and a 10 on the Nespresso intensity scale. Their flavor notes feature berry and smoke, with a rich, lingering taste.
Decaf is a medium roast like Strong, but it has an intensity of 7 like Stronger. It tastes nutty, with a creamy finish and notes of dark chocolate and caramel.
Coffee Quality
How I tested the coffee
Each of the coffees was ground fresh in my Oxo burr grinder right before brewing. I used my AeroPress coffee maker, so I'd be able to control the brewing process completely. For each roast, I brewed one standard cup of coffee and one AeroPress espresso (diluted to make an Americano).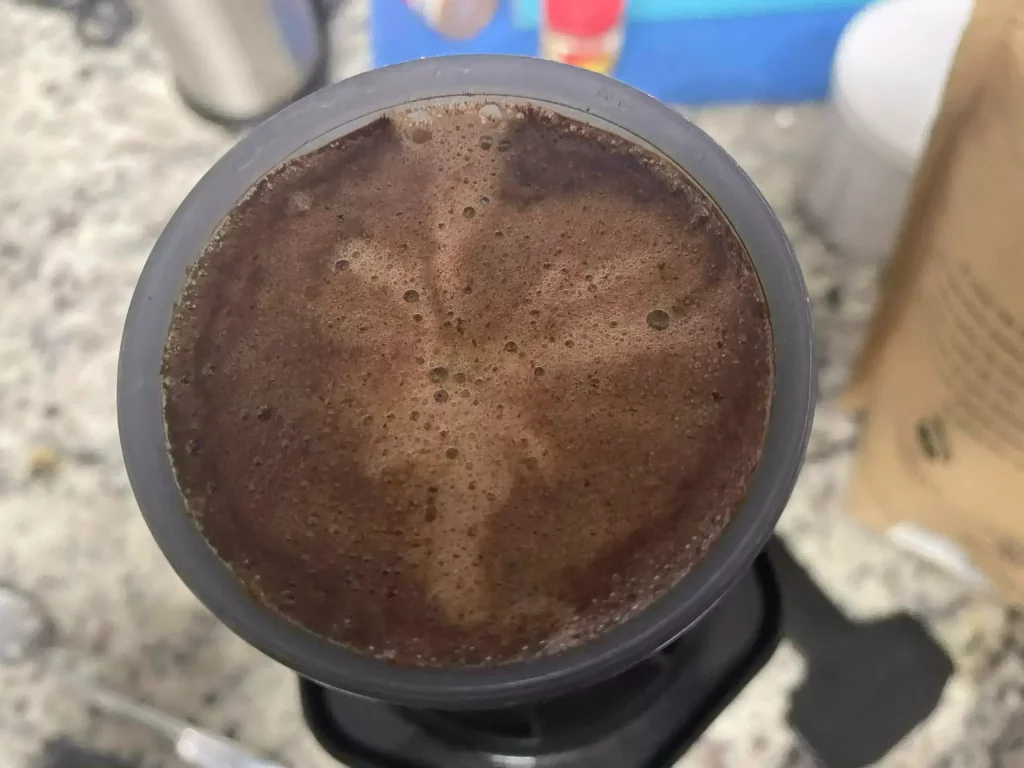 How good is the coffee?
Real Good Coffee Co doesn't just specialize in blends—it's literally all that they make. You won't find any single-origin roasts in their lineup. That disappointed me, but I'm glad that it didn't stop me from ordering.
Let me start with what shocked me the most: Real Good Coffee's French roast is amazingly flavorful without a hint of bitterness. In part, that comes from their use of 100% Arabica beans instead of the Arabica/Robusta blends that are common in Espresso blends.
I am not a French roast drinker. On any given day, you'll find a medium or light roast in my mug. I'll venture into dark roasts only for a select few brands like Illy and Lavazza. But Real Good Coffee's French roast was so good that I had to double-check which package I'd opened.
The French roast AeroPress espresso was a must-try for sure. The Donut Shop blend was good in both drip-style and espresso-style recipes, and I would say it's your best pick for drip coffee.
The Breakfast Blend could use a bit more flavor. Now, I'm not saying that it was bad. It was probably one of the best light roast blends I've had in a while.
It's hard, though, to make a good, flavorful light roast blend. After all, light roasts are meant to illicit the unique flavor of the beans used, and that works much better for single-origin roasts.
If you aren't looking for a strong coffee, the light roast may be a good place to start.
If you're buying the Real Good K-cups, I'd probably start with the Donut Shop or French roast blends rather than the Breakfast Blend. K-cups already have a weaker flavor, even if you use your Keurig's strong setting. The Breakfast Blend may well disappoint under those conditions.
Of course, you could always get the variety pack and just try them all.
Packaging quality and freshness
Real Good Coffee is shipped freshly roasted, and the packaging they use contains less than 2% oxygen. The company claims that even its Amazon inventory is never sent to customers more than 30 days from the roast date.
The whole bean packaging is minimalist, but it's effective. It reseals as easily as a Ziploc bag, and the one-way degassing valve helps prevent coffee staleness by letting oxygen escape from the bag.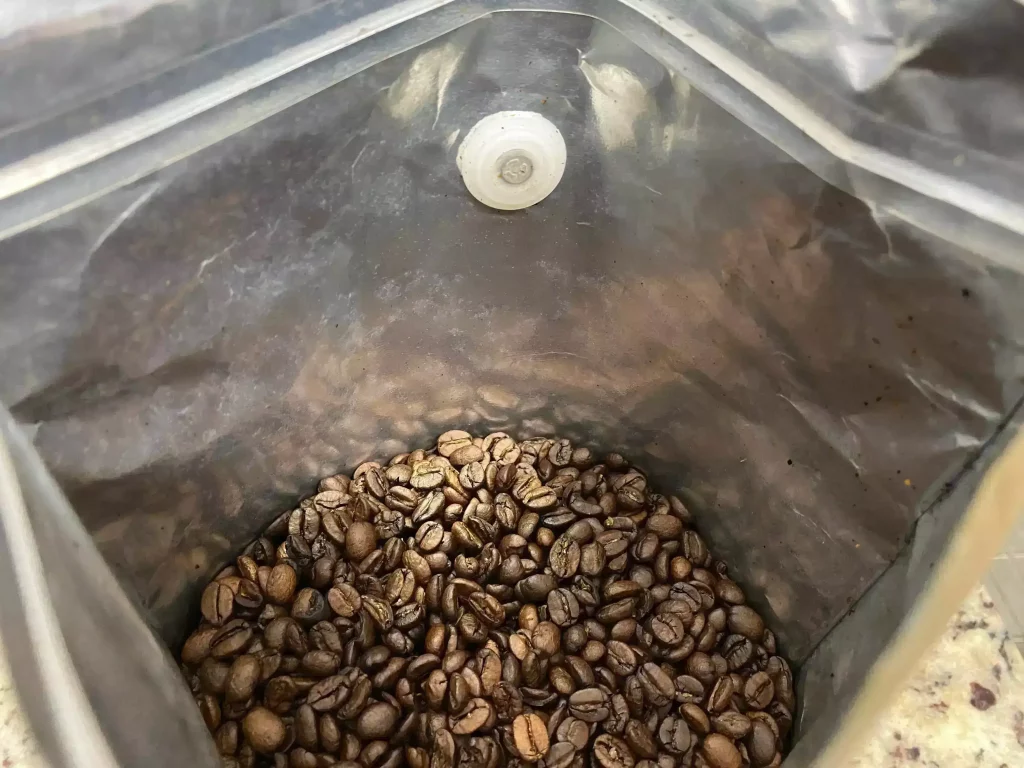 If you really want to keep your coffee beans fresh, I'd still suggest using a vacuum-sealed container. But the Real Good Coffee Company bags are better storage containers than just about any grocery store coffee bag.
Ethics and Sustainability
Real Good Coffee Company sustainably sources its coffees, including enforcing responsible practices for growing, sourcing, and packaging the coffee beans. Its beans are sourced from across Central and South America and roasted in Seattle, WA, USA.
Not all of its blends are organic, but it does have a USDA-certified organic blend available in whole bean, Nespresso pod, and K-cup form.
Real Good Coffee does claim to pay fair prices for its beans, but, unfortunately, its coffees are not Fair Trade certified.
Its whole bean packaging is made from recyclable kraft, lined with an oxygen barrier. Those bags are readily recyclable and use much less plastic than the packaging used by most other brands. The company's K-cups and Nespresso pods are also 100% recyclable.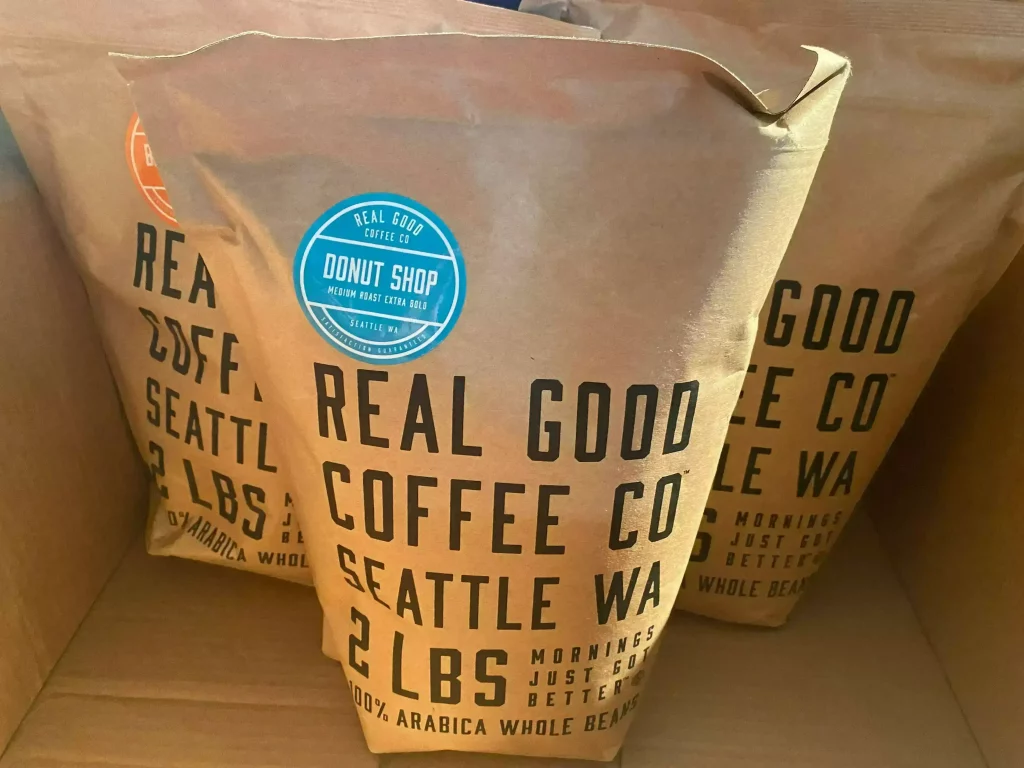 Value for Money
Real Good Coffee's whole bean bags cost about $30 for 2 pounds ($15 per pound). That's pretty comparable to other blend-focused premium brands like Koffee Kult and Kicking Horse.
For comparison, good single-origin roasts from brands like Volcanica Coffee often cost upwards of $20 for 1 pound, at least 50% more than Real Good Coffee's blends.
The Nespresso compatible pods and Keurig K-cups are about $0.54 – $0.66 per pod. That's a pretty standard price for third-party Nespresso OriginalLine capsules. Some brands sell for as low as $0.30 per pod, but those tend to be much lower quality. K-cups vary quite a bit in price, but this price range is far below average for a quality coffee brand.
Once you try the coffee, you can save a few extra bucks with a subscription. All of Real Good Coffee Company's coffees have a subscribe-and-save option with deliveries anywhere from once a week to once every 12 weeks. The subscriptions are 5% cheaper than Real Good's standard prices.
Should You Buy Real Good Coffee?
Real Good Coffee Co. makes some spectacular blends. If you're looking for reasonably-priced coffee that tastes amazing, you should definitely try it.
But this is not a coffee brand for everyone. Its limited varieties and lack of single-origin roasts will be a problem for some third-wave coffee fans.
Real Good Coffee also doesn't cater to the grocery-store coffee crowd. If you're looking for flavored coffees, you'll need to look elsewhere. And if you want pre-ground coffee, well, I suggest you learn how to grind coffee beans before you place your first Real Good Coffee order.