This post may contain affiliate links. Please read my disclosure for more info.
---
Kona has a reputation for producing some of the best coffee beans on this planet. Hawaii is the only U.S. state that grows coffee beans, and Kona beans are by far the best coffee from Hawaii.
But how do you find the best Kona coffee beans? You don't want to waste your money on cheap imitations or diluted Kona blends, so I've put together a list of some of the most highly rated Kona coffee roasters and the best Kona coffee beans that they produce. Enjoy!
(Just want to order the best Kona coffee roast? I suggest Volcanica Coffee Kona Peaberry as the best overall and the Koa Coffee Tri-Pack as the best starter pack.)
What is Kona Coffee?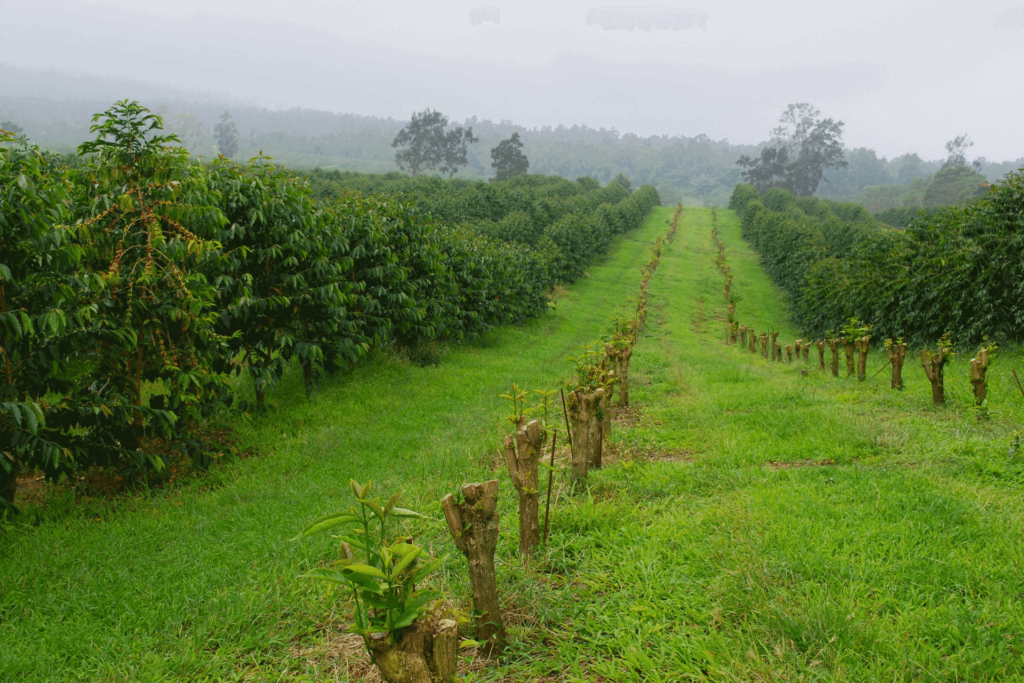 True Kona beans come from the hillsides of Hualalai and Mauna Loa in the North and South Kona Districts of the big island of Hawaii. These Arabica beans are coveted for their unique flavors — the result of being grown in the mineral-rich, porous volcanic soils of a climate with sunny mornings, cloudy or rainy evenings, minimal winds, and mild nights. 
What Is So Special About Kona Coffee?
Kona coffee is known for three things: its flavor, its aroma, and its aftertaste.
The Kona flavor
The flavor of Kona coffee is all about hints of brown sugar, honey, chocolate, milk, and bright fruitiness. The brew method, the roast, and the freshness of the coffee grounds will still impact the overall flavor profile. This means that every Kona roast will still have a unique flavor, but the underlying profile that makes Kona such a treasure will always be there.
The Kona aroma
The aroma of Kona coffee is buttery, with caramel, cocoa, and fruit. It's a sweet mixture that is distinctly Hawaiian and uniquely amazing.
The Kona aftertaste
The lingering aftertaste of Kona coffee is incredibly pleasant. It leaves delicious notes of citrus and nuts on the pallet, like walking away from a lively party with the perfect gift bag by which to remember it.
Kona Coffee Grades
Kona didn't get its reputation by chance. They hold their coffee to standards that most growing regions can only dream of. Every batch of Kona coffee receives a grade from the Hawaiian Department of Agriculture (HDA).
The HDA breaks its coffee grades into eight grade bands. From highest to lowest quality, these are:
Extra fancy
Fancy
No.1
Select
Prime
No. 3
Natural Prime
Mixed Natural Prime
These grades take into account the shape, size, rarity, moisture content, flaws, and other aspects of the coffee bean. Many of these factors have a strong impact on the quality of your cup of coffee. Others — rarity, for instance — are really more of vanity metrics.
Few guarantees in the coffee world are as iron-clad as an HDA extra fancy grade. Sure, not all of the factors affect the final flavor, but you don't get a high HDA grade without doing just about everything right. 
Avoid Kona Blends
Real Kona coffee brands are expensive. As with nearly any high-end good, there are plenty of knockoffs. Coffee roasters can label their roast a Kona blend as long as it has at least 10% authentic Kona beans — but at that ratio, the unique aspects of the Kona are almost entirely drowned out.
These blends have hurt the reputation of actual Kona coffee, which is truly disappointing. The easiest way to ensure that you have bought the real deal is to purchase only Kona coffee produced in Hawaii.
Best Kona Coffee Beans
Enough with the generalities, let's check out where you can get your hands on the best genuine Kona coffee roasts. That's right, it's time to answer the most important question: Which brand of Kona coffee is the best?
Best Kona Coffee Beans: Volcanica Coffee Kona Peaberry
100% Pure Kona Peaberry Beans for an authentic experience with a flavor that can be described as smooth, nutty and luscious with an intense aroma.
The most prized coffee in the world and award winning by Food & Wine Magazine with smooth, rich and full flavor with low acid content. An aroma of orange blossoms and cherries open the flavor of chocolate and roasted almonds. Vibrant and bright and with notes of caramel and a sweet, delicate honey finish.
State of Hawaii Certified
Medium roasted whole beans allowing the true flavor characteristic to come through for a remarkable taste. Fresh roasted then immediately packed and sealed to assure freshness.
100% Customer Satisfaction Guaranteed. Fresh roasted then immediately packed and sealed to assure freshness.
Fresh roasted then immediately packed and sealed to assure freshness
100% Customer Satisfaction Guaranteed.
Everywhere they compete, Volcanica competes to win. I recently featured them as having the best Ethiopian coffee beans and one of the best coffee beans for espresso. It's no surprise that their Hawaiian coffee beans would also land at the top of the list. If you've tried their best blends, you'll understand why I rant and rave about them. If not, maybe it's time to give them a shot.
Their Kona Peaberry is no exception to the high Volcanica Coffee standards, easily earning the titles of best Kona peaberry coffee beans and overall best Kona coffee beans. If you aren't familiar with peaberries, they come from an abnormal condition present in roughly 5% of coffee cherries. Unlike standard coffee cherries which have two coffee beans, these abnormal ones have only a single bean. This bean has sole access to all that extra nutrition that it would usually have to share with its cherry-mate, allowing it to grow richer, denser, and rounder than the average coffee bean. The round shape is where the name peaberry comes from.
Most coffee batches filter out the peaberries as their flavor is different from the other beans. Peaberry coffee takes these beans and create a roast as unique and special as the beans they derive from. It's long been contested in coffee circles whether peaberry coffee is inherently better or whether coffee roasters tip the scale by only making peaberry from high-quality sources. Whatever the answer, we all agree that peaberry coffee is a must-try experience.
This particular roast is rich, nutty, and aromatic. It's a medium-roast, low-acid coffee with a medium body. If you are looking for all the best aspects of Kona coffee combined with the unique richness that comes from peaberries, these are the beans for you.
Best Kona Coffee Starter Pack: Koa Coffee Tri-Pack
Even amongst the highest-quality Kona beans, there is plenty of variety. There are so many options to try that it only makes sense to start with a sampler pack featuring three of the best Kona beans from Koa Coffee, one of the most highly-rated Kona roasters.
Grande Domaine Kona: This medium-dark roast was a winner of the Kona Coffee Cupping Contest (try saying that 5 times) for outstanding quality and balance. Want to know part of their secret? Mixed in with their high-quality regular beans are just a handful of peaberries. If you are noticing a theme to quality Kona coffee, you are not alone.
Private Reserve Kona: Forbes called this one the "Best in America". I'd like to tell you a bit more about the blend, but they hold the secret close. All we really know is that it is 100% Kona and includes multiple grades of Kona beans to create a unique final result. The tri-pack includes the medium-roast of this blend, but you can also purchase a dark-roast variant separately if you prefer.
Estate Kona: If you want to bring out the full flavor of a bean, you need to keep it separate from other beans that will mask or modify the flavor. The Estate roast uses only beans from a single high-elevation farm. As with the Private Reserve, you can separately purchase a dark-roast variant if you want, but the Tri-Pack includes the medium roast instead.
Best Premium Kona Coffee: Koa Coffee Peaberry Kona
If you want to take the search for rare, high-quality Hawaiian Kona coffee to the extreme, this is the coffee for you. Kona beans are already in the top tier of coffee quality. Now take that and only allow the top grades of Kona to make the cut. Then go one step further and only select for the 5% — the peaberries — and you can understand why this coffee is so hard to come by.
To even make this roast possible, Koa has to purchase unroasted beans from several small farms that don't generally sell to the public. Even then, demand is generally too high, and they sometimes run out of supply. I strongly suggest the medium roast, but the dark roast is also worth a try. They even have a duo pack in case you want to sample both.
Best Regular Kona Coffee Beans: Volcanica Coffee Hawaiian Kona Extra Fancy
Authentic Hawaiian Kona Extra Fancy Coffee with a refined taste, smooth body, superb aroma and a buttery richness with nutty cinnamon and clove overtones.
100% authentic Kona X-Fancy Coffee and Single Origin. This is NOT a Kona Blend that usually contain little to none Kona Coffee.
Certified by the State of Hawaii.
Medium roasted ground coffee allowing the true flavor characteristic to come through for a remarkable taste. Fresh roasted then immediately packed and sealed to assure freshness.
Fresh roasted then immediately packed and sealed to assure freshness.
100% Customer Satisfaction Guaranteed.
Not everybody wants peaberries. If you prefer regular coffee beans but still want to experience the best Kona coffee, here it is. Not surprisingly, it also comes from Volcanica. 
This medium-roast has a full body,  low acidity, and a rich, mellow flavor. It's shade-grown in the volcanic soils that the Kona region is known for. The extra fancy grade means you are only getting the best beans that Hawaii has to offer, and Volcanica's promise not to roast the beans before they are ordered guarantees you'll be enjoying them at their maximum freshness.
Much like the last option, this is an extra fancy grade Kona roast. Their beans are sourced from small coffee farms in the Kona region where they are hand-picked. Seven Coffee Roasters then small-batch roasts the beans to ensure freshness.
You'll find notes of toasted coconut and passion fruit accentuating the bright, fruity flavor of these medium-roasted beans. Overall, the flavor is balanced, bold, and pleasant — perfectly bringing forth all the flavors of these high-quality beans.
Imagine Kona
𝐓𝐄𝐒𝐓𝐄𝐃 𝐏𝐔𝐑𝐄 - Our Medium Dark Roast has been tested using industry best practices to create the purest roast to share with your guests. We use ethical practices when producing our product to ensure an undeniably healthy brew.
𝐀𝐈𝐑 𝐑𝐎𝐀𝐒𝐓𝐄𝐃 - Hawaiian coffee is known as one of the best geographical locations to grow beans. Our beans are grown in the coffee capital of Kona, at a precise elevation of 2,200 feet. The Air Roasting process makes our coffee great for use in drip coffee machines, French Press coffee makers, automatic makers and cold brew machines.
𝐄𝐗𝐓𝐑𝐀𝐎𝐑𝐃𝐈𝐍𝐀𝐑𝐘 𝐓𝐀𝐒𝐓𝐄 - Sweet and robust without being acidic or bitter, our medium dark roast premium coffee has a smooth caramel, creme brulee flavor and an intense caffeine focus; truly gourmet coffee at its finest.
𝐏𝐔𝐑𝐄 𝐊𝐎𝐍𝐀 𝐁𝐄𝐀𝐍𝐒 - Enjoy every sip of smooth, nutty, fresh flavor, achieved through the way we grow, pick, and process our beans. This refined flavor comes from the beans' slow maturation under macadamia trees, handpicking, and our custom roasting process.
𝐀𝐕𝐏𝐀 𝐆𝐎𝐋𝐃 𝐀𝐖𝐀𝐑𝐃 𝐖𝐈𝐍𝐍𝐄𝐑 - our Kona Gold Medium/Dark Roast Whole Beans took first place in the Kona Crown Competition Division at the coveted Kona Coffee Cupping Competition.
I hate to break a good trend, so this is another extra fancy grade bean. You do have to try to get past the fact that their packaging looks like an ode to Mickey's sorcerer hat, but maybe that only bothers me.
Their beans are sourced from a single estate in the Kona region, where they are shade-grown under Macadamia nut trees. The beans are handpicked, sun-dried, and air-roasted. What you get from that is a sweet, robust medium-dark roast coffee without too much acidity. It's beautifully smooth and rich, as expected from a winner of the gold award from the Agency for the Valorization of Agricultural Products (AVPA) in Paris.
Given that description, you are probably wondering why it didn't rank higher on the list. Well, there have been reports of some customers getting stale batches of the coffee. When it comes to a coffee of this quality, freshness concerns are not something that I'm willing to accept in a top-tier contender.
Hawaii Coffee Company Royal Kona Estate 100% Kona
PRIVATE RESERVE KONA: Our medium roast private reserve 100% Kona ground coffee makes a delicious cup with a smooth, full bodied flavor.
ALOHA FROM HAWAII: Royal Kona Coffee features 100% pure Kona coffee milled at our facility in Captain Cook in the Kona region on Hawaii's Big Island, right in the heart of the growing region of one of the world's most famous coffees.
TASTE OF HAWAII: This exquisite private reserve coffee is always fresh and offered to you by the largest roaster of Kona Coffee in the world, Hawaii's leading supplier of coffee to the Island's hotels, restaurants, and retail stores.
ONLY THE BEST: Each premium Kona bean is selected from the best of the Kona harvests and then expertly roasted to produce a gourmet cup of Kona coffee.
SINCE 1969: We've been roasting premium 100% Kona and 10% Kona blend coffee since 1969. Every bag of our Kona is fresh and packed with delightful, authentic flavor.
Should I even bother mentioning that this one is extra fancy grade, or is the pattern obvious by now? Like many of the best Hawaiian coffee roasters, they grow the beans on their own plantation, allowing them control over quality in every step of the process.
This is the only light roast that made the list, which should be enough to tell you how unique it is. The flavor profile is lively, bright, and clean — with a signature fruitiness. Since the Hawaii Coffee Company roasts their beans to order, you are sure to enjoy these delicious beans in their prime.
Blue Horse 100% Kona
OUR BRAND STORY: Monumental volcanoes and lush, verdant steep slopes make Kona, Hawaii a special place on earth. The high elevation, mountain slopes, mineral and nutrient-rich volcanic soil, and cooler temperatures create perfect conditions for coffee. It's where Blue Horse 100% Kona Coffee was born. It's where we grow the world's best and most famous Kona coffee - right here in the USA.
100% HAWAII KONA (NOT A BLEND!): Kona Estate Quality - Made of finest premium Kona coffee beans, grown in Hawaii, USA. The beans we use for our compatible K-cups are the same we use for our whole bean packages (not broken and inferior beans that many other brands grind up and hide in their capsules).
FARM-FRESH, SUSTAINABLE: Our coffee is shade grown, handpicked, sun dried, and rainwater washed (means more work for us but more flavor for you).
CLASSIC ROAST: This slightly darker medium roast profile is our most popular classic roast and the most common roast level within the Kona Coffee Belt. Best in a French Press, Pour-Over, or Drip Coffee maker.
DELICIOUS TASTE: Blue Horse 100% Kona coffee beans have complex fragrant, floral notes with a lingering sweetness. These premium pure Kona beans are medium brown in appearance with spots of aromatic oils. Aromatic, nut-like scents created in the island's rain forest will fill your senses and seep into your veins. Enjoy hints of almonds and tropical vanilla with a light, velvety body.
FRESH & FLAVORFUL: The key to great coffee is to enjoy it when it's freshly roasted. Sealed shut, our premium vacuum sealed, resealable zip-locked bag keeps coffee fresher for longer at peak aroma. (Please squeeze the remaining air out each time you open the bag, so that oxygen doesn't reduce the coffee's freshness!)
100% MADE IN THE USA: Our Kona coffee is 100% grown, handpicked, processed, and roasted in the USA.
HIGHEST QUALITY: Our farming and processing follows strict USDA and Hawaiian Government legal quality standards, and our state-of-the-art roasting facilities meet or exceed all needed FDA certifications.
TRY A CUP: Blue Horse 100% Kona Coffee comes highly rated by thousands of satisfied and loyal customers who have loved our delicious, US-made coffee since 2005. We will let you decide for yourself, and hope you will love our coffee as well. Mahalo!
If the previous entry had the distinction of being the lightest roast in the list, this is the darkest. In fact, it's the only true dark roast that made the cut, but they do have a medium roast if you prefer. Also unlike most of the rest of this list, this isn't an extra fancy grade Kona. It's what is known as estate grade, which means that it's a mixture of extra fancy to prime grade beans. 
Blue Horse earns a spot on this list by offering a shade-grown, hand-picked, sun-dried bean that is sustainably grown and single-estate sourced. There are no pesticides or herbicides used in their growing process either.
They've gone above and beyond to make a blend that, despite it's lower grade, has delicious chocolate and caramel flavors that exemplify the Hawaiian Kona tradition. Toss in a caramel finish and a nutty aftertaste, and it's hard not to consider them a top-notch Kona coffee.
We've come to the last item on the list, but that doesn't make it the least by any measure. That's right, it's another extra fancy grade bean! 
The light, syrupy mouthfeel of these beans goes perfectly with the flavor notes: toffee, nougat, jasmine, honey-butter, peaches, cacao, and apricots. Some might even say I saved the best for last. The overall profile of this medium roast is smooth, floral, and delicate.
Final Verdict
You really can't go wrong with any of these options, especially if Kona blends have turned you off from real Kona coffee in the past. If you want to sample the variety potential of Kona, start with the Koa Coffee Tri-Pack. If you are looking for just a single roast to get you going, my suggestion is the Volcanica Coffee Kona Peaberry. 
Eventually, you'll have to try both the peaberry and standard coffee bean varieties to get the full experience. By that point, you'll be hooked. Kona coffee is not cheap, but the best experiences rarely are.
Now go tell all of your friends the truth about Kona blends. You'll be saving them from a huge disappointment. Tell them they can thank you by making you a cup of real Kona coffee. Doesn't that sound fair?