This post may contain affiliate links. Please read my disclosure for more info.
---
Most coffee-producing countries choose either to produce massive amounts of mediocre coffee or a much smaller amount of high-quality beans. Then there's Honduran coffee brands, who have managed to be one of the largest coffee producers while maintaining a level of quality few other countries can match.
That's a story worth telling, so I wanted to dig deeper into the best Honduran coffee beans. I wanted to learn how a country that was hit by a massive natural and economic disaster just 20 years ago has somehow managed to rise to worldwide coffee prominence. Here's what I found.
Quick Take: Best Honduran Coffee Brands
| | Image | Product | |
| --- | --- | --- | --- |
| Best Honduran coffee beans | | Fresh Roasted Coffee, Fair Trade Organic Honduran Marcala, 2 lb (32 oz), Medium Roast, Kosher, Whole Bean | Check price |
| Best premium Honduran coffee | | Spirit Animal Coffee - Parainema Variety, Whole Bean Coffee, Medium Roast Coffee, Non-Gmo and Low Acid Coffee Beans, Honduras Coffee with Peach and Guava Tasting Notes, 12oz | Check price |
| Best Honduran coffee brand | | MONTE VISTA CRAFT COFFEE - Honduran Specialty Coffee-MICRO-BATCH ROAST-Medium dark Roast, STRICTLY HIGH GROWN with floral notes and CHOCOLATE FINISH! 12oz | Check price |
| Best Honduran coffee k-cups | | Maud's Organic Honduran Coffee (Organic Dark Roast Coffee), 24ct. Solar Energy Produced Recyclable Single Serve Fair Trade Single Origin Honduras Coffee Pods - 100% Arabica Coffee, KCup Compatible | Check price |
| Best Honduran Copan coffee | | Honduras Coffee, Honey Natural Process, Whole Bean, Fresh Roasted, 16-ounce | Check price |
A Brief History of Honduran Coffee
The origin story of Honduran coffee dates back to the late 18th century when Spanish traders introduced the coffee plant to the country. The Honduran coffee sector didn't really take off until Honduras gained independence from Spain in the early 19th century.
Even after independence, the Honduran coffee industry was a distant second to banana production for several reasons.
First, bananas offered a much shorter time between planting and harvesting. Second, the banana industry was driven by US companies that owned much of the banana production in Honduras. Finally, their proximity to the much larger Guatemalan and Costa Rican coffee producers provided fierce competition.
Through the 19th and early 20th century, small coffee farmers were popping up all over the place in Honduras, but they didn't have the means to export their product. The mid-20th century saw huge improvements in infrastructure across the country that empowered these small farmers to more readily transport their products, which in turn attracted even more farmers to the industry.
Unfortunately, tragedy struck coffee farmers in 1998 when Hurricane Mitch destroyed 80% of the country's coffee production. The government has since been offering incentives to bring coffee growers back, with a heavy focus on high-quality coffee beans.
Honduran Coffee Production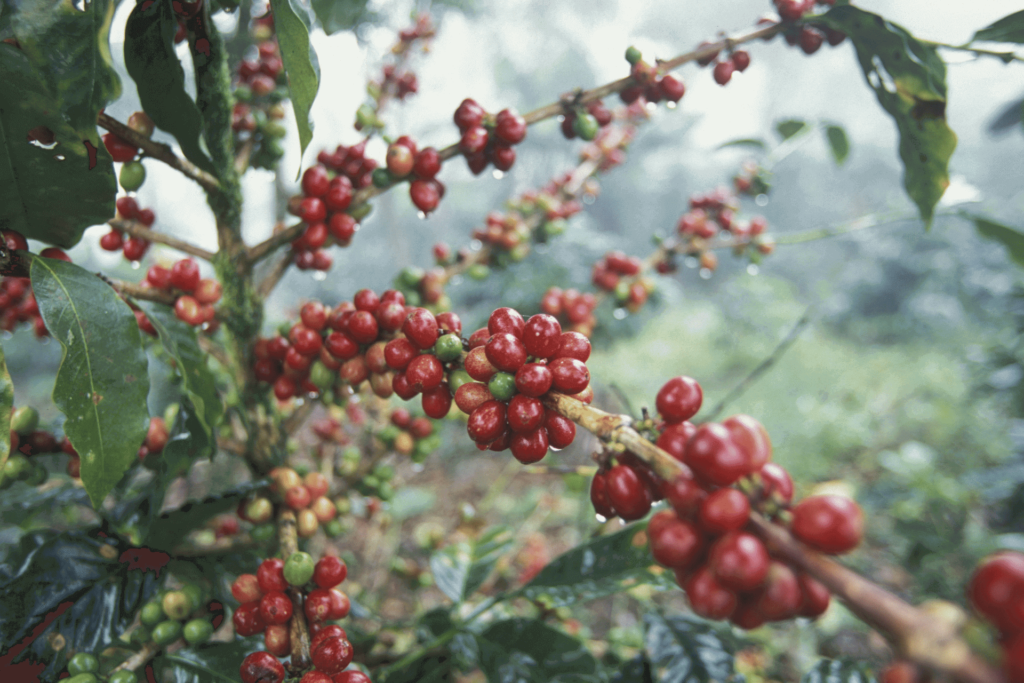 The rebound from Hurricane Mitch has been an amazing boon for the Honduran coffee industry. They've become one of the five largest producers of coffee worldwide, producing over 475,000 metric tons of coffee every year. That's nowhere near as large as the production of Brazilian coffee beans or from Vietnamese coffee brands, but it's an incredible comeback just a couple of decades after a nationwide tragedy.
Honduras has not allowed their rapid growth to hurt their quality though. They now export more premium Arabica beans than almost any other country in the world, and they continue to improve both the amount and quality of these beans.
Honduran Coffee Grades
Honduran coffee is graded based on the altitude at which its grown. 
Strictly high grown — More than 4,400 feet above see level
High grown — 3,900 to 4,400 above sea level
Central standard — Less than 3,900 feet above sea level 
What Does Honduran Coffee Taste Like?
The specific flavors of Honduran coffees vary from region to region or even farm to farm, but there are a few overarching trends.
Honduran specialty coffee tends to have notes of chocolate nuts, and tropical fruit. Its flavor profile is clean, balanced, mild, and sweet. Their coffee often has a powerfully intense aroma and a bright, zesty acidity.
Honduran Coffee Growing Regions
Honduras has six primary coffee-growing regions: Copan, Opalaca, Montecillos, Comayagua, El Paraiso, and Agalta. 
Copan
Copan is the most well-known growing region in Honduras. They produce sweet coffees at 3,300 to 5,000 feet above sea level, with citrus, chocolate, and caramel flavors. Their coffee is much less fruity than that of some of the other growing regions.
Opalaca
In Opalaca, much of the coffee is grown at very high altitudes — often over 5,000 feet above sea level. Their coffee has deep notes of mango, bright aromas, and a strong acidity.
Montecillos
Even higher up in the mountains — often higher than 5,300 feet above sea level — we find Montecillos, home of cool evenings that lead to slowly ripening coffee beans. The coffee there is very sweet, often with notes of stonefruit.
Comayagua
Most of Comayagua is between 3,300 and 5,000 feet above sea level. They produce coffees with hints of citrus, low acidity, and sweet flavor profiles.
El Paraiso
In the southern part of Honduras, situated at around 4,600 feet about sea level, you'll find El Paraiso — an award-winning coffee producing region. Their coffees are sweet, with subtle notes of jasmine alongside apple, blueberry, and peach.
Agalta
Agalta is between 3,600 and 4,600 feet above sea level, and the region is very wam and humid. Agaltan coffee growers favor wet washing their beans because of the local climate, and the flavor profiles of their coffees are heavy in chocolate and a deep sweetness.
Best Honduran Coffee Brands
Best Honduran coffee beans: Fresh Roasted Coffee Organic Honduran Marcala
USDA Organic
Coffee is roasted in our environmentally friendly coffee roaster.
AVAILABLE IN WHOLE BEAN AS 12 OZ, 2 LB, and 5 LB Bags.
Bold Body, Medium Roast
Fresh Roasted Coffee's biggest pro is right in their name: They focus heavily on perfecting the roasting process. It starts with their use of Loring Smart Roasters, a cutting-edge technology that drastically reduces carbon emissions, enhances the flavor of the coffee, and ensures roasting precision. Even more obvious from the name, they ship their beans freshly roasted for maximum freshness and flavor.
Marcala is in the mountainous Montecillos region, so this coffee is strictly high grown. It is medium-roasted and has notes of milk chocolate, a sugary-sweet and smooth body, and an acidic lemon finish.
Full-bodied Coffee - A hand-selected blend of medium-roasted coffee beans, this low-acid coffee stirs up your spirit with each sip. Indulge in its rich, creamy taste with notes of Peach and Guava
Low Acid Coffee - Your better choice over regular coffees on the market, Spirit Animal coffee is less acidic, making it gentler for your gut. Our coffee is an excellent option for you especially if you're one to constantly suffer from acid reflux, or if you simply prefer a healthier cup of coffee.
100% Pure-bred Honduran Coffee Beans - Relish in the goodness of clean coffee in every cup. Our whole coffee beans come from high-end single origin micro lots in Honduras and have received a 89.0 score according to the Specialty Coffee Association's coffee quality scale.
Fresh from Crop to Cup - Savor the freshness of your specialty coffee. Our coffee beans are roasted in Honduras, and then packed and transported via a 2-hour air freight to ensure that they reach you with the richest, freshest flavors and aromas.
Specially Cultivated - Our fresh coffee beans are shade-grown and cultivated on small-scale micro lots at high altitude. After we carefully select the top 1% of beans, they undergo meticulous washing processes to maintain the premium taste of each coffee bean.
Spirit Animal uses only small-crop, shade-grown, organic coffee beans from high-elevation micro-lot farms around Honduras. That's just a lot of fancy words for saying that they source the absolute best coffee beans from Honduras for their single-origin coffees. They go as far as hand-selecting and hand-washing their beans to isolate only the best of the best.
Beyond quality, Spirit Animal also focuses on sustainability. They have relationships with local independent farmers across Honduras, and they pay well above Fair Trade wages and invest in sustainable farming practices.
They roast their beans in Honduras and ship them via rapid air freight, saving weeks off the usual shipping time for coffee from Honduras. It's hard to find fresher coffee beans. 
The result of all this perfectionism is a premium quality with a deep, creamy chocolate flavor, jasmine and tropical fruit sweetness, and light fruit overtones. Their coffee is one of the more expensive options, but it's harder to find a more iconic example of everything Honduran coffee stands for.
Best Honduran coffee brand: Monte Vista craft Honduran coffee
MICRO-BATCH FRESHNESS - Our coffee beans are handpicked, carefully selected and roasted to perfection in small batches to ensure richness of flavor and quality
A FARM TO CUP EXPERIENCE - It has been a family tradition focused on quality for over 50 years (3 GENERATIONS)
100% SATISFACTION GUARANTEED - you be the judge. If you don't love it, we will refund your order.
STRICTLY HIGH GROWN - Our coffee is produced at 4700ft above sea level, giving you the best brew every time
FLAVOR PROFILE - Citrus Caramel Aroma, Medium Acidity and Sweet Chocolate Finish
Most of these companies make Honduran coffee, but few are as immersed in the experience as Monte Vista. They with closely with a family-owned farm, monitor each micro-lot, hand pick the coffee cherries, and roast them in small batches for freshness and consistency. Their process is truly an art, and they've been mastering it for 3 generations.
Their coffee is strictly high grown, and it has a medium acidity, a chocolate finish, and a citrus caramel aroma.
Best Honduran coffee k-cups: Maud's organic Honduran coffee k-cups
Roast Profile - Maud's Organic Honduran Coffee delivers a low acidity rich full bodied bold dark roast that is not too heavy and carries smooth notes of walnuts and cocoa.
100% Arabica Organic Honduras Coffee - We use only high quality 100% Arabica coffee including organic and fair trade beans from premier growing regions around the world.
California Roasted & 100% Solar Energy Produced - On their way to your cup, our flavorful beans also get a California tan, roasted to perfection in our own Solar Energy Powered San Diego facility, where we can monitor the quality and character of each batch. Our goal is to be carbon neutral by 2024.
Single Servings - Designed for use with nearly all single serve coffee makers and Keurig KCup compatible brewers, including 2.0 machines.
Recyclable Honduran Coffee Pods - Our Organic Honduras coffee pods are made from recyclable #5 plastic materials and feature easy peel tabs to ensure recyclability across the USA. Check your local recyclability facilities to find out more, not recyclable in all communities.
Keurig drinkers, rejoice! Single-origin Honduran coffee is available in coffee pods. Maud's Honduran coffee is dark-roasted to be rich, full-bodied, and smooth with notes of cocoa and walnuts.
The 100% Arabica beans are USDA-certified organic and Fair Trade certified. They use recyclable pods to decrease the environmental impact of their single-serve capsules. 
Best Honduran Copan coffee: Volcanica Coffee Organic Honduran coffee
Honey Natural Processed with a smooth body, medium acidity. Flavor Notes: Honey-Suckle, Tea-like Lemongrass, and Berry.
Light roasted coffee beans allowing the true flavor characteristic to come through for a remarkable taste.
Fresh Roasted: Then immediately packed and sealed to assure freshness.
100% Customer Satisfaction Guaranteed.
If you haven't tried Volcanica coffee, you are missing out on one of the best coffee brands in the world. Their Honduran natural process coffee beans are no exception, delivering a high-quality medium roast with a smooth body, medium acidity, and flavor notes of honey-suckle, tea, lemongrass, and berry. 
Their coffee is organically grown and comes from a small family-owned farm that sits at a high altitude in the Copan region of Honduras.
Unique Coffee Roasters single-origin Honduras coffee 
Unique Coffee Roasters sources their 100% Arabica beans from El Cedral in the Santa Barbara state of the popular Copan region.
That's a very specific location, which matters because that part of Copan grows strictly-high-grown Bourbon beans — a prized Arabica varietal that makes for amazing coffee.
Their coffee is medium-light roasted. It's full-bodied, well-rounded, and has dark chocolate flavor notes. 
Subtle Earth organic Honduran coffee
ORIGIN - Subtle Earth Organic Coffee features beans sourced from Honduras that gives the coffee a full bodied, deep, rich, chocolatey flavor with a clean finish and low acidity.
AROMATIC NOTES - This whole bean coffee blend tastes of smooth milk chocolate with notes of honey, caramel, and cocoa. The slight caramelization of the natural sugars in the bean gives this Medium-Dark coffee a touch of roastiness, while retaining its natural flavor character with a sweet and pleasant aftertaste.
EXPERTLY ROASTED - We artisan roast our coffee beans in small batches just prior to shipping to ensure peak flavor and optimal freshness.
QUALITY (& RESPONSIBILITY) - Our Medium-Dark roast beans are "Specialty" rated and expertly roasted for consistent quality. . Our coffee is ethically sourced and USDA Organic Certified. Keto and vegan friendly and gluten and nut free.
REFUNDABLE - Try Don Pablo Risk-Free: Buy now, and if you don't love our coffees, contact us directly through Amazon, and we will happily refund your order.
Subtle Earth organically grows their 100% Arabica beans and uses a medium-dark roast to balance the added flavors of roastiness with the natural flavors and intrinsic sweetness of the beans.
Their coffee is full bodied with a deep, chocolate flavor that is beautifully rich. It has a low acidity and a clean finish, with notes of honey, cocoa, and caramel.
Clean Coffee Co. Honduran El Jaguar coffee
DARK ROAST 12oz BAG — Meet El Jaguar, the Honduran dark roast coffee with a smooth finish. Sun dried and carefully processed to retain the most flavor, we taste orange, caramel, and cocoa nibs in this wonderfully bold bean.
WHOLE BEAN COFFEE WITH LOW ACID — Whether you're looking for cold brew coffee grounds or something for the coffee pot or pour over, these beans are ready for you to prepare however you'd like. With a pH level similar to rainwater and a rich antioxidant level, this bag of whole beans will treat you with as much care as you treat your coffee prep.
TASTE COMES FIRST — We were coffee drinkers long before we knew about the environmental factors at play, and the core tenet of our beans is that we want the smoothest, most delicious product on the market. After a lot of testing and tasting we think you'll agree that we've done it. But, that being said…
CLEAN COFFEE MATTERS — It's easy to think of coffee as exempt from the rules of contamination that we apply to our produce, but coffee beans require healthy soil and water just like any other crop. We work hard to bring you a mold free and toxin free coffee, unexposed to the agrichemicals that are in so many mass-produced beans. Clean coffee is not about what you see when you hold a roasted coffee bean, it's about an approach to agriculture that respects the environment and the consumer.
LAB TESTED, SCIENCE APPROVED — We send our beans to third party laboratories for CDFA multi-residue screening, a combination of tests covering more than 150 contaminants. We want to be sure that we can uphold this promise to you: every bag of Clean Coffee Co is free from undue chemicals, pesticides, mold, and toxins. So all you're left with is coffee that you can enjoy.
Clean Coffee Co's Honduran dark roast is a low acid coffee, with a smooth, mellow taste. They hand-wash and hand-pick their beans to ensure the quality of every batch.
Van Houtte Honduras coffee k-cups
Van Houtte Honduras Extra Bold Coffee K Cup For Keurig K-Cup Brewers
24 Count in retail box
offers a soft aroma, delicate acidity and intense body with delightfully sweet and woodsy notes
Offers the ease of making coffee 1 cup at a time
Van Houtte's Keurig pods are a slightly more premium option than the Maud capsules I discussed above. They have a delicate acidity, an intense body, and a soft aroma. The flavor is very sweet with strong woodsy notes.
Crazy Fresh Honduran Santa Rosa coffee
PERFECTING COFFEE SINCE 1911 – We have over 100 years experience sourcing premium coffee beans from small farms and perfecting the roasting process to offer the best possible coffee flavor profiles that guarantee the "WOW" Factor
PREMIUM QUALITY BEANS – Our sources are 5th or 6th generation coffee growers who hand-pick and sort our premium quality beans using environmentally friendly farming methods
ARTISINALLY ROASTED IN SMALL BATCHES – Roasting in small batches allows our experienced roasters to produce consistently great flavor and provide the freshest coffee which is packaged in premium bags with a special valve to maintain freshness
FRESH SMOOTH FLAVOR – All our coffees are created to be smooth tasting, never bitter and rich in flavor; This Honduran light roast coffee is naturally sweet, with rich chocolaty notes and a super clean finish
GOURMET TASTE WITH ALL BREWING METHODS – Delicious intense flavor no matter your coffee brewing preference: cold brew coffee makers, drip machines, espresso makers, French Press, Aeropress, Chemex/pour overs, and glass siphons
Crazy Fresh offers another option for strictly-high-grown coffee — the highest quality coffee grade in Honduras. Their light-roasted coffee has a crisp, vibrant flavor with notes of chocolate and an earthy aroma. 
Two Bucks Sasquatch Honduran coffee 
✔️FILL YOUR FUEL - Whether you need to start your day with a kick or get an afternoon burst, Two Bucks coffee grounds are roasted to be enjoyed as is. Fill your caffeine fix with these Honduras coffee beans & keep your day alive!
✔️HONDURAS BROUGHT TO YOU - Our coffee beans come from Honduras and have notes of caramel and chocolate, and have light notes of fruits and berries. We guarantee you will enjoy the taste from this country!
✔️LOCALLY ROASTED - We roast and grind our beans in the heart of American, Cincinnati, Ohio. Enjoy the local taste wherever you are.
✔️OUR QUALITY - We have partnered with a team of dedicated individuals who have conducted years of research and development to sustainably source the highest-quality coffee beans from around the world.
✔️FAMILY OWNED - Two Bucks Coffee is a family owned business. We operate under the belief that if you surround yourself with good people, good things will follow. Our goal is to provide the highest quality coffee that makes you want to keep coming back for more.
Two Bucks is another family-owned coffee company, producing medium-roasted coffee that has notes of caramel and chocolate and hints of fruits and berries. The only downside is that they only offer ground coffee, which just doesn't provide the same level of freshness you get from grinding your own coffee beans.
Gobena coffee organic Honduran coffee
Small Batch Roasted Specialty Coffee, Roasted and Packaged the same day to ensure freshness.
Medium Roast Whole Bean.
Fair Trade USA Certified. USDA Organic Certified.
Flavor Notes are "nutty, sugary/sweet body, with a hint of chocolate"
100% of the profits go towards orphans and vulnerable children.
Ingredients: Organic Honduran Coffee Beans.
Gobena's organic medium-roast is small-batch roasted and available in bulk 5-pound bags as well as smaller sizes. Their coffee has a sweet body, and the flavor contains notes of nuts, sugary sweetness, and chocolate.
They donate all of their profits to orphans and vulnerable children. Combined with their Fair Trade certification, this makes them one of the most socially conscious Honduran coffees you'll find.
Final Verdict
Honduras is a rising star in the Central American coffee scene, and they are a country that coffee lovers have come to respect for their quality and robust flavors. They may not have the storied history of Ethiopian coffee beans or Colombian coffee brands, but coffee from Honduras will soon rise to those same exalted levels.
If your quest is to try the best coffees from around the world, Honduras is well worth adding to your list, and these Honduran coffee brands are a great place to start.