Lavazza was my first introduction to true Italian espresso, and that is a moment that changed my perspective on coffee forever. The aroma, the flavor even the appearance of the beans was different.
I was hooked.
But Lavazza isn't the only historic Italian coffee brand. Illy is a company known for their espresso. It's what they do, and they do it better than most. But are they better than Lavazza? It's like asking me to choose between my oldest friend and my closest confidant, but I'll do it: prepare for the battle of Illy vs Lavazza.
The Most Unique Thing About Italian Coffee Brands
First, let's talk a bit about coffee from Italy in general.
Ready to get your mind blown? This next fact may come as a surprise to casual Italian coffee drinkers.
What can't you grow in Italy's climate?
Coffee beans.
That's right, there is no such thing as an Italian coffee bean. Italian coffee makers didn't become world-renowned for growing the best beans.
That's going to make this a bit different than my usual articles. The best Cuban coffee brands earned their name using only Cuban coffee beans. Brazil is famous for coffee because Brazilian coffee beans make up the plurality of the world market. Ethiopian coffee beans introduced the drink to the world.
Italy had no beans of their own to start their coffee empire. So how did they become the country we associate most with such quality coffee drinks as espresso and cappuccino?
Italian coffee roasters put their country on the map by mastered the arts of sourcing, blending — and, of course, roasting coffee beans. That's what makes those multinational coffee beans into what we've come to know as Italian coffee.
What Is Italian Coffee Like?
Coffee from Italy tends toward dark roasts that aren't overly oily. In many cases, though, you will see medium roasts as well. Don't expect to find much in the way of light roast from Italian coffee roasters (although they do exist)!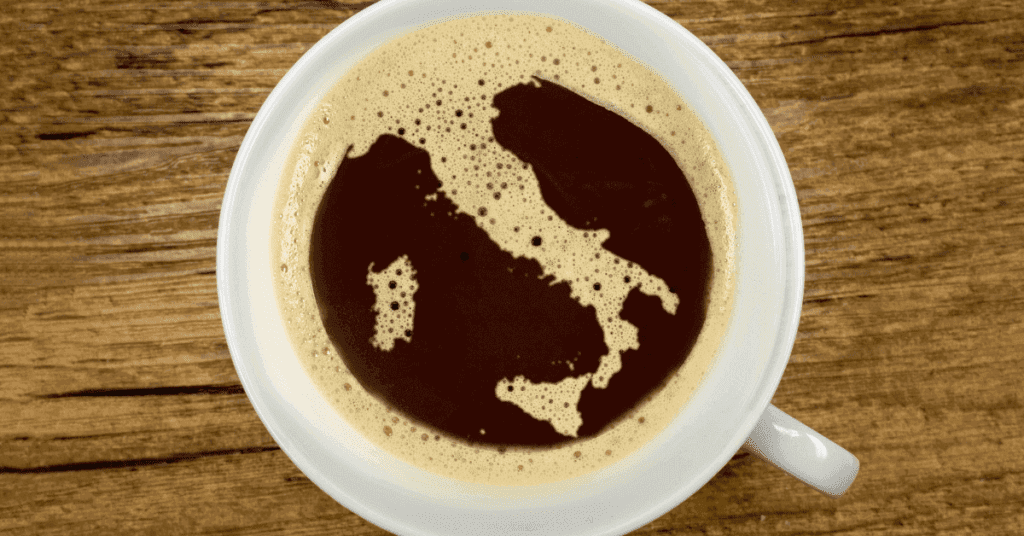 This dark roast preference is strongly connected with the Italian coffee lovers' devotion to espresso. Dark roasted beans are more porous, so you can pull more flavor from them during the espresso brewing process. Light roasts make a more sour espresso since this is the predominant flavor from under-extracted coffee grounds.
As some of you may know, the Country of Italy differs a lot from north to south, and Italian coffee culture is no different. When it comes to coffee from Italy, northern Italians prefer pure Arabica beans. Southern Italy tends more toward a blend of Arabica beans and Robusta beans.
Illy and Lavazza: The History of Italian Coffee
There is a long and vibrant history behind Italian coffee culture, dating back to the 16th when Venice became one of the first European ports to start importing coffee beans. The true revolution didn't happen until 1901 when a coffee historian named Luigi Bezzera came up with the idea of producing a short, concentrated coffee beverage by forcing pressurized water through coffee grounds — a drink that came to be called espresso.
Several Italian brands of coffee started to rise up in the late 19th and early 20th centuries. Two of those companies have risen above the rest, taking control of an impressive share of the Italian coffee market and garnering a significant international audience. As you might have guessed, those two are Illy and Lavazza Illycaffè S.p.A., more often known as Illy, was founded in 1933 in Trieste, Italy by Francesco Illy, a WW1 officer. Francesco Illy was also the inventor of the first compressed air coffee maker, an important predecessor to the modern espresso machine.
Luigi Lavazza S.p.A., or Lavazza for short, dates even further back to 1895 when it was founded in Turin, Italy by Luigi Lavazza, an Italian businessman. Both Illy and Lavazza are still run by either 3rd or 4th generation members of their respective families.
Illy vs Lavazza: Type of Coffee Beans
Illy uses only 100% Arabica beans in their coffee, which have more sugars and are known for their unique flavor profile. This choice goes a long way toward their reputation as a high-end coffee brand.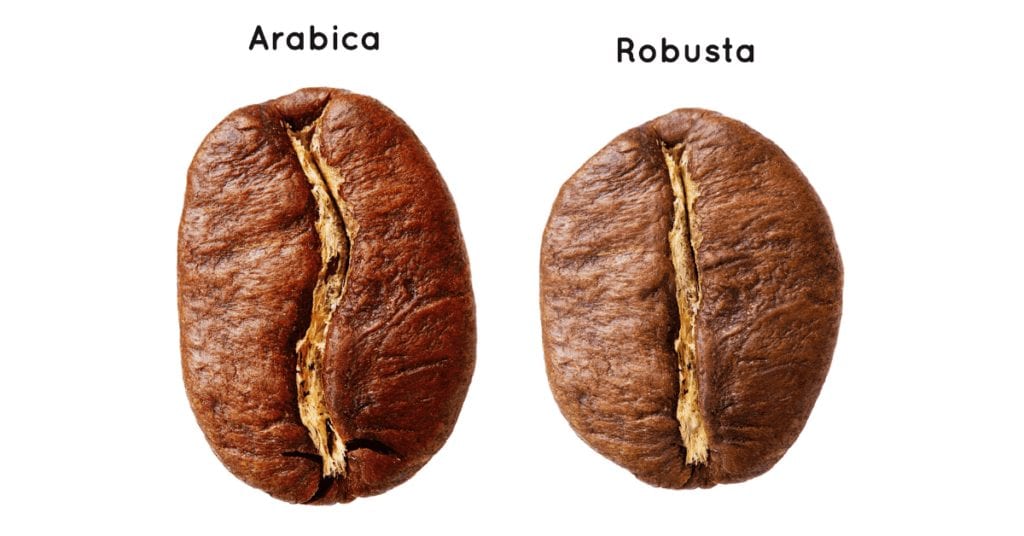 Lavazza also uses primarily Arabica beans, and they have some blends that feature 100% Arabica beans. More often, though, they have between 20% – 40% Robusta beans. As I mentioned earlier, these beans add an earthier flavor and a higher caffeine content. If you are looking for a stronger cup of coffee or a thicker layer of crema on your espresso, Arabica/Robusta blends are the way to go.
The Quality of Illy vs Lavazza
Lavazza's claim to fame, and a primary driver of their dominance in the Italian market, are their ground coffees which have become the most popular choice for the beloved Italian Moka Pot. Lavazza's inclusion of the earthier and more caffeine-filled Robusta beans makes a better brew for Moka Pots than pure Arabica beans.
Illy's focus, on the other hand, is on the Italian espresso market, where they are generally considered to be a higher-end product than Lavazza.
Illy vs Lavazza: Coffee Tastes and Varieties
Lavazza's coffees
Lavazza has, as of my last count, 19 different blends to choose from each with its own flavor profile. Here are a few highlights.
Lavazza Espresso Italiano
Let's start at the 100% Arabica end of the spectrum where things are only moderately intense. Espresso Italiano is a medium-roast that uses beans from Central and South America, blended to produce a rich-bodied, highly aromatic brew. You'll find notes of fruits and flowers in this blend.
Lavazza Gran Espresso
Gran Espresso is a balanced, full-bodied, and aromatic medium roast. The notes of cocoa and black pepper are powerful, offering an invigorating taste and aroma to this 40% Arabica, 60% Robusta blend.
Lavazza Super Crema
This one — my personal favorite — is composed of 60% Arabica and 40% Robusta. Super Crema is aromatic, full-bodied, and designed to produce a rich crema. The notes of hazelnut and brown sugar are absolutely delicious in this medium roast.
Lavazza Crema E Gusto
Crema E Gusto is a dark roast that uses a combination of Brazilian Arabica beans and African and Indonesian Robusta beans, producing a rich, full-bodied brew that is fragrant, intense, and well-balanced, with aromatic notes of spices.
Illy's coffees
Illy has a much more narrow selection of coffee bean varieties, and it's all built around the Classico roast, their flagship product. Illy's main offerings — including the Classico — are blended origin roasts from 9 sources. Although the specific blend is a closely held secret, you can get a taste for everything that goes into it through their line of Arabica Selections.
Illy Classico
Illy's Classico Medium Roast is known for its sweetness and the subtle notes of caramel, jasmine, and orange blossom.
Illy Intenso
Given their reputation as the Italian choice for espresso, you were probably expecting Illy to have a dark roast, and they do. The Illy Intenso Dark Roast is the same blend as the Classico, but the additional roasting offers a robust flavor with hints of cocoa and dried fruit.
Illy Forte
Illy's Forte extra bold roast is the richest option in their lineup, with an intense toasted bread aroma and notes of dark chocolate.
I don't generally recommend Forte though, for one important reason: As far as I've ever seen, it's only sold as grounds, not as whole beans. This disadvantage is slightly offset by Illy's use of inert gas-filled steel containers which keep the grounds fresh longer, but they'll still lose their freshness very quickly after the first time you open the container.
Illy Arabica Selection Collection
If you want to dive deeper into their catalog, each of the single-origin coffees has its own unique flavor, all with the quality of an Illy roast. You'll get to see all the types of coffee it takes to make the complex Illy blend, including single-origin Indian, Brazilian, Guatemalan, Ethiopian, Costa Rican, and Colombian coffee beans.
Other Products From Illy and Lavazza
Ready to drink coffees
Illy has branched out into ready-made coffee drinks. Illy's coffee drink options include Classico Cold Brew, Cappuccino, Caffe Latte, Mochaccino, Caffe, and Caffe unsweetened. Lavazza has similar options in Europe, but they don't seem to be available in the US yet.
Instant coffee
Neither company has as many options in instant coffees as they do for whole beans, grounds, and capsules, but both the Lavazza Intenso instant coffee and Illy blend instant coffee are good quality for instant coffee.
Coffee makers
When you've been around as long as these two coffee companies and covered the wide range of coffee products that they have, it only makes sense that you'd branch out into espresso makers and coffee machines.
In the case of Illy, they've focused entirely on the capsule-based coffee machine market. Their iperEspresso line is similar in concept to the Nespresso. I'm not going to do a full head-to-head comparison here, but the Nespresso produces better quality machines, whereas Illy machines are typically preferred for the quality of the coffee itself.
As is Lavazza's style, they didn't put all their beans in one basket when it came to coffee machines. They have not one but two lines of capsule machines: Lavazza Blue and Lavazza Espresso Point. For most users, the Lavazza Blue Classy Mini is really the only one worth considering, as it is their flagship consumer option.
Not interested in capsule machines? If you want more of a classic Italian coffee-making experience, there's a Lavazza for that. The Lavazza Carmencita is a redesign of the classic Moka pot that you'd find in any Italian coffee lover's home.
Other Notable Italian Coffee Brands
Vergnano
Caffè Vergnano is one of the oldest Italian coffee brands, dating all the way back to 1882. They strive for a balance of deep traditions and forward-thinking innovation. Their signature blend, Espresso Crema, uses Arabica and Robusta beans and has a sweet, chocolatey flavor.
Danesi
Danesi's Caffe Espresso Gold blend is made from 100% Arabica beans and is known for its smoothness, sweetness, and intensity. But to me, the highlight is that along with the chocolate flavor, you'll notice hints of lemon, not a flavor most of us associate with coffee. Oh, and I feel obliged to mention that they are one of the first coffee roasters to achieve ISO 9001 quality certification for their roasting process.
Segafredo
Segafredo is probably most well-known for the unique rectangular shape of their vacuum-sealed packages. Although their operations have expanded significantly in the past couple of decades, they continue to source their Arabica and Robusta coffees primarily from Peruvian, Brazilian, and Costa Rican coffee beans.
Kimbo
Most Italian coffee bean blends tend toward more Arabica beans than Robusta beans, but Kimbo breaks with that tradition. Their Extra Cream Espresso blend is 35% Arabica beans and 65% Robusta beans. If you are looking for a rich, thick crema on your espresso, you need to give Kimbo a shot.
Frequently Asked Questions
Which One Is the Best Italian Coffee Brand: Illy vs Lavazza?
Let me just come out and state the obvious: Illy is more expensive. In some cases, you'll pay 2-3 times as much for it. The smoother, more refined flavor might be worth forking out the extra dollars if you can afford it. But Lavazza beans are still a cut above most other brands you'll find at your local grocery store.
In short, you can't go wrong with either of these options. Both make excellent espresso coffee beans, and both also offer delicious medium or dark roast filter coffee. Either one will provide a coffee experience that opens your eyes to the worthiness of Italy's renown in the coffee world.
There are few experiences that are as universally delightful as waking up to the aroma of a freshly brewed Italian coffee blend. Magnifico.