This post may contain affiliate links. Please read my disclosure for more info.
---
What country do you associate most with coffee?
If you are historically-minded, your mind probably went to Ethiopian coffee. If you are an espresso lover, your thoughts almost certainly went to Italian Coffee Brands.
For many, Cuba doesn't even make the list, and that is a true tragedy. They have a rich history with the drink and a coffee culture that is wholly their own. Cuban coffee is making a worldwide comeback, so now is the perfect time to add them to your coffee world tour.
Quick Answer: Best Cuban Coffee Brands
Want to skip the rest of the story and just get one of the best Cuban coffee brands? Here are my top recommendations for Cuban coffee alternatives. For reasons I'll discuss below, real Cuban coffee might be harder to come by.
| | Image | Product | |
| --- | --- | --- | --- |
| Best cuban coffee alternative | | 2LB Mayorga Organics Café Cubano Roast, Dark Roast Whole Bean Coffee, Specialty-Grade, USDA Organic, Non-GMO Verified, Direct Trade, Kosher, 100% Arabica Beans | Check price |
| | | Supreme by Bustelo Whole Bean Espresso Coffee, 16-Ounce Bag (1 Pound) | Check price |
| | | Naviera Cuban Style Dark Roasted Coffee (1 Pack (14 Oz)) | Check price |
| | | Cafe Pilon Espresso Coffee Family Pack, 4 ct./10 oz. | Check price |
| | | Café Britt® - Costa Rican Montecielo, Coffee From Tarrazu (12 oz.) (3-Pack) - Ground, Arabica Coffee, Kosher, Gluten Free, 100% Gourmet & Medium Dark Roast | Check price |
| | | Chock Full o'Nuts Original Roast Ground Coffee, Medium Roast (31.2 Oz. Can) - Arabica Coffee Beans - Smooth, Full-Bodied Medium Blend with A Rich Flavor | Check price |
A Brief History of Cuban Coffee
Coffee first came to the island nation of Cuba in the mid 18th century when José Antonio Gelabert brought the plant from the area now known as the Dominican Republic. For the first few decades, Cuban coffee was mostly enjoyed locally, but in 1791 French farmers fleeing Haiti brought improved coffee production methods to Cuba, spawning increased national importance and the beginning of the Cuban coffee export industry.
By 1820, Cuban coffee exports exceeded even that of sugar. The industry continued to grow at an impressive rate for over a hundred years. By the mid-20th century, Cuba was exporting over 20,000 metric tons of coffee annually! Some of the early Cuban coffee plantations reached such prominence that they earned a spot on the UNESCO World Heritage list.
Then, came the Cuban revolution of 1956. The nationalization of the coffee farms quickly led to a dissolution of the large farms and disincentivizing of small farm production. When the US placed an embargo on Cuban goods — including coffee — in 1962, the already dwindling Cuban coffee industry took another devastating hit.
For a less resilient culture, this might have been the death of their coffee industry. But Cuban coffee producers managed to survive for two decades under these conditions until the Societ demand for coffee in the 1980s infused some life into the market. Of course, that only lasted until the fall of the Soviet Union a decade later.
By 2007, Cuban coffee production had fallen to under 200 metric tons — that's less than 1% of their former high! Since then, government investments have allowed the industry to rebound once more, and they are now producing about 3,500 metric tons per year.
The Beans Used by Cuban Coffee Brands
Over 90% of Cuban coffee beans are grown in the Sierra Maestra Mountains under the shade of forest canopies, and most production still comes from small family farms, many of which grow their beans organically. The combination of mountain climate and the flavors from the red Cuban soil give the beans their unique characteristics.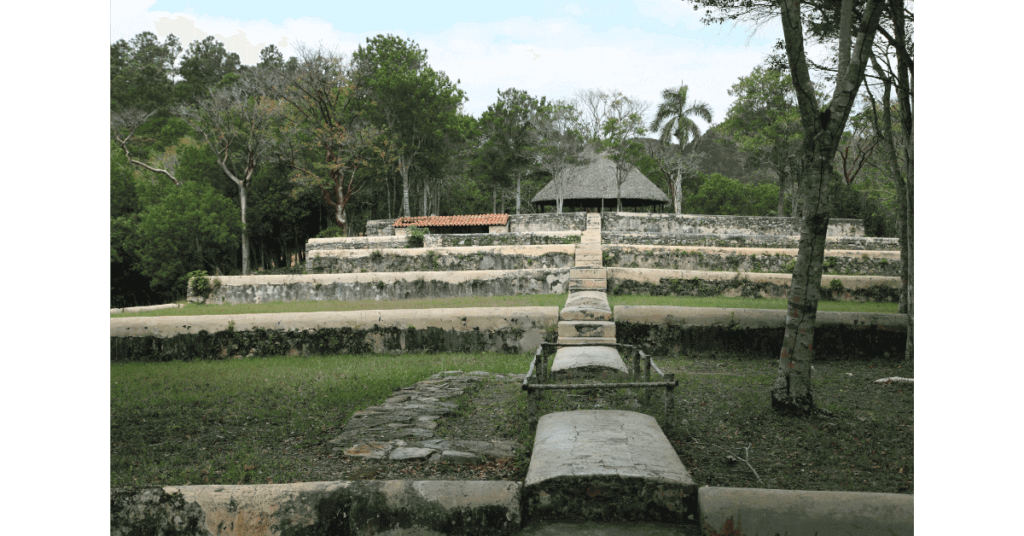 Cuba produces both arabica and robusta beans. The coffee harvest season in Cuba peaks in October and November, but it can start as early as September and run through January. Many Cuban coffee beans are still handpicked and carried by mule to the areas where they can be dried before further processing.
Cuban Coffee Culture Today
There's more to Cuban coffee than the café Cubano. Don't get me wrong, it's a delicious drink, but if you stop there you are missing out on the depths of a vibrant and unique approach to co
As coffee production in the country rose, so did coffee's impact on the national identity of Cubans. In part, this was due to the inclusion of coffee in Cuba's ration books. The rations allotted in these books aren't free, but they do give even the poorest Cuban citizens access to the coffee at below-market rates. You can expect this to have a continued impact on the Cuban coffee market, as Coronavirus is causing a comeback of the Cuban ration books.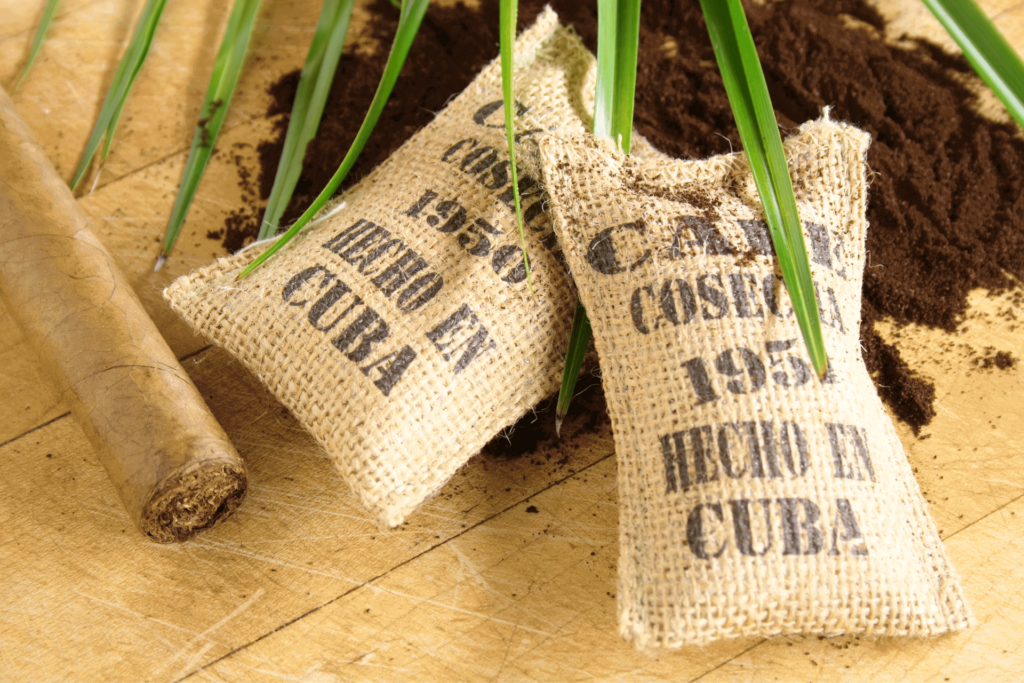 These rations are not of particularly high quality, and they are often cut with a pea-like legume known as chicharo beans. Well-off Cubans generally mix the rations with store-bought coffee brands to improve the flavor and quality. 
Cuban coffee culture is, at its heart, a social affair. Stove-top espresso makers are the norm in most homes, and they offer an excellent way to show hospitality to guests. In homes across the country, long conversations and neighborhood gossip are shared over homemade coffee.
Beyond their internal use of coffee, Cuba also exports much of their coffee through Cubaexport, a distributor that pays coffee growers and processors a government-regulated, fixed price for their coffee. The primary recipients of these beans are Japan and France — but the U.K., Germany, New Zealand, and Canada also receive portions.
Common Cuban Coffee Beverages
Cuba's rich coffee culture includes a variety of unique types of coffee drinks, a few of which have gained international acclaim.
Café Cubano (or cafecito)
Literally "coffee Cuba". This is the iconic Cuban coffee many Americans are familiar with. It's espresso mixed with sugar. The drink is typically made by brewing espresso, mixing a portion of it with a small amount of sugar in a metal cup until a paste is formed, then adding the rest of the espresso to create the final beverage. 
Cortadito
Not as iconic as the café Cubano, but just as delicious. A cortadito is made from espresso topped with steamed milk.
Café con leche
If you took a semester of Spanish, you probably already know what this is. Exactly as the name implies, it's just coffee with hot milk (okay, the name doesn't imply hot milk, but it's not a stretch to get there). Traditionally, it's a café Cubano served with a separate cup of hot steamed milk.
Colado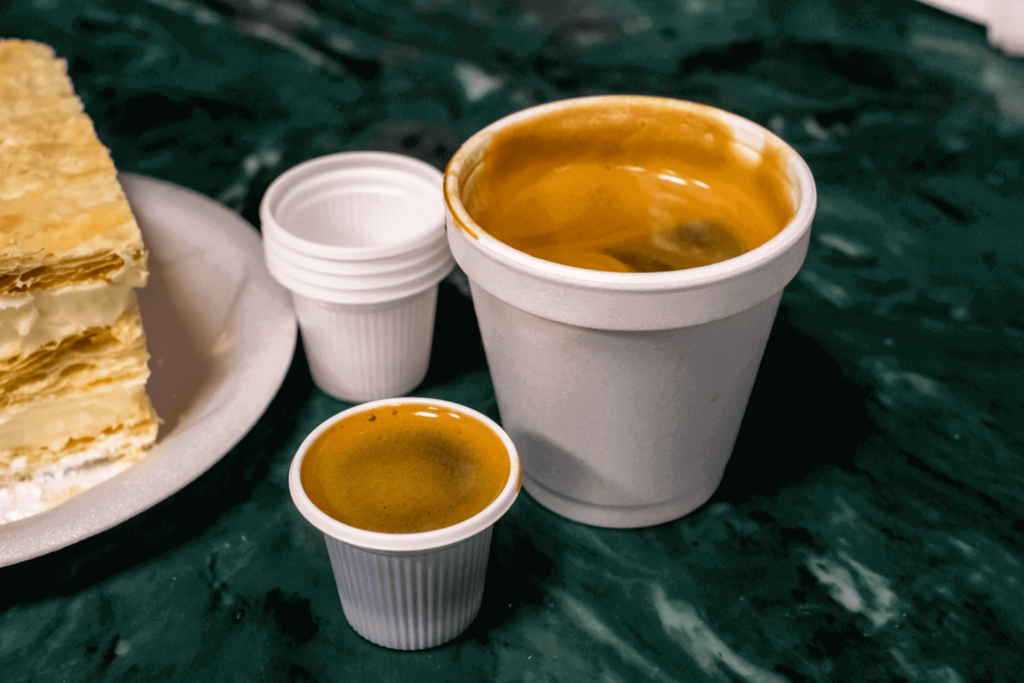 The fact that this gets its own name really tells you something about Cubans and their coffee. Colados are just café Cubanos made in a large enough portion to share. Typically, it's served in a large container with small cups to pour for each guest.
Can You Buy Cuban Coffee in the US?
Yes, you can buy it, but you are going to have a hard time finding it.
The US embargos after the Cuban revolution made it impossible to buy Cuban coffee in the US for many years. In 2016, Cuban coffee returned to the US when Nestle Nespresso became the first company to import Cuban coffee to America in over 50 years. Other companies have followed, but real Cuban coffee is still incredibly hard to find in the US.
What you will find are poor imitations. There are companies that have mimicked the most famous Cuban coffee brands. and created knockoffs using beans sourced from various countries and typically roasted in the US.
For now, it's safer to just buy Cuban coffee alternatives in the US. Hopefully, the great brands will be easier to find someday. I'll even keep them on this list, so you'll recognize them when they do return. But if you want to find real Cuban-style coffee in the US, you should skip right to the section on Cuban coffee alternatives.
The Best Cuban Coffee Brands
To reiterate what I said earlier, you likely will not be able to find these real Cuban coffee brands in the US, and you should be very cautious about knockoffs, particularly with Cubita.
If you want to try Cuban-style coffee in the US, I suggest skipping forward to the section on Cuban coffee alternatives. In the US, you can think of this section as your long-term wish list or a to-do list for your next trip to Cuba.
But enough caveats, let's get right down to answering the question that brought us here: What is the best Cuban coffee brand?
Best Real Cuban Coffee: Cubita
Cubita's coffee couldn't be more Cuban. Their 100% Arabica beans are grown in the Sierra Maestra Mountains, hand-picked and sun-dried right at the source, and roasted in the capital city: Havana.
Cubita coffee beans produce coffee that has a bold, earthy profile. You'll find hints of smokiness accenting a caramel finish for an overall flavor that is delicious and distinct.
Warning: Beware of Cubita coffee from Amazon and other American retailers. It's not the real thing. It is manufactured in the US from beans of an unspecified source. According to Cubans that have tried it, the flavor is very different from real Cubita coffee.
Just like Cubita, Cafe Serrano uses only 100% Arabica beans grown in the mountains of Cuba. Their beans are medium roasted, with a smooth, creamy flavor profile and a slightly fruity finish. 
No, not the cigars, although that is where they got the name. The intense aroma of their coffee and hints of tobacco, caramel, and smokiness certainly makes them deserving of the association. Their beans come from a small plantation in Alto La Meseta, a full kilometer up in Sierra Maestra. 
 Turquino Montanes dark roasts their beans, which are 100% Arabica. The richness and creaminess of this coffee, combined with the sweet honey undertones, give it an incredibly well-balanced profile.
Okay, so you are probably noticing one commonality amongst all the best Cuban coffee brands: they use 100% Arabica beans. El Arriero only improves on this trend by organically growing all their Arabica beans. Their coffee has a bold profile, smoky undertones, and an amazingly intense aroma and flavor. If you want a dark roast with a medium body and a bold profile, they are one of the best.
If you've heard of Cohiba, it's probably because of their world-famous luxury cigars. Well, that's the same luxury mindset that they bring to their coffee, which comes from 100% Arabica coffee beans grown on the El Nicho plantation in the Sierra del Escambray mountains. Their coffee has a brilliantly intense aroma and the perfect hint of cocoa undertones.
Best Cuban Coffee Alternatives
In most countries, including the United States, it's hard to find real Cuban coffee at a decent price. Many brands have taken advantage of this by producing Cuban-style coffee beans, which unfortunately are not actually grown in Cuba.
If you want to make a café Cubano, but you can't find any of the above options in your region or your price range, these are a good alternative. That being said, they'll never be the real thing. 
Best Alternative: Mayorga Organics Cafe Cubano Dark Roast
Martin Mayorga, the founder of Mayorga Organics, is a Cuban who fled his homeland for the US when he was just a child. He started the company in Miami, FL, using beans from several Latin-American countries, with the goal of creating a mixture that would mimic the unique aspects of Cuban coffee beans. 
Mayorga dark roasts their beans, which are non-GMO, certified organic, and kosher. The final result is a coffee with a full-bodied, bold, and smooth profile with delicate hints of vanilla. 
Supreme by Bustelo Whole Bean Espresso Coffee
The real secret to Bustelo's beans is the roasting process: they use small batches to improve their control over the process and to deliver the beans in their freshest possible state. And it works! They have produced a coffee with a beautifully rich and intense flavor, and you won't have to worry about your order being stale on arrival.
As with most Cuban-style coffee makers, Naviera prefers to dark roast their beans. The undertones of dark chocolate and chicory they coax out are the perfect finish to a coffee that has a bold and quite intense aroma.
Pilon Cafe Espresso 
The bold, dark, strong flavor profile of Pilon is intoxicating. They use a mixture of Arabica and Robusta coffee beans to produce a blend that is claimed to produce one of the closest reproductions of traditional Cuban coffee.
Cafe Britt Tarrazu Montecielo Ground Coffee
Costa Rica's coffee — especially from the Tarrazu region — is probably deserving of its very own article, but it's also where Cafe Britt's 100% Arabica beans come from. They are dark-roasted with a bold, intense profile that fans of Cuban coffee will absolutely love.
Chock Full O' Nuts Coffee, Cuban Roast Ground
Both the packaging and the brand name made me do a double-take when I first heard of them, but Chock Full O' Nuts has been creating Cuban-style coffee for almost 90 years. The overall profile is slightly sweeter than most Cuban-style coffees, but the dark roast still has that strong, rich, bold flavor that you would expect.
And the name? Well, the company used to sell nuts. Apparently they just never got around to changing the name.
Final Verdict
Cubans have a rich history behind their coffee, and their modern coffee culture is one that many other countries could learn a thing or two from. They may not be the most well-known coffee-producing country in the world, but they have a story that every coffee lover should be at least passingly familiar with.