This post may contain affiliate links. Please read my disclosure for more info.
---
Yes, it is possible to find a machine that makes amazing espressos without breaking the bank. In this article, I'll introduce you to some of the best espresso machines under $1000. Along the way, we'll also look at the different types of espresso machines to help you decide what type is right for your home coffee bar.
There exists a perfect espresso machine for every coffee lover, whether you want a classic espresso machine that you can hone your barista skills on or a super-automatic espresso maker that will just deliver a great espresso, latte, or cappuccino every time at the touch of a button.
Quick Answer: Best Espresso Machines Under $1000
| | Image | Product | |
| --- | --- | --- | --- |
| Best espresso machine under $1000 | | Breville Barista Express Espresso Machine, Brushed Stainless Steel, BES870XL, Large | Check price |
| Best super-automatic espresso machine under $1000 | | PHILIPS 3200 Series Fully Automatic Espresso Machine, Classic Milk Frother, 4 Coffee Varieties, Intuitive Touch Display, 100% Ceramic Grinder, AquaClean Filter, Aroma Seal, Black (EP3221/44) | Check price |
| Best value espresso machine under $1000 | | EspressoWorks All-In-One Espresso Machine with Milk Frother 7-Piece Set - Latte Maker Includes Grinder, Frothing Pitcher, Cups, Spoon and Tamper - Coffee Gifts (Stainless Steel) | Check price |
| Best high-end espresso machine under $1000 | | Rancilio Silvia Espresso Machinet,0.3 liters, with Iron Frame and Stainless Steel Side Panels, 11.4 by 13.4-Inch | Check price |
| Best capsule espresso machine under $1000 | | Nespresso Lattissima Pro Espresso Machine by De'Longhi with Milk Frother, Silver | Check price |
| Best quiet and powerful espresso machine under $1000 | | Gaggia RI9380/46 Classic Evo Pro, Small, Brushed Stainless Steel | Check price |
| Honorable mention | | Mr. Coffee Espresso and Cappuccino Machine, Programmable Coffee Maker with Automatic Milk Frother and 15-Bar Pump, Stainless Steel,Silver | Check price |
Manual vs Semi-Automatic vs Automatic Espresso Machines
Semi-automatic espresso machines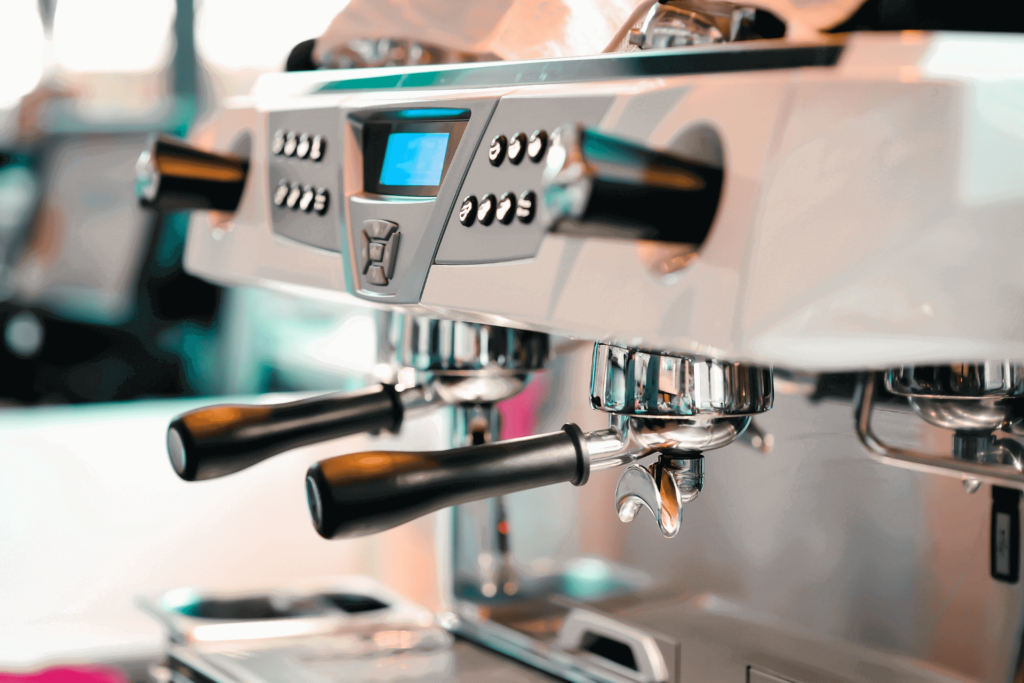 Semi-automatic espresso makers are the most common and probably the ones you picture when you think of an espresso maker. These machines require you to do some work, but they are much simpler to use than manual espresso makers (more on those in a minute).
With semi-automatic espresso machines, you have to manually fill the portafilter (that long-handled metal espresso filter) with coffee grounds, tamp it down, attach it to the machine, and press the brew button. From there, the machine does almost all of the work. These machines are fairly easy to use, although there is an art to properly filling and tamping the grounds.
Automatic espresso machines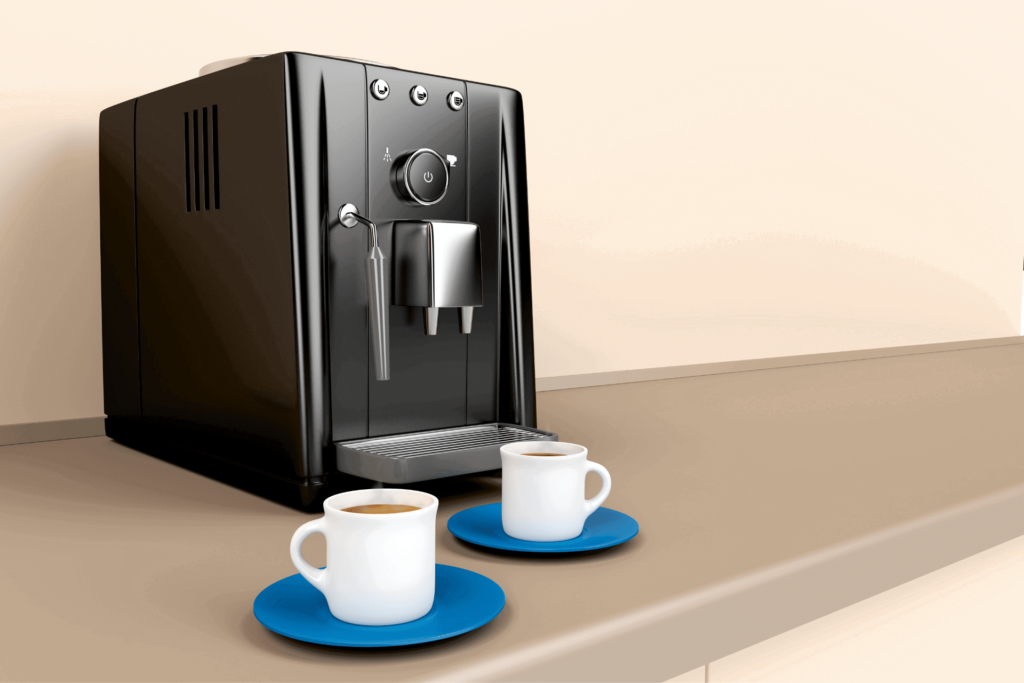 Automatic espresso machines, also often called super-automatic espresso makers, are the easiest way to make your shot of espresso or favorite espresso beverage. These machines take care of measuring, filling, and tamping the grounds for you. They also measure out the water. Some connect directly to the water source, meaning you may not even have to fill a water reservoir. Basically, all you have to do is insert a cup and press a button or two.
These machines are generally more expensive than other options, which means you won't find many options for super-automatic espresso machines under 1000 dollars, but there are a few if you are willing to sacrifice some of the features of the high-end machines. These machines also take up more counter space than semi-automatic machines, so be sure to plan for that when purchasing one.
Manual espresso machines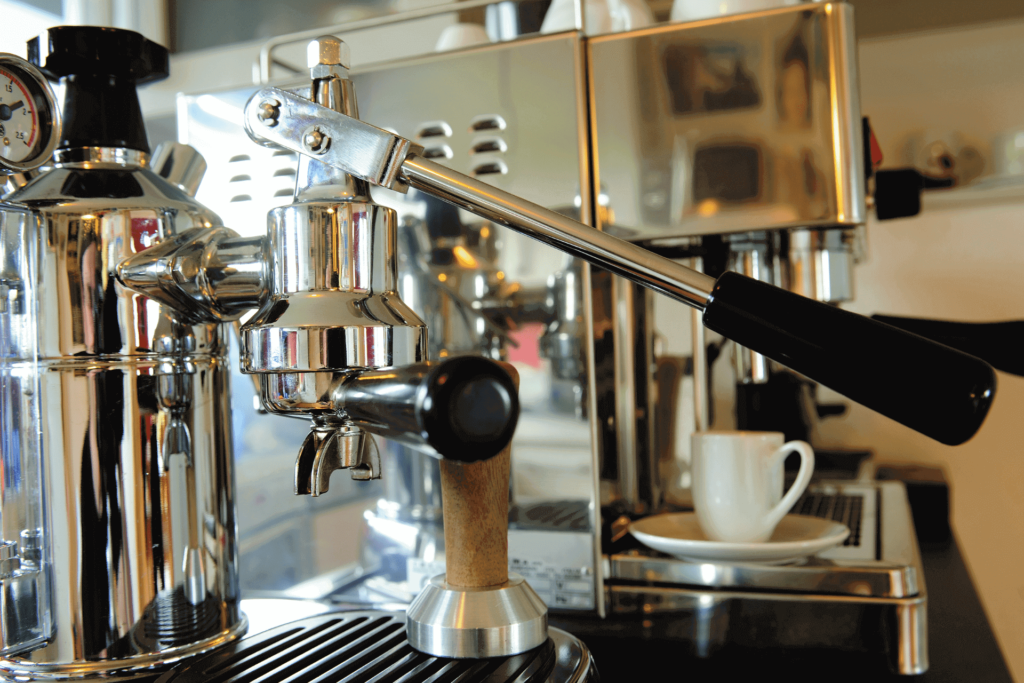 Manual espresso machines — also known as lever espresso machines — are more of a gimmick than a practical appliance these days. You can make an amazing shot of espresso with them, but it takes practice. The process starts much like that of the semi-automatic machines — filling a portafilter, tamping it down, and inserting it into the machine. But once the water heats up, you have to press down a lever to push the water through the grounds. The speed at which you move the lever impacts the quality of the espresso, so this is one more step that you'll have to perfect.
Manual espresso machines are fairly compact, but you may find that they are pricier than some budget semi-automatic machines. The reason for this is simple: manual machines often use higher-end materials and higher-quality builds.
Capsule Espresso Machines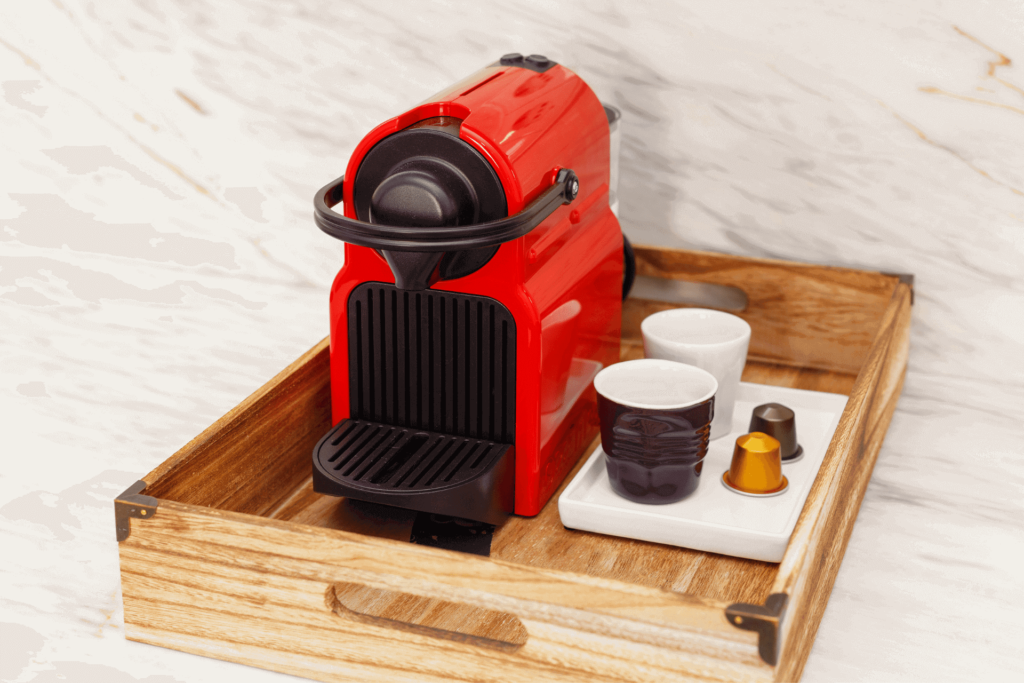 If simplicity is your goal,  capsule espresso makers are another way to go. As you've probably surmised, most of the complication of making espresso comes from the coffee grounds. These machines eliminate the need to fill a portafilter and tamp down the grounds because the grounds are replaced with pods that contain the appropriate amount of pre-ground coffee beans. You simply insert the pod into the machine, and you are good to go.
These machines do have a few downsides. Capsules are more expensive than espresso beans. They are also much less environmentally friendly, even if you only purchase recyclable pods. You won't find the same amount of variety in coffee capsules as you will with coffee beans either. You can negate some of these downsides if you buy a machine that uses reusable capsules, but that negates some of the advantages of having the capsules. 
Best Espresso Makers Under $1000
Best espresso machine under $1000: Breville BES870XL Barista Express
The Breville Barista Express delivers third wave specialty coffee at home using the 4 keys formula and is part of the Barista Series that offers all in one espresso machines with integrated grinder to go from beans to espresso in under one minute.Grind Settings : 16 precision grind settings, Tamping : Manual removable magnetic tamper,.Pressure Gauge : Extraction Feedback pressure gauge. Interface : Simple button control.
DOSE CONTROL GRINDING: Integrated precision conical burr grinder grinds on demand to deliver the right amount of freshly ground coffee directly into the portafilter for your preferred taste with any roast of bean
OPTIMAL WATER PRESSURE: Low pressure pre-infusion gradually increases pressure at the start and helps ensure all the flavors are drawn out evenly during the extraction for a balanced tasting cup
PRECISE ESPRESSO EXTRACTION: Digital temperature control (PID) delivers water at precisely the right temperature, ensuring optimal espresso extraction
MANUAL MICROFOAM MILK TEXTURING: The powerful steam wand performance allows you to hand texture microfoam milk that enhances flavor and enables creation of latte art
ESPRESSO MACHINE WITH GRIND SIZE DIAL: Simple and intuitive, giving you control over the grind size no matter what type of bean you're grinding
ESPRESSO MAKER WITH BUILT-IN COFFEE GRINDER: Innovative grinding cradle allows any at home barista to grind directly into the espresso portafilter for the perfect espresso
INCLUDED ACCESSORIES:Razor Dose Trimming Tool, 54mm Stainless Steel Portafilter, 1 & 2 cup Single & Dual Wall Filter Baskets, Coffee Scoop, Integrated Tamper, Stainless Steel Milk Jug, Cleaning Disc, Tablets, Brush Tool & Allen Key, Water Filter & Holder
CAPACITY & SETTINGS: 1/2 lb Bean Hopper; 67 oz Water Tank; Single or double shots; Adjustable Grind Amount and Manual Override
WARRANTY: 1 Year Limited Product Warranty; Power: 1600 Watts; Voltage: 120 Volts
Breville delivers an impressive simplification to the espresso-making process by introducing a built-in conical burr grinder to this semi-automatic espresso maker. The built-in grinder delivers pre-measured and freshly ground coffee directly into the portafilter. From there, simply move the portafilter over to the integrated tamper and you are ready to make a delicious drink. 
There is an easy-to-use grind size dial, automated dispensing of the proper amount for a single or double shot, and a manual dispensing option if you have custom needs. The built-in stainless steel steam wand allows you to froth milk for delicious lattes and cappuccinos. The bean hopper is tinted to protect the beans from light that can cause degradation. 
Cleaning and maintenance are impressively easy, and the machine is very sturdy. There's even an indicator to let you know when it's time to clean the machine. The only downside of this machine is that there is a noticeable learning curve for making an ideal cup of espresso. You'll make a great cup the first time, but it'll take some time to master.
Best super-automatic espresso machine under $1000: Philips 3200 Series Fully Automatic Espresso Machine
With Philips 3200 Series easily make up to 5 black and milk-based coffee varieties at the touch of a button! Enjoy the delicious taste and aroma of coffee from fresh beans at the perfect temperature
Classic Milk Frother System: Dispenses steam, allowing you to easily prepare silky smooth milk froth for your cappuccino
Intuitive Touch Display: Select the perfect coffee for your mood with just one touch
My Coffee Choice Menu: Adjust the strength and quantity of your beverage and choose from three different settings to suit your preferences. The Aroma Extract system intelligently strikes the optimum balance between brewing temperature and aroma extraction
Powerful Filter and Easy Maintenance: Thanks to the AquaClean, enjoy clear and purified water - by changing the filter after being prompted by the machine, you will not need to descale your machine for up to 5000 cups
Don't let the array of buttons fool you, this is an incredibly easy to use machine. Just like with all the best automatic espresso machines, most drinks can be made at the touch of a single button, and the additional options exist to allow you to further optimize the beverage.
The Philips 3200 has instant options for espresso, hot water, coffee, Americano, and espresso lungo. There are additionally three aroma strength levels, 12 grind options, and 3 temperature settings. The built-in steam wand allows you to froth milk, turning your espresso into a delicious latte. If you want a machine that can make both espresso and a regular cup of coffee — and even heat water for tea — this is the best option available in the price range.
The removable brew group (the main part of the unit where the brewing occurs) greatly simplifies the cleaning process, which is important because you will want to clean this machine regularly. The wand could be higher quality and easier to clean, but it is perfectly fine for most coffee lovers that want an automatic espresso maker.
Best value espresso machine under $1000: EspressoWorks All-in-One Espresso Machine
Enjoy Espresso, Cappuccino, and Latte At Home: The All-In-One Espresso Machine brews one to two shots of espresso and steams and froths milk with the built-in steam wand for a delicious cappuccino and latte. Machine has auto shut off for safe use
Ready To Use in 45 Seconds: Thanks to the efficient thermoblock heating system, the 15-bar espresso maker is fully heated and ready for use in 45 seconds or less. Stainless steel heat tray on the top of the machine warms your cup before brewing
Deluxe Coffee Gifts for Coffee Lovers: Delight the coffee enthusiast in your life with an all-in-one espresso gift set that contains everything needed to make iced and hot espresso drinks all year long
Bundled 7-Piece Set: Cappuccino machine also includes a 120V plug-in electric bean grinder, high-quality portafilter with single and double shot baskets, stainless steel milk frothing cup, 2 porcelain espresso cups, and measuring spoon and tamper
Countertop-Friendly Espresso Machines for Home: Espresso and latte machine neatly fits on the countertop. Clear, removable water tank with handle has a 1.25L capacity. EspressoWorks machines carry a 1-year manufacturer warranty
You don't have to break the bank to get a great espresso machine. This is one of the cheapest quality espresso machines on the market, and it comes with everything you need to get started: a coffee grinder, a milk frothing cup, two cups, and a tamper.
The EspressoWorks uses 15 bars of pressure, which is the recommended level for a quality espresso machine. Many cheaper units use only 9 bars, resulting in subpar espresso. It has a built-in steam wand, so you can make cappuccinos with ease. 
Since it's a cheaper machine, you are probably expecting a downside or two — and it does have them. The portafilter handle doesn't feel particularly durable, and there are reports of it breaking if not handled with care. It takes more effort to create a strong espresso with this machine, particularly because it doesn't heat the water as much as some higher-quality espresso makers.
Also, the grinder included in the package is a low-end blade grinder. Blade grinders don't grind beans consistently enough for good espresso, so you might want to replace it with a better coffee grinder if you intended to grind your own coffee beans.
Best high-end espresso machine under $1000: Rancilio Silvia Espresso Machine
Ergonomic porta filter handle same as the proven design of Rancilio commercial machines
Commercial grade group head for superb heat stability and extraction quality
Articulating steam wand offers complete range of motion and professional steaming knob precisely controls steaming pressure
Classic linear design fits most decors
Optional pod and capsule adaptor kit available
If you want your espresso maker to have all kinds of fancy features — all the bells and whistles that you can show off to your friends — this is not the machine for you. Instead of an epic set of features, Rancilio provides quality. From the high-grade materials to the impressively sturdy design, this machine is built to make the best espresso. And it's built to last, too.
Their machine is made from an iron frame and stainless steel side panels, something you would expect only in a much higher price range. The ergonomic portafilter handle is a huge improvement for those that find standard portafilters uncomfortable to use when making multiple drinks. It also comes with two filter baskets — one for single shots and one for double shots.
The commercial-grade articulating steam wand and professional steaming knob offer a range of motion and pressure control that is incredibly hard to find in this price range. From the get-go, this machine will make an amazing beverage, and with a bit of practice, it will let you make the best espresso shots of your life.
Best capsule espresso machine under $1000: Nespresso Lattissima Pro
IT'S ALL ABOUT THE FOAM: The De'Longhi Automatic Cappuccino System creates perfectly layered espresso beverages, with dense, rich, long-lasting foam in every cup from start to finish
NESPRESSO CAPSULE SYSTEM: The ultimate convenience; The recyclable aluminum capsules contain the finest espressos for authentic taste without measuring or cleanup
ONE TOUCH SIMPLICITY: One button – that's all it takes to enjoy exceptional espressos, bold cappuccinos, creamy lattes and rich macchiatos; The machine does the rest
BRINGS OUT MORE FLAVOR: De'Longhi's patented espresso extraction system creates the ideal flow of water with 19 bars of pressure – the ultimate amount for drawing the most flavor and desired temperature in each cup
THE PERFECT AMOUNT OF MILK: During the extraction process, the integrated carafe dispenses milk in adjustable levels for taste. Simply remove from the unit to keep freshly refrigerated; The carafe is dishwasher safe
The highest level of simplicity comes with pod-based machines, and there's really no doubt that Nespresso has the best pod espresso makers. The Lattissma Pro is one of the highest-end models in Nespresso's original line, and it gets my vote for the best Nespresso machine overall.
To start, this machine uses a whopping 19 bars of pressure! As I mentioned above, 15 bars is the recommended level for quality espresso. More is still better (to a point), and Nespresso went above and beyond when designing this machine.
The design is incredibly sleek, and the touchscreen display is as intuitive as they come. At the touch of a button, you can have a delicious cappuccino, latte macchiato, espresso, lungo, warm milk froth, or just hot water. That's a range of options that even some of the best super-automatic espresso machines can't match.
Not only is the Lattissima Pro easy to use, but it's also easy to clean. It holds 15 used capsules, so you don't have to bother with those every single use. Descaling is, as with all machines, the hardest part of the cleaning process, but the descaling pipe helps to simplify it. Nespresso does insist that you need their solution for descaling though, as vinegar will apparently harm the machine's internal workings.
Best quiet and powerful espresso machine under $1000: Gaggia Classic Pro
Solid Steel Housing, Made in Italy
9 Bar Espresso Extractions
Stainless Steel 58mm Commercial Portafilter
Commercial Three Way Solenoid Valve
Commercial Steam Wand
I'm not a huge fan of how this machine looks, but looks certainly aren't everything. Gaggia has designed their semi-automatic espresso machine to be a rugged powerhouse, right down to its stainless-steel frame. 
The 3-way solenoid valve is something you'll typically only see in commercial-grade machines, and it really simplifies the cleaning process. The rotating steam wand is of similarly high caliber,  and it can even make microfoam for latte art. The portafilter comes with single and double shot baskets as well as a pressurized basket designed for pre-ground or ESE pods. 
The sound-dampening on this machine is particularly noteworthy. It's largely due to the improved design of the pump mounts, which make this machine impressively quiet during the brewing process. You can pair it with one of the best quiet coffee grinders to bring espresso into your morning routine without waking the family.
Honorable mention: Mr. Coffee Cafe Barista Espresso and Cappuccino Maker
Note: 1)Too coarse a grind, too little coffee, or insufficiently tamping the grounds before brewing can all lead to inadequate pressure for a proper brew..Cord Length (In): 26
2)It is important to note that the amount of espresso extracted will vary depending on the grind size and amount and reprogramming may be needed when the size and amount are adjusted.
Please refer to user guide or user manual or user guide (provided below in PDF) before first use
Semi-automatic 3-in-1 espresso, cappuccino and latte maker
15-bar pump system brews rich-tasting espresso coffee
Trouble-free, automatic milk frother takes the guesswork out of frothing milk
One-touch control panel for drink selections
Easy-fill, removable water and milk reservoirs
Cord length: 26 Inches; 1040 Watts
Mr. Coffee's 3-in-1 espresso machine is still a semi-automatic, but it simplifies the creation of lattes and cappuccinos along with espresso shots. It even handles the frothing of the milk automatically. Like many of the best espresso makers, this machine operates at 15 bars, the pressure recommended for quality espresso.
The machine has a removable water reservoir and a removable milk reservoir to make refilling and cleaning the machine easy. Combine that with the one-touch drink options, and it's clear that Mr. Coffee's goal with the Cafe Barista was to create a simplified process for producing high-quality coffee.
Short of going with a fully automatic espresso maker or a capsule espresso machine, this is the easiest way you'll find a make an amazing espresso beverage.
Final Verdict
You can get a high-quality espresso maker for under $1000. I've included a few options for semi-automatic and super-automatic machines and even one option for a pod-based machine. All of the above machines make excellent espresso, and most have either built-in milk frothers or automatic options for lattes or cappuccinos.