Let me make this clear up front: this is not going to be your standard list of cheap coffee makers.
Rather than giving you a long list of drip coffee makers that are virtually identical in every way, I want to provide you with options that show the real range possible with budget coffee makers in 2022. 
I'll still be providing a few options of drip coffee makers, but I want to introduce you to all the best coffee makers for under $100, including drip coffee makers, espresso machines, percolators, pod coffee makers, Turkish coffee makers, and much more.
Ready to dive right in? I know I am.
If you want to skip right to the recommendations, here's my shortlist of the best coffee makers under $100:
Choosing a Type of Coffee Maker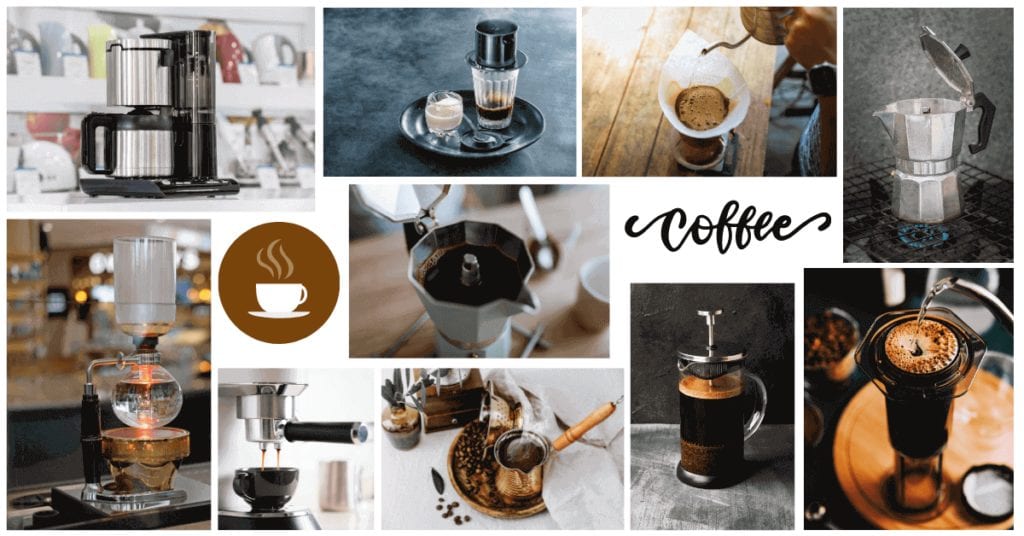 There is a wide range of coffee maker types available, so I'll briefly introduce several of the more common or most recommended ones. I couldn't possibly hope to cover them all in detail here, so I'll focus on the particular advantages, disadvantages, and a few of the more unique attributes.
If you don't recognize anything other than maybe the first 2-3, that's okay. I was in your shoes just a few short years ago.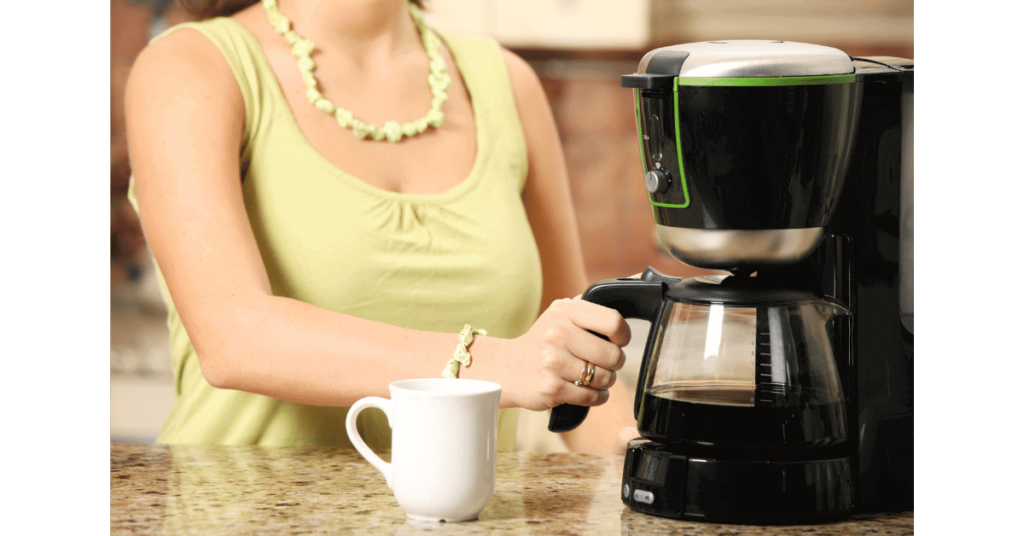 Drip coffee maker — These are your standard coffee pots. They operate by dripping near-boiling water through the grounds. If you want something simple and efficient, they are popular for a reason. Along with a regular carafe, you can also get single-serve or dual variants.
Espresso machine — If you are looking to make espresso, a stronger alternative to coffee, this is the type of machine you need. Espresso is created by pushing pressurized water through finely-ground coffee. It's the style of coffee used for lattes, cappuccinos, and just about anything else you'd buy at Starbucks. The downside of espresso machines is that they require more practice to use properly.
Capsule coffee maker — Also known as pod coffee makers, these machines have become increasingly popular due to their simple operation. Add water. Insert capsule. Make coffee. You can find both drip-style and espresso-style pod-based coffee, with Keurig producing the former and Nespresso the latter. The main downsides are that pods are more expensive than coffee beans and they produce more plastic waste.
AeroPress — AeroPress is a new, manual coffee maker designed to produce an alternative to drip coffee. Its low cost and compact size make it ideal for traveling with. Because it produces a coffee concentrate, you can also produce a drink similar to espresso in an AeroPress. AeroPress is one of the fastest ways to produce coffee, but using it is a more involved process than with drip coffee makers and it can only make 1-3 cups at a time.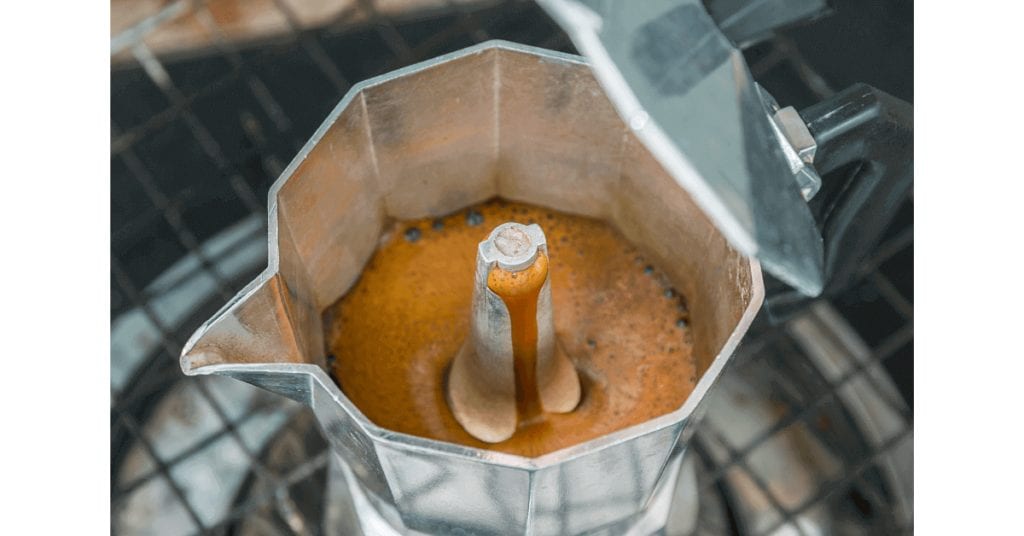 Percolator — Percolators are either electric or stovetop coffee makers that somewhat resemble a tea kettle. They work much like a drip coffee maker, except that the water is run several times through the grounds, extracting more coffee as it goes. Percolators are harder to use than drip coffee makers because you have to properly control the timing to avoid over-extracting the beans. However, this also allows more control over producing exactly the strength and bitterness of coffee that you prefer.
Moka pot — Moka pots look similar to percolators, but they don't suffer from the same over-extraction issues because they don't recycle the water. They also use a moderate amount of pressure, so the brew they produce is stronger than that from a percolator. You'll often see these referred to as stove top espresso makers, even though what they really produce is concentrated coffee. The AeroPress and Moka pots share that trait in common.
French press — With a French press, the coffee grounds are steeped in near-boiling water for a few minutes, with longer brewing times producing stronger, fuller-bodied coffee. Once the brewing is complete, a plunger with a permanent mesh filter is used to separate the brewed coffee from the grounds. Using a French press is a more involved process than a drip coffee maker, but it's relatively easy to get right. The main downside is that the heavy body and extra oils aren't for everyone, especially if you enjoy the subtle flavors of your favorite coffee beans.
Pour-over coffee maker — Pour overs are the most involved and hard to master of the coffee brewing methods. But if you manage to master it, there is no better cup of coffee. You can buy pour-over coffee makers in a range of sizes, but most standard ones only make a couple of cups of coffee at a time.
Cold brew coffee maker — Cold brew creates a full, rich, smooth, low-acid coffee. It's a great alternative to iced coffees, and it can also be enjoyed hot. Making cold brew is very simple and can even be done in large batches. The biggest downside is that the process takes upwards of 12 hours, so you can't just wake up and decide to brew yourself a carafe of coffee.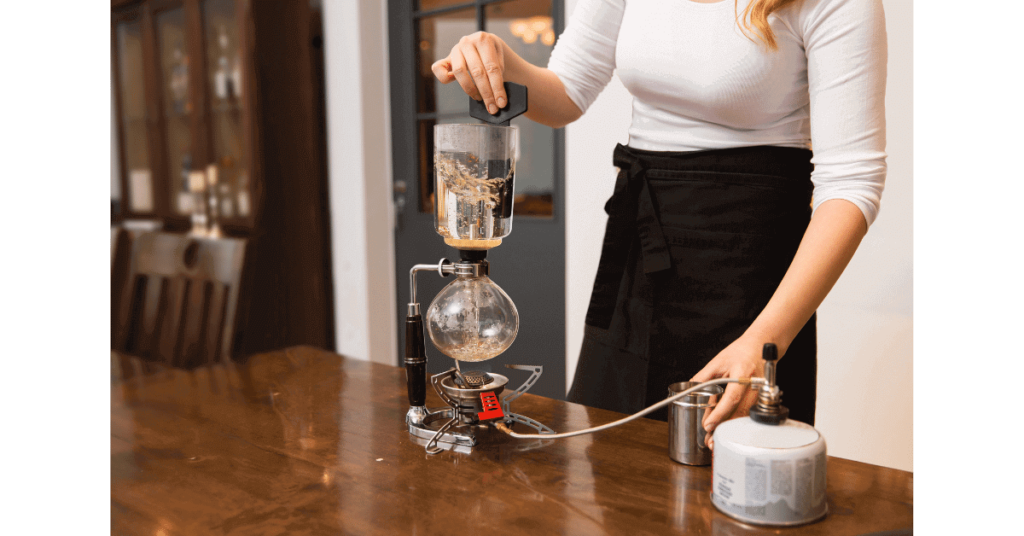 Siphon coffee maker — Siphon coffee makers (also known as vacuum coffee makers) make excellent, highly flavorful, aromatic coffee. If you want a coffee maker that will readily become a conversation piece for guests, it's hard to beat the peculiar design of these devices. However, that design adds a lot of fragility, as most parts of these coffee makers are made of glass. The process of creating coffee with a siphon coffee maker is also much more labor-intensive than with most of the other basic methods.
Turkish coffee pot — Turkish coffee makers are very cheap and compact, and they can be used for other cooking purposes as well. They produce a very strong, thick, aromatic coffee that is left unfiltered, with the coffee sediment remaining in the bottom of the cup. Traditionally, these are stovetop coffee makers, but you can also buy electric variants now. Making Turkish coffee is a somewhat involved process, about the same as a percolator or Moka pot.
Vietnamese coffee maker — Vietnamese coffee is a deliciously sweet beverage that is always served iced. Vietnamese coffee makers take a bit of time, but the process itself is very simple. All you have to do is put grounds in the steel filter and pour hot water over the grounds. The coffee is collected in a cup where it is typically mixed with condensed milk. If you love sweet, iced coffee and don't mind that the process is a bit slow and generally done one cup at a time, Vietnamese coffee makers can be a great option.
Best Coffee Makers Under $100
Now that you have a better idea of what type of coffee maker you want, here are a few top contenders for each type — as well as a few picks for travelers, smart home lovers, and any other categories that I commonly hear people request.
Enjoy!
Overall best coffee maker under $100: Ninja CE251 12-cup drip coffee maker
There is no one-size-fits-all coffee maker, but if there were it would probably come from Ninja. Even their cheap coffee maker, the CE251, has a removable water reservoir, fully programmable delay brew, and a 12-cup carafe. The permanent filter also saves you from needing to keep a constant stock of paper filters lying around.
This model has 2 brew style options: classic and rich. That's nothing compared to the 5 brew styles available from the best Ninja coffee makers, but it is still twice as many options as most coffee machines offer. The added flavor of the rich brew is perfect for offsetting any milk you choose to add, and it can even make a decent iced coffee in a pinch.
When it comes to cleanup, the removable water reservoir makes a huge difference. If your home has hard water, this is a must-have. Even if it doesn't, this will make it easy to keep the reservoir fresh, which will have a huge impact on the quality of your coffee. Being able to fill the reservoir at the sink also makes the coffee brewing process easier.
Runner-up best drip coffee maker under $100: Cuisinart DCC-3200P1 14-cup coffee maker
I wasn't planning on including any runner-up options, but Cuisinart really delivered with this one. First, it's one of the only 14-cup coffee makers in this price range. If you need the absolute most capacity for coffee, that's a big plus. 
They've also included a brew strength selector just like the one in the Ninja — only there's is labeled bold instead of rich. They also have a similar permanent filter design to the Ninja and the same programmability.
But I've buried the lead.
The most important feature that earned Cuisinart a spot on this list is their new hotter temperature brewing. This produces hotter coffee, more like that from a coffee shop, without sacrificing quality or flavor. 
Cuisinart probably could have earned the top spot on this list if they'd just added a removable water reservoir.
Best budget coffee maker under $100: Mr. Coffee 12-cup coffee maker 
There's nothing fancy about this affordable coffee maker, but it is reliable and easy to use. The simple on/off toggle has an indicator light to let you know when it is running, and the auto-pause feature lets you grab that first cup mid-brew instead of waiting for the entire pot of coffee to finish. If you want a cheap, simple drip coffee maker, this is a hard one to beat.
Best smart coffee maker under $100: Atomi Smart Coffee Maker
Is your regular coffee maker not programmable enough? It might be time to look into a smart coffee maker.
And nobody makes smart coffee maker's like Atomi. They are not new to the smart home space, and they brought all of their experience to bear for their first foray into coffee.
They loaded up their machine with wifi, Googel Home compatibility, Alexa compatibility, and much more. It even has full-featured iOS and Android apps. You can easily create daily or weekly brewing schedules, and you can instruct it to warm your coffee at specified times throughout the day.
This 12-cup coffee maker has three brew strength options —mild, medium, and strong — giving you plenty of flexibility in choosing the ideal taste of your coffee. There's also a reusable filter, so you don't need to worry about stocking up on paper filters.
Best 4-cup coffee maker under $100: Cuisinart DCC-450BK drip coffee maker
Giant coffee makers are great, but they take up a lot of precious counter space. Why deal with that when you only need a few cups of coffee?
This Cuisinart coffee maker is compact even for a 4-cup coffee maker. It has a brew-pause feature to let you get at that first cup of coffee before the entire pot is done. Now, you may not need that as often with a 4-cup coffee maker, but it can make a difference when you are in a rush to get out the door.
I was shocked to find a coffee maker in this price range with a stainless steel thermal carafe. If you want to keep your coffee hot without burning it, this is the only way to go. Thermal carafes preserve both the temperature and the flavor of the coffee for hours longer than a glass carafe.
Best carafe-free coffee maker under $100: Cuisinart DCC-3000 coffee-on-demand 12-cup coffee maker
Carafes can be one of the biggest downsides of a standard drip coffee maker. They never seem to be properly clean, and the glass ones do a terrible job of keeping coffee warm. What's more, they are fragile and very prone to spills.
Carafe-free coffee makers offer a promising alternative, storing the coffee inside the machine and letting you get your coffee one cup at a time. Cuisinart took this design to a new high by adding an easy-to-read coffee gauge and a 1-4 cup brew option.
You'll find many of the features of other top drip coffee makers in this model. The removable water reservoir makes for easy cleaning and refill, and the machine is fully programmable to let you plan your morning brew in advance.
Best single-serve coffee maker under $100: Hamilton Beach 49981A
Hamilton Beach has always been incredibly innovative with their coffee maker designs. If you want a single cup drip coffee maker, there's not a single one that comes close to the convenience of this one's compact design, simple usage, and easy cleanup.
The single-serve scoop filter makes the entire process incredibly simple. Not only does it serve as a permanent mesh filter, but it also scoops and measures your coffee grounds. There are two brew strength options — regular and bold — to give you more control over your coffee's intensity.
At its lowest setting, the mug stand is perfect for even large travel mugs, and it raises to let you fill a standard coffee mug without spilling. Cleaning the machine is easy because of the drip tray and the stainless steel design. 
Best travel coffee maker under $100: AeroPress Go
The AeroPress has quickly risen to become one of my favorite coffee makers. It's incredibly easy to clean and very easy to use for a manual coffee maker.
You do need to be able to apply a bit of pressure to the plunger, but that shouldn't be a problem for just about anyone. Cleanup is even easier than a drip coffee maker since the grounds are just expelled out as a puck.
The coffee quality from an AeroPress is superb, far surpassing the average drip coffee maker. It's also one of the fastest coffee-making methods, taking less than a couple of minutes to brew.
The biggest limitation of the AeroPress is also what makes it such a great travel coffee maker: it is tiny. It can only make 1-3 cups of coffee at a time, but it also easily fits into any piece of luggage. It's also very rugged, and the AeroPress Go even comes with its own mug.
The only thing you'll need to find is a source of hot water. In a pinch, you'll even find AeroPress instructions for brewing with cold water.
Best dual coffee maker under $100: Hamilton Beach FlexBrew Trio coffee maker
It's hard to name just one option as the best dual coffee maker because there are so many unique options in that category. All dual coffee makers let you brew a single cup or a full carafe, but some add additional options like espresso or pod coffee. 
This is one of those cases.
The FlexBrew has a 12-cup carafe on one side that brews standard drip coffee. The other side looks to be a regular single-serve drip coffee maker, but it also has the capability to make use of k-cup coffee pods. This extra flexibility is something you rarely even see with expensive coffee makers, and it's unheard of in this price range.
The single-serve side has a removable stand, making it very easy to use for either normal coffee mugs or taller travel mugs. The machine is fully programmable for delayed brewing, and it has a brew strength selector for bolder coffee.
Each side has its own water reservoir, which is incredibly convenient given the size of the carafe. It does mean you'll need to spend a bit more time cleaning the machine though, as that is twice as many reservoirs that will need to be cared for.
Best espresso machine under $100: Capresso 117.05 Stainless Steel Pump Espresso and Cappuccino Machine
Although you can find great espresso machines under $1000, most machines under $100 are absolutely useless. Many of them are so-called "steam espresso" machines that can only produce 2-3 bars of pressure. To make real espresso, you need at least 9 bars of pressure, and 15 bars make for a far superior brew. 
The removable 42-ounce water tank makes for easy cleanup and holds plenty of water for several drinks. The portafilter includes sieves for both single and double espressos. There's even a warming tray to get your mugs to the right temperature for serving.
As if that weren't already impressive for a budget espresso machine, this Capresso also comes with a built-in swiveling steam wand, so you can froth milk for your favorite cappuccinos and lattes.
Best pod coffee maker under $100: Keurig K-Classic K-50 coffee maker
Nobody can compete with Keurig in the pod coffee space. Nespresso's pods may dominate when it comes to capsule espresso, but even they can't match the sheer variety available in k-cups.
Keurig's biggest claims to fame, though, are simplicity and speed. Insert the pod, press a button, and wait. Within a minute, you'll have your hot coffee waiting for you. It's one of the fastest and easiest brewing methods available.
In the early days, many people were bothered by how weak k-cup coffee tasted, but they've done a lot to overcome that. Several companies have started producing stronger coffee k-cups as well as so-called espresso k-cups. 
The K-Classic is the lowest end of the main Keurig models, but it still works with all of the k-cups and can make 6-, 8-, or 10-ounce cups of coffee in regular or travel mugs. The water reservoir holds 48 ounces of water, enough for as many as 8 cups of coffee. 
If $100 is not a hard limit for you, I would suggest looking at the K-Select instead of the K-Classic. It adds an additional cup size (12 ounces) and a slightly larger water reservoir. Most importantly, it includes the strong brew option, which I would consider a must-have for Keurig coffee.
Best percolator under $100: Farberware 50124 Classic Yosemite coffee percolator
Maybe you didn't come here looking for a standard drip or pod coffee maker. The biggest difference between percolators and drip coffee makers is the level of involvement, but percolators give you a lot more control over what your coffee tastes like.
Farberware makes both 8- and 12-cup stovetop percolators. The 8-cup percolator can brew as few as 4 cups if you don't need the full pot.
The bulk of the kettle is stainless steel for durability and ease of cleaning. At the top is a glass knob to let you easily see when percolation has started. Every part of the percolator, including the permanent filter basket, is dishwasher safe, although it's probably still better to wash it all by hand.
Best electric percolator under $100: Presto 02811 electric percolator
Presto has created an electric percolator that is simple, elegant, and versatile. The easy pour spout is a particularly nice touch. The stainless steel design makes for easy cleaning, microbe resistance, and a look that will blend into just about any kitchen. Even the permanent filter basket and percolator tube are stainless steel.
Although it holds up to 12 cups, the Presto can also be used to brew as few as 2 cups of coffee. The indicator light makes it clear when the coffee is ready to serve, something that you don't get with stovetop percolators. 
Best Moka pot under $100: Bialetti 4953 Moka Express
There's a lot of brand loyalty in Moka pots. This particular brand is so beloved that Moka pots are sometimes known as Bialettis (in the same way that you might ask for a Kleenex instead of a tissue). In Italy, where Moka pots originate, roughly 90% of Moka pots sold are Bialettis.
There are good reasons for that loyalty: Bialetti Moka pots are incredibly well built. They are consistent and made to last. They come in 4 sizes, with capacities of 3, 6, 9, or 12 cups. It's also available in a wide range of colors, so it's very easy to find an aesthetic that fits your kitchen.
The ergonomic handle makes it easy to comfortably pour your coffee even when the pot is scalding hot. The pot is made of aluminum, so it is very lightweight and easy to clean. 
Best French press under $100: Frieling USA double-walled stainless-steel French press
If you think every French press is created equal, you've never used a high-quality French press. Frieling uses a two-stage filter to ensure that no sediment ends up in your cup of coffee. That alone would make their French press one of the best, but they didn't stop there. This French press is so good that it won the 2017 Houseware Designs Award.
Their double-wall insulation keeps your coffee hot for hours, eliminating the need to worry about cold coffee or flavor changes from reheating your coffee. It also adds incredible durability, particularly compared to the more common glass carafes.
You can get this same design in 4 sizes: 17 ounces, 23 ounces, 36 ounces, and 44 ounces. It's also available in two colors: polished and brushed.
Best budget French press under $100: Bodum Brazil French Press
If you go looking for a cheap French press that produces great quality coffee, you'll probably come across Bodum. Their French presses are designed to be simple, durable, and easy to use.
The main container is made from borosilicate glass to keep it light and strong while maintaining the necessary heat resistance. It's also completely dishwasher safe.
Best pour-over coffee maker under $100: Hario V60 Ceramic Coffee Dripper
If you were looking for someone to vouch for one of the underdogs of the pour-over world, you've come to the wrong place. The Hario V60 is beloved by baristas everywhere, but it's also ideal for pour-over newcomers.
A Hario V60 can be used to make a wide range of coffee drinks, from strong and full-bodied to deeply acidic and nuanced. The ceramic body is excellent for maintaining constant heat throughout the brew. If you are looking to start learning your pour-over technique with a coffee maker that you'll love even when you hit expert level, this is the option for you.
Best cold brew coffee maker under $100: Primula Burke Deluxe Cold Brew Iced Coffee Maker
You don't need anything fancy for cold brew. If you wanted, you could just dump grounds and water into a mason jar, refrigerate it overnight, and filter off the grounds. But a cheap cold brew coffee maker can make the process even more convenient.
Primula Burke's budget cold brew coffee maker consists of a borosilicate glass carafe with a permanent mesh filter that sits inside and keeps the grounds separate from the liquid. This simplifies the filtering process significantly — you can just pull out the permanent filter, dump out the grounds, and rinse the filter clean.
This cold brew maker can brew up to 6 cups at once, and it is designed to fit easily into the door of most refrigerators. The entire thing is dishwasher safe, so cleanup is incredibly easy.
Best siphon coffee maker under $100: Hario Glass Technica Syphon Coffee Maker
Yes, this is the same brand that I recommended in the pour-over category. Don't shoot the messenger.
The upper bowl, lower bowl, and burner are made of borosilicate glass, and the stand burner cover and filter are made of stainless steel. That much glass makes for a very fragile appliance, but that's a common issue with siphon coffee makers.
The Hario's uses alcohol as a heating source, which can make it finicky and difficult to master. Many more expensive vacuum coffee makers use electric heating sources because they are more consistent.
So why would I recommend the inferior heating source?
Some might guess it's because I want you to feel like a real chemist — and real chemists use alcohol-fueled burners. But the answer is actually more pragmatic: There isn't a good electric siphon coffee maker under $100! 
If you want to try your hand at siphon coffee, this is the best cheap siphon coffee maker you'll find. However, you might be better off splurging just a little and going for the Bodum K1218-16 instead.
Best Turkish coffee pot under $100: CopperBull Solid Hammered Copper Turkish coffee pot
Even if you don't like Turkish coffee, this ornate, hand-made, engraved pot makes a beautiful addition to any kitchen. But that's not why you're here.
CopperBull's pot can make up to five cups of coffee at once. It's also very durable, and the copper plating is a guard against concerns of rust. This is the pot you need if your goal is to make authentic Turkish coffee in a high-quality pot that is sure to catch your guest's attention.
Best electric Turkish coffee maker under $100: Brentwood Appliances TS-117S Electric Turkish Coffee Maker
Authenticity isn't for everyone. If you want the flavor of Turkish coffee without the hassle, you can get it with this easy-to-use electric coffee maker. You can make up to four cups of coffee at once with this stainless steel machine, and it only takes a few minutes.
The entire thing is built for convenience. Between the ergonomic, easy-pour handle and the conveniently-placed on-off switch, you could operate the entire thing with one hand if you really wanted to.
Best Vietnamese coffee maker under $100: Gladiator Vietnamese Coffee Maker Filter Set
Gladiator's coffee makers are made of durable stainless steel that makes them easy to clean and perfect for travel. It's also very easy to use, as one would expect from a Vietnamese coffee maker. The Gladiator come in three sizes. This one is the largest of the three and can make about 2-3 servings of coffee at once.
The active part of using this pot only takes about a minute, but it then takes roughly 5-7 minutes for the coffee to fully drain. That's a bit longer than some of the other methods above, but you don't need to be around for the longer part of the process.
The Verdict
I've tried to give you a brief introduction to the variety of coffee-making options. I would love to hear about how you've branched out and tried some of these new methods.
But maybe you were just looking for a cheap drip coffee maker. That's perfectly fine, too. Whether you want drip coffee, Turkish coffee, espresso, or something wholly different, I hope you found what you were looking for.
If you didn't, feel free to drop a comment, and I'll see if I can help you get on the path to your perfect cup of coffee.