This post may contain affiliate links. Please read my disclosure for more info.
---
Have you ever wondered what espresso machine Starbucks uses and whether you can get one of your own? Sometimes, dreams come true. Other times, you need to look for the next best thing.
In this article, we'll take a look at what the Mastrena Espresso Machine is, what makes it so expensive, why you can't buy one, and some powerful Mastrena alternatives you actually can buy for your home barista setup.
What is the Mastrena High-Performance Espresso Machine?
The Mastrena is Starbucks' espresso machine of choice for over a decade now. It's a state-of-the-art commercial espresso machine that can produce 240+ shots per hour. It's an expensive machine, but if you are running a Starbucks it's worth every penny.
Courtesy of a deal that Starbucks signed with the makers of the Mastrena espresso machines, it's also a Starbucks exclusive, which has caused Starbucks lovers to really take notice of these impressive pieces of technology.
Who Makes Starbucks' Espresso Machines?
The Mastrena 2, Starbucks' current espresso machine, is made by a company called Thermoplan AG. Thermoplan has been around since 1974 and almost exclusively makes super-automatic espresso machines. 
Their products were not particularly well known until 1999 when Starbucks signed a deal to exclusively use Thermoplan espresso machines. Five years later, they also became the espresso machines of McDonald's and Ikea. If you get your coffee at any of these chains, you've probably tried a drink made by Thermoplan.
Other Starbucks Espresso Machines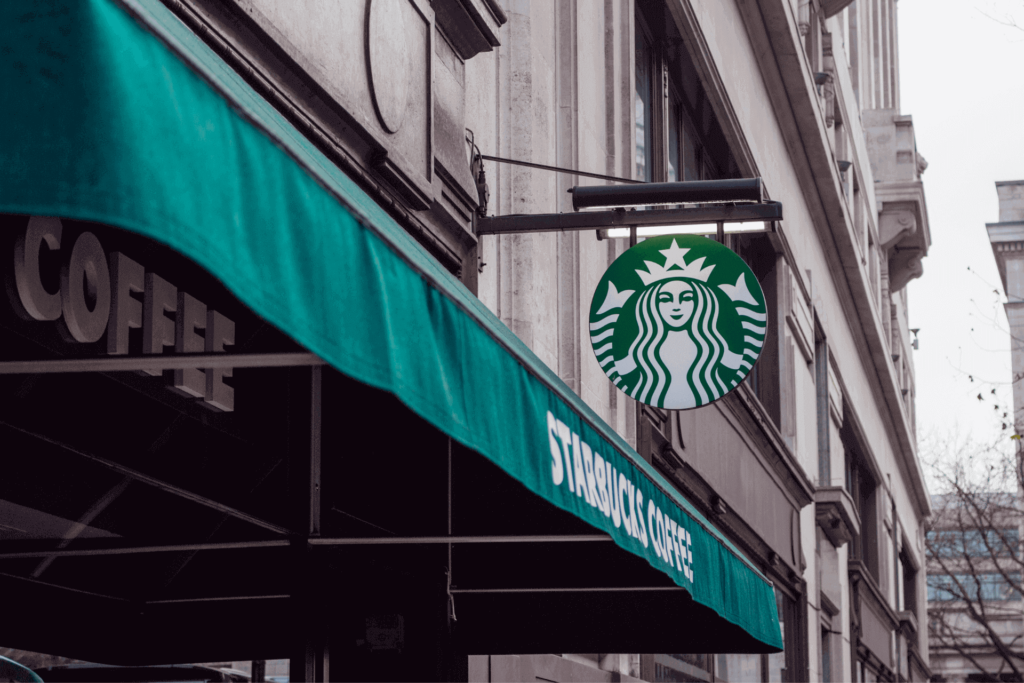 Currently, the Mastrena 2 is Starbucks' exclusive espresso machine. You'll see other types of coffee makers in Starbucks, but they are for non-espresso drinks like pour-overs and drip coffee. For espresso, it's all Mastrena all the time, but that wasn't always the case.
The Mastrena wasn't the first Starbucks exclusive espresso machine by Thermoplan. Until 2008, they were using the Verismo 801. Starbucks' CEO, Howard Schultz, didn't like the Verismo because the machine's height made it difficult for baristas and customers to interact over the machines.
When Thermoplan designed the Mastrena, they essentially created a scaled-down version of the Verismo. In fact, the two share several core components. Every major feature of the Verismo made its way into the Thermoplan along with several upgrades and a visual overhaul.
Why You Shouldn't Buy a Mastrena
The Mastrena is an incredibly expensive, commercial-grade machine. You can produce a better-than-Starbucks espresso shot or latte with a much cheaper machine.
I'll talk about Mastrena's features in a minute, but the price has little to do with its ability to make quality coffee. It's expensive because it can rapidly produce a large number of espresso drinks. 
If you could buy a Mastrena, it would cost somewhere in the range of $17,000–40,000 dollars! That's obviously too much for home use. You can get a fantastic espresso machine under $1000, so why would you ever pay 10 times that much?
You wouldn't, because even the heaviest coffee drinker amongst us doesn't outdrink the small army of Starbucks junkies that invade their stores every morning. Unless you are making hundreds of espresso shots an hour, you would just be wasting money buying a machine like the Mastrena. 
Why Are Mastrena Espresso Machines So Expensive?
Again, it's all about quantity. The Mastrena 2 has some amazing features, but none of them are worth the price tag unless you need volume.
The Mastrena 2 can make 240+ shots per hour. For those of you doing the math, that's 4+ shots per minute. That's more than 1 shot every 15 seconds. That's a lot of coffee!
Of course, it also has a ton of other powerful features:
Automatic shot quality — Okay, this one is actually really cool. You can program a desired puck thickness, and the Mastrena will adjust the grind time to make it happen. Meanwhile, it also monitors shot times and advises the user on how to maintain shot quality. 
Automatic frothing wand — The steam wand monitors milk temperature and automatically shuts off when the desired temperature is reached. 
Shot queue — Select multiple shots, and the machine will make them one-by-one.
10 Dose Preset buttons
2 Bean hoppers
Adjustable pre-infusion process
Tablets for automatic daily cleaning
Modular design
Don't get me wrong, I'd love to have a couple of those features. The automatic shot quality is particularly interesting. For the most part, though, the machine is just a scaled-up version of the automatic espresso machines that you can already buy for home use.
What Mastrena Alternatives Can You Buy?
Philips 3200 Series super-automatic espresso machine
With Philips 3200 Series easily make up to 5 black and milk-based coffee varieties at the touch of a button! Enjoy the delicious taste and aroma of coffee from fresh beans at the perfect temperature
Classic Milk Frother System: Dispenses steam, allowing you to easily prepare silky smooth milk froth for your cappuccino
Intuitive Touch Display: Select the perfect coffee for your mood with just one touch
My Coffee Choice Menu: Adjust the strength and quantity of your beverage and choose from three different settings to suit your preferences. The Aroma Extract system intelligently strikes the optimum balance between brewing temperature and aroma extraction
Powerful Filter and Easy Maintenance: Thanks to the AquaClean, enjoy clear and purified water - by changing the filter after being prompted by the machine, you will not need to descale your machine for up to 5000 cups
Super-automatic espresso machines are the easiest way to make a delicious shot of espresso. If you want to feel like you have a personal barista in your kitchen, the Philips 3200 is an excellent option.
Along with espresso, it can also make a cup of coffee, an Americano, and an espresso lungo or just dispense hot water. With its milk frother, you could even turn your espresso into a macchiato, latte, or cappuccino.
Philips' machine is incredibly customizable. You can choose between 3 aroma strengths, 12 grind sizes, and 3 temperature settings. That's plenty of options to recreate the taste of your favorite Starbucks drink. Or if you'd rather just take it easy, the machine's default settings work perfectly well.
De'Longhi ESAM04110S Magnifica fully automatic espresso machine
Customized Espresso drinks: design your ideal Espresso and cappuccino experience by programming in your preferences; The machine "remembers" the details, from the strength of your Espresso to your preferred Beverage size and much more
CONSISTENT brewing every time: each cup is automatically brewed to the perfect temperature, richness and density; And you can customize the settings to ensure it's always just the way you like it
Your foam, your way: a manual frother mixes steam and milk to create a rich, creamy froth for evenly textured drinks – just the way you like them
Easy to clean and handle: the compact, extractable brew unit is not only easy to clean, it also self-adjusts for one or two shots of Espresso
The De'Longhi Magnifica is an upgrade from the Philips 3200. From the professional-quality burr grinder to the twin-brewing cycle, everything about this machine is made to produce coffee shop-quality coffee at the touch of a button.
Oh, and it's fast. The entire brewing process for these machines consists of the time it takes for water to heat up and the brewing time itself. You don't want to tweak the brewing time too much since that can impact the flavor of the coffee, but De'Longhi got the heat-up time down to 60 seconds with this model.
You'll have 13 grind size settings to choose from along with temperature and cup size controls. The machine also has a manual frother that creates rich, textured drinks like lattes and cappuccinos.
If you want, you can also use pre-ground coffee in the second chamber, but I'd recommend sticking with whole beans to maximize the freshness of your coffee.
Once you have your settings figured out, the Magnifica's very consistent brew process and one-touch presets ensure that you get that same delicious brew each and every time. 
Probably the best thing about this machine is that it comes with the support that De'Longhi is renowned for. They are one of the biggest names in espresso for a reason.
Breville BES870XL Barista Express semi-automatic espresso machine
The Breville Barista Express delivers third wave specialty coffee at home using the 4 keys formula and is part of the Barista Series that offers all in one espresso machines with integrated grinder to go from beans to espresso in under one minute.Grind Settings : 16 precision grind settings, Tamping : Manual removable magnetic tamper,.Pressure Gauge : Extraction Feedback pressure gauge. Interface : Simple button control.
DOSE CONTROL GRINDING: Integrated precision conical burr grinder grinds on demand to deliver the right amount of freshly ground coffee directly into the portafilter for your preferred taste with any roast of bean
OPTIMAL WATER PRESSURE: Low pressure pre-infusion gradually increases pressure at the start and helps ensure all the flavors are drawn out evenly during the extraction for a balanced tasting cup
PRECISE ESPRESSO EXTRACTION: Digital temperature control (PID) delivers water at precisely the right temperature, ensuring optimal espresso extraction
MANUAL MICROFOAM MILK TEXTURING: The powerful steam wand performance allows you to hand texture microfoam milk that enhances flavor and enables creation of latte art
ESPRESSO MACHINE WITH GRIND SIZE DIAL: Simple and intuitive, giving you control over the grind size no matter what type of bean you're grinding
ESPRESSO MAKER WITH BUILT-IN COFFEE GRINDER: Innovative grinding cradle allows any at home barista to grind directly into the espresso portafilter for the perfect espresso
INCLUDED ACCESSORIES:Razor Dose Trimming Tool, 54mm Stainless Steel Portafilter, 1 & 2 cup Single & Dual Wall Filter Baskets, Coffee Scoop, Integrated Tamper, Stainless Steel Milk Jug, Cleaning Disc, Tablets, Brush Tool & Allen Key, Water Filter & Holder
CAPACITY & SETTINGS: 1/2 lb Bean Hopper; 67 oz Water Tank; Single or double shots; Adjustable Grind Amount and Manual Override
WARRANTY: 1 Year Limited Product Warranty; Power: 1600 Watts; Voltage: 120 Volts
If you're really looking to become a home barista, you may not want a super-automatic espresso machine. Semi-automatic machines are somewhat harder to use, but they give you the chance to truly master the craft.
But why not get the best of both super-automatic and semi-automatic machines?
The Barista Express is a semi-automatic espresso maker, but its built-in conical burr grinder takes care of the grinding and measuring process for you. On days when you want to, you can do everything manually, but on lazy days the machine will take care of all the hard or tedious parts of brewing your espresso.
The Express's pre-infusion process does a great job of perfectly extracting all the coffee grounds. Its digital temperature control (PID) keeps the water at the perfect temperature during the entire process.
A perfectly flavored shot of espresso requires proper dosing, water temperature, pre-infusion, and brew rate, and this machine handles each of those characteristics with a professional level of care. 
Nespresso Lattissima Pro by De'Longhi
IT'S ALL ABOUT THE FOAM: The De'Longhi Automatic Cappuccino System creates perfectly layered espresso beverages, with dense, rich, long-lasting foam in every cup from start to finish
NESPRESSO CAPSULE SYSTEM: The ultimate convenience; The recyclable aluminum capsules contain the finest espressos for authentic taste without measuring or cleanup
ONE TOUCH SIMPLICITY: One button – that's all it takes to enjoy exceptional espressos, bold cappuccinos, creamy lattes and rich macchiatos; The machine does the rest
BRINGS OUT MORE FLAVOR: De'Longhi's patented espresso extraction system creates the ideal flow of water with 19 bars of pressure – the ultimate amount for drawing the most flavor and desired temperature in each cup
THE PERFECT AMOUNT OF MILK: During the extraction process, the integrated carafe dispenses milk in adjustable levels for taste. Simply remove from the unit to keep freshly refrigerated; The carafe is dishwasher safe
Those previous models were all pretty big, and we don't all have that kind of counter space. Here's one last option that offers the easy-to-use coffee brewing experience of the super-automatic machines in a much more compact package.
What's the catch? It's a capsule machine. For some people, Nespresso is worth it for the convenience and lower price points. Others will prefer to stick to the types of machines we've talked about above. 
If you decide to go with Nespresso, you'll have to choose between DeLonghi vs Breville Nespresso machines. Both options are fantastic, so you really can't go wrong. But if you're looking for an alternative to Mastrena espresso machines,  you'll likely find the Nespresso Lattissima Pro by DeLonghi to be the best fit.
The Lattissima Pro is one of the highest-end Nespresso machines. It has a touchscreen display for selecting between seven drink options at the touch of a button: ristretto, espresso, lungo, cappuccino, latte macchiato, warm milk froth, and hot water. 
In case I didn't make that obvious enough, this machine even takes care of frothing and dispensing the milk for you. Even super-automatic espresso machines don't typically do that. 
I've Got Machines Like Starbucks
Okay, so you and I will probably never have Starbucks' espresso maker in our homes. And that's okay. The Mastrena espresso machine just isn't a good consumer model, and the alternatives I've mentioned above will suit your purposes far better for less than a tenth of the price.
If you want to reproduce some of your other favorite coffee shop drinks, you should take a look at automatic pour-over coffee makers to produce the best drip coffee you've ever had. If you don't have a coffee maker with built-in grinder, you should also take a look at some of the best coffee grinders. One of the biggest secrets of coffee shop coffee is freshness, and freshness starts with grinding your own coffee beans.