This post may contain affiliate links. Please read my disclosure for more info.
---
There's nothing better than freshly ground coffee, but sometimes you just don't have access to a coffee grinder. Your favorite coffee shop has grinders, but will Starbucks grind your coffee beans?
Starbucks will grind your coffee beans, but only if they are unopened, unexpired, and Starbucks brand. So, if you've picked up some inexpensive coffee beans from Walmart that you've been dying to get ground up and try, you're out of luck.
Let's take a look at all of the options you have for getting Starbucks to grind a bag of coffee beans for you. 
Can Starbucks Grind Coffee for You?
Yes, a Starbucks barista will grind coffee beans for you. They won't even charge you for it, so there's no reason not to try out this convenient service.
It better be Starbucks-brand coffee, though—they won't grind other brands of beans. They're very particular when it comes to what beans go through their grinders. Even high-quality brands like Illy or Lavazza won't cut it. It's Starbucks or nothing.
It's also important that the bag is unopened. This is because air will quickly turn coffee beans stale. Even if the bag was only opened this morning, they have no way to prove that. To avoid contaminating their grinders (and their reputation), they decline to use any beans that have been unsealed or tampered with.
Expired coffee beans are a no-no too. The coffee will taste bitter. Oils will leak from the tainted beans into the grinder. It'll be problematic for their staff to use the grinder later on behalf of other customers. So, only their branded beans and with a future best if used before date, are permitted. 
Starbucks Grinder Settings
The barista will expect you to specify a coffee grind size setting from the following options:
| Grind setting | Grind size |
| --- | --- |
| French press (also for cold brew) | Coarse |
| Universal grind | Medium-coarse |
| Flat bottom filter (drip coffee maker) | Medium |
| Cone filter (drip coffee maker) | Medium-fine |
| Espresso machine | Fine |
| Turkish coffee maker | Extra fine |
Most home coffee machines are drip coffee makers with flat-bottom filters, which need a medium grind. But anything from a medium-fine to medium-coarse grind will work fine.
The Universal grind is basically a default option. It's a bit too fine for French press, so you'll end up with extra grinds in your cup. And it's a bit too coarse for drip coffee makers, so you'll end up under-extracting your coffee. I wouldn't get it unless you plan on making a pour-over.
If you're using a pod coffee maker, go with a medium-fine grind for refillable Keurig pods and a fine grind for refillable Nespresso pods.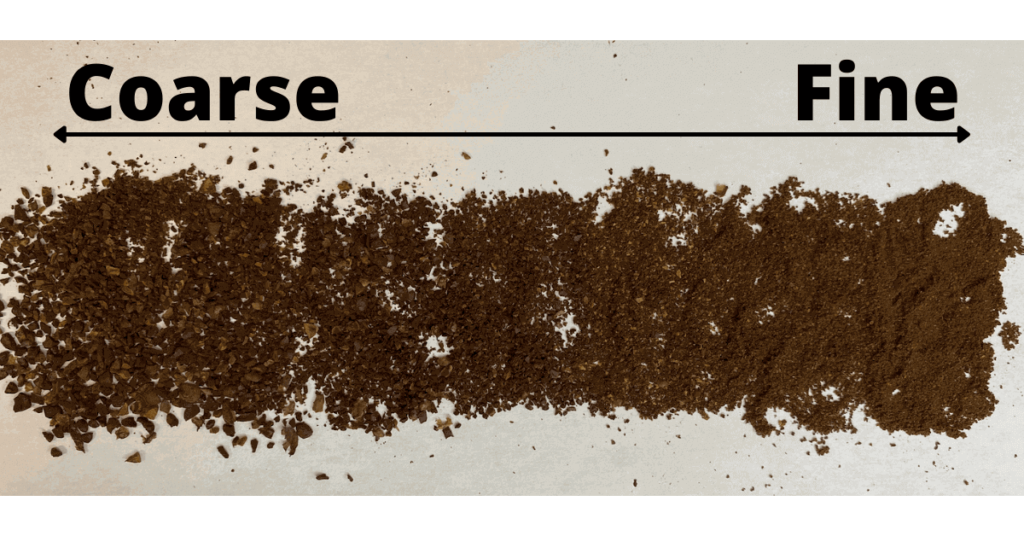 You can always ask the barista which grind would be right for your coffee maker. I've also put together a coffee grind size chart for all the major types of coffee makers and coffee brewing methods.
Where Can I Get My Coffee Beans Ground?
Any Starbucks coffee store has the grinders to prepare your Starbucks beans within a few minutes.  
The trick is to catch them at the best time. Otherwise, the queue will be longer, and they'll need to make extra preparations to serve you.
For weekdays and outside of the holidays, the peak period coincides with a rush hour between 8 am and 10 am. A second, smaller peak in customer traffic is between 5 pm and 6 pm when work has ended for the majority of office workers. 
On Saturdays, a similar lunchtime and smaller early evening peak are observed too. However, most stores are continually busy throughout the day. 
For Sundays, the stores are far less busy and so any time is usually fairly good to ask for your beans to be ground up. 
Should I Grind My Own Coffee Beans Instead?
Your coffee beans lose a lot of their freshness within 30 minutes after they're ground. Having Starbucks grind your coffee is better than buying pre-ground coffee but just barely.
Carrying around a sealed bag of coffee beans is a bit cumbersome, too.
A home coffee grinder doesn't need to be overly costly either. There are budget coffee grinders that will complete the task just as well as your local Starbucks barista can. So don't feel like you need to head over to your favorite coffee store every time you need some freshly ground beans. 
Frequently Asked Questions
Will Starbucks grind my coffee beans for free?
Yes, Starbucks does not charge anything extra to grind your beans. It's free. It might require a tiny bit more time, but that's the only inconvenience. 
Do remember to tip your barista, though.
Are Costco coffee beans acceptable for grinding too?
Some Starbucks coffee beans are sold retail in the Costco stores. These retail-specific, Starbucks-branded beans can be ground up by the barista too.
But if the beans don't say Starbucks on the label, you'll have to grind them yourself. 
What's Next?
While you're getting your coffee beans ground at Starbucks, you really should try out some of the strongest Starbucks coffees. It's a very different experience from a frappe or Frappuccino.
If you want to recreate your favorite Starbucks drink at home, you're going to need a good espresso machine (or a budget espresso machine in a pinch). For some inspiration, you can check out the espresso machine Starbucks uses. But if you really want the convenience of Starbucks at home, a Nespresso Vertuo machine is probably the best way to go, especially if you get some latte-inspired Nespresso pods to go with it.