This post may contain affiliate links. Please read my disclosure for more info.
---
Wouldn't it be great if your capsule coffee machine could use your favorite coffee beans? With Reusable Nespresso capsules, you can save money, get more coffee variety, and cut back on your waste. But how well do they work and are they worth the hassle?
Let's take a look at the best reusable Nespresso pods, which types you should use (and which to avoid!), and how to get the most out of your favorite Nespresso VertuoLine or OriginalLine machine.
Quick Take: Best Reusable Nespresso Pods
| | Image | Product | |
| --- | --- | --- | --- |
| Best reusable Original capsules | | CAPMESSO Reusable Capsules for Nespresso OriginalLine, Refillable Coffee Pods Stainless Steel Cups Compatible with Nespresso OriginalLine Brewer(2 Pods+100 Lids) | Check price |
| Best reusable Vertuo capsules | | CAPMESSO Coffee Capsule, Refillable Vertuo Capsules Reusable Coffee Pod with Foil Lids Stainless Steel Compatible with Vertuoline GCA1,ENV135,Vertuo Plus (2.5oz pod+50 Foils) | Check price |
| Best OriginalLine pods with steel lid | | CAPMESSO Reusable Coffee Capsules Refillable Originalline Pod Stainless Steel Compatible with N*espresso OriginalLine Machines(1 pod set) | Check price |
| Best VertuoLine pods with steel lid | | CAPMESSO Coffee Capsule, Reusable Vertuoline Pods Refillable Vertuo Capsules Stainless Steel Compatible with Nespresso Vertuoline GCA1 and Delonghi ENV135S (2.5OZ(Small Cup)+10 Silicone Rings) | Check price |
Why Use a Refillable Nespresso Capsules?
Nespresso users flock to reusable pods for three major reasons: environmental concerns, cost-savings, and a desire for coffee variety.
They're more environmentally friendly
Nespresso does a lot to make their products more environmentally friendly. To begin with, instead of plastic they use aluminum. This allows them to decrease the total amount of packaging, and aluminum is more recyclable than most plastics.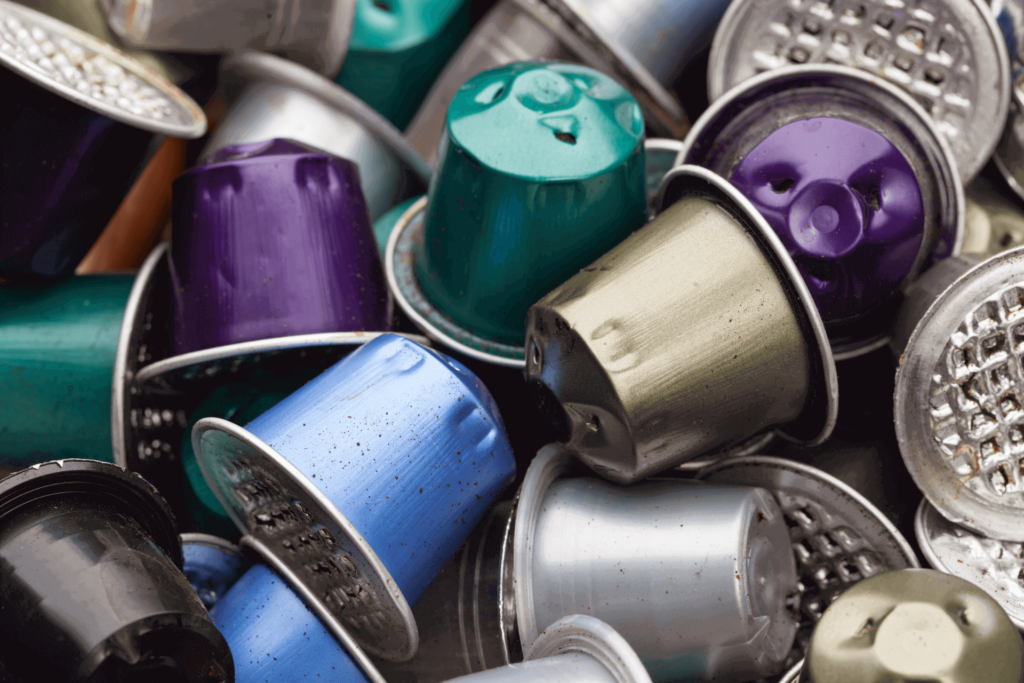 They've set up a partnership with UPS, allowing people to drop off used pods at UPS drop-off points for recycling. They compost the used coffee grounds for you. In New York City, they even take Nespresso capsules directly in curbside recycling bins.
But single-use pods are just not as environmentally friendly as reusable filters. A typical refillable coffee pod can be used 1000s of times, which effectively eliminates all waste other than the used grounds, which are compostable.
Coffee beans are cheaper
Nespresso pods typically cost $0.70–1.10 each. If you buy the cheapest OriginalLine pods, you can probably get that price down to $0.30 per cup.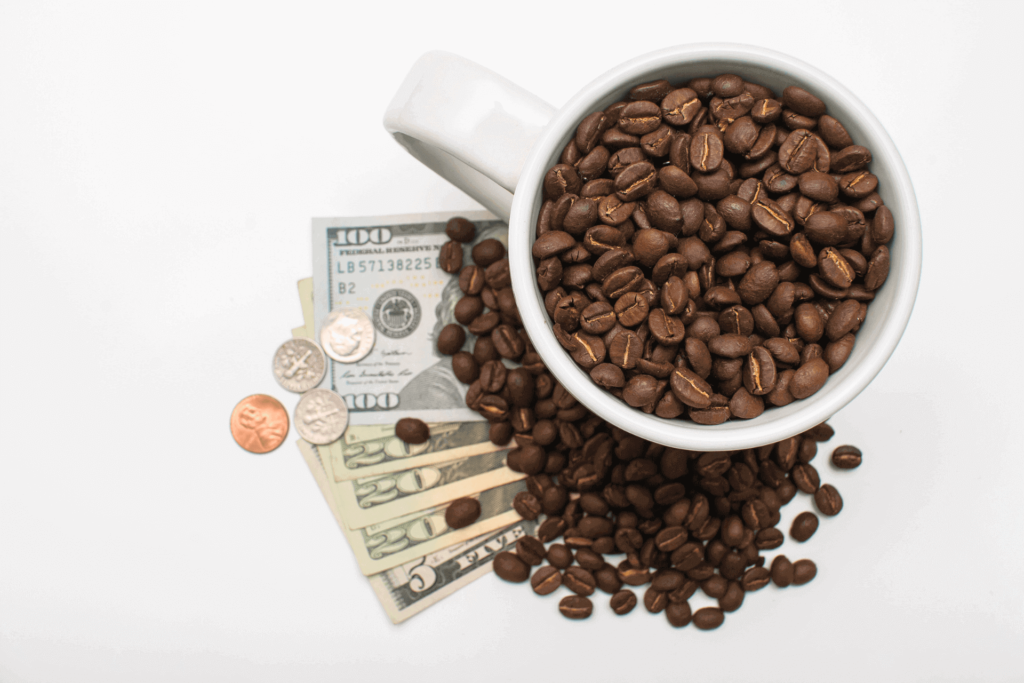 For comparison, how much coffee costs when made with coffee beans or grounds. Coffee comes in a range of prices, but you can get a good mid-tier bag of coffee for $12 per pound. That's the equivalent of about $0.13 per shot of espresso (slightly more for the larger cups of Nespresso coffee).
You can even make cheaper options like some Cuban coffee brands for as low as $0.06 a cup, and some of these coffees make surprisingly good espresso brews.
You get more coffee options
Because of its barcode system, the Nespresso VertuoLine can only take Nespresso pods. Sadly, that means your choices in coffee are very limited with these machines, and that's unlikely to ever change. 
The OriginalLine has somewhat better variety because they allow third-party capsules from companies like Lavazza and Peet's. However, most coffee brands still don't make Nespresso pods. Many of the best espresso beans simply can't be enjoyed in your Nespresso.
That is unless you get a refillable capsule. These pods allow you to sample any type of coffee you want, from the bitter Robusta made by Vietnamese coffee brands to the sweet tastes of Costa Rican coffee. With a good coffee grinder, you can even try the freshest coffee varieties that are only available as whole beans.
The Downside of Refillable Nespresso Pods
With all of those advantages, why doesn't everyone just switch to refillable capsules? As I'm sure you've already realized, there are some disadvantages of leaving the single-use capsules behind for a reusable coffee pod.
They're not as convenient
One of Nespresso's biggest selling points is convenience. With a single-use pod, you just take it out of the box and place it in your Nespresso. Within a minute, you have your coffee, and the pod can just be thrown in the trash or recycling bin.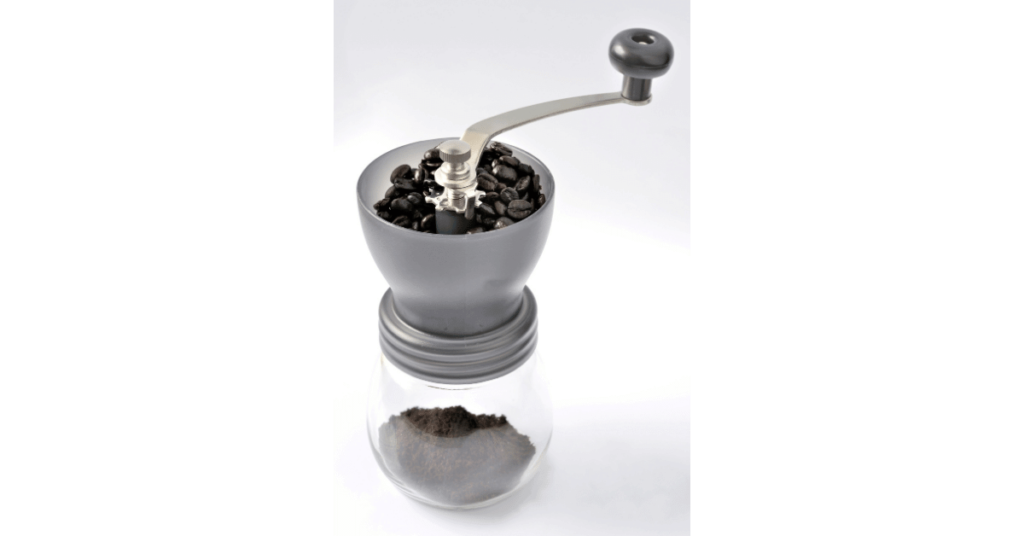 Reusable pods lose some of that convenience. You'll need to measure and add your grounds before placing the pod into your Nespresso. If you want to use whole beans, you'll even have to learn how to grind coffee beans. Once the coffee is done, you'll also have to wash the pod.
That whole process is still pretty quick and easy compared to most other coffee brewing methods, but it can add a couple of minutes to your morning coffee routine. 
They can be messy
Regular Nespresso pods are entirely self-contained. You never have to come into contact with the coffee grounds, so cleanup is incredibly easy.
Refillable pods will require you to scoop coffee, which means that you can end up with a mess if you aren't careful. You're dealing with small amounts of coffee compared to a full-carafe drip coffee maker, so the messes will be small if they do happen — but it's still a factor worth considering.
Refillable Nespresso Pod Buying Guide
All refillable Nespresso capsules are not the same. There are a couple of styles, each with its own pros and cons. Most reusable pods are just inferior, with materials or build quality that won't last or can't make Nespresso-level coffee.
Machine compatibility
There is no cross-compatibility between OriginalLine machines and their VertuoLine machines. If you have a Nespresso Original Line machine (the ones that only make espresso), you'll need an OriginalLine reusable pod. If you have a VertuoLine machine (the ones that make both coffee and espresso), you'll need a VertuoLine reusable pod.
For the most part, any reusable pod will be compatible with all machines in one line. However, there are a few compatibility issues that I'll try to mention as we go through reviews.
Nespresso Vertuo vs VertuoPlus (or most of the rest of the VertuoLine) is usually not an issue. However, the differences between Vertuo Next and VertuoPlus can cause some reusable pods not to work with the Next. The wide range of machines in the OriginalLine can also lead to some compatibility problems, especially with the higher-end machines or the smallest machines like the Essenza Mini.
Nespresso doesn't make their own coffee machines, so you'll typically have to pick between DeLonghi vs Breville Nespresso machines. Fortunately, which one you chose doesn't matter for the reusable pods, as the pods work across both manufacturers' Nespresso machines.
Material
You'll find both plastic and metal reusable Nespresso pods. Some cheap plastic pods have durability issues, and the metal ones will generally last longer. Most reputable vendors won't sell reusable plastic pods that contain BPA, but you should certainly be careful buying from a random brand without verifying.
Type of lid
Some reusable pods come with sticker tops that are one-time use. These are the easiest-to-use option, and they require less care in cleaning. These lids are typically made of foil, which allows for good pressures that can produce a superior crema (that rich, foamy layer on top of an espresso). There are paper stick-on lids as well, but they don't hold pressure as well.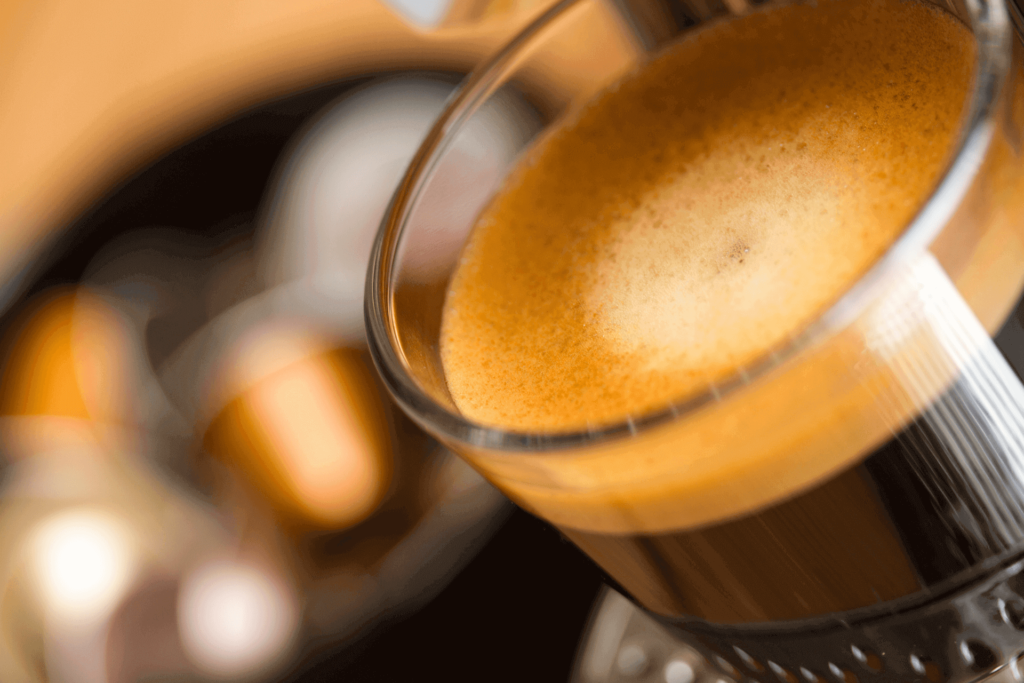 Alternatively, you can buy a pod with a reusable, screw-on lid. These don't produce as rich a crema, but they will typically last as long as the pod itself. That way, you don't have to worry about buying extra lids or dealing with the excess waste.
How to Use a Refillable Nespresso Pod
If your refillable pod came with instructions, go ahead and follow those. The process is incredibly easy and largely the same for any brand of reusable Nespresso pod. 
Here's what you need to do.
Grind your coffee. If using whole bean coffee, grind it using a fine or espresso grind. The grounds should be the texture of table salt when you are done. If you are buying pre-ground coffee instead, just make sure it says espresso or fine grind. Most pre-ground coffee is a drip (medium) grind, so be careful. It's better to grind your own anyway, since freshly ground coffee beans are more flavorful.
Fill the capsule. The amount of grounds you use will vary, so be sure to check the instructions for your refillable pod. Typical pods seem to use about five grams, but some use slightly more or slightly less.
Tamp the grounds. Use a tamper to pack the coffee down. If you don't have a tamper, you can try using the back of a spoon.
Seal the capsule. Brush off any excess coffee from the rim then close the capsule by screwing or sticking on the lid.
Brew your coffee. Put the capsule into the machine and run it as usual.
Best Refillable Nespresso Capsules
Best reusable Original capsules: Capmesso metal reusable OriginalLine Capsules With Foil Lids
You're going to see a lot of Capmesso on this list. No other company can match the quality and variety of Capmesso's reusable pod products. 
These pods are compatible with just about every Original machine, including the CitiZ, Pixie, Lattissima, Inissia, and Essenza. There are a couple of issues with older variants of the CitiZ (D110 and Prodigio Krups), but those particular variants have compatibility issues with almost all reusable pods.
Capmesso's refillable capsules are rated for up to 10,000 uses. The pack comes with two of these capsules, 100 aluminum foil lids, a brush, and a scoop.
The stick-on lids are one-time-use, so the entire setup will make 100 cups of coffee. The replacement packs aren't expensive, so they won't have a huge impact on your cost savings.
Because they use stick-on lids and strong stainless-steel bodies, these capsules are able to produce an impressive crema and absolutely delicious coffee. 
Best reusable Vertuo capsules: Capmesso metal reusable VertuoLine pods With Foil Lids
For a long time, it was hard to get reusable capsules that worked with the VertuoLine machines. The barcode reading system, which prevents third-party capsules, also made it hard for companies to produce refillable pods.
To this day, Capmesso's reusable VertuoLine capsules are one of the few options that actually work. They have the same durable structure as the company's OriginalLine capsules, and they are compatible with all VertuoLine machines, including the Evoluo, Vertuo, VertuoPlus, and even the Vertuo Next.
Each reusable VertuoLine pod is designed for a specific size cup of coffee or shot of espresso. If you want, for example, the 8-ounce mug size and the 2.5-ounce double espresso size, you'll need to buy two reusable pods. Fortunately, Capmesso sells them in multiple sizes, and the lids work across the sizes.
Each pack comes with one capsule and 50 single-use foil lids. You can also buy replacement lids in packs of 100.
Best OriginalLine pods with steel lid: Capmesso metal reusable OriginalLine capsules
Disposable, stick-on lids may offer better coffee, but some users might get tired of re-ordering lids or producing extra waste. Screw-on metal lids are convenient alternatives, and Capmesso's stainless-steel lids are designed to last as long as the stainless-steel pod itself.
These pods use a silicone ring to create the seal between the metal lid and the body of the capsule. These rings tend to break down over time, so Capmesso includes two extras in the pack. 
The pack comes with a single capsule with a lid, a coffee scoop, and a brush. The entire setup is designed to last for 10,000 espresso shots, although the silicone o-rings may need to be replaced after the first couple of years.
Best VertuoLine pods with steel lid: Capmesso metal reusable VertuoLine capsules
This is the Vertuo version of the previous entry. Capmesso makes them in two sizes, so you can get a reusable pod for either the 2.5-ounce double shots of espresso or the 8-ounce coffee mug.
I definitely recommend getting the pack that has the extra silicone rings. It's roughly the same price, and it ensures that your setup will last for the full 10,000 use expected lifetime of the capsules.
Sorry, Vertuo Next users, but this style does not work with that machine. It's compatible with the rest of the VertuoLine machines, but the Next requires the stick-on lid capsules described above.
Capmesso plastic reusable OriginalLine capsules
I highly recommend going with a metal pod, but Capmesso also has these BPA-free plastic ones if you prefer. 
Each plastic capsule will last for about 200 uses, so the pack of 20 can make over 4000 shots of espresso. However, you'll need to get extra lids much sooner than that as the pack only comes with 20 of those, and they are single-use.
(If you are looking for the VertuoLine version of these capsules, don't bother. You need a metal pod for those machines.) 
Aozbz reusable OriginalLine pods
These stainless-steel capsules work a lot like the Capmesso pods with a stick-on lid. They offer a similar level of quality, but they do have compatibility issues with a couple of Original machines including the Lattissima Plus and the Essenza Mini D30. They do, however, work with the Essenza, Pixie, Lattissima, Inissia, Expert, and almost every other Nespresso OriginalLine machine.
The pack comes with two capsules, 100 lids, a coffee scoop, and a brush. Overall, it offers an excellent alternative to Nespresso OriginalLine owners that can't (or don't want to) get the Capmesso pods for any reason.
Blusea refillable VertuoLine capsules
Blusea's Nespresso pods have screw-on lids, and both the lids and the capsules are made of stainless steel. They are available both in the 2.35-ounce (70 ML) double-espresso size and 7.8-ounce (230 ML) mug size. 
Their capsules are compatible with the Vertuo and VertuoPlus machines but not the Vertuo Next. The pack comes with one capsule, a lid, a coffee spoon, and a brush.
Cafilas reusable OriginalLine capsules
Cafilas pods have an innovative reusable lid that doesn't need to be screwed in place. Instead, you press it down into place. Some users may find that easier than the screw-on lids, although both are fairly simple. 
These capsules are compatible with the Pixie, Essenza, Lattissima, Inissia, and most other Original machines, but they don't work with the Essenza Mini or some variants of the CitiZ.
Along with the capsule and lid, this pack includes a scoop and a brush.
Seal Pod refillable OriginalLine pods
Seal Pod uses stick-on lids to produce a superior crema, similar to that of Capmesso. Their pack includes two reusable pods, 100 seals, and a scoop. They also give you two fresh covers, which can be used to pre-fill your capsule and store them for later use.
One of the best things about Seal Pod's capsules is their wide compatibility. They work with the CitiZ, Essenza, Essenza Mini, Latissima Plus, Latissima, Pixie, Inissia, Creatista Plus, Expert, and a range of other OriginalLine machines.
Recafimil reusable VertuoLine pods
This is another option for VertuoLine machine owners. Recafimil's pods are stainless-steel with a reusable lid. The design is very durable, but they are only compatible with a couple of the VertuoPlus machines, so owners of the Vertuo, Evoluo, or Vertuo Next will need to look elsewhere.
Deca reusable VertuoLine capsules
Deca's pods are available in a double-espresso size and come with a stainless-steel reusable lid, a scoop, and a brush. It's compatible with most Vertuo machines but not the Vertuo Next.
Recaps refillable OriginalLine pods
Recaps sells their reusable pods as an all-in-one pack. You get three pods, 120 lids, a scoop, and a brush. More importantly, though, they include a tamper. If you don't already have a tamper, that makes this pack definitely worth considering.
It's compatible with most of the Original machines, including the Inissia, Essenza Mini, Lattissima, Lattissima+, Pixie, CitiZ, and Creatista Plus.
Final Verdict
The Nespresso is a fantastic pod coffee machine, but the pods can be expensive and problematic. If you want a more environmentally-friendly way to use your machine — or just the ability to use your favorite coffee shop beans — a reusable Nespresso capsule is the perfect solution. 
Looking for some good coffees for your new reusable pod? There's a reason Italian coffee fans typically pick between Illy vs Lavazza, so I'd start there. Sumatran coffee beans are the secret ingredient in Starbucks espresso, so that's also a good option for something earthy and nutty.