You just want your coffee maker to conveniently and reliably produce high-quality coffee. Is that too much to ask for? 
One way to increase the convenience of your coffee-brewing experience is to just combine equipment. By swapping out both your coffer maker and grinder for one of the best coffee makers with grinder built-in, you can cut your coffee-making equipment in half! Now that sounds like a plan.
Quick Answer: Best Coffee Makers With Grinder Built-In
Can't I Just Use Pre-Ground Coffee?
You could, but fresh-ground coffee is a game-changer. Grinding your own coffee beans is the single most important step you can take to level up your coffee expereince.
Coffee grounds go bad very quickly after they are ground, so those pre-ground beans you are buying have likely lost much of their flavor before you even open the bag.
Unless you are using a vacuum-sealed, opaque container for storing your grounds, your third or fourth pot will be even more flavorless. Go out and try some freshly-ground beans just once, and I think you'll see why coffee snobs always swear off pre-ground coffee.
Is a Grind-and-Brew Coffee Maker Worth It?
Coffee makers with built-in grinders are more convenient than separate coffee makers and grinders. You eliminate the need to store and maintain two devices. You don't need to worry about transferring grounds between them. And you only have one set of controls to master instead of two. 
The other major advantage is space savings. Grind-and-brew machines typically take up much less counter space than separate grinders and coffee makers. They can be taller though, so they may not work with some kitchen setups.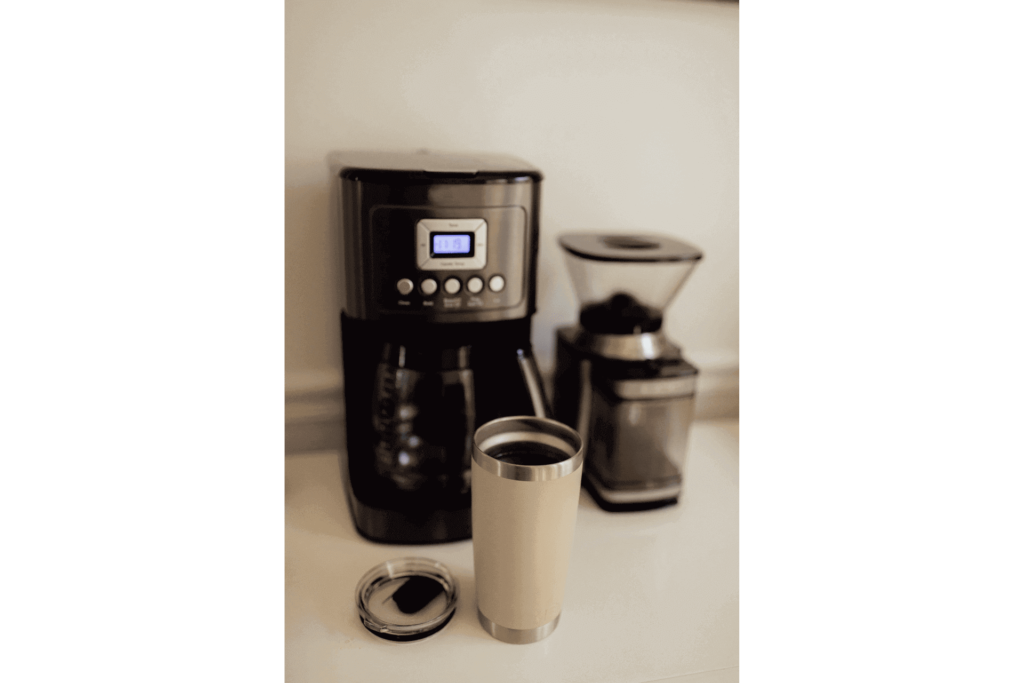 On the other hand, grind-and-brew coffee makers tend to be more expensive than separate machines for comparable features and quality. Combining machines also means that when one breaks the entire thing needs to be fixed or replaced.
Cleaning a grind-and-brew coffee maker can also be trickier, largely due to the need to keep the chute brushed clean. With a good model, this isn't something you'll have to worry about every day, but make sure you follow the cleaning procedure in your model's instruction manual.
I do need to mention that grind-and-brew coffee makers are much better now than previous models were. Some of the earliest ones had severe issues with steam rising from the brewer into the grinder and causing clogs or messes. Others had very low-quality grinders or where just poorly-calibrated.
In the end, you'll have to weigh these pros and cons to decide whether a grind-and-brew is worth the money. If you value convenience, though, they are at least worth a look.
Burr vs Blade grinder
There's a lot more to learn about how to grind coffee beans than you might initially think, but here's the most important point:
Blade grinders are terrible.
Blade grinders are basically blenders, chopping apart coffee beans as long as they are in contact with them. Longer grind times mean a finer average grind, but some particles will hit the blade more than others, resulting in an inconsistent grind.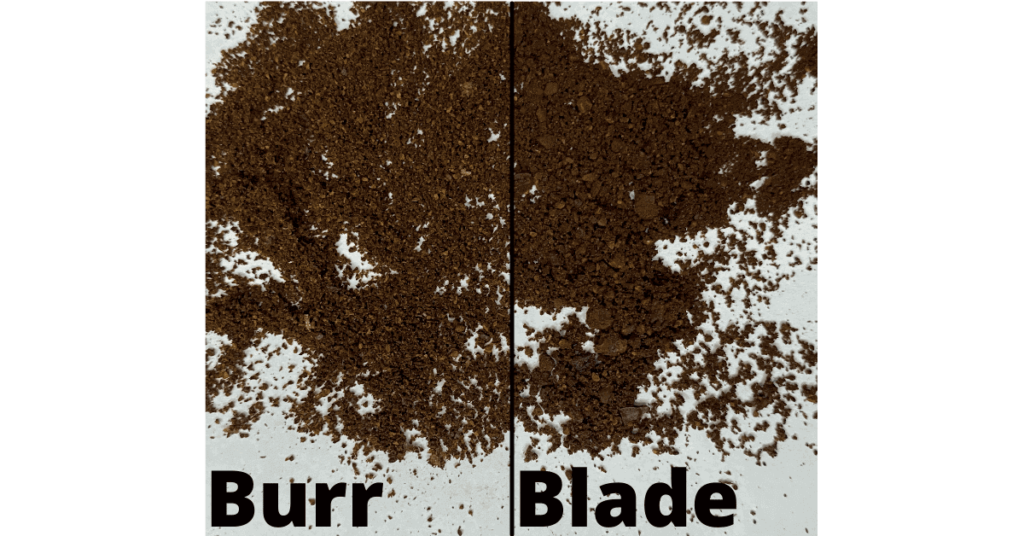 Burr grinders act like mills, giving a consistent grind by crushing beans and allowing them to drop through only when they reach a certain size. he grind size is controlled by adjusting the distance between the burrs. Since the grounds fall out of contact with the burrs when they are ready, there is no chance of overgrinding — a coarse setting produces only coarse grounds .
A consistent grind is critical to brewing great coffee or espresso. With a consistent grind, you can control how long the water is in contact with the grounds and perfect the extraction — pulling all the right sweet, complex flavors out of the coffee beans and leaving the bitter parts behind.
If your grind is inconsistent, you'll have end up with fine and coarse grounds in the same batch, and the fine grounds will get overextracted while the coarse grounds are underextracted. The result is coffee that is often bitter, sour, or flavorless. That's what you get with a blade grinder.
So just make sure your grind-and-brew coffee maker has a burr grinder, you'll thank me later.
Conical vs flat burrs
Burrs can come in two shapes: conical and flat. Flat burrs provide a slightly more consistent grind, while conical burrs are quieter and cheaper. The difference in quality is pretty minor, to the point that many coffee shops will just use conical burrs. You're probably fine with either.
Ceramic vs steel burrs
Burrs can be made from either ceramic or stainless steel. Stainless steel burrs start off sharper, but they dull more quickly over time. Ceramic burrs wear down very slowly, so they'll last a very, very long time before needing replacement. Ceramic burrs do tend to be more expensive, but they can be worth it for the longevity.
Best Coffee Makers With Grinders
Best grind-and-brew coffee maker: Cuisinart DGB-900BC Grind and Brew coffee maker
When it comes to coffee makers with built-in grinders, few options are as popular as the Cuisinart grind-and-brew coffee makers. The DGB-900BC is the gold standard in that series, particularly because it introduces a burr grinder — the feature that lower-end models are desperately lacking.
The coffee from this machine tastes excellent, and the machine itself is very durable. Those two facts alone put it ahead of the vast majority of coffee maker/grinder combo machines.
This machine's hopper can hold a full half-pound of beans. The grind quantity control allows you to grind enough beans for anywhere from 2 to 12 cups. You can also use pre-ground coffee directly in the filter if you prefer. The machine can brew up to 12 5-ounce cups, and the double-wall insulated thermal carafe will keep your coffee hot for several hours.
There's a charcoal water filter to remove impurities from the water, and the strength selector allows you to choose between three coffee strengths: strong, medium, and mild. The permanent filter is incredibly convenient and eliminates the need to store wasteful paper filters.
The machine is fully programmable, allowing you to set the brew time up to 24 hours in advance, and there is a brew-pause feature to let you grab your first cup of coffee before the full pot of coffee is done.
If you've avoided Cuisinart grind-and-brew machines due to their notorious grinder steam issue, I have good news: It's gone in this model! You'll still need to clean the chute out every once in a while with a brush, but — unlike with lower-end Cuisinart models — you don't need to do a deep clean of the grinding chamber after every use.
There are two noteworthy drawbacks of this machine.  First, the grinder is, very loud — not uncommon for flat burrs — so expect 30 seconds of interruption to any conversation in the room when you turn it on. Second, the grind size is not adjustable. The default size is a medium grind that is good for the machine, but I would prefer the ability to dial in my perfect grind.
Those are pretty minor complaints, though, and this machine is a huge leap forward for Cuisinart and easily my highest recommendation for the best coffee maker with built-in grinder.
Best budget coffee maker with grinder: Gevi drip coffee maker with grinder 
I live on a writer's budget, so I understand the need for cheap coffee maker options. I should say that there are cheaper grind-and-brew coffee makers — but Gevi offers a budget option that doesn't skimp on quality. 
Their machine has a conical burr grinder, which is just an impressive feature in this price range. You can also just add pre-ground beans directly to the filter.
The machine is fully programmable and very easy to clean. It can make 2, 4, 6, 8, or 10 cups of coffee at a time. There are 3 different strength settings (strong, medium, mild) and 8 grind size settings, giving you lots of options for finding your perfect cup of coffee.
The biggest disadvantage is that it has a glass carafe instead of thermal, so you'll need to rely on the hot plate to keep your coffee at the right temperature. There are some reports of grounds occasionally falling into the carafe, but this seems to be a minor and rare issue. Lastly, the water reservoir is hard to reach if you keep the machine under a low cabinet.
Best smart coffee machine with grinder: Smarter SMC01 iCoffee remote brew coffee maker
The only thing more convenient than a coffee maker with a built-in grinder is a voice-activated coffee maker with a built-in grinder. Smarter's grind-and-brew machine is compatible with Google Home and Amazon Alexa, has its own mobile app, and works with any IFTTT-compatible smart home service (e.g., Nest). 
You can remotely set the strength of the coffee the number of cups you are brewing, and start brewing either through the app or through voice commands. All of these options are also available on the 3.5 inch LCD control panel on the machine itself. The app also includes a coffee shop, so you can order replacement beans from that same interface.
The coolest feature, though, is home mode — an option that automatically starts your coffee maker when you arrive home. You can even limit it to only work if you arrive home, for instance, before noon. 
The grinder uses burrs, as you expect for a premium machine like this one. You can brew between 4-12 cups at a time at three brew strengths: mild, medium, strong.
Unfortunately, the 12-cup carafe is made of glass instead of being thermal. Couple this with the 40-minute coffee warming limit, and you really only have about an hour before your coffee gets cold. The coffee itself is kind of weak, so you'll probably want to stick with the strong brew setting.
Best espresso machine with grinder: Breville BES870XL Barista Express espresso machine
Espresso lovers, don't think I've forgotten about you — all flavors of caffeine junkie deserve the convenience of a grind-and-brew.
The Barista Express is a stunningly beautiful and highly functional machine with all the bells and whistles. The grinder uses conical burrs, and the hopper is tinted to protect the beans from light-induced decay prior to grinding.
The quality of espresso from this machine is excellent, although there is a short learning curve as you would expect from any semi-automatic espresso machine. The digital temperature control technology provides precision control over water temperature for perfect extraction consistency.
You can get a wide range of grind sizes from this machine, probably wider than you'll ever need for espresso. There are pre-defined grind amount options for single and double espressos as well as a manual override. The built-in steam wand is perfect for making lattes and cappuccinos, or whatever steamed milk drink you prefer.
The hopper holds half a pound of beans and the water tank capacity is 67 ounces, so you can easily make several shots of espresso between refills. Cleanup and maintenance are somewhat involved, but no more so than a typical espresso maker.
There are not a lot of downsides to discuss with this machine. It's not a budget espresso machine by any stretch, but it delivers a lot of value for the money. 
Best automatic espresso machine with grinder: Gaggia Brera super-automatic espresso machine
If you want great espresso with no learning curve, a super-automatic espresso machine is probably what you are looking for. These machines are intended to provide consistent, quality espresso beverages at the click of a button, with no need to understand extraction times, water temperatures, coffee-to-water ratios, or anything of the sort.
Gaggia's espresso machine is the first one on this list to include ceramic burrs instead of stainless steel. Since you want the machine to just work, this is a huge upgrade — ceramic burrs won't dull nearly as quickly as stainless steel burrs will.
You can use either pre-ground coffee or beans with this machine. With beans, it will automatically adjust the grind speed and time to account for the nuances of the particular beans. The hopper holds 8.8 ounces of beans and is tinted to keep the beans fresher longer.
The steam wand allows you to froth milk for lattes, and it also dispenses hot water for Americanos and other types of coffee drinks.
The biggest downside of this machine are really just the downsides of every super-automatic espresso maker. First, it doesn't handle oily beans particularly well. Then again, you really shouldn't be using those with any grind-and-brew coffee maker. Second, maintenance can be somewhat involved if you want the machine to stay consistent in the long term.
Best single-cup coffee maker with grinder: Breville Grind Control coffee maker
Breville excels at making quality espresso machines and coffee grinders, so I was excited when they decided to bring their expertise to bear on a grind-and-brew drip coffee maker, especially one that does both single-serve and full carafes.
The Grind Control can make 1-12 cups of coffee at a time, and it has eight brew strength settings and size grind size settings — making it one of the more customizable options on this list. The single-serve feature works with both regular mugs and travel mugs, and the 60-ounce water tank means that you'll be able to brew quite a few of them between refills.
Breville's coffee maker is fully programmable and the LCD screen is very easy to use. The hopper holds half a pound of coffee beans, and the brew basket uses a permanent coffee filter instead of single-use paper filters.
The biggest downside of this machine is that it requires some maintenance to keep it running properly. If not cleaned frequently, the grinder can deliver a decreased amount of grounds over time, impacting the quality of the brew. This is mainly a problem if you use oily coffee beans, which tend to cause problems for most grind-and-brew coffee makers.
The lip of the carafe is also poorly shaped, so it requires extra care not to spill when pouring. 
Krups Grind and Brew Auto-Start Maker with Builtin Burr Coffee Grinder
Krups has made one of the most customizable value grind-and-brew coffee makers on the market. They start with a burr grinder, which is always a nice find in this price range, and the permanent coffee filter is always a nice touch. They include all the usual programmable features you would expect in a mid-tier coffee machine, including auto-start and keep-warm. 
You can grind and brew anywhere from 2 to 10 cups of coffee at once with this machine. The brewer has mild, medium, and strong strength settings, and the grinder has five grind size settings. You can even control all of this from the intuitive LCD display. 
With all of that, I would have loved to put Krups' machine higher on the list, but there are some durability concerns that worry me. If properly cleaned and maintained it seems to be fine, and the issues are not frequent. If you want a coffee maker that will last for years, though, you should keep those issues in mind.
Capresso Coffee Team 10-Cup Digital Coffeemaker
Capresso has a couple of coffee grinder/maker combos that are deserving of mention, so I'll just refer to this one as the lower-tech option, but that doesn't mean it's lower quality.
The 465 has a conical burr grinder with a hopper that holds 6 ounces of coffee beans. The thermal carafe is large enough to make 10 cups of coffee, and you can brew as few as two cups if you want to. The machine comes with a permanent filter, so you won't have to worry about paper filters.
The grinder offers five different grind size settings and there are three brew strength settings, so you'll have a decent number of options for creating your ideal brew.
Capresso 488.05 Team Pro Plus Coffee Maker
This is the higher-tech Capresso option. It still has the conical burrs the 10-cup thermal carafe, and the permanent filter, but they tossed in some decent upgrades to the rest of the package.
First, they added a removal bean container, which now holds 7 ounces. Removable is a huge plus when it comes to cleaning, so that's a definite selling point. Second, the water reservoir is also removable. Again, that's great when it comes time to clean, and it also helps when you need a refill.
They also added in an oily bean setting, making Capresso one of the few companies that seem to be actively trying to fight the problems of oily beans in grind-and-brew coffee makers. Sadly, the grinder only has three coarseness settings, a step down from the five in the lower-tech model.
De'Longhi ESAM3300 Super Automatic Espresso machine
De'Longhi is a brand known for quality, and their super-automatic espresso machine is no exception. It's an incredibly durable machine that makes consistently amazing coffee. And that's only the beginning.
Even the best super-automatic espresso machines tend to suffer from a lack of customizability. This machine, on the other hand, lets you control the brew strength and pull-time. You can also choose between 13 different grind settings for the burr grinder, and all of that is in a very easy-to-use control panel.
The machine heats up quickly and has a double-boiler system to let you easily make back-to-back shots of espresso. The steam wand uses De'Longhi's patented cappuccino system design to let you make a perfect froth for all your espresso beverages.
The bean hopper is completely sealed inside the machine, so your beans will stay fresh for far longer than they would with most standard hoppers.
The biggest downsides are that the machine is a bit noisy and fairly expensive compared to other options on this list. 
Barsetto 10-Cup Drip Coffee Maker, Grind And Brew Automatic Coffee Machine
Another budget option, the Barsetto is fully programmable and includes a conical burr grinder, 10-cup brewing capacity, and 3-option brew strength control (mild, medium, strong). You can brew 2, 4, 6, 8, or 10 cups at once, and there are 8 coarseness settings on the grinder.
The machine only has a 35-minute keep-warm function which — coupled with the lack of a thermal carafe — means you should only be brewing as much as you'll drink right away.
Breville Maker Barista Touch Espresso Machine
If the Breville Barista Express just isn't enough espresso machine for you, the Barista Touch is everything you are looking for in a high-end grind-and-brew espresso machine.
It includes an intuitive touch screen to select all of your favorite drinks according to the grind, brew, and milk. You can adjust the coffee strength, milk texture, and temperature and even create as many as 8 personalized coffee presets.
Everything about this machine is made to offer a level of simplicity and reliably good espresso that you would usually only get with a super-automatic espresso machine — except that it's a semi-automatic espresso machine. This means its easier to maintain and offers more versatility than an automatic machine, giving you the chance to enjoy great espresso every time and still hone your barista skills.
Saeco PicoBaristo Super Automatic Espresso Machine
One more premium option, perfect for those that want fantastic espresso beverages made in the easiest possible way.
Saeco's machine can produce espresso, ristretto, cappuccino, flat white, and more — a total of 15 types of espresso drinks — at the click of a button. Grinding, brewing, and mixing are all handled without user intervention. You can even customize those drinks and create 6 user profiles worth of options.
Speaking of simplicity, the AquaClean filter greatly reduces the need to descale the machine. You can make as many as 5000 shots of espresso before having to worry about descaling. 
The PicoBaristo uses ceramic burr grinders, ensuring that they'll stay sharp for years to come without the need for replacement.
The best part is Saeco's removable brewing group, which simplifies cleaning and maintenance by giving you easy access to all the components that need upkeep.
Final Verdict
Whether you want espresso, a coffee carafe, or single-serve coffee, you can find a coffee with built-in grinder that matches your needs in this list. I've tried to offer options ranging from budget to high-end, with an emphasis on value.
What I haven't included, though, are products with blade grinders. I know some people like them for the price, but their coffee quality is abysmal and they are usually much harder to maintain. They're just not worth it.
There was a time when I just couldn't recommend a grind-and brew coffee maker because they were more hassle than they were worth, but those days are behind us. These latest models have taken the best coffee makers with grinders built-in and improved their build quality, ease-of-maintenace, and the quality of the coffee they produce. It's a golden age for coffee simplicity.
Once more, here is my short-list of the best grind-and-brew coffee makers.