Some like it hot, but others like it cold brew. Between the smooth, delicious flavor, the lower acidity, and the easy process of making it, cold brew coffee is everything a caffeine junkie could ever ask for. With the advent of nitro cold brew, this style of coffee has only risen to new levels of popularity.  
You could keep buying cold brew, but why not try to make your own cold brew at home? It's incredibly easy, and it's cheaper to get into than just about any other coffee brewing method. All you need is in the coming paragraphs, including the best coffees for cold brew and the process for turning them into a delicious drink. If you start now, you'll be chugging homemade cold brew in no time.
Quick Answer: Best Coffees for Cold Brew
What is Cold Brew?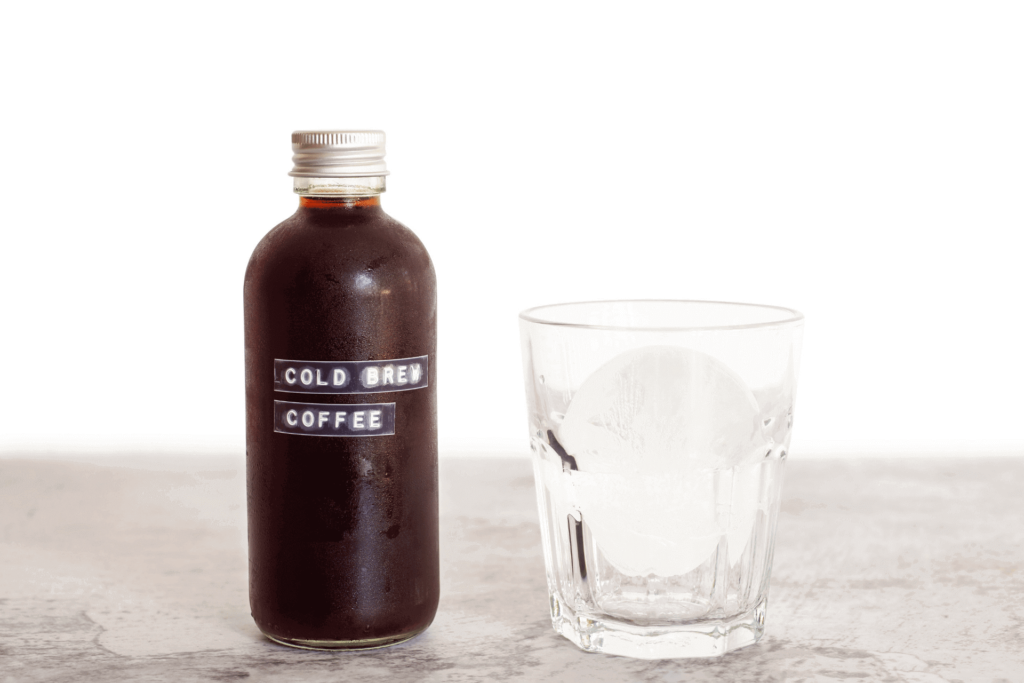 Cold brew is coffee that is brewed at or below room temperature. Other brewing methods use heated and sometimes pressurized water to quickly extract coffee grounds. Cold brewing allows the process to happen slowly, which has a huge impact on the final flavor profile of the drink.
At cold temperatures, the more floral and acidic notes are not as heavily extracted from the grounds. Because of this, cold brew tends to have more a more smooth, mellow flavor than regular coffee. This makes cold brew ideal for those that want a low acid coffee that is easier on the stomach.
Cold Brew vs Iced Coffee
Cold brew and iced coffee are two very different coffee drinks in terms of preparation method and flavor. Iced coffee is made by brewing coffee using standard hot brewing methods. The ice is not added until after brewing is complete. Iced coffee is usually made with a stronger brew than regular hot coffee to counteract the dilution from the ice.
What Equipment Do I Need to Make Cold Brew?
You can make cold brew in a regular pitcher or even a mason jar. Ideally, your container should have a lid to avoid excess oxygen negatively impacting the freshness of your coffee. But a really simple setup just requires some container that can hold water.
If you want things to be even easier, you can buy a cold brew coffee pitcher. The main advantage of using a cold brew pitcher is that it holds the grounds in a filter instead of having them mix with the water. That means you won't have to filter off the grounds before drinking your coffee. These pitchers are amongst the cheapest coffee makers you can buy, so I strongly recommend using one if you are a fan of cold brew.
What Makes Coffee Beans Good for Cold Brew?
When picking the best coffee beans for cold brew, there are a few factors to keep in mind. 
Grind size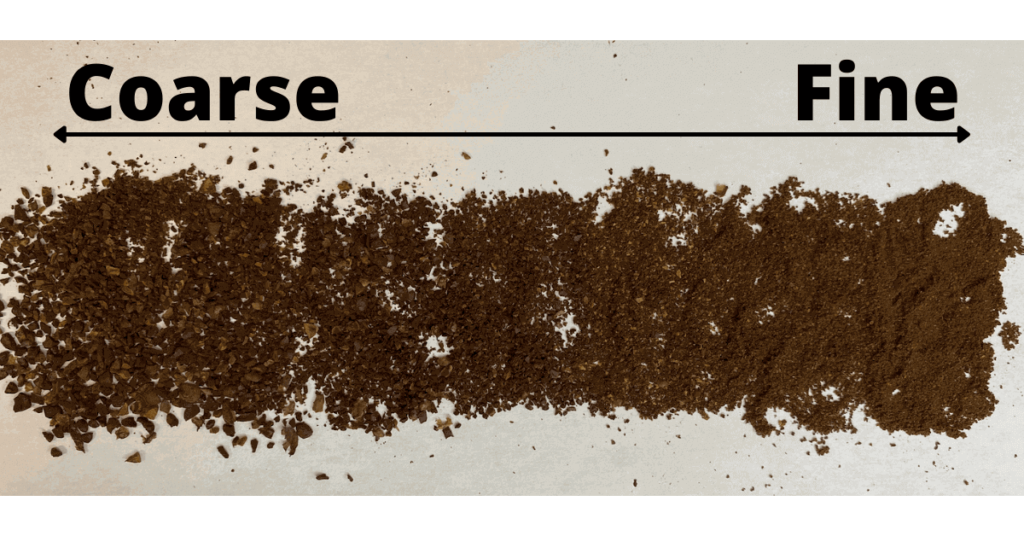 Grind size is very important for controlling the extraction of the coffee grounds. Too fine a grind, and you'll over-extract them, leading to bitter coffee. Too coarse a grind, and you'll under-extract, giving you a sour brew.
For cold brew, you should be using a coarse or extra-coarse grind. A coarse grind looks like coarse salt, and an extra-coarse grind looks like ground peppercorn. These are much larger particles than you would use for drip coffee.
Ideally, you should be grinding your own coffee beans for freshness. If you choose to buy pre-ground coffee, be aware that most pre-ground beans are sold as either a medium (for drip coffee) or a fine (for espresso) grind. You'll want to look for bags that specifically say coarse ground or say that they were ground for cold brew.
What About the Roast?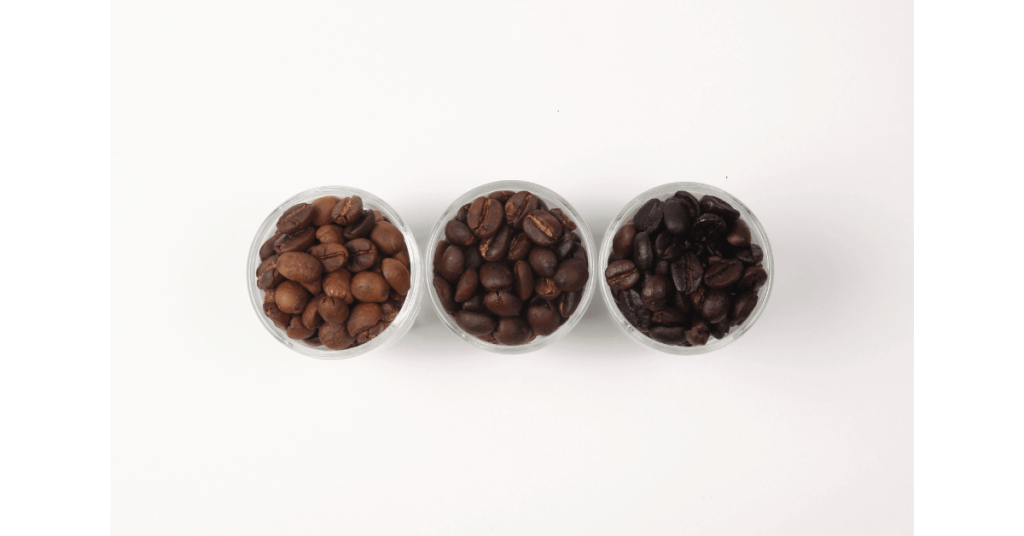 There's no right coffee roast for cold brew. You can use either light or dark roasts, and there are advantages to each.
Lighter roasts tend to be more acidic and sweet, which are the flavors that are less prominent in cold brew. For that reason, some cold brew drinkers like to use a light roast to strike a balance, with some acidity because of the roast but not too much acidity because of the brewing method.
Dark roasts provide richer flavors higher in chocolatey, nutty, or earthy notes. These flavors can readily be extracted during the cold brewing process, so darker roasts will tend to produce a more flavorful cold brew coffee without introducing any extra acidity.
Single-origin and blends
Single-origin beans tend to have more distinct flavors, making them an ideal choice for cold brew. If you want to sample coffees from around the world without worrying about the acidity levels, cold-brewed single-origin coffees are a great way to do it.
Blends are made to balance aspects like acidity and bitterness, which is just not as important for cold brew since those flavors are more muted by the brewing process. Blends do tend to be cheaper, though, so you may still opt to use them for cold brew if cost is a primary concern.
There are also some coffee blends designed specifically for cold brew. They still don't have the distinct flavors of a single-origin roast, but their flavor profile is much better for cold brew than a blend that was designed for drip coffee or espresso.
How to Make Cold Brew Coffee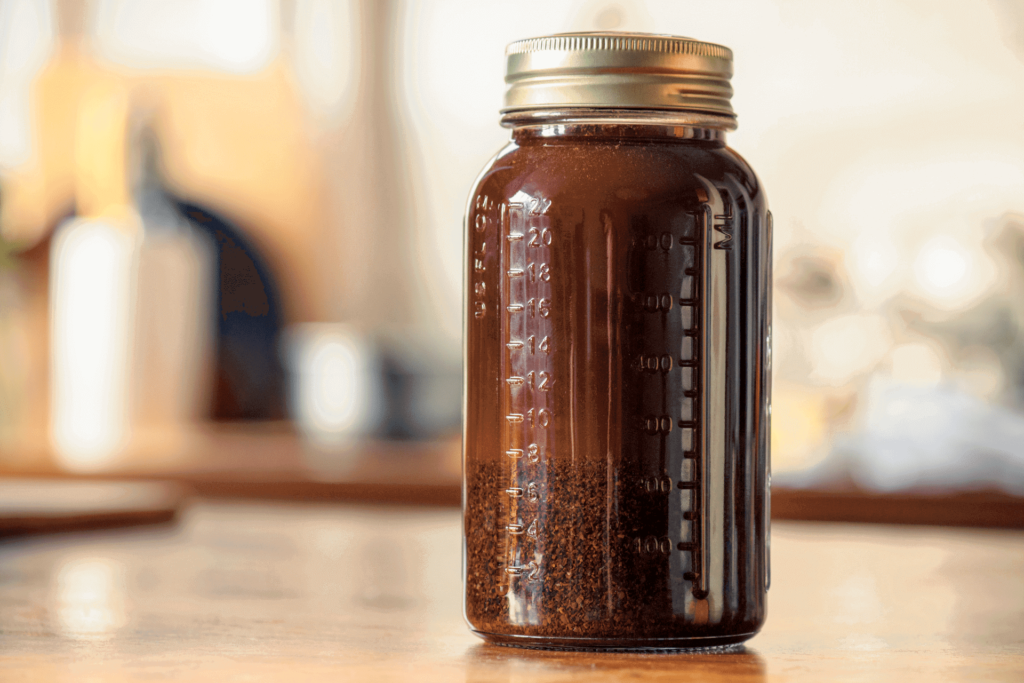 This process will work with any type of container that can hold the water and grounds. If you are using a cold-brew pitcher instead, you can still use this information to guide your cold brew ratios and the preparation of the grounds.
What you'll need
1.5 cups coffee beans or coarse-ground coffee. 
4 cups filtered water. You can use any water, but filtered water will provide the best coffee flavor without impurities and hard water impacting the taste.
More filtered water to dilute
A coffee grinder. Only if you are using whole bean coffee.
A sealed container. Ideally, use a container that can seal (like a mason jar) or at least has a cover, but any container that can hold water will do.
A coffee filter or cheesecloth.
This recipe uses a cold brew coffee-to-water ratio of 1:8. You can adjust the ratio if you prefer a stronger or weaker brew.
Step-by-step instructions
Grind your coffee beans. Use a coarse or extra-coarse setting on your coffee grinder. You want the grinds to be about the size of ground peppercorn. Use a burr grinder if you can, as they are better coffee grinders. If you only have a blade grinder, use short pulses (1 second each) until the texture looks correct. You can skip this step if you are using pre-ground beans. 
Combine the water and grounds. Add the coffee grounds to your brewing container and pour the water into the grounds. 
Stir the coffee. Take a long spoon and completely mix the water and grounds. Be sure to get any grounds that clump at the bottom of the container as you'll want the water to thoroughly soak them all.
Let the coffee brew. Cover or seal the container and leave it in your refrigerator for at least 24 hours. You can optionally brew it at room temperature instead, but it's best in the fridge.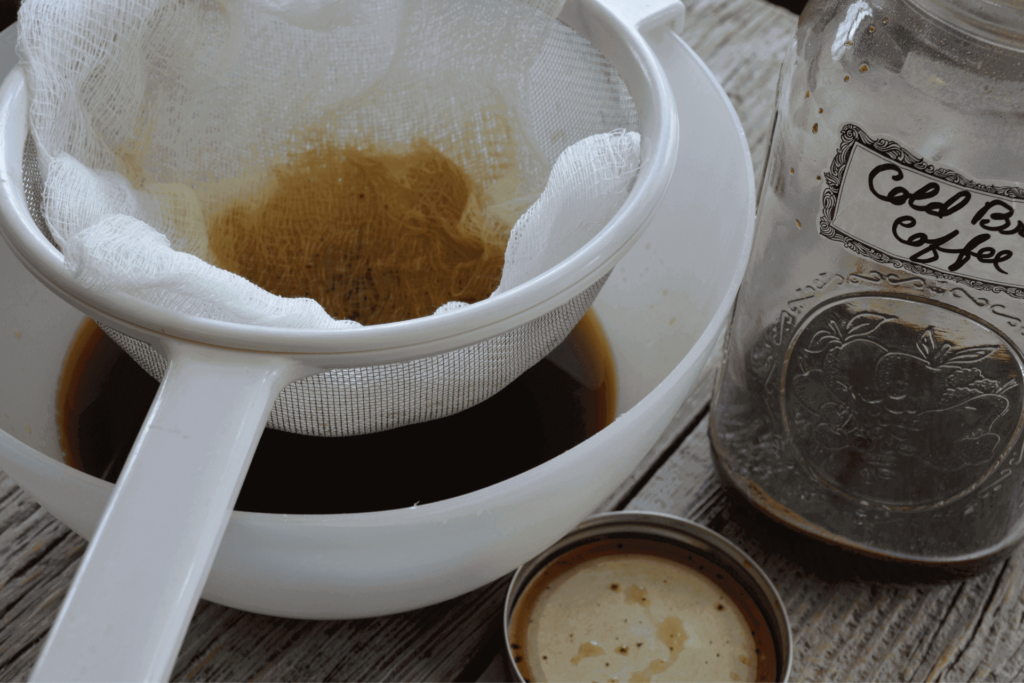 Strain away the grounds. Place the filter or cheesecloth at the top of a second container that you can pour the coffee into. It's best to clip the filter, hold it in place with a rubber band, or put it in a strainer basket to avoid it spilling or falling into the liquid. Pour the coffee slowly through the filter.
Dilute your coffee. Cold brew starts as a coffee concentrate so dilute it to your preferred strength using filtered water. Try a 50/50 concentrate-to-water ratio at first, but you can dilute it further if you like. 
Enjoy!
Best Cold Brew Coffee Beans
Best coffee for cold brew: Stone Street Coffee Cold Brew Reserve Colombian Supremo
These single-origin 100% Arabica Colombian coffee beans were specially selected and dark-roasted for extra boldness, making them an excellent option for cold brew. They're smooth, balanced, and slightly sweet, with notes of fruit, caramel, and chocolate. 
Stone Street ethically sources their beans from some of the best coffee farms in Colombia. They then use a small-batch roasting process to guarantee consistency and freshness. If you prefer pre-ground coffee, they also sell their beans coarse ground. 
Best cold brew coffee blend: Volcanica Cold brew coffee
Volcanica is known for their premium single-quality coffees, but they also dabble in blends. For this 100% Arabica blend, they take bold Sumatran coffee beans and mix them with low-acid beans. The result is medium-roasted and has sweet, chocolate, and nutty flavor notes.
Volcanica also sells their cold brew blend as coarse-ground coffee.
Best Decaf cold brew beans: Kicking Horse Coffee Swiss water decaf coffee
It's hard to make good decaf cold brew because most decaffeination processes take far too much flavor from the beans. The only good answer is the Swiss water process, a method of removing caffeine that is both environmentally friendly and a lot better at preserving the natural flavors of the coffee bean. 
Kicking Horse starts with USDA organic, Fair Trade-certified beans, decaffeinates them by the Swiss water process, and dark roasts them to perfection. The roast has an aroma that is chocolate and nutty, tasting notes of roasted hazelnuts, a balanced body, and a long finish. It is one of the few decaf blends that is bold enough for cold brew.
Best cold brew light roast: Real Good Coffee Company Breakfast Blend
The name of this company always reminds me of Ron Swanson's company from the last season of Parks and Rec, but I think this coffee would be too fancy for Ron's taste.
Real Good Coffee has a few different roasts that are great for cold brew, but their light roast is particularly noteworthy. It's made with 100% Arabica beans and has a citrusy taste with smooth aromatic notes including milk chocolate and cream.
Best ground coffee for cold brew: Cold Buzz Coffee Hazelnut Cold Brew bags
Cold Buzz aims to make cold brew coffee even easier. Instead of loose ground coffee, they sell what look to be tea bags — but are actually single-use coffee packs. Their bags are even easier to use than a cold brew pitcher. You won't need to measure or filter the grounds. Instead, just drop in the bag. 
They use 100% Arabica beans sourced from across the world. If you like flavored coffees, their dark-roasted hazelnut coffee is a great option to start with, but they do have a variety of other flavored and unflavored options to choose from. I still prefer the freshness of whole beans, but Cold Buzz is hard to beat for convenience.
Best coffee brand for cold brew: Cold Brew Lab organic Colombian Supremo
It takes single-minded devotion to cold brew to put it right in your company's name. Cold Brew Lab focuses only on cold brew, and the result is a line of quality blends that are all delicious. Along with their regular whole bean option, you can buy it coarsely ground or flavored with mocha, coconut, hazelnut, pumpkin spice, or Tahitian vanilla. 
Their beans are USDA-Certified organic, and they use only specialty-grade, 100% Arabica Colombian Supremo. Their proprietary blend includes both medium-roasted and dark-roasted beans, resulting in a smooth, balanced, and bold brew.
Coffee Bros. Cold Brew Blend
Coffee Bros. is one of the newer premium coffee roasters on this list, having only launched in 2019. Their cold brew blend uses a mix of Brazilian coffee beans and Ethiopian coffee beans.
This blend is a medium roast in small batches and shipped fresh. It's made to be sweet and smooth, and it has rich notes of nuts, cocoa, berry, and brown sugar.
Tiny Footprint Coffee Organic Cold Brew
Tiny Footprint is a company that balances quality coffee with environmentally-conscious practices. They aim to be carbon negative in their practices by growing trees to offset the carbon cost of their coffee growth and production.
They use sustainably-grown Arabica beans from around the world, all of which are shade-grown and organic — and most of which are Fair Trade, Rainforest Alliance certified, and grown on small farms.
Tiny Footprint's cold brew blend is sweet and rich, with bright fruit and floral notes and a heavy body. It uses a mix of light and dark roasts, including some Ethiopian coffee beans.
Cafe Du Monde coffee and chicory
Cafe Du Monde's coffee is probably best known for being used as a substitute for Vietnamese coffee brands in American-made Vietnamese iced coffee. However, unlike regular Vietnamese coffee, it has very little bitterness. The smoothness and lack of bitterness make it a great option for cold brew.
If you like very bold flavors in your cold brew, Cafe Du Monde is probably not the best option. Their use of chicory does alter the flavor of the brew, diluting some of the caffeine content and intensity of the coffee itself. But if you like your cold brew to be flavorful yet mellow, that's exactly what you'll get with their coffee grounds.
Metropolis Coffee Company Cold Brew Blend
Metropolis roasts their coffee to order, ensuring that every batch is maximally fresh. Their cold brew blend is dark roasted and has a sweet, chocolatey flavor with a roasty, smooth finish. 
Death Wish Coffee
Death Wish's claim to fame is that they are one of the strongest coffees in the world. Unlike some of the other high-caffeine coffees, though, they do so with a flavor that is bold without being bitter. These characteristics make Death Wish an excellent espresso coffee bean, and they are also perfect for cold brew. 
Their coffee is dark-roasted and has notes of cherry and chocolate. It's USDA-certified organic and Fair Trade. They use a mixture of Robusta and Arabica beans that are small-batch roasted for freshness and consistency. Everything about their process is designed to make their coffee bold, smooth, and heavily caffeinated.
Koffee Kult Coffee Beans
Koffee Kult's dark roast is designed to be aromatic and flavorful, with notes of cocoa and cinnamon, a smooth flavor, heavy body, and a long finish. They use quality beans from Brazil, Colombia, and Sumatra that combine to provide a very bold blend — ideal for those that don't want their cold brew to be bland.
Olde Brooklyn Coffee French Roast
French roasts are darker than a typical dark roast, so fans of dark-roast cold brew should definitely try a quality French roast like Olde Brooklyn. They use 100% Arabica beans, and this blend has a sweet, smoky aroma that is absolutely delicious.
Verena Street Shot Tower Espresso
This is another blend that is made for espresso but has characteristics that also work well for cold brew. They fresh roast their coffee in small batches to ensure consistency and freshness. Their Shot Tower blend is creamy and sweet, with a rich body. 
Kicking Horse Coffee Smart Ass
Kicking Horse uses a blend of 100% Arabica coffee beans from Africa and Central and South America. Their coffee is USDA organic, Fair Trade certified, and shade-grown.
They medium-roast this blend to bring out notes of red currant, sugar cane, and milk chocolate.  The aroma is sweet with hints of syrup, vanilla bean, and stone fruit.
Java Planet Organic Guatemalan Single-Origin Coffee
Java Planet is one of the most sustainability-focused coffee brands I've ever seen. Not only are their beans USDA organic and Fair Trade, but they are also the only certified Bird Friendly coffee on this list. 
Their Guatemalan coffee beans are single-origin, ethically sourced, and 100% Arabica. They medium-roast them in small batches to perfect the flavor and freshness. The result has tones of caramel, fruit, and chocolate and a creamy body that makes for an amazing cold brew.
Hugo Coffee Ground Dog Daze cold brew coffee
Dog Daze is strong, bold, rich, and smooth. It's coarse-ground for cold brew, and it has tasting notes of chocolate, nut, and spice that are simply delicious. 
One of the coolest things about Hugo Coffee is that every bag of coffee they sell supports dog rescue organizations. They're one of the more unique cause-focused roasters, perfect for animal lovers.
Intelligentsia Frequency Blend coffee
Intelligentsia was a huge influence early in my premium coffee journey, so this blog might not exist without them.
Although their Black Cat espresso is my usual recommendation, their Frequency Blend is the one you want for cold brew. Its chocolatey and molasses flavor profile is great for standalone cold brew — but it really shines when you add a bit of milk.
Stumptown Coffee Roasters Hair Bender
Hair Bender is a blend of Indonesian, East African, and Central and South American coffee beans. It has notes of citrus, milk chocolate, and caramel and a complex overall flavor.
Stumptown is a certified B Corporation, meaning that they are focused on improving environmental impact in their supply chains and the community. But they don't skimp on quality in their quest for sustainability.
Bizzy Organic Cold Brew Coffee
Bizzy is another company that is entirely focused on cold brew. Their smooth and sweet blend uses USDA organic beans that are ethically sourced from Nicaragua, Peru, and Guatemala. The beans are coarse ground, so you can use them without the need for a grinder. They are medium-roasted, with notes of caramel and hazelnut.
Bizzy also sells cold brew concentrates if you'd rather skip the brewing process altogether.
Frequently Asked Questions
The Cold Tasty Verdict
You don't need a heat wave to enjoy a cold brew — not when they are this delicious. With these great options fo cold brew beans, you can easily enjoy the drink at home all year-round.
Cold brew isn't the only way to improve your coffee lover lifestyle, but it is one of the most cost effective and easiest. I still recommend that caffeine junkies get an automatic pour-over coffee maker or a quality espresso machine eventually, but cold brew is something that you can easily add to your daily routine at any budget and probably even without buying new equipment. That's a hard offer to beat.