This post may contain affiliate links. Please read my disclosure for more info.
---
Nitro cold brew is one of the biggest trends in coffee today, but what is it and where did it come from? More importantly, what kind of machine do you need to make it?
If you're ready to learn how to make nitro cold brew at home, here's your chance. It's easy, it's fun, and the result is a flavorful caffeine boost that your friends are sure to envy.
Cold Brew vs Nitro Cold Brew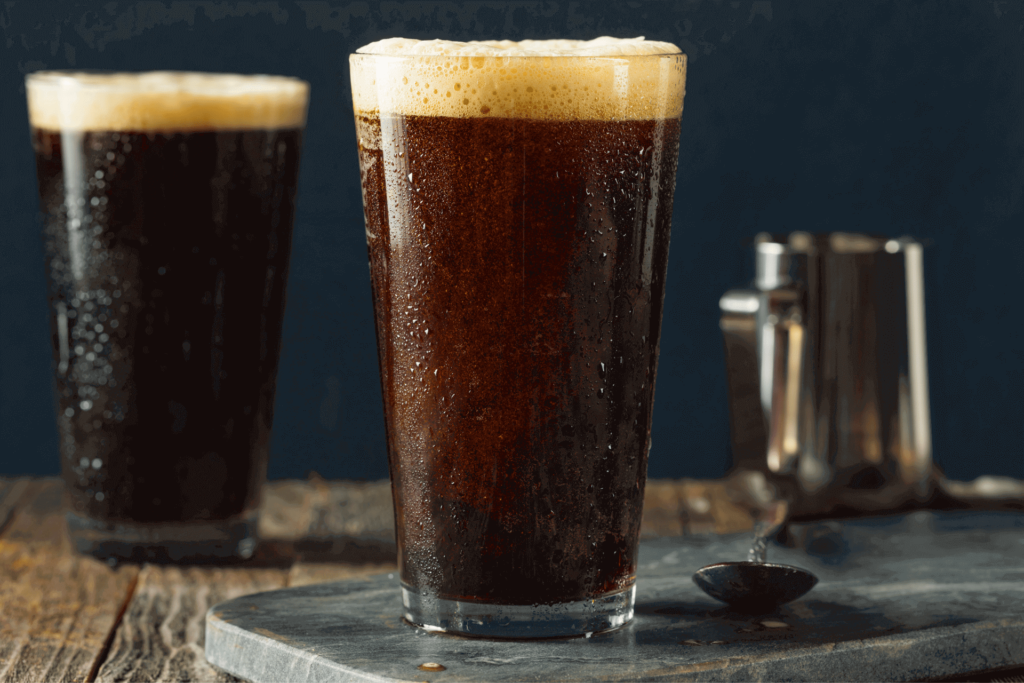 Nitro cold brew is cold brew coffee that is infused with nitrogen, giving it a bubbly texture similar to that of a Guinness beer and a thick layer of foam on top. The bubbles give the brew a velvety thickness and a slightly sweet flavor — even though no sugar is added.
Just like regular cold brew, nitro coffee is made by brewing the coffee slowly at a low temperature. The difference between cold brew and nitro cold brew doesn't happen until after the brewing process is complete.
Nitro Cold Brew Origin
This isn't going to be a long story since nitro cold brew has only been around since 2013. You can trace nitro coffee's origin story to a cafe in Austin, Texas called Cuvée Coffee. Cuvée, although Portland, Oregon's Stumptown Coffee Roasters quickly built on the idea. 
By 2015, Cuvée and Stumptown were both selling canned nitro cold brew in pressurized cans with nitrogen discs. Starbucks jumped on the trend in 2016 with the release of a nitro cold brew beverage in 500 of their stores.
From there, Dunkin Donuts, Tim Hortons, Coffee Bean & Tea Leaf, and several other chains — as well as numerous local cafes — have introduced nitro coffee menu items. The real fun, though, is in making your own nitro cold brew at home.
How to Make Nitro Cold Brew at Home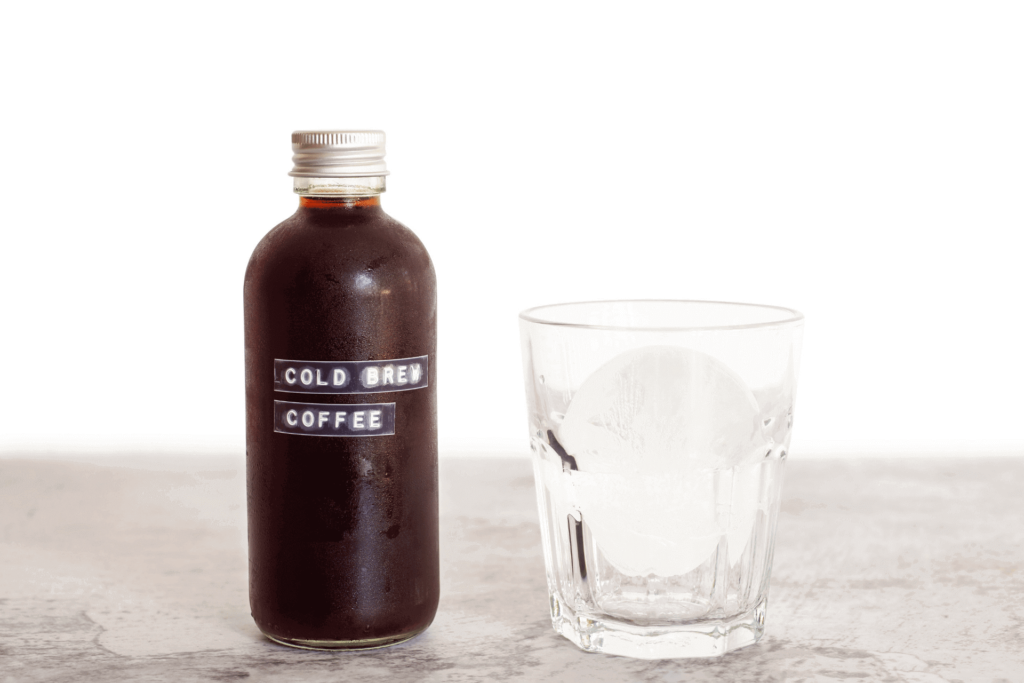 Making nitro cold brew is a two-stage process. If you already know how to make cold brew, you can skip the first stage since it's identical to the normal cold brewing method.
Make Cold Brew Coffee
You really have three options here. Here they are, ordered from easiest to hardest.
Use a cold brew pitcher
Build-your-own cold brew setup
Here, I'll be walking you through that last option.
What you'll need
1.5 cups coffee beans (or coarse ground coffee). You can buy coarsely ground coffee, but I recommend grinding your own coffee beans for maximum freshness.
4 cups filtered water. You can use any water, but the flavor will be best if you remove impurities and especially hard mineral content.
More filtered water to dilute.
A coffee grinder. Skip this one if you are using pre-ground coffee.
A sealed container. This needs to be big enough to hold the grounds and water. Something with a tight seal (like a mason jar) is best to avoid excess oxygen impacting the freshness of your coffee.
A coffee filter or cheesecloth.
This recipe is based on a 1:8 coffee-to-water ratio, but you can adjust the proportions to match your specific taste.
Making cold brew coffee, step-by-step
Grind the coffee beans. If you are using whole beans, grind them on a coarse or extra-coarse setting. The result should be the size of ground peppercorn. I don't recommend a blade grinder, but if you have to use one you should apply short pulses (about 1 second each) until the appropriate texture is achieved. 
Combine the ingredients. Transfer the coffee grounds to your brewing container and pour the water over the top of the grounds.
Stir the mixture. Use a long spoon to thoroughly mix the grounds and water, making sure to dig up any grounds that have stuck to the bottom of the container. You want all of the ground coffee to be thoroughly saturated with water.
Let it brew. Seal the container and let it sit for at least 24 hours in the refrigerator. You can also brew it on the countertop if you want to, but I find the colder temperature improves the result.
Strain the coffee. Take the coffee filter or cheesecloth and place it on top of a container that you can pour the coffee into. You may need to use clips or a rubber band to hold the filter in place. Slowly pour the coffee through the filter.
Dilute the brew. Cold brewing creates a coffee concentrate, so you'll want to dilute the coffee to your preferred strength with filtered water. I'd start off with 50/50 concentrate-to-water, but you may want to dilute further if the coffee is still too strong.
Drink it or move to the nitro phase. You can drink this result as-is or store it for up to a week in the fridge. But we are here to make nitro cold brew, so let's move to the next phase of the process.
Infuse the Coffee With Nitrogen
This is the phase that turns your plain, boring cold brew into nitro cold brew. You won't be able to do this without some kind of equipment (blowing bubbles in your coffee will not work), but there are a couple of different options available.
Using a whipped cream dispenser
A whipped cream dispenser is the cheaper option, but most of them come with nitrous oxide (N2O) cartridges instead of nitrogen. You can use the nitrous, but its larger bubbles won't give you as creamy a final brew. Nitrogen (N2) cartridges are available for these dispensers, but they are slightly more expensive.
I recommend trying this out when you are first getting started, but you'll probably want to upgrade to a mini-keg when you really get into the craft.
Fill the dispenser. Add about 1 cup of the diluted cold brew coffee to your whipped cream dispenser.
Charge it up. Charge the dispenser with 1 shot of nitrogen (or nitrous oxide) and shake it for 30 seconds.
Pour the nitro. Pull the trigger to discharge the gas and pour the nitro cold brew into a glass. You can serve it over ice and add any additional cream, sugar, etc. at this point.
Drink it up. Enjoy your homemade nitro. You've earned it.
Using a mini-keg
Mini kegs are the simplest way to make cold brew. They make more cold brew at once, are easier to use, and allow you to store the nitro brew directly in the keg until you are ready to serve it.
If you want to make enough nitro cold brew for guests — or keep it to drink throughout the week — a mini keg is far more practical than a whipped cream dispenser. The only real disadvantage is the price, which typically runs about $100-300.
Best Nitro Cold Brew Coffee Makers
Since there are several nitro kegs on the market, here are a few of my top-recommended options.
Best nitro cold brew coffee maker: Royal Brew nitro cold brew coffee maker
Royal Brew's keg has a slick style that looks good in any home coffee setup. It's available in both stainless steel and matte black. The default size is 64 ounces, but they also offer a 128-ounce keg that is perfect for anyone that needs a bit more cold brew than a standard keg will serve.
Their kegs are made of quality food-grade stainless steel, and they are very easy to install and use. Just fill the keg half to three-quarters full, add a nitrogen capsule, and wait an hour for the bubbles to form.
They top the whole thing off with a lifetime warranty and excellent customer service, making this purchase an even safer bet, especially compared to the many low-quality nitro kegs on the market.
Best all-in-one cold brew coffee maker: GrowlerWerks uKeg nitro cold brew coffee maker
GrowlerWerks has solved one of the biggest issues with nitro kegs: the coffee gets warm too fast. With the uKeg's double-wall insulation, your cold brew will stay cold for several hours — plenty of time for even the slowest group of nitro junkies to get their fill. 
This is actually an all-in-one cold brew system, so you can brew and serve your coffee all in the same container. You could also brew your coffee separately and just use the uKeg as, well, a keg. 
They also tackled the clogging issue that can frustrate owners of other such systems. Their double filtration system virtually eliminates the chance of any clogs occurring, which is really a load off when you just want quality cold brew without the hassle.
The uKeg holds 50 ounces of cold brew, and it uses a proprietary pressure relief valve to prevent oxidation and guarantee the freshness of the nitro for weeks of storage time. 
Best budget nitro cold brew keg: HB Brewing nitro cold brew coffee maker
The HB Brewing nitro maker holds 64 ounces of cold brew and comes in three different colors: stainless steel, white, and black.
This system is easy to assemble and use, and it's made from premium quality stainless steel. It's a pretty simple system, but it dispenses great nitro with no complications — and what more do you need?
My Morning Brew nitro cold brew coffee maker
Available in black and stainless steel, the My Morning Brew nitro keg is another quality, convenient option for nitro cold brew. It holds 64 ounces, which is the typical size for most of these kegs.  The system even comes with a full money-back guarantee.
NutriChef nitro cold brew coffee maker
One last option, the NutriChef has a 64-ounce capacity and a pressure valve to ensure the freshness of your coffee. As with most of the options in this list, it's made of quality stainless steel and is easy to set up and use.
Cold Brew Is Better at Home
Coffee shop nitro cold brew is delicious, but it's missing that sense of accomplishment that you get from brewing your own. You are a coffee connoisseur, and you want to be able to tweak your way to the perfect nitro cold brew. So go on, play around with your brew — Make nitro cold brew with Ethiopian coffee beans or Costa Rican coffee.
You also want to share that cold brew experience with your friends — and maybe show off a bit in the process. Coffee is a great conversation piece, especially when it comes in a keg.
If you're like me, you probably also want to save a few bucks. You can make your own nitro cold brew at home, use much higher quality coffee than Starbucks, and still lower the cost of each cup of coffee. There really is no downside to starting your homemade nitro experience.