There are dozens of brands that claim to make the world's strongest coffee, but there can be only one highest caffeine coffee in the world. It took a lot of searching, reading more than a few lab tests along the way, but here it is: The list of the most caffeinated coffees you can buy online today.
Grab your mug and ready yourself, because there's enough octane in these results to power an army of coffee guzzlers and a battalion of espresso drinkers. Or you could just keep it all for your own consumption, I guess.
Quick Answer: Highest Caffeine Coffees
How Much Caffeine Is in Coffee?
A typical cup of coffee has about 95 mg of caffeine, but the actual caffeine content can vary significantly depending on the roast level, the brewing method used, the type of coffee bean, and the coffee-to-water ratio used in the brewing process.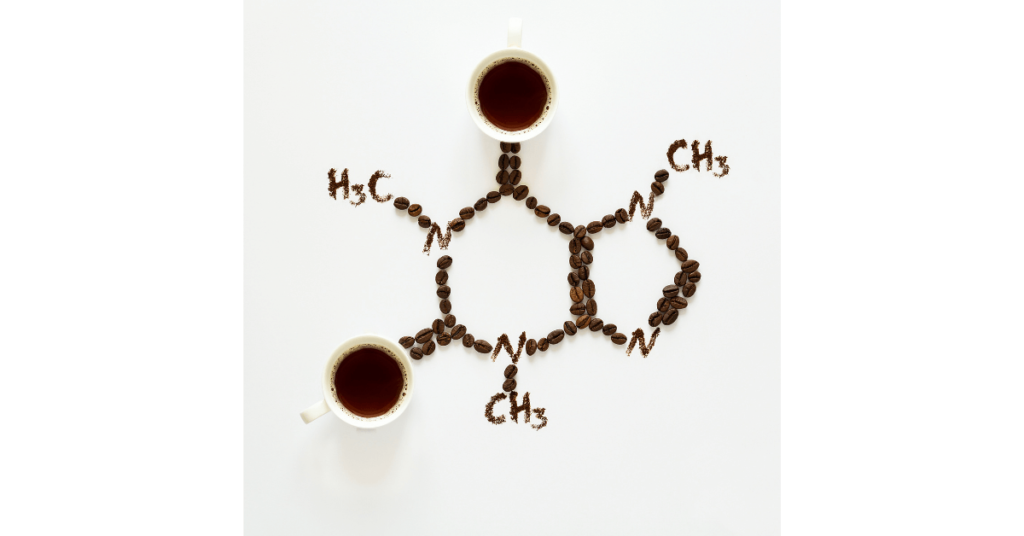 How much caffeine is in espresso?
There's a common misconception that espresso-based coffee beverages have more caffeine than the types of coffee drinks made with regular drip coffee. A 1-ounce shot of espresso has about 65 mg of caffeine. Ounce-for-ounce, that's more caffeine than drip coffee, but drinks like lattes and cappuccinos tend to be diluted with enough water, milk, and other ingredients that they have less caffeine overall than drip coffee.
Of course, that's assuming that you are diluting the espresso with something non-caffeinated. Some of the most caffeinated coffee drinks involve diluting espresso with coffee. If you want to up your caffeine intake without resorting to high-caffeine coffee beans, you should give red-eye coffee and its variants a try.
Caffeine Content: Arabica vs Robusta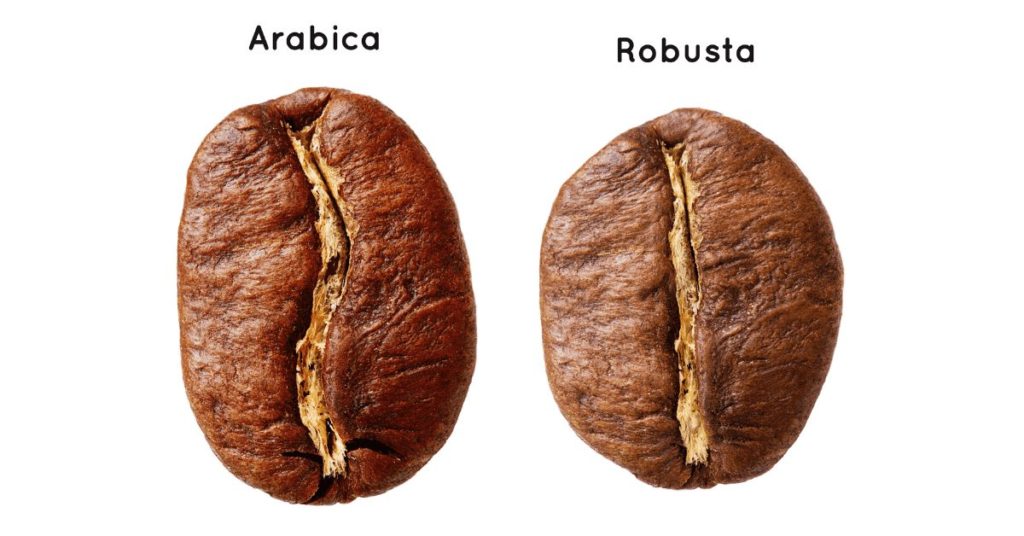 Not all coffee beans are created equal. Most coffee drinkers prefer Arabica coffee beans because they exhibit sweet, fruity flavors that can be quite complex. Robusta beans, on the other hand, are frequently used only used in espresso blends, instant coffee, and cheap coffee blends. They cost less to produce than Arabica and contribute to a richer crema (the layer of foam on top of espresso), but they taste much more bitter than Arabica. 
For caffeine junkies, there is a big reason to consider introducing more Robusta into your coffee mix: They often contain 2-3 times as much caffeine as Arabica. That's why you'll see so many of them featured in these high-caffeine coffee blends. It's also a good reason to check out Vietnamese coffee brands, as Vietnam grows 40 percent of the world's Robusta beans.
How Much Caffeine Is Too Much?
The US Food and Drug Administration (FDA) recommends no more than 400 mg of caffeine per day for an adult. That's about four cups of standard coffee of six shots of espresso.
Keep that number in mind as we look at some of these high-caffeine coffees. Some people are less sensitive to caffeine than others, but unless your caffeine sensitivity is very low you should be careful trying the highest caffeine coffee beans on this list.
Highest Caffeine Coffees
Highest caffeine coffee: Devil Mountain Coffee Black Label
Caffeine per 8-ounce cup: 1035 mg
With about 10 times as much caffeine as a typical cup of coffee, Devil Mountain is just a ridiculously concentrated source of caffeine. Just one cup provides over twice as much caffeine as the recommended daily maximum. Unless you have an incredibly high tolerance to caffeine, I'd suggest something further down on the list.
With the warnings out of the way, here's the upside of this dark roast. Black Label uses USDA-certified organic beans that are high-altitude grown for quality. The high caffeine content is coupled with a rich aroma, heavy body, and a strong flavor that is smooth and not bitter.
Black Label is also available as a medium-ground coffee, a coarse ground coffee for cold brew, and the strongest k-cup coffee you can buy. I do recommend the whole bean, though. Ground coffee will never deliver the freshness that you get by grinding your own coffee beans.
Black Insomnia Coffee
Caffeine per 8-ounce cup: 737 mg
Black Insomnia is made with specially selected Arabica and Robusta beans from regions that grow the highest-caffeine coffee beans. They barrel-roast their coffee in small batches for extended periods to further enhance the caffeine content. 
The final product is a dark roast coffee that has caramel, macadamia, and hazelnut aromas and a rich, dark chocolate flavor.
Highest-caffeine single-origin coffee: Cannonball Coffee Maximum Charge
Caffeine per 8-ounce cup: 734 mg
Cannonball uses 100% AAA-rated single-origin Robusta beans that are sustainably sourced from Northern Rwandan coffee farms. They are also the first light roast on our list, really allowing them to take advantage of the benefits of single-origin beans, evoking the unique flavors and avoiding the bitterness of a dark roast. 
The use of Robusta beans provides a thick body and rich crema to this brew. The flavor profile has notes of dark chocolate, toasted malts, and sweet caramel. 
Biohazard Coffee
Caffeine per 8-ounce cup: 619 mg
Biohazard uses single-origin Robusta beans to beef up their caffeine content to 50 percent higher than the FDA recommended maximum — and that's in just a single cup of coffee. And they manage to do it without the bitterness that plagues most Robusta coffees. 
Player One Coffee Insomniac
Caffeine per 8-ounce cup: Six times as much as regular coffee
Player One has the first Colombian coffee beans on our list, hand-selected from the highest-caffeine beans across three regions. They use a slow-roasting process to further enhance the caffeine content, resulting in a citrusy brew with rich acidity and a clean, sweet aftertaste.
Best high-caffeine coffee: Death Wish Coffee
Caffeine per 8-ounce cup: 485 mg
If you've heard of only one high-caffeine coffee, it's probably Death Wish. Through a combination of great marketing and an excellent product, they've dominated this space for years now.
They use USDA-certified organic and Fair Trade-certified Arabica and Robusta beans. Their beans are roasted dark in small batches for quality, consistency, and freshness. The final result has a bold flavor, notes of cherry and chocolate, and a heavy dose of caffeine.
Red Goat Coffee
Caffeine per 8-ounce cup: 468 mg
For five generations, Red Goat has been collecting beans from around the world to perfect their recipe for high-caffeine coffee. The result is a smooth, bold brew that you can get in whole bean, ground coffee, or Keurig pods.
Coffee Sin performance coffee
Caffeine per 8-ounce cup: 464 mg
Coffee Sin uses a mixture of specialty-grade Arabica and Robusta beans. Their blend includes coffee beans from Ethiopia, Brazil, India, and Colombia, and Sumatra. The high caffeine content comes both from the choice of beans and their roasting process.
Their coffee has a full body, and a very strong flavor and aroma that is rich, with notes of chocolate. 
Sons of Amazon
Caffeine per 8-ounce cup: 440 mg
No, not that Amazon. The name comes from their use of beans sourced from the Amazon rainforest. These beans are Rainforest Alliance certified, sourced with a focus on helping farmers and sustaining the environment. 
Gunpowder Coffee
Caffeine per 8-ounce cup: 429 mg
Gunpowder is the last of our 400+ mg caffeine picks. They source their beans from across South American and sell their smooth and flavorful coffee in resealable bags to maintain freshness.
Fire Department Coffee
Caffeine per 8-ounce cup: 333 mg
Fire Department Coffee is owned by veterans and run by firefighters. They donate 10 percent of their profits to support the health and safety of first responders and firefighters.
They use Honduran coffee beans to create their high-caffeine blend. It's the first coffee on this list that you can drink a full cup of without passing the FDA's recommended daily caffeine intake.
Banned Coffee
Caffeine per 8-ounce cup: 316 mg
Banned Coffee uses a blend of organic Arabica and Robusta coffee beans to achieve a balance of flavor and strength. They include Guatemalan, Colombian, and Sumatran coffee beans in the mix, providing a rich, full-bodied coffee. It's bold, smooth, low in acidity, and has notes of berries and chocolate.
They include k-cup, whole bean, and ground coffee options, but they are also one of the only brands to create a high-caffeine flavored coffee — if you happen to like pumpkin spice.
Bones Coffee High Voltage
Caffeine per 8-ounce cup: Twice as much as regular coffee
We're getting to the bottom of the caffeine barrel here. All of the coffees from this point on are double-caffeinated, which makes them good intro options if you want to feel out your caffeine tolerance or your love of stronger coffees without jumping right into the deep end.
Bones Coffee ethically sources their beans and artisan roasts them in small batches for freshness and consistency. Their High Voltage coffee is made from a blend of Robusta and Arabica beans, providing a bold, strong, full-bodied brew.
Black Rifle Coffee CAF
Caffeine per 8-ounce cup: Twice as much as regular coffee
Black Rifle Coffee is a veteran-owned company that uses 100% Colombian Excelso beans in their high-caffeine CAF blend. It's medium-roasted in small batches for freshness, and the result is a coffee with a rich, smoky flavor.
Guru Coffee Company high caffeine coffee
Caffeine per 8-ounce cup: Twice as much as regular coffee
Guru uses slow-roasts and small batches with their beans — all specially selected for their caffeine content. This process creates a medium roast coffee with a medium body that has a bold, smooth, rounded flavor.
Raven's Brew Coffee Double Dead
Caffeine per 8-ounce cup: Twice as much as regular coffee
The Double Dead dark roast has flavor notes of bittersweet chocolate and toasted nuts along with a rich, heavy body. They use shade-grown and naturally-processed beans, with sustainable sourcing practices that benefit small family farms.
Higher and Higher Caffeine
The strongest coffees on the market pack enough caffeine into their beans to make just about any caffeine junkie happy. The battle the create the best high-caffeine coffee is always evolving, so I'm sure I'll have to update this list soon.  Until then, I do urge you to use caution as some of these coffees easily exceed the recommended daily caffeine intake.
Looking for other sources of caffeine? Try out some of Starbucks' strongest coffees, especially their clover brews if you can find them. You can also get your own espresso machine to start making red-eyes and other caffeine-heavy espresso drinks. Or for a cheaper option, maybe try the coffee concentrates that come from AeroPress espresso or nitro cold brew.