You don't need a giant commercial coffee grinder to level up your brewing game.  As long as you know which grinders to avoid (I'm looking at you, blade grinders!), you can get ground beans worthy of any coffee snob at a reasonable price and in a small grinder that will fit any home.
Pre-ground coffee is terrible, and you shouldn't have to deal with it at home or on the road. The smallest coffee grinder can let you enjoy fresher coffee anywhere, anytime.
If you want to skip right to the good stuff, here's a shortlist of the best small coffee grinders.
| | Image | Product | |
| --- | --- | --- | --- |
| Smallest coffee grinder | | 1Zpresso Q2 Manual Coffee Grinder Mini Slim Travel Sized Fits in the plunger of AeroPress, Assembly Stainless Steel Conical Burr, Numerical Internal Adjustable Setting Coarse for Filter, Capacity 20g | Check price |
| Best small countertop grinder | | Baratza Encore Conical Burr Coffee Grinder (Black) | Check price |
| Best tiny budget grinder | | JavaPresse Manual Coffee Bean Grinder with Adjustable Settings - Patented Conical Burr Grinder for Coffee Beans, Stainless Steel Burr Coffee Grinder for Aeropress, Drip Coffee, Espresso, French Press | Check price |
| Best electric travel grinder | | Brim Electric Handheld Burr Coffee Grinder, Simple One-Touch Operation, 9 Precise Grind Settings from Espresso to French Press, Removable 30g Ground Container for Easy Clean Up, Stainless Steel/Black | Check price |
| Best high-end grinder | | Baratza Vario Flat Burr Coffee Grinder | Check price |
| Cheapest small burr grinder | | KONA Manual Coffee Grinder, Conical Burr Mill with Adjustable Setting, Best Ceramic Burr Coffee Grinder for Aeropress, Drip Coffee, Espresso, French Press, Turkish Brew | Check price |
Why Do You Need a Coffee Grinder?
Many people live their entire lives buying just ground coffee, never worrying about having to how to grind coffee beans. I was one of those people for a long time, and I'm here to tell you that they are missing out on the freshest, most delicious coffee.
Coffee beans go stale very quickly after they are ground. You can use storage solutions to keep coffee grounds fresh for a short time, but none of these options will completely preserve the flavor of freshly ground coffee. 
Different coffee makers rely on different sizes of coffee grounds. Most grounds you buy in the store are the right size for drip coffee makers, so they will not work well in a French press, cold brew pitcher, or espresso machine. Grinding your own beans allows you to ensure that you have the right grind size for every occasion.
Why Buy a Small Coffee Grinder?
Many of the best coffee grinders take up as much counter space as the coffee maker itself! If your apartment is as small as mine, that presents a problem. A small grinder can be tucked away on the corner of the counter. The smallest coffee grinders can even be stored in a drawer until you are ready to use them.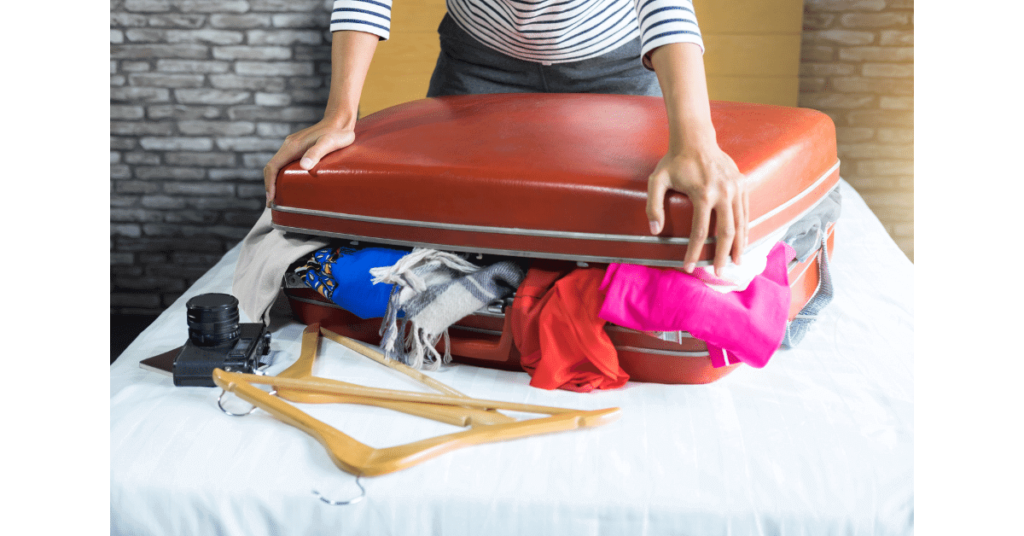 Once you get used to high-quality coffee, you are going to want to take it on the road with you. Whether you are staying in a hotel, a motel, or a tent — you want to be able to take the important parts of your coffee corner with you, and that includes your tiny grinder. Trust me, your camping trips, vacations, and business travel will never be the same after you learn how to travel with coffee.
Blade vs Burr Coffee Grinders
Don't expect me to be unbiased on this one: blade grinders are terrible. You want to get a burr grinder if you care about the quality of your coffee. But let me explain in a bit more detail.
Blade Grinders
Blade grinders are basically glorified blenders. They use rapidly spinning blades to chop beans apart rather than truly grinding them. They are generally cheaper than burr grinders, and they can grind beans faster. But the positive aspects end there.
They don't offer a way to consistently dial in the grind size. Instead, you just run them for a longer period of time to create smaller particles. Even that isn't consistent, though — 15 seconds might create a medium grind one time and a medium-fine grind the next.
Blade grinders also produce a lot of variance within a batch. A medium grind will typically have some particles that are finely ground and some that are coarsely ground. There's nothing you can do to fix this, and it will impact the quality of brew produced from almost any type of coffee maker.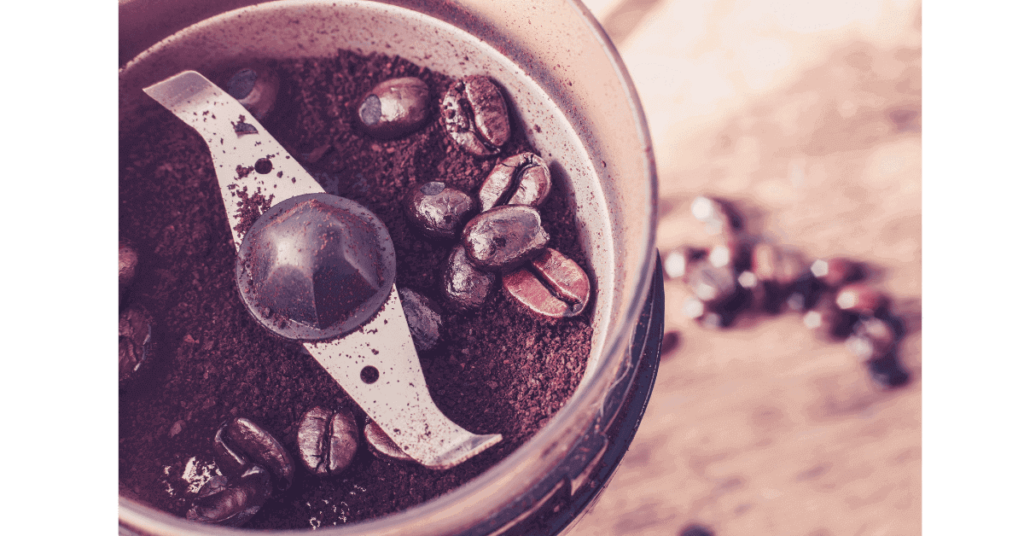 Burr Grinders
Burr grinders act like mills, crushing the beans between oscillating, serrated plates called burrs. By adjusting the position of the burrs, these grinders are able to offer consistent grind size and several grind settings.
Since the particles fall through the burrs during the grinding process, there is no risk of over-grinding your coffee beans. When a burr grinder is set to a medium grind, it will produce just a uniform, medium grind — no matter how long you run the machine for. Running it for longer will either grind more beans or do nothing at all. 
There are two types of burr grinders — conical and flat — that differ by the shape and layout of the burrs. Conical burrs are quieter than flat burrs because they don't have to rotate as quickly. Flat burrs produce a slightly more uniform particle distribution, but that difference is small compared to the difference between blade and burr grinders.
Manual vs Electric Coffee Grinders
If you want the smallest coffee grinder possible, you are almost certainly going to want to go manual. Because they don't require a motor, it's just easier to make tiny manual grinders. There are some small electric grinders, but they generally use blades instead of burrs. 
The biggest advantage of electric grinders is their ease of use. Press button, get grounds is about as easy as things can get. With a manual grinder, you're going to need a bit of arm muscle to make them work. It's not difficult though — if you can use a pepper mill, you can probably use a manual coffee grinder.
The effort required with manual grinders becomes more important when you grind more beans. You shouldn't have any problem manually grinding beans for yourself maybe 1-2 other people. However, it becomes a hassle if you have 5 guests who all want coffee.
Electric grinders vary a lot more in quality than manual grinders. In the cheap price range, manual grinders outperform electric in terms of both grind quality, durability, and longevity. At the high end, though, electric grinders surpass manual grinders in all of these categories. If you are willing to spend the money, you can get an electric grinder that will outperform every manual grinder on the market.
Countertop vs Handheld Small Coffee Grinders
You can find both manual and electric burr grinders that sit on your kitchen countertop. Manual countertop grinders tend to be easier to use than handheld ones, and they are also higher capacity. Handheld burr grinders are almost exclusively manual. You can find handheld electric blade grinders, but you'll rarely see a handheld electric burr grinder.
If you do a lot of traveling, handheld grinders are an obvious choice for their portability, especially if you buy one with a removable handle (which most of them have).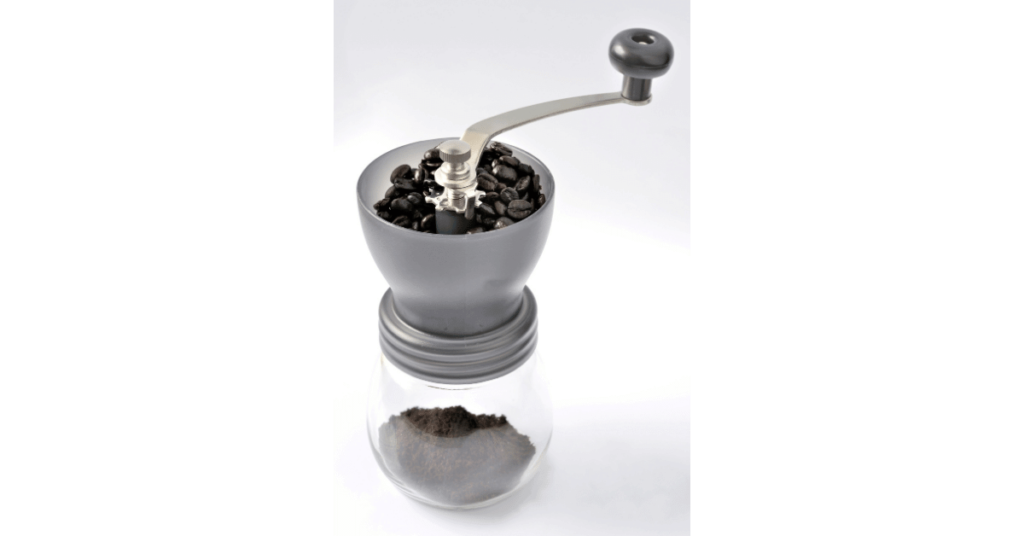 They tend to be much smaller and more lightweight than countertop models, which means you can easily include them in your carry-on luggage. They also easily fit in most kitchen drawers.
Countertop models are often more durable, especially if you are shopping in the premium price range. The biggest reason for a countertop model, though, is the extra capacity — a must-have if you grind a lot of beans.
What to Look for in a Small Burr Coffee Grinder
You don't just want the smallest burr coffee grinder — you want the best. But what makes a great coffee grinder? 
I'm going to limit the discussion to burr grinders here. Some of these categories will apply to blade grinders, too, but there are a few key differences. Blade grinders, for instance, don't generally have grind or dosage settings. 
Grind settings
Getting the right grind size can make a huge difference in the quality of the brew. If you use a fine grind in a French press, you'll end up with extra gunk in your cup of coffee. If you use a coarse grind to make espresso, you'll just end up with brown water.
You can get by with 3-4 settings for the typical user, but you'll quickly discover that even a small change in the grind size can make all the difference. You can never go wrong with having more grind sizes. Sometimes, even if there are 50 notches, going one grind setting over makes the difference between a life-changing pour-over and a just meh drink.
My recommendation: Go for at least 9 grind size settings in a manual grinder or at least 30 in an electric grinder.
Dosage measurements
Most electric burr grinders give you some way of reliably grinding the same amount of coffee each time. In the case of manual grinders, you'll typically just have to weigh the beans in advance.
There are three standard types of dosage measurements:
Timer — This is the most common method. You set how many seconds you want the grinder to run for, and that determines the amount of grounds produced. This method is very consistent from run-to-run for a given bean and grind size, but you may have to re-adjust for new types of beans or sizes of grind.
Volume — Some grinders let you select how many tablespoons/cups of grounds you want. In theory, this sounds amazing, but it is usually just a timer under the hood. They give the appearance of reliability, but don't expect great precision from them.
Scale — This is the gold standard. They are generally more expensive than the other methods, but they are the most precise and consistent option of the three. You won't see a lot of them in this list though, as the scale adds to the size of the coffee grinder.
Overall build quality
A coffee grinder is an investment. The last thing you want is to spend $200 on a top-tier grinder only to have it break within a week. Many brands recognize that and build their grinders to last for many years if properly maintained.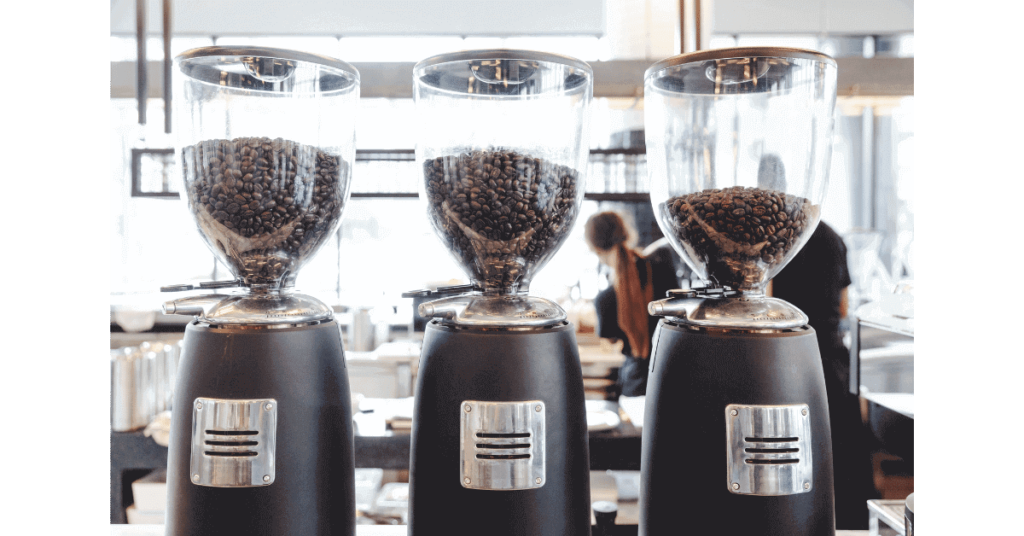 There are still plenty of flimsy coffee grinders on the market, though. You should definitely avoid any burr grinder with plastic burrs. Steel and ceramic are both fine, but plastic will not last. A quality motor is also key, and that is much harder to judge just from a spec sheet. Some grinder motors are prone to overheat, which can affect the quality of the grounds as well as decreasing the longevity of the motor.
Ease of maintenance
Every once in a while, a piece might need to be tightened or greased. You don't want to have to worry about breaking the machine every time you twist a screw, and you certainly don't want a machine that you can't put back together after a simple bit of maintenance. 
Repairability
Anything mechanical or electronic can break. Even the smallest coffee grinder has more than a few breakable parts. When disaster strikes, you want to know that your grinder comes from a company that values your ability to repair or replace broken parts. Fortunately, some of the best coffee grinder manufacturers have recognized that affordable repairability is a key factor in customer loyalty.
Cleanup
You shouldn't have to spend more time cleaning up after your coffee than you do drinking it. There's always some cleanup time required for a coffee grinder, but the best ones can just be quickly brushed clean. What you don't want is a grinder that gets grounds stuck in every crevice only to drop them on your clean counters or in the corner of a drawer.
Price
Prices are all over the place for coffee grinders. You can get a cheap coffee grinder for $20, but the quality will be absolutely terrible.
I'll include a couple of budget electric grinders under $100 on this list, but the great ones are almost always in the $200+ range. One of the largest differences is burr quality. Cheap grinders use cheap burrs that don't last. By paying more upfront, you'll end up with lasting quality.
A $50 electric grinder may seem like a steal, but repairs will get expensive — if it's even repairable. More likely, you'll be replacing that grinder after the burrs wear down or the motor fails.
Manual grinders tend to be of much higher quality at a lower price range. For around $50, you can get a hand grinder that will last as long as an electric grinder at 3 times that price. 
The Smallest Coffee Grinders
Smallest coffee grinder: 1Zpresso Q2 manual coffee grinder
☕SAVE SPACE - Goodbye bulky machine! The Q grinder only takes up little space(4.6x13.8 cm), under 400g wright, small than a can of soft drink! Making it comfortable to grip and easy to grind. Just at the right size for you to pack in your bag, even fits perfectly in the plunger of your AeroPress.
☕SMALL but PREMIUM - Fixed with dual bearing and triaxial design, increased stability for better consistency of the grind. Over 60 clicks for the general setting. Grinding coffee no longer has to equate to hassle, having a fun time while traveling or camping!
☕DISASSEMBLED STRUCTURE - Simply unscrew for a general cleaning. Easy apart off cleaning thoroughly without any tool. With assemble properly, you don't even need to recalibrate again.
☕ PRODUCT GUARANTEES - The burr was calibrated and fixed in place by the 1Zpresso team, ensure no wobbly parts or burrs that come loose as time goes on. Estimated grind approx 300KG by general use. Includes a one-year limited warranty, you will definitely get 100% customer support.
☕COFFEE IS LIFE - With users vision, we are working on the products what are you actually need! Chose a 1Zpresso product to stay with you.
Dimensions: 5.51 x 1.97 x 1.97 inches
Expect a lot of 1Zpresso on this list. They deliver incredibly durable hand grinders that reliably last without the need for replacement parts or recalibration. This model has 60+ settings on its grind selector, which is well beyond the norm for a small hand grinder.
It's also very portable, being one of the smallest burr grinders you can buy. The removable handle makes it particularly easy to travel with. For such a small coffee grinder, the 1Zpresso is very easy to clean up after and care for.
The ball handle is very comfortable, which will quickly become important if you use your grinder more than once a day.
The biggest downside — and this shouldn't be a surprise for a small coffee grinder — is that it only holds enough beans for 1-2 cups of coffee. 
Smallest countertop grinder: De'Longhi KG89 burr coffee grinder
Dimensions: 5 x 6.3 x 10.1 inches
It may not be pretty, but this machine is incredibly compact for a countertop coffee grinder. It has built-in cord storage that makes the machine easy to take away in a corner when it's not in use.
I want to give an extra shout-out to this machine for its dual safety system. If the grounds bin isn't attached or you forget to shut the lid (both things I have done very often!), the machine will not start. If this feature saves you from even one mess, it's well worth it.
Best small countertop grinder: Baratza Encore conical burr coffee grinder
SPECIALTY COFFEE ASSOCIATION AWARD WINNING GRINDERS - Baratza grinders are preferred by coffee professionals and backed by Baratza's world class support.
GO-TO ENTRY LEVEL GRINDER - Baratza's best-selling grinder, with its small footprint, is THE choice for brewing coffee at home. Available in White or Black.
USER FRIENDLY - A convenient, front-mounted pulse button, plus a simple ON/OFF switch make it easy to grind fresh coffee.
40 GRIND SETTINGS - Engineered with 40mm commercial-grade conical burrs that help you explore the extensive range of brew methods (espresso, Aeropress, Hario V60, Chemex, French Press, and automatic brewers).
WARRANTY/QUALITY PARTS - Hardened alloy steel burrs manufactured in Liechtenstein, Europe, plus a powerful DC motor. This combination creates a consistent grind and durability to ensure the longevity users have come to expect from the Baratza brand. The Encore is backed by Baratza's world class support and a 1 year warranty. 2020 Update has exact same trusted functionality with a sleek new exterior.
Dimensions: 4.7 x 6.3 x 13.8 inches
Baratza grinders are hard to beat when it comes to quality and reliability, and the Encore tosses in a beautiful design and both pulse and on/off grind options — all in one of the smallest countertop coffee grinders I've seen.
The 40 grind settings are not as many as I'd like to see, but when combined with the general ease of use of this machine, that's a decent number for a coffee grinding beginner or novice.
One more note about Baratza: they are a company that truly believes in making repairable machines. They offer excellent service and the ability to purchase any replacement parts you need to keep your grinder running far past the lifespan you can expect from most brands.
Best tiny budget grinder: JavaPresse manual coffee grinder
[ Built-in Adjustable Grind Selector ] The Manual Coffee Grinder by JavaPresse Coffee Company is equipped with over 18 manual grind settings to ensure you have 100% precision & control over the coarseness of your grind; great for all coffee brewing methods for that perfect cup of freshly ground coffee to start your day.
[ Convenient, Portable & Easy to Use ] Convenient hand crank mechanism eliminates over 90% of the noise that an electric coffee bean grinder would produce; unlike electric burr grinders for coffee beans, JavaPresse hand coffee grinder requires no batteries, power, or long plastic cords to operate allowing you to enjoy fresh ground coffee beans at home or on the go; perfect for your next camping, hiking, or backpacking trip.
[ A Freshly Ground Cup of Coffee to Start Your Day ] JavaPresse Manual Coffee Grinders are equipped with a professional grade ceramic conical burr to heighten flavors of the most exquisite coffees in the world; providing an incredibly consistent grind for a variety of brews while making as little noise as possible; smell the fresh aroma of freshly ground coffee as you brew them on your espresso machine, Aeropress, French Press or Pour Over Coffee Maker. Ground, Brew, and Enjoy!
[ Quality Tested and Built to Last ] Crafted with the same essence as traditional Japanese cookware, our patented ceramic coffee grinder burr is tested through three quality inspections to last 5x's longer than comparable stainless steel coffee burrs; combined with an impeccable stainless steel frame and convenient size, this coffee burr grinder is at the pinnacle of travel gadgets.
[ Enhance your morning experience with the JavaPresse Manual Coffee Grinder ] Features a built-in adjustable grind selector with 18 adjustable grind settings to craft your perfect cup; this manual burr grinder is built with a patented dual plated ceramic burr assembly that's great for all coffee brewing methods; comes with a manufacturer warranty & 100% money back guarantee.
Dimensions: 1.8 x 7.5 x 1.8 inches
The JavaPresse is a perfect example of how to take real power and scale it down for those on a budget. It's a cheap coffee grinder that doesn't feel or act cheap. 
The 18 settings are enough for most users, and the ceramic conical burrs and overall build quality are excellent. However, there are a couple of internal plastic parts that can give way over time.
Best electric travel grinder: Brim electric handheld burr grinder
HANDHELD GRINDER: Stainless steel burrs optimize grind speed, preserving the coffee's aroma. Features 9 precise settings for different grind sizes for a large range of brewing techniques. 30-gram bean chamber capacity.
CLEAN AND COMPACT: The grinder is simple to use and offers up to nine size settings from espresso to French press. Features simple 1 button operation. Light weight and compact size for easy portability.
MAXIMUM FLAVOR: Specially designed to achieve maximum extraction, the burr grinder uses slow speeds & less heat to preserve coffee's aroma.
THE ART OF COFFEE: Grinding to perfection. Measuring with precision. Mastering the brewing process. Our engineers at Brim have reinvented and simplified the instruments of artisan coffee making.
BREW LIKE AN ARTISAN: Inspired by coffee traditions since 1961, Brim's line of coffee & espresso makers, French presses, burr grinders, kettles & pour over kits let you brew with classic techniques.
Dimensions: 3.46 x 3.46 x 9.48 inches
Handheld electric burr grinders are atypical, but they do exist. If you want a grinder that you can easily travel with, and you don't want to deal with manually grinding your coffee beans, Brim's grinder is the best around.
Don't let the images fool you into thinking this thing is battery-powered — it's not. You will need to be able to find a place to plug it in for use. That sounds inconvenient, but it's actually a good thing since battery-powered grinders have a hard time pulling the power needed to properly grind beans.
It may not be the smallest electric coffee grinder, but it's the only travel-sized electric grinder that I would trust.
Best high-end grinder: Baratza Vario flat burr coffee grinder
SPECIALTY COFFEE ASSOCIATION AWARD WINNING GRINDERS - Baratza grinders are preferred by coffee professionals and backed by Baratza's world class support.
230 GRIND SETTINGS - For dialing in espresso and all brewing methods (Aeropress, Hario V60, Chemex, French Press, and automatic brewers). Offers exceptional cup quality for home, office, or light commercial use.
HIGH PERFORMANCE - 54mm professional ceramic flat burrs by Mahlkonig, provide high throughput and maintain sharpness, and a built in digital timer provides precise dosing. Programmable buttons allow you to save up to 3 different presets for repeatable, one-touch grinding.
PORTAFILTER HOLDER - A heavy duty, all metal portaholder allows you to grind directly into your portafilter.
WARRANTY/QUALITY PARTS - Engineered with 54mm professional ceramic flat burrs by Mahlkonig in Germany, plus a powerful DC motor. This combination creates a consistent grind and durability ensuring the longevity users have come to expect from the Baratza brand. The Vario is backed by Baratza's world class support and a 1 year warranty.
Dimensions: 5.1 x 7.1 x 14.2 inches
This one is not taller than most of the others on the list, but it's not particularly wide or deep. It's hard to find a smaller coffee grinder that has a portafilter fork, either, and this one has both that and a tinted grounds bin. If you are into making espresso, you might just have to deal with the couple of extra inches that this grinder requires. 
All of Baratza's grinders are high-quality, but this one goes far above and beyond. It has 230 adjustable grind settings and professional-grade ceramic burrs. It's also the only flat burr grinder to make this list. These machines tend to be higher-end, and it's surprising to see one in this price range and size.
For countertop models, I highly recommend getting a machine with a heavily tinted hopper like this. It minimizes the light-induced degradation of the coffee beans, letting you keep them in the hopper a bit longer without them going stale.
This is not a cheap machine, but with Baratza's replacement parts and service, it will probably be the last grinder you ever need to buy.
Cheapest small burr grinder: Kona manual coffee grinder with ceramic burrs
PREPARE INCREDIBLE COFFEE EVERY TIME ~ Built-in Stabilizer and adjustable coarse to fine grind selector with over 18 click settings ensures you have 100% precision control over the coarseness of your Pour Over, Drip, Chemex, Cold Brew, French Press, Percolator, AeroPress, Turkish, Espresso, Keurig K Cup, Herb, or Spice grind.
NO MORE GUESSING ~ see your results instantly after each grind rotation thanks to the static free & crystal clear glass jar which is able to store up to 50 grams of ground beans for 3 cups of coffee
BRING YOUR COFFEE ANYWHERE ~ No batteries, power, or long plastic cords needed to operate your portable compact coffee grinder, allowing you to travel with and brew freshly roasted ground coffee beans for two on your next camping, hiking, backpacking, or outdoor trips. Ergonomically designed manual crank handle detaches from grinder for compact storage
QUIET BY DESIGN ~ eliminates over 90% of the obnoxious noise that large electric grinders produce.
Dimensions: 3.4 x 3.3 x 7.5 inches
If the price of the JavaPresse still seems too high, this is an even cheaper option. The transparent glass design also allows you to see the grounds as you produce them, which some users prefer.
It's not as high-quality as some of the better hand grinders, but what do you expect at this price point?
Best small, budget electric grinder: Cuisinart DBM-8 Supreme automatic grinder
Burr grinding provides uniform grind and optimum flavor
18-position grind selector - from ultra-fine to extra-coarse
4 to 18-cup slide dial
Removable 8 oz. bean hopper. Heavy-duty motor, Convenient cord storage
Dimensions: 10.75 x 7.13 x 6 inches
There is not much fancy about this Cuisinart, but it will provide the uniform grind you expect from a burr coffee grinder at a cheap price. It's also small for a countertop model, so you should have no problem fitting it into your kitchen. 
Hopefully, all of your housemates are coffee lovers who can forgive a bit of noise, though, as this is one of the louder electric burr coffee grinders I've heard.
1Zpresso JX-Pro manual coffee grinder
☕FINE ADJUSTMENT DIAL DESIGN - With 40 clicks in a full rotate, each click shifting by 12.5 microns. Over 200 clicks setting to ensure you have 100% accuracy control over the particles that you want. Find the "sweet spot" when dialing in your espresso!
☕DURABLE and STABILITY BURR– 48mm conical burr makes greater grinding efficiency. Internal fixing between the burr and central shaft, no more wobbly burr comes loose. Consistency of performance grind.
☕EASY TO CLEAN - Easy apart off cleaning thoroughly without any tool. With assemble properly, you don't even need to recalibrate again. Grinding coffee no longer has to equate to hassle, and can instead be something you enjoy.
☕ PRODUCT GUARANTEES - The burr was calibrated and fixed in place by the 1Zpresso team, ensure no wobbly parts or burrs that come loose as time goes on. Estimated grind approx 300KG by general use. Includes a one-year limited warranty, you will definitely get 100% customer support.
☕COFFEE IS LIFE - With users vision, we are working on the products what are you actually need! Chose a 1Zpresso product to stay with you.
Dimensions: 5.12 x 2.24 x 7.09 inches
This is the bigger, badder cousin of the 1Zpresso Q2. The 200+ grind settings are way more than most people will need, but they are a coffee perfectionist's dream come true.
If you want to step up to a truly premium hand grinder, it's hard to find a better product. Unless you do all of your coffee brewing on the road, though, you might be better off sticking with the Q2 and just buying a better countertop grinder for your home use.
Hario Ceramic Coffee Mill Skerton Plus
Skerton Pro: A favorite amongst coffee newcomers and professionals alike. Its compact size makes it the perfect grinder both travel and home. This grinder can make a full range of grind sizes, whatever your preference
New and Improved: An update to the original Skerton-- The Skerton Pro features a modern update on the classic design with sleek lines, and with easier-to-adjust burr settings for improved grind consistency
Perfect Grind: Ceramic conical burrs ensure a precise, uniform grind-- Our burrs transfer less heat and shave coffee beans versus cracking them like blade grinders. Ergonomically designed crank handle detaches for compact storage and easy travel
Japanese Design: Designed by Hario in Japan to provide coffee lovers with easy access to freshly ground coffee. The Skerton Pro was designed to be portable, and easy to use even while traveling or on the go
Product Details: 100g Coffee grounds capacity; W167×D95×H195mm; Heat-proof glass bowl is made in Japan; Mill, hopper lid, non-slip cover, lid are made in China
Dimensions:  4.1 x 3.9 x 8.1 inches
Another solid option for a travel burr grinder, and probably the best glass hand grinder. The rubber base is a nice touch that a lot of other glass grinders desperately need.
Timemore Chestnut C2 manual coffee grinder
The best cost-effective choice-TIMEMORE C2 Grinder. Stainless steel burr-CNC machining. Double bearing central axis positioning-uniform grinding particles. Burr size 38mm-efficient grinding of coffee beans.
Convenient to carry : The body weighs 430g, while maintaining a light weight and a moderate sense of weight and luxury. It is ideal not only for home use but also for carrying outdoors or traveling.
Roughness adjustment function : Adjustable in about 36 steps. You can easily grind the desired roughness from fine to coarse with the adjustment nut.
Excellent Burr : The milling blade with 55-58HRC hardness in 5-axis CNC machining realizes uniform grinding with almost no excessively coarse grains. At the same time, the generation of fine powder is minimized.
Labor-saving performance : The smoother movement is realized as the handle keeps turning for a while even if you release your hand due to the built-in bearing. In addition, a compact body of 52 mm that is easy to grasp even for small hands. and it is possible to grind lightly with very little force.
Dimensions: 8.03 x 5.75 x 3.31 inches
When it comes to quality, the Timemore is excellent, but I still prefer 1Zpresso's durability and features.
So why bother including it on this list?
I just love the design. I never pick my equipment based solely on visual appeal, but this one passes all of the bars to be included. The unique look is worth calling out since most of the other companies in this space have just gotten lazy with their stainless steel cylinders.
Porlex Mini stainless steel coffee grinder
Ceramic conical burrs with wide range can grind from powder to french press
20 gram capacity
47 mm diameter and stands 130 mm tall
Made in Osaka, Japan
Stainless steel, static free body
Dimensions: 6 x 2.3 x 1.8 inches
This is another super-tiny stainless steel burr grinder. The build quality on the Porlex is great, and it comes with a built-in rubber band to hold the removable handle during travel. 
Breville BCG820BSS Smart Grinder Pro
Stainless steel conical burrs designed to minimize grinding heat and protect the essential oils in the coffee bean
60 precise grind settings from the finest Espresso to the coarsest French Press Grind. Voltage: 110 120 Volts. Power: 165 Watts
Precision Electronic Timer allows users to adjust grind time in 0.2 second increments and consistent dose every time
18 ounce coffee bean capacity with locking system for easy removal, storage, and transfer of the bean hopper
Grind directly into portafilter, grinds container, gold tone filter basket or paper filter
Portafilter cradle small 50 54 millimeter; Portafilter cradle large 58 millimeter
Note: Refer user manual before use
Dimensions: 8.5 x 6 x 15.5 inches
If you want a portafilter fork, but you aren't ready to shell out the big money for the Vario, this one comes in at about half the price. The tinted hopper is a huge plus if you want to keep a few beans in there for easy use.
Final Verdict
Great things come in small packages. You don't have to skimp on quality to find a small coffee grinder at a reasonable price. Whether you are looking for a manual burr grinder for travel or a compact grinder for your countertop, you can't go wrong with the options in the list.
If you are looking for a blade coffee grinder, though, I can't help you. Sometimes I include one or two in my lists for various reasons, but I decided it just wasn't worth it here. They are terrible quality, and the cheaper models of conical burr grinders will outperform even the most high-end stainless steel blades of those glorified blenders.
One last time, here's a quick rundown of the top choices for the best, smallest coffee grinders.
| | Image | Product | |
| --- | --- | --- | --- |
| Smallest coffee grinder | | 1Zpresso Q2 Manual Coffee Grinder Mini Slim Travel Sized Fits in the plunger of AeroPress, Assembly Stainless Steel Conical Burr, Numerical Internal Adjustable Setting Coarse for Filter, Capacity 20g | Check price |
| Best small countertop grinder | | Baratza Encore Conical Burr Coffee Grinder (Black) | Check price |
| Best tiny budget grinder | | JavaPresse Manual Coffee Bean Grinder with Adjustable Settings - Patented Conical Burr Grinder for Coffee Beans, Stainless Steel Burr Coffee Grinder for Aeropress, Drip Coffee, Espresso, French Press | Check price |
| Best electric travel grinder | | Brim Electric Handheld Burr Coffee Grinder, Simple One-Touch Operation, 9 Precise Grind Settings from Espresso to French Press, Removable 30g Ground Container for Easy Clean Up, Stainless Steel/Black | Check price |
| Best high-end grinder | | Baratza Vario Flat Burr Coffee Grinder | Check price |
| Cheapest small burr grinder | | KONA Manual Coffee Grinder, Conical Burr Mill with Adjustable Setting, Best Ceramic Burr Coffee Grinder for Aeropress, Drip Coffee, Espresso, French Press, Turkish Brew | Check price |