This post may contain affiliate links. Please read my disclosure for more info.
---
There are several coffee subscription services and premium coffee roasters to choose from these days. You could read review after review to find the right one for you, but there's a much more fun way: try out some free coffee samples!
Several of these subscription services offer free trials. Some require you to pay for shipping, but others just let you fill out a form or a quick survey and you'll get some of the best coffee of your life at no cost.
Here are the best offers that I've found for coffee freebies, including several premium single-origin roasts that will have you rethinking everything that you thought you knew about quality coffee.
Even if you haven't considered a coffee subscription, these free samples are worth every non-penny!
Moustache Coffee Club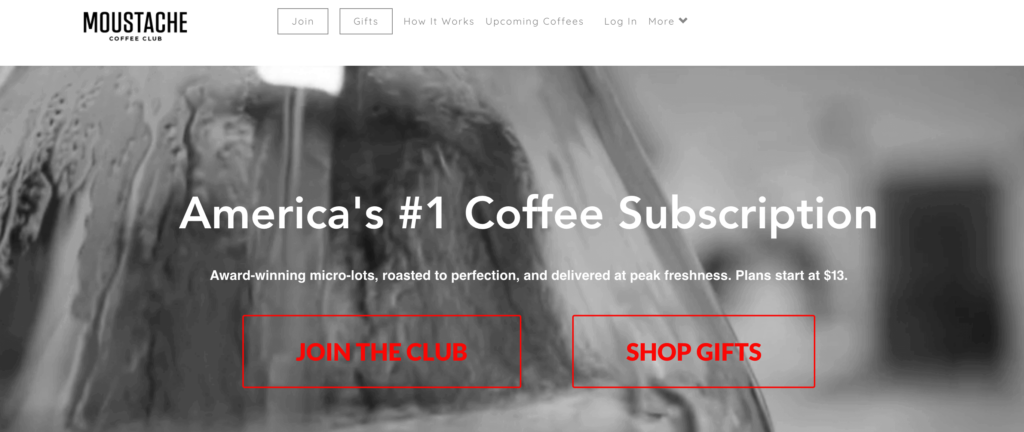 Who they are
Moustache Coffee Club is a coffee subscription service that offers premium, single-origin beans from a variety of countries. They seem to be especially fond of Peruvian and Ethiopian coffee beans. 
What you get
They'll give you six ounces of fresh-roasted, single-origin coffee beans from their latest batch.
The catch
This is one of the few coffee samples that is 100% free. You won't even be charged for shipping.
However, the free trial does require a credit card and will sign you up for their subscription program. If you don't want to stick with their program, just send an email to [email protected] after you get your free sample. 
The link below will get you $10 off your first order, too!
Amora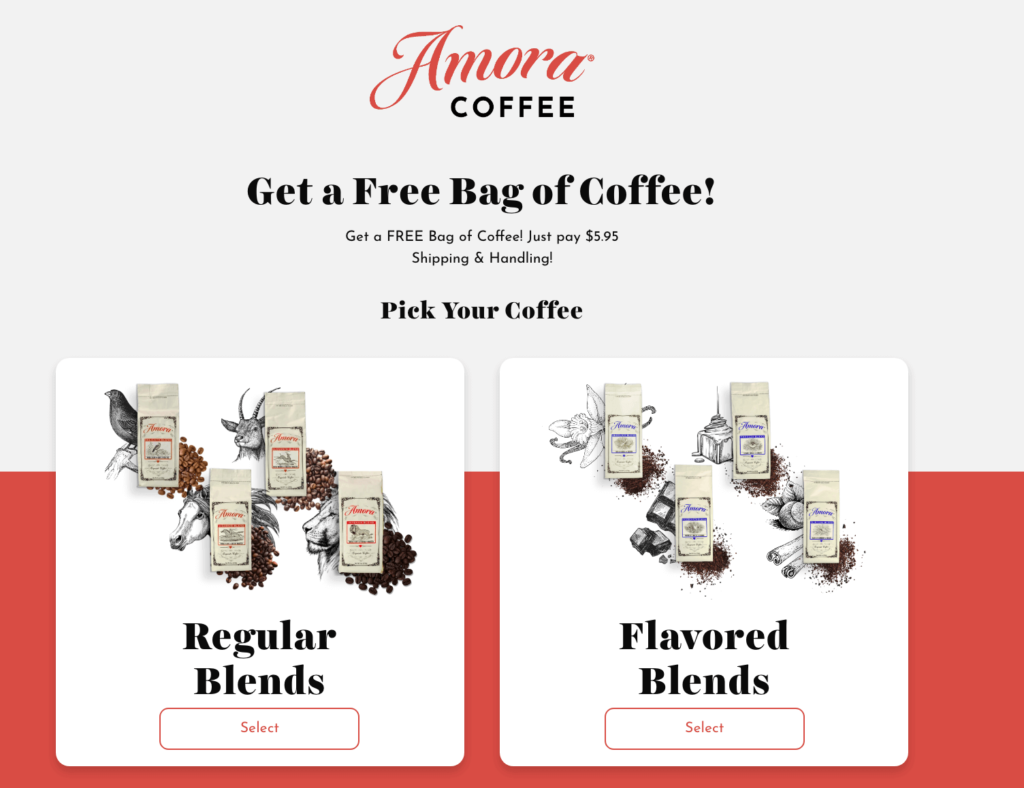 Who they are
Amora is a premium coffee company that prides themselves on both their 9-step US-based roasting process and their ability to find the perfect coffee flavor for any coffee lover. They sell regular, flavored, and specialty coffees as well as a variety of teas. You can buy their coffees one at a time or subscribe to a particular roast at a discount.
What you get
They'll give you an 8-ounce bag of coffee beans with options for light, medium, medium-dark, dark, or extra dark regular roasts. You can also choose one of their flavored roasts: french vanilla, chocolate truffle, caramel vanilla, hazelnut cinnamon, chocolate cherry, blueberry, or southern pecan.
Check Amora's site often as they also provide other limited-time freebies sporadically. For instance, they were offering a free (after $2.95 shipping) bag of cold brew coffee at the time of this article.
The catch
You'll have to pay $5.95 for shipping on your trial bag. They don't automatically sign you up for recurring purchases, so there's no need to worry about canceling after the free bag.
Blue Bottle Coffee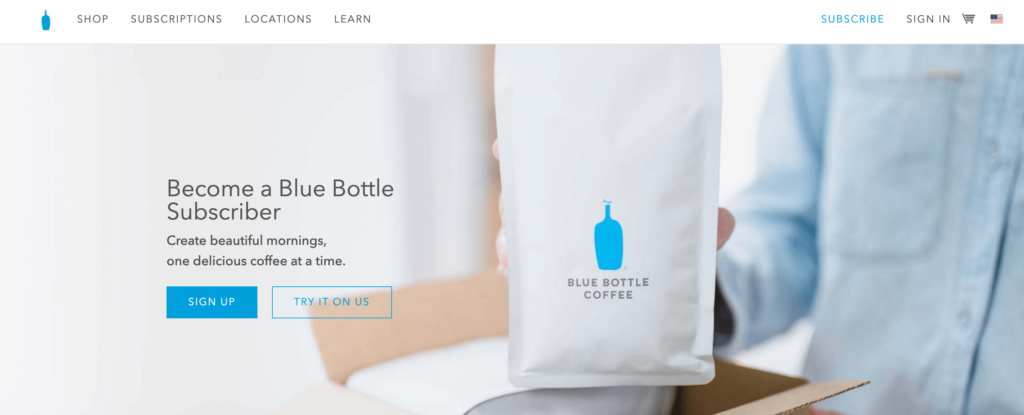 Who they are
Blue Bottle Coffee offers three different subscription coffee programs. You can choose between their single-origin assortment, blend assortment, or espresso assortment (which contains both single origins and blends). 
What you get
They'll send you 12 ounces from your choice of their three programs. I recommend the single-origin assortment. 
The catch
Although the coffee is free, they'll charge you about $5 for shipping. You'll also be signed up for their subscription, but you can easily cancel in the Subscription tab of their account page.
Woods Coffee
Who they are
Woods Coffee is a coffee chain that recently started a subscription coffee service. They let you choose from a range of blends or a rotating single-origin coffee.
You can get the same blend on a recurring basis if you want, but you can also change your selection at any point or even mix and match their offerings.
What you get
They'll send you a full pound of coffee, which is more than the typical 8-12 ounces offered in other free trials.
The catch
They'll charge you $0.99 for shipping with the free bag of coffee. You'll also be signed up for their subscription, but you can cancel that before they charge anything more.
Camano Island Coffee Roasters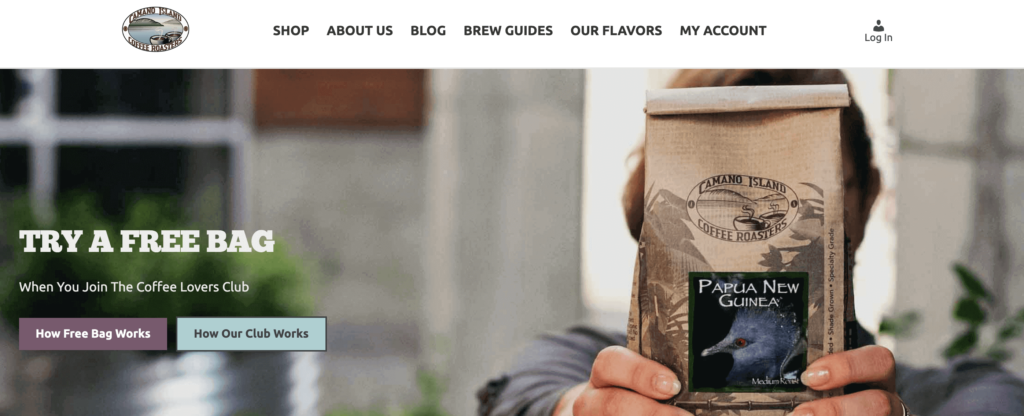 Who they are
Camano Island Coffee provides ethically sourced, premium coffees that are USDA organic, shade-grown, specialty-grade, and Fair Trade certified. Along with their online coffee shop, they have introduced a coffee club subscription service that offers a discount from their retail pricing.
What you get
They'll provide you a full pound of one of their coffee varieties. Currently, you can choose between a New Guinea medium roast, their rotating coffee of the month, their signature decaf blend, or a Brazilian dark roast.
The catch
Shipping for the first bag is $0.99. You'll also be signed up for their coffee club, which you'll have about 3 weeks to cancel.
Epic Coffee
Who they are
Epic Coffee offers a variety of premium coffees, coffee gear (mugs, etc.), and flavored syrups. Their subscription provides a monthly delivery of coffee with your choice of quantity and roast level. They'll even toss in a free refillable k-cup. They source their coffee beans through the Manna project, which supports overseas ministries. 
What you get
They'll send you one 12-ounce bag of coffee, roasted to the level of your choosing (or you can just pick the roaster's choice).
The catch
Instead of a shipping fee, they charge a sign-up fee of $7.95. You'll also be signed up for their monthly subscription, so you'll get charged for three bags the next month if you don't cancel in time.
Unique Coffee Roasters
Who they are
Unique Coffee Roasters offers a wide range of coffees as well as teas, coffee gifts, and coffee gear. They are one of the few subscription programs that offers the choice between beans, k-cups, and Nespresso pods.
You can choose between light roasts, dark roasts, single-origin, blends, or flavored coffee for their whole bean and ground coffee subscription. Their k-cup and Nespresso pod subscriptions don't offer these same options, but I'm just impressed that they offer pod subscriptions at all.
What you get
If you choose their standard subscription, you'll get a free pound of your choice of coffee variety and coffee grind level. With the Keurig subscription, you'll get 24 free k-cups. The Nespresso pod subscription gives you 20 free pods.
The catch
They charge $7.00 shipping for any of their free trials. Be sure to enter the code "TRIAL" at checkout to get your free coffee. You will be signing up for their subscription, but you can cancel before the first paid order.
Olympia Coffee
Who they are
Olympia Coffee is a socially conscious roaster that purchases beans directly from farmers and prides itself on transparency, offering living wages, and farm workers' safety. They only purchase beans that meet very high-quality standards, so they are a company whose product is just as good as their intentions.
What you get
Their trial subscription gives you your choice of five 4-ounce bags of coffee, including single-origin, blends, decaf, and organic options.
The catch
They don't charge shipping! This is another completely free one, but you'll need to cancel your subscription if you don't want to be charged for the next bag after your free trial.
Yes Plz Coffee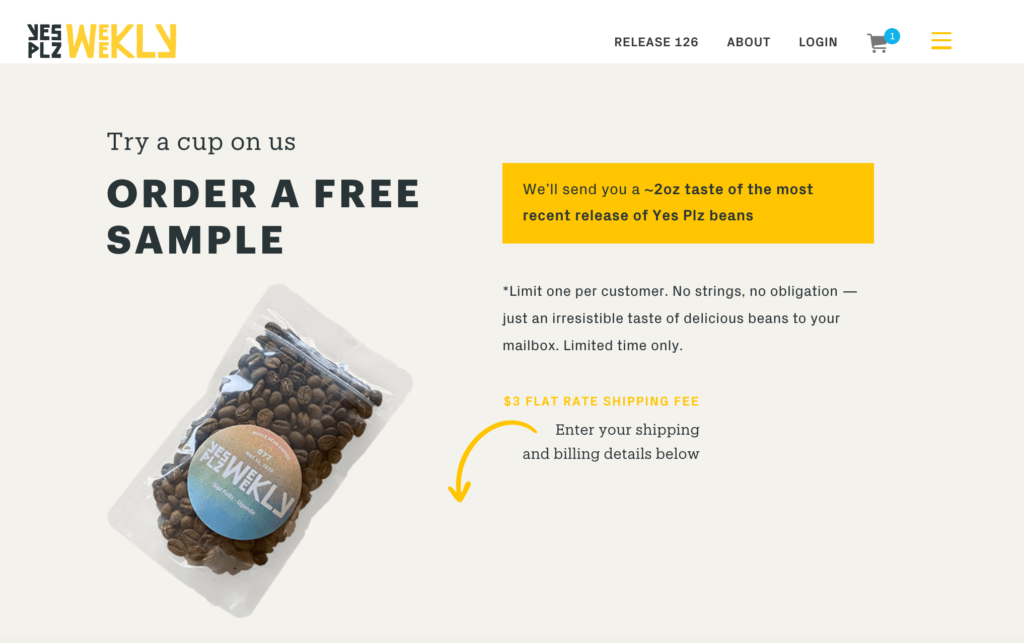 Who they are
Yes Plz offers a different type of coffee each week. Sometimes it's a blend. Sometimes it's single-origin. No matter what type it is though, it always uses premium, freshly-roasted beans.
What you get
The freebie here is actually pretty weak compared to others in this list. You'll get only 2 ounces of their most recent release.
The catch
They charge a flat $3 for shipping the sample. On the bright side, you won't have to worry about canceling as the free sample doesn't automatically sign you up for their subscription program.
Panera Bread
Who they are
And now, as they say, for something completely different. Panera is not a premium coffee by any means, but their coffee subscription is a unique — and pretty cool — offer that shows how well they know their customer.
With their subscription, you can order up to 1 of their coffees every 2 hours — any size, any flavor, including iced coffees and teas. Of course, you will have to pick it up in stores, unlike the mail-order trials we've discussed so far.
What you get
The first 3 months of your trial are free, which is why they earned a spot on this list. It's just too impressive a deal not to mention. 
The catch
After the 3 months, the subscription will auto-renew if you don't cancel it. That's pretty far into the future, so you'll definitely want to set a reminder if you intend to cancel after the trial.
Final Thoughts (Also Free)
The only thing better than a cup of coffee is a free coffee sample. Actually, that's not true — 10 free samples is much better.
Several of these include premium coffees from around the world that will help you understand why coffee snobs exist and why they crave the taste of high-quality, single-origin coffee. Side effects may include being much pickier on your next coffee shopping trip.
These offers tend to rotate, so please help out the community by letting me know in the comments if any of them are out of stock or no longer being offered.