This post may contain affiliate links. Please read my disclosure for more info.
---
There is a good chance that your coffee maker says "made in China" somewhere on it. The truth is, there just aren't a lot of coffee makers made in the USA, largely due to the glass materials and electronics involved. 
Worse, many of the lists of American-made coffee makers on the web actually confuse made in the USA with assembled or built in the USA. I'm not saying there is anything wrong with buying something that was just assembled here, but it's good to know what you are buying before you spend your hard-earned money on it.
So before we get too far into the coffee makers, let's take a look at what it really means for a coffee maker to be made in the USA.
Quick Answer: Best Coffee Makers Made In the USA
| | Image | Made in USA? | Product | |
| --- | --- | --- | --- | --- |
| Best American-made coffee maker | | Made in the USA | Aeropress Original Coffee and Espresso Maker, Barista Level Portable Coffee Maker with Chamber, Plunger, and Filters, Quick Coffee and Espresso Maker, Made in USA | Check price |
| | | Made in the USA | Toddy Cold Brew Coffee Maker System with Extra Filters and Silicone Stoppers Bundle | Check price |
| | | Made in the USA | Takeya Patented Deluxe Cold Brew Coffee Maker, One Quart, Black | Check price |
| | | Assembled in the USA | Chemex Pour-Over Glass Coffeemaker - Classic Series - 3-Cup - Exclusive Packaging | Check price |
| | | Assembled in the USA | BUNN 55200 CSB3T Speed Brew Platinum Thermal Coffee Maker Stainless Steel, 10-Cup, Black | Check price |
Made In the USA vs Assembled in the USA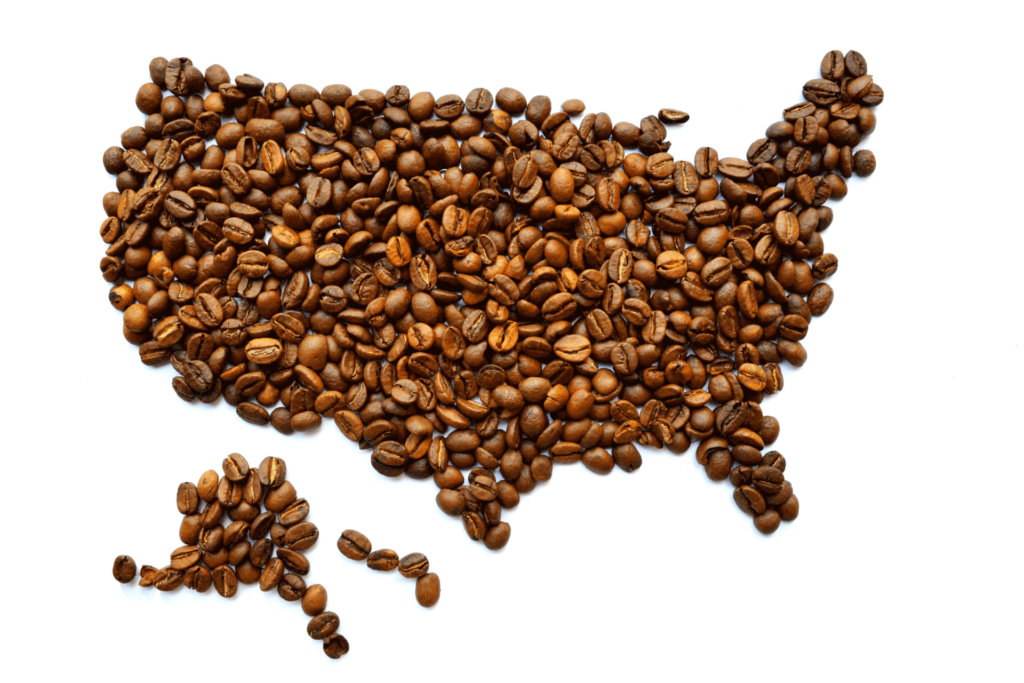 It's easy for products to label themselves as "Built in the USA" or "Assembled in the USA". For those labels, they don't actually need to make a single part in America, they just need to put it all together here. 
"Made in the USA", on the other hand, has a much stricter requirement. To earn that label, a product must follow strict Federal Trade Commission standards. Most notably, all significant parts of the product must originate in the US and all significant processing of the product must also happen in the US.
If you see a product that says "Made in the USA" or "American-made", you can be sure that you are getting the result of American parts and American labor. Otherwise, that company is in a lot of trouble.
Why Aren't There More American-Made Coffee Makers?
Many coffee makers are budget items. People don't like to spend a lot of money on them. This is especially true for regular drip coffee makers. Manufacturers can get parts created and assembled cheaper overseas. That's why it's so hard to find budget coffee makers not made in China, let alone find one that is entirely made in America.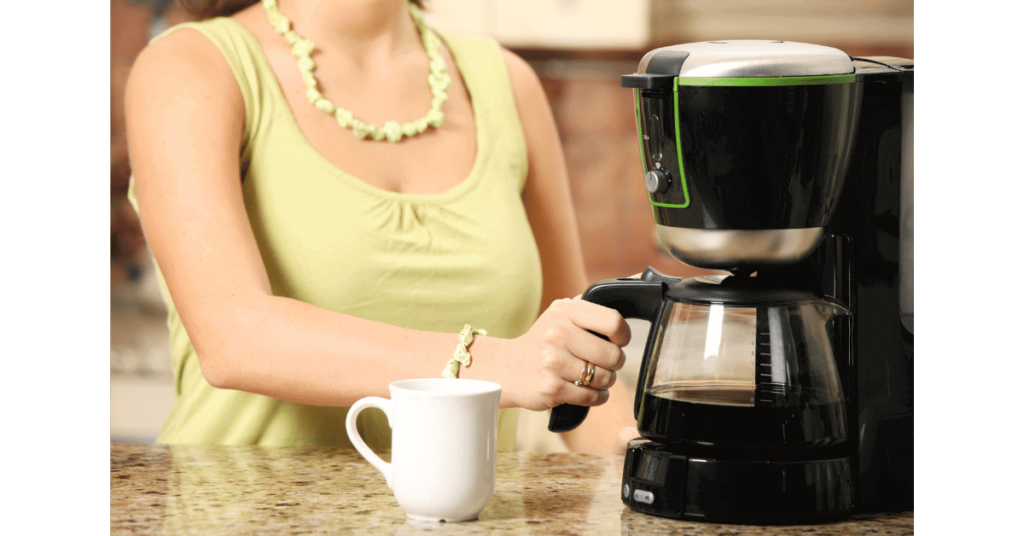 As you get into more expensive coffee makers, they tend to involve a lot of precision electronics, specific types of glass, and other components that just aren't often manufactured in the USA. It's especially hard to find espresso machines made in the USA because of their complexity. You probably won't even find coffee pots made in the USA because they are typically made of glass. 
You'll notice that the 100% American coffee machines on this list are typically non-electronic coffee makers that use little-to-no glass. Cold brew coffee makers and manual, plastic coffee makers like the AeroPress are the most common types of American-made coffee makers for this very reason.
Best Coffee Makers Made In the USA
Best American-made coffee maker: AeroPress coffee maker
Professional-Grade Coffee Right at Home: A household name amongst baristas and coffee enthusiasts worldwide, the AeroPress Original is a new kind of coffee press that uses a rapid, total immersion brewing process to make smooth, delicious, full-flavored coffee without bitterness and with low acidity. The AeroPress Original brews a full-bodied coffee with maximum flavor every time!
Goodbye, French Press: No more bitterness or grit. The rapid brewing of the AeroPress Original eliminates bitterness and acidity while the micro-filters keep grit out of your coffee (unlike a French press). No more messy coffee grounds – clean-up takes seconds! The plunger wipes the chamber clean as you brew
Travel with Your Coffee Gear: The AeroPress Original is lightweight, compact, portable, and durable. It is easy to pack with some coffee and a cup for use while traveling, camping, backpacking, boating, and more! Includes the AeroPress Original Chamber & Plunger, replacement AeroPress Original micro-filters, filter cap, scoop, and stirrer
How to Use: Just add coffee and water, stir, and press. Easily makes 10oz (295ml) of regular coffee or 1 to 3 espresso style shots for use in lattes, cappuccinos, and other espresso-based drinks per pressing in about a minute. It can also make cold brew in just two minutes! We recommend a medium-fine grind, but vary your recipes however you choose!
About AeroPress: Smart design and creativity have always been the heart of what we do, and we are now squarely focused on inspiring even more coffee lovers around the world to revolutionize their coffee routine. Designed in Silicon Valley, Made in the USA, Materials used in AeroPress Original coffee makers are free of BPA and phthalates
The AeroPress is near-perfect proof that American innovation can revolutionize even something as simple as the coffee maker. It's inexpensive, portable, and easy-to-use, and it produces consistently amazing cups of coffee.
All the materials that go into the AeroPress are made in America, and the product is assembled in Palo Alto, California. Alan Adler, the creator of the AeroPress and current President of the company, lives in Los Altos, California.
The AeroPress is a recent addition to the coffee world, having only been released in 2005. The AeroPress borrows from the idea of both drip coffee makers and espresso machines, using a slight amount of pressure to quickly push water through the coffee grounds. There's actually some similarity between the AeroPress design and how the Keurig works.
Toddy cold brew system
Designed to brew coffee with 67-percent less acid than coffee made with hot brew methods
atented cold brew system uses regular coffee beans to create super smooth hot coffee, but with no electricity required
The Toddy Cold Brew System also makes tea, served hot or cold
Set includes brewing container with handle, glass decanter with lid, 4 reusable filters, 3 rubber stopper, set of instructions, and recipe guide
Total of 4 filters and 3 rubber stoppers
You might think of cold brew as a recent trend, but it's been around for over 150 years. While Toddy isn't that old, they have been making their cold brew system since 1964. You'd be hard-pressed to find a cold brewer with a more devoted fanbase — or a larger one, as Toddy has sold over a million of these systems.
Toddy's cold brew system has been made in the USA and assembled in Loveland, Colorado since it launched. This is particularly impressive since the system includes a 72-ounce glass carafe.
You can make cold brew in any old mason jar or covered container, but Toddy's system simplifies the process by eliminating the most difficult step: filtering the coffee grounds.
The system includes a glass decanter with a lid, a brewing container with a handle, 2 reusable filters, and a rubber stopper — everything you need to easily make delicious cold brew coffee.
Takeya cold brew maker
The Deluxe Cold Brew Coffee Maker is a durable BPA Free Tritan pitcher with an airtight lid and non-slip silicone handle. It produces 4 servings of smooth cold brew with any type of coffee grounds and is less acidic than traditional coffee brewing.
The Fine-Mesh Coffee Filter in this cold brew coffee maker keeps grounds out of your freshly brewed pot - differing from other coffee machines. Tritan plastic withstands hot temperatures if you want a hot cup of coffee. Fits in most refrigerator doors
Premium Bottles and Lids: Our innovative line of insulated hydration solutions come in a range of sizes. We offer water bottles in 18, 24, 32, 40, and 64 oz sizes, beverage makers and pitchers in 1 Qt and 2 Qt sizes
BPA Free Hydration Solutions: From insulated stainless steel water bottles to beverage makers and pitchers, as well as a variety of product accessories, Takeya USA products help you stay cool, refreshed and hydrated for an active, on-the-go lifestyle
Innovative Hydration Solutions: Takeya brings over 55 years of Japanese design heritage to our line of insulated, BPA free water bottles, our sustainable iced tea, fruit infusion, and cold brew pitchers, and our Pickleball bottles and equipment.
Takeya is a water bottle company. Yes, you read that right. Here's the thing with cold brew coffee makers, though: They share a lot of common features with water bottles.
Even for a  cold brew maker, this one has an incredibly simple design. Basically, it's a BPA-free plastic pitcher with a large reusable filter in it and an airtight plastic lid. That's really all you need for cold brew, and the Takeya cold brew pitcher makes the process incredibly simple: just add grounds and water, leave it in the fridge overnight, remove the filter, and drink your freshly-brewed cup of coffee.  
Coffee Makers Assembled In the USA
There aren't a lot of options for truly American-made coffee makers, especially if you want a regular drip coffee maker. If American-manufactured is enough, these options still bring the process a bit closer to home.
Chemex pour-over coffee maker
CHEMEX - simple, easy to use with timeless, elegant design
All CHEMEX Coffeemakers are made of the highest quality, non-porous Borosilicate glass which will not absorb odors or chemical residues
The patented CHEMEX pour-over design allows coffee to be covered and refrigerated for reheating without losing flavor
All CHEMEX Coffeemakers are measured using 5 oz. as 1 cup
Use CHEMEX Half Circle Filters FP-2, Filters not included.
Chemex is often mistakingly listed as being made in the USA. Sprudge has reported, though, that many of the parts used in the Chemex are actually made overseas. For instance, their glass is formed in Taiwan and Croatia, and the wood comes from Malaysia. The leather ties are American-made, as are the paper filters, and everything is assembled in the USA.
If you aren't familiar with Chemex, it's one of the most popular pour-over coffee makers. Pour-over coffee is a favorite amongst coffee snobs because it allows the user to adjust the brewing method perfectly for each batch of beans and the coffee drinker's preferences. However, that fine-tuning comes at a cost: Pour overs are one of the hardest coffee brewing methods to master.
Bunn coffee makers
Bunn assembles some (but not all) of their coffee makers in Creston, Iowa. This includes several of their Speed Brew and Velocity Brew machines.
Bunn Speed Brew Platinum
Please refer to user guide or user manual or user guide (provided below in PDF) before first use
The Bunn Speed Brew line is full of fast, high-quality 10-cup coffee makers. The Speed Brew's claim to fame is Bunn's commercial-grade stainless-steel water tank designed to keep water constantly hot — allowing you to brew a pot of coffee in just 4 minutes.
I certainly won't speak ill of the Speed Brew Classic, Select, or Elite — but the Platinum is a huge step up. It's the only one in the line that features a thermal carafe. Keeping a regular coffee pot hot requires a heating element that inevitably burns some of the coffee, leaving a bitter flavor in the entire pot. With a thermal carafe, you get hot, fresh-tasting coffee for hours after the brew cycle finishes.
The Speed Brew Platinum uses a wide spray head to coat all of the coffee grounds, ensuring an equal extraction. It's a huge improvement over the ones used by typical drip coffee makers, which tend to focus the water into the center of the grounds, over-extracting some grounds and under-extracting others. Usually, you don't find these wider spray heads without upgrading to an automatic pour-over coffee maker.
Bunn BT Speed Brew
Please refer to user guide or user manual or user guide (provided below in PDF) before first use
Reservoir-style home brewer makes upto 10 cups of coffee in just 3 minutes
Stainless-steel water tank; 800-watt heater and internal thermostat
Sprayhead design improves coffee-flavor extraction; Hot water available for tea
Stainless-steel vacuum-insulated carafe; Close-and-brew lid; Vacation switch
Does not include warmer plate
Product Built to North American Electrical Standards
If the Speed Brew Platinum is fast, the BT Speed Brew is a whirlwind. It brews coffee in just 3 minutes, a full minute faster than the Platinum.
It also shares many of the other positive traits of the Platinum. The double-wall, stainless-steel thermal carafe is still there to keep your coffee hot, as is the pre-heated water tank and the wide spray head. 
Bunn BX Velocity Brew
BUNN BREWS DIFFERENTLY - The BUNN Speed Brew uses an internal commercial grade stainless steel hot water tank that keeps 70oz of water always hot so you can quickly brew at the flip of a lid.
CLASSIC SPEED BREW look with a stainless-steel faceplate and tank wrap design.
DESIGNED AND ASSEMBLED in the USA.
EXCLUSIVE DRIP-FREE CARAFE delivers the cleanest pour on the market with a proprietary lid and spout design that arcs the coffee into the cup and wicks the rest back into the carafe.
SWITCH ACTIVATED warmer plate keeps your coffee at optimal serving temperature.
FASTEST 10-CUP HOME COFFEE MAKER* - Our technology allows our coffee maker to brew a full carafe of coffee in 4 minutes, half the time of typical coffee makers. *Based on internal testing of BUNN Speed Brew coffee makers to other similar coffee makers.
CAFÉ TASTE AT HOME - Commercial style multi-stream sprayhead evenly showers hot water over the coffee grounds to maximize the flavor of your coffee similar to your favorite café.
BREW A TRAVEL MUG OR A CARAFE - Brews 20oz to fill a travel mug in 2 minutes, or a full 50oz carafe in 4 minutes.
WE ARE HERE TO HELP - Customer Service Team Located in Springfield, IL, USA to take your calls and emails.
BUILT TO LAST - 3-Year Warranty on all Speed Brew models.
Brews 4 to 10 cups (20 to 50 oz) in about 3 minutes
Glass carafe and porcelain-coated warming plate with lighted on/off switch
Unique sprayhead ensures even, complete coffee flavor extraction
Stainless steel internal hot water tank keeps water heated to optimal brewing temperature of 200 degrees F
Product Built to North American Electrical Standards
The BX foregoes the thermal carafe in favor of a glass carafe with a specially designed spill-resistant pouring spout. If you are as klutzy as I am with your pours, this spout upgrade is kind of a big deal.
The BX shares the 3-minute brewing time of the BT, powered by the same pre-heated water tank. It also has the multi-stream spray head. 
Unlike some of Bunn's other machines, the BX is activated by a manual switch. Aside from the aesthetic and the ease of determining whether the machine is running, there is one other cool aspect to this: It means you can use a smart switch to turn the BX into a smart coffee maker.
Bunn GRB Velocity Brew
Note: 1)Too coarse a grind, too little coffee, or insufficiently tamping the grounds before brewing can all lead to inadequate pressure for a proper brew. 2)It is important to note that the amount of espresso extracted will vary depending on the grind size and amount and reprogramming may be needed when the size and amount are adjusted
Fastest 10-Cup Home Coffeemaker brews a full pot of coffee in about 3 minutes
An always hot internal hot water is ready to brew hot coffee on deman. Item dimensions is 14.8 high x 7.1 wide x 13.8 deep inch. Note-replace sprayhead and brew funnel. Pour additional carafes of fresh, cold water into the brewer as needed until water has no vinegar smell or tasted
Exclusive drip-free carafe with a proprietary lid and spout design that arcs the pour of the coffee into the cup and wicks the coffee dribbles back into the carafe preventing a mess on cup or counter
Multi-stream spray head showers hot water evenly over the coffee grounds
Large flat bottom filter and funnel allows greater interaction between hot water and coffee grounds for superior flavor extraction
Brews 4 to 10 cups (20 to 50 ounce). 3-year warranty
Backed by BUNN customer service in Springfield, Illinois
Based on internal testing of BUNN Speed Brew/ Velocity Brew coffeemakers to other similar coffeemakers
The GRB has a lot in common with the BX. It has the same 3-minute brewing time, the wide spray head, the drip-free carafe, and the manual switch.
So what's the difference between the GRB and the BX? It's almost entirely in the aesthetic design. Just pick the one with the look or price tag that suits you best.
Frequently Asked Questions
Is there a coffee grinder made in the USA?
Yes, there is! But you might have a hard time getting one. You won't find any electric coffee grinders made in America for the same reasons you don't see many US-made electric coffee makers. The best coffee grinders simply require too many pieces (usually electronics) that aren't typically manufactured here.
For many years, it was impossible to find even a manual coffee grinder made in the USA, but the Red Rooster Trading Company changed that back in 2014 when they moved the manufacturing of the mechanism for their Camino Coffee Mill to the US. Now, it's a 100% American-made coffee grinder, and it's a beautiful piece of craftsmanship, too.
Are there coffee pots made in the USA?
Sadly, no. Because of the materials involved, there don't seem to be any American-made coffee pots at this time. However, you can get a coffee pot that was assembled in the USA, which may have to be good enough.
If it fits your coffee maker, Cafe Brew's universal glass replacement carafe is a good option for a 12-cup carafe that is American-assembled. It's designed to fit most 12-cup coffee makers, but I'd certainly check the dimensions before you buy it.
Is there coffee grown in the USA?
There certainly is! In fact, Hawaiian grows some of the most sought-after coffees from anywhere in the world: Kona coffee beans.
Just as many companies try to mimic real made in the USA products with their "Manufactured in the USA" labels, there are plenty of Kona coffee impersonators — so be careful. Anything with the words "Kona blend" is only about 10 percent real Kona beans, usually with lots of low-quality filler.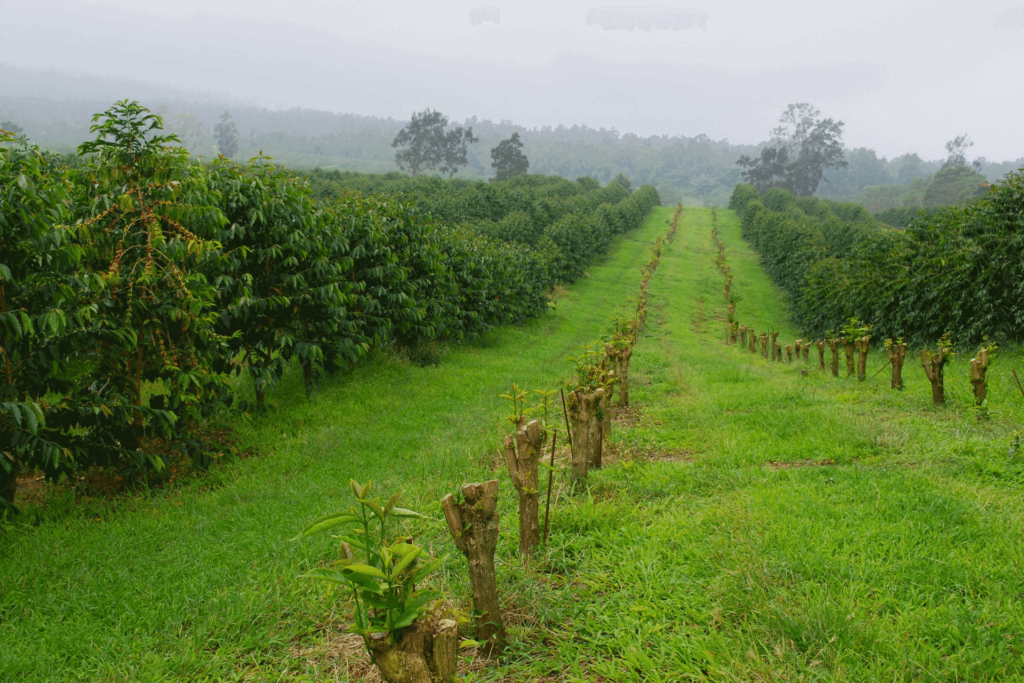 Final Verdict
It's hard to find coffee makers made in the USA. Many companies toss "USA" into their name or hint at a US origin as strongly as they can without outright (and thus illegally) saying it — anything they can do to muddy the waters. I had to dig through a lot of half-truths and some poorly researched made in America lists to find these options.
If you are looking for a great American coffee machine — whether it's made in the USA or just assembled here — I've tried to offer a range of options on this list. Any one of these durable, quality brewing systems would make a great addition to any coffee lover's kitchen.