There are only a handful of accessories that every aspiring home barista needs. A gooseneck kettle is near the top of that list, especially if you want to get into pour-over coffee or more involved AeroPress recipes. 
Why do you need a gooseneck kettle for coffee? I'll get into that in just a minute. And then I'll show you some of the best gooseneck kettles for coffee lovers, including electric models, stovetop models, and some options that are great on a budget or for bringing your coffee setup on the road. 
Quick Answer: Best Gooseneck Kettles
Do Coffee Drinkers Need a Water Kettle?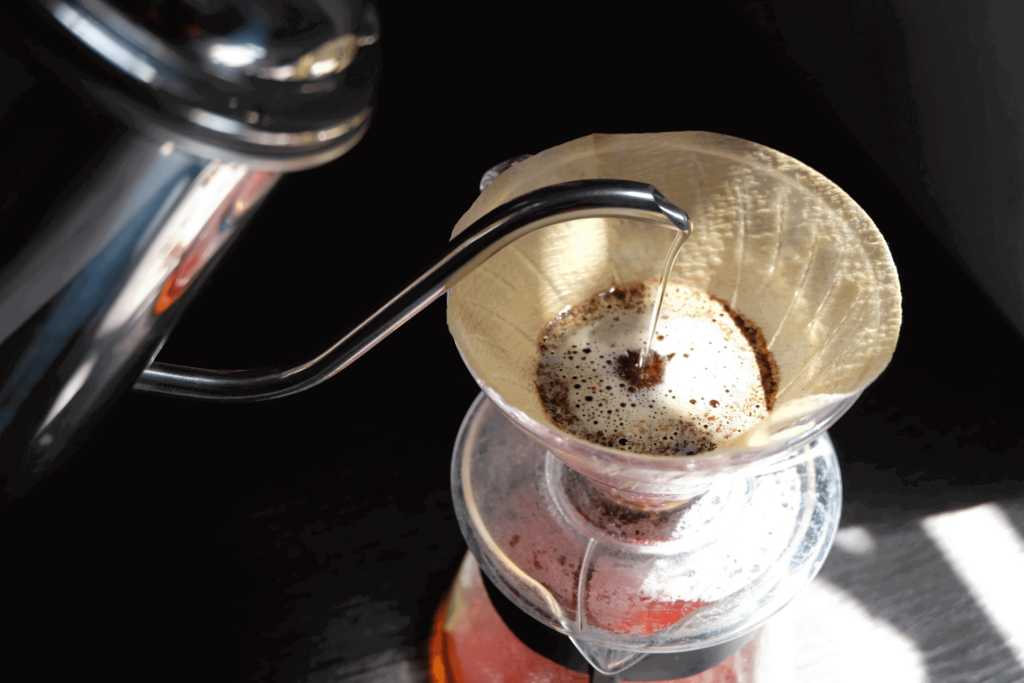 That depends on how you brew your coffee. If you have an auto-drip coffee maker, you don't need to worry about a kettle. Most manual brewing methods, though, will require that you heat the water separately. This includes:
French Press coffee makers
The AeroPress coffee maker
Pour-over coffee filters (V60, Chemex, etc.)
Vietnamese coffee makers (phin filters)
What's so Great About Gooseneck Kettles?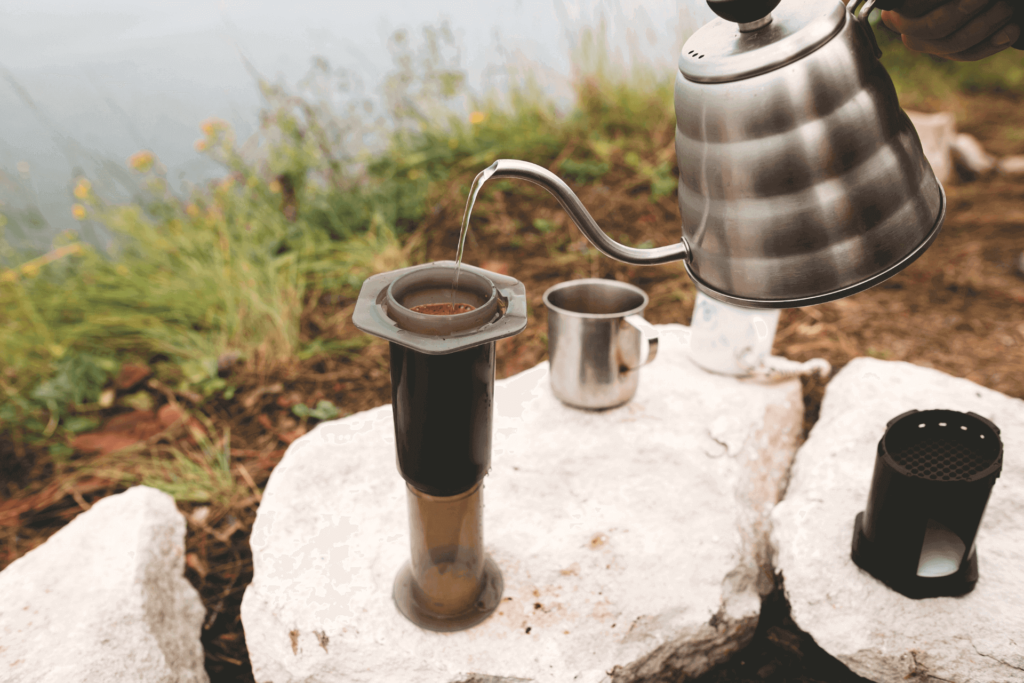 With a standard kettle spout, it's hard to control your pour rate. If your goal is to fill a cup with water, that's fine. Brewing a masterful cup of coffee, though, requires precision and control.
Great coffee is all about optimizing the extraction of the coffee grounds. You want to get just the right amount of flavorful acids, oils, and sugars while leaving behind the compounds that turn your coffee bitter. The balance between under-extraction (sour coffee) and over-extraction (bitter coffee) can be controlled by how you grind your coffee beans, the coffee-to-water ratio, extraction time (flow rate), and water temperature.  
Precise control over the temperature and flow rate during extraction is what sets pour-over coffee apart from less involved coffee brewing methods. It's less important for the AeroPress, although it significantly improves recipes like AeroPress espresso. French Press and Vietnamese coffee drinkers can get away with a standard kettle, but you should still get one with temperature control.
Choosing a Gooseneck Kettle
Upgrading to a gooseneck kettle is already a huge step forward. Most gooseneck kettles are pretty good, but why settle for pretty good? With just a little extra effort, you can get a kettle that will meet and exceed all of your wants and needs.
Stovetop vs electric
Your first decision is going to be whether you want an electric or stovetop gooseneck kettle. Stovetop kettles are cheaper and take up less space than electric. Because of their size, they can also be more convenient for travel (as long as you have a stove) and especially for camping. 
Electric gooseneck kettles are much more convenient to use. They often have extra features that you can't find on stovetop models, some of which I'll cover below. They aren't as easy to travel with, but they can be used anywhere that you have access to a plug.
Temperature control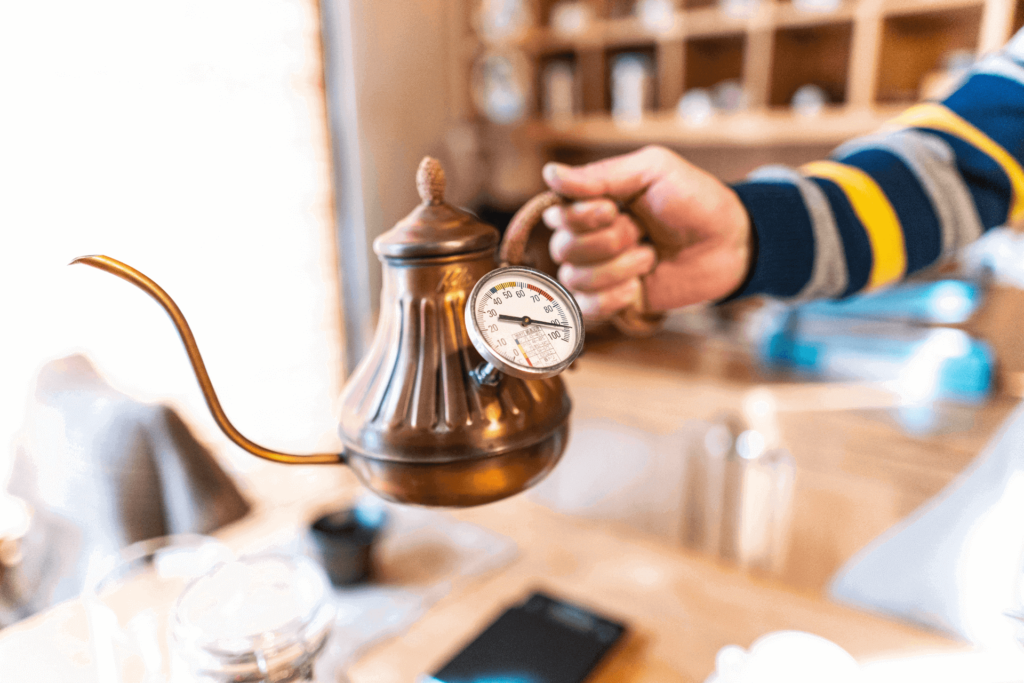 You shouldn't be using boiling water for most of your coffee brewing recipes, so temperature control is important. The ideal temperature for pour-over coffee is about 195–205 degrees Fahrenheit, and other brewing methods might even require slightly lower than that. You can achieve that temperature by heating to a boil and waiting 30 seconds, but that's not particularly precise or reproducible.
Many electric kettles offer temperature control down to the degree, which is the most precision you'll ever need. Stovetop kettles obviously don't allow for temperature control, but you can often find ones that have a built-in thermometer.
Pour rate
You can control the pour rate manually, but precise control is what makes gooseneck kettles so great. The narrower the spout, the more consistently you'll be able to pour. I wouldn't worry about a spout being too narrow, but be wary of gooseneck kettles with extra-wide spouts.
Material quality
When you buy a cheap gooseneck kettle from an unknown brand, you often get one made with inferior materials that won't last. Plastic parts are prone to break, and cheap metals will rust. A good kettle can last many years, making them a far better value than that $20 kettle you saw on a deal site.
Comfort
A beautiful kettle is nice to look at, but you need one that's functional. You'll often be pouring water for minutes at a time, so comfort matters. Pay particular attention to the shape and material of the handle. You need a comfortable grip that makes it easy to intermittently pour or to maintain a long, constant pour.
Capacity
Most kettles have a capacity of around one liter, but you can easily find a smaller or larger one. Big kettles are versatile, but they can be hard to work with if you only need a cup of water. You'll also often pay more for larger kettles, and they'll take up more space.
Ease of cleaning
You're going to need to clean your kettle for health reasons as well as to prevent contaminants and hard water from changing the flavor of your coffee. A wider opening will make that much easier, and a smaller opening will often require a brush.
Best Gooseneck Kettles 
Best gooseneck kettle: Oxo Brew adjustable temperature pour-over kettle
Capacity: 1.0 liters
Dimensions: 8.2 x 10.4 x 7.7 inches 
Temperature control: Yes
Timer: Yes
Oxo is a powerhouse in the mid-tier coffee market. You may already know that they make one of the best coffee grinders and one of the best coffee scales, but they also make an amazing gooseneck kettle. Their kettle offers a feature set and level of quality that you would only expect from much more expensive products. 
To start with, Oxo offers precision temperature control, allowing you to select between 140–212 degrees Fahrenheit in one-degree increments. That will cover all of your coffee-brewing needs, no matter how unusual the recipe. Don't tell the tea lovers I said this, but it will also offer the perfect hot water for all varieties of tea.
Oxo's kettle will keep your water at the desired temperature for 30 minutes, eliminating the need to rush your process and offering enough time for multiple brews. If you've ever walked away from your kettle for five minutes only to come back and have to wait for it to reach temperature again, you know how useful this feature is. You can shut off the keep-warm feature at the push of a button, in case saving energy is more important than maintaining water temperature.
The intuitive control knob on the Oxo is about as simple as any I've seen. Turning the knob adjusts the temperature, and you press the button to start the kettle heating. From there, the display will show the current temperature and provide an audible alert went the requested temperature has been reached. 
Oxo included a count-up timer in their kettle, giving you a convenient way to optimize the speed of your pour. That's a feature you'll frequently find in more expensive kettles but rarely in this price range.
The design of the Oxo is sleek and metallic. It does have plastic parts, but they don't come into contact with the water, eliminating concerns about them leeching. The elongated spout is counterbalanced by the ergonomic handle, and the entire kettle has a compact design that makes it incredibly easy to use. Both the handle and the lid are coated with silicone for a better grip and heat resistance.
Oxo's belief in longevity and durability is backed by their impressive two-year warranty. That's twice as long as that offered by most kettle manufacturers, and Oxo's superior customer service ensures that any problems will be handled quickly and professionally.
It really is the best electric gooseneck kettle that you'll find unless you are willing to step into the premium price tier.
Best pour-over kettle: Fellow Stagg EKG electric pour-over kettle
Capacity: 0.9 liters
Dimensions: 6.75 x 11.5 x 8 inches
Temperature control: Yes
Timer: Yes
The Fellow Stagg pour-over kettle has a beautifully sleek, modern look, but a premium pour-over kettle needs more than a pretty spout. Fortunately, the EKG also has all the features you could ever want in a gooseneck kettle, whether you only make pour-overs or are looking for something more versatile.
The built-in variable temperature control is a huge boon to any dedicated coffee lover. The programmable range, 135–212 degrees Fahrenheit, covers all coffee brewing recipes you'll find. The kettle can hold that temperature for up to an hour, which is especially great if you are making more than one drink at a time.
Both the goal temperature and current temperature show on the kettle's digital display. It also has a built-in stopwatch that you can use to time your pour-over or other manual brewing methods.
Stagg's narrow, pointed spout offers an incredible amount of precision for optimizing your pour rate. The handle is designed to provide a comfortable, sturdy grip and to act as a counterbalance for an easier pour.
The Stagg is available in a range of colors: copper, matte black (with or without maple or walnut accents), matte white, polished, and warm pink with maple accents. It comes with a one-year limited warranty covering parts and labor, backed by the company's excellent customer service.
(If you're going all-in on creating a connected kitchen and want a kettle that goes well with your smart coffee maker, Fellow also offers the Stagg EKG Plus, a Bluetooth-enabled upgrade that lets you control and monitor your kettle from your smartphone.  I wouldn't generally recommend the upgrade given its price, but I'd love to hear from people that are making good use of it.)
Best small electric kettle: Cosori electric gooseneck kettle
Capacity: 0.8 liters
Dimensions: 11.6 x 9 x 7.7 inches
Temperature control: Yes
Timer: No
Cosori's kettle is definitely built for the entry-level coffee lover. The price is more approachable than that of premium kettles. They even include buttons for four common temperature presets, intended to be ideal for most coffee brews and types of tea. 
The Bluetooth upgrade (which is the version shown here) is a must-have for this kettle, which is fine because the upgraded version is still very budget-friendly. The upgrade introduces a smartphone app with precision temperature controls from 104–212 degrees Fahrenheit, the widest range I've seen on one of these kettles.
There is a keep-warm function to maintain that temperature for between 5–60 minutes. You can also schedule water heating in advance, letting you wake to hot water ready for brewing coffee. The kettle has an alarm to let you know when the water is ready, although it's on the quieter side.
Cosori's kettle is made from premium food-grade stainless steel with no plastic or chemical linings. The coated handle is designed with comfort in mind and makes performing a consistent pour very easy.
Best budget electric kettle: Willow & Everett electric gooseneck kettle
Capacity: 1.0 liters
Dimensions: 11.77 x 8.9 x 7.24 inches
Temperature control: Yes, but only to presets
Timer: No
Willow & Everett have tried to walk the line between versatility, power, and affordability — and they walk it incredibly well. Their kettle can boil water in just 60 seconds, far faster than the average gooseneck kettle.
They do offer temperature controls, but they limit your options to five presets: 180, 195, 200, 205, and 212 degrees Fahrenheit. That should cover most use cases, but some users will get annoyed with the inability to adjust to their exacting preferences. The keep-warm function will hold your water at the specified temperature for up to 30 minutes at a time. 
Their kettle is made of food-grade stainless steel with no chemical lining. The ergonomic handle is made with BPA-free plastic for comfort and heat resistance.
Willow & Everett stands by their products, which is why they offer a 90-day satisfaction guarantee. If you don't like the kettle, they'll give you a 100% refund with no questions asked.
Best travel kettle: Jocuu gooseneck electric kettle
Capacity: 0.5 liters
Dimensions: 10.8 x 3.9 x 8.1 inches
Temperature control: No, just thermometer
Timer: No
Jocuu's kettle is the smallest, most compact option on this list. Its half-liter capacity may not be ideal for heavy home use, but it is perfect for travel. They've stripped away the typical bulkiness of the base by eliminating temperature controls and opting instead for a thermometer in the lid
The product is particularly durable due to its complete lack of plastic parts, another huge plus for a travel gooseneck kettle. They even offer a lifetime guarantee and parts replacement, just in case. That makes it a great choice for when you need a Chemex kettle that you can safely take on the road.
Jocuu tosses in a steel drip filter and a measuring spoon, making this an all-in-one product and a perfect gift for the on-the-go coffee lover that wants to dip their foot into the pour-over coffee lifestyle, especially if they already have a small coffee grinder to pair with it.
Best stovetop kettle: Coffee Gator True Brew gooseneck kettle
Capacity: 1.6 liters (Also 1.0 and 1.2 liter models available)
Dimensions: 12.2 x 7.2 x 6.4 inches 
Temperature control: No, just thermometer
Timer: No
Coffee Gator's kettles have always been impressive, but the 2019 models took everything to a new extreme. They've introduced an extra-large 1.6-liter capacity that is great for heavy coffee drinkers or those serving guests. Of course, you could always opt for the more standard 1.0- or 1.2-liter models if you prefer.
The new model has a removable silicone jacket which makes it a lot easier to pour without accidentally burning your finger. With smaller kettles, that may not be a big deal, but you'll quickly grow to appreciate it with a kettle this large. It just shows that Coffee Gator really thought everything through when designing this kettle.
The built-in temperature gauge is designed to be very easy to read at a glance. The Celcius and Fahrenheit regions are separated and color-coded instead of cramming the numbers together like you see on most thermometers. They even shade the optimal temperature region to ensure that you can readily tell when your water is ready. The gauge swivels to make it possible to read it from any angle. 
Coffee Gator's kettle is built for use with any heating surface. It can be used with induction, gas, ceramic, radiant, or electric heating surfaces. It's even designed for safe use while camping.
Capacity: 1.0 liters (Also available in 1.7 liter)
Dimensions: 10.83 x 7.48 x 7.28 inches 
Temperature control: Yes
Timer: Yes
There's a lot to love about Bonavita's gooseneck kettle. It allows variable temperature control between 140–212 degrees Fahrenheit. There's a real-time temperature display to let you follow the progress of your water as it heats. From there, the temperature hold feature keeps your water warm for a full hour. 
The handle is comfortable and even has a finger notch to simply minor adjustments in your pour. That tiny feature makes it a lot easier to truly master the pour-over process.
But there are downsides to the Bonavita, which prevented it from earning my top recommendation. The biggest problem is that some users have noticed rust showing after extended use. Fortunately, this doesn't seem to be a particularly common issue.
Bean Envy gooseneck pour-over kettle
Capacity: 1.2 liters
Dimensions: 10.5 x 6 x 6.5 inches 
Temperature control: No, just thermometer
Timer: No
Bean Envy's stovetop kettle is ideal if you want an inexpensive, easy-to-use kettle with all the basic features and none of the frills. The temperature gauge that marks the ideal pour-over coffee range in green for easy reading. The curved spout allows for precision pouring, and the grooved handle is very easy to grip for a consistent pour.
My biggest issue with Bean Envy's kettle is its build quality. It's unfair of me to compare it to more expensive kettles, but I can't help myself. The handle often loosens after extended use, which makes the kettle harder to control. Some users have also reported occasional leaking from around the kettle's base. The price tag is great for beginners, but a more advanced user is going to want a kettle that has more longevity than this one.
Bodum Melior electric gooseneck kettle
Capacity: 0.8 liters
Dimensions: 11.3 x 6.9 x 11.3 inches
Temperature control: No
Timer: No
I love the look of the Bodum Melior, and the price is hard to beat for an electric gooseneck model. There's just not a lot else going on with it. They haven't included temperature controls or even a temperature gauge. 
The Bodum heats up very quickly, and the single switch couldn't be easier to use. The counterbalanced handle is gorgeous, and its non-slip grip is designed for an optimal pour and steady flow rate.
Hario Buono V60 drip kettle
Capacity: 1.2 liters (also in 1.0 liters)
Dimensions: 21 x 18 x 13 inches
Temperature control: No
Timer: No
If you love the design of other Hario products, the Hario kettle will fit right into your kitchen. Its lightweight design makes a perfect pairing for a V60 coffee maker  The handle offers a convenient, ergonomic grip for making your pour-over coffee. 
I'm disappointed that Hario didn't include a temperature gauge in their kettle. Aside from that, my only concern is that the thin metal loses heat quickly, which can be a problem if you let it sit for more than a minute or so.
Ovalware RJ3 kettle
Capacity: 1.0 liters
Dimensions: 10 x 4.9 x 6.5 inches 
Temperature control: No
Timer: No
Ovalware's RJ3 kettle is another budget stovetop kettle option that is ideally designed for those that don't care about the frills. There's no thermometer or temperature control, which is going to be an immediate dealbreaker for some users. The curved spout and angled easy-grip handle make pouring with a steady flow rate incredibly easy.
If you like the design and just want an inexpensive, intro model, Ovalware will certainly fit the bill.
Cuisinart digital gooseneck kettle
Capacity: 1.0 liters
Dimensions: 11.81 x 5.55 x 6.93 inches 
Temperature control: Yes
Timer: No
Cuisinart was clearly targeting the Fellow Stagg when they designed their kettle. The matte-black design is very similar to Fellow's, although they did give it a distinctly Cuisinart flair. It's an electric kettle with variable temperature control between 140–212 degrees Fahrenheit, a real-time temperature display, and a 30-minute keep-warm feature. 
Opux gooseneck kettle
Capacity: 1.2 liters
Dimensions: 11.1 x 6.22 x 5.79 inches 
Temperature control: No, just thermometer
Timer: No
Opux clearly got my notes about what you need in a cheap, stovetop gooseneck kettle. The easy-to-read temperature gauge highlights the ideal brewing temperature for pour-over coffee. The spout and handle are perfectly designed for a comfortable, consistent pouring experience. I'm also kind of digging the copper look, although they also offer it in steel and black if copper doesn't fit in your kitchen.
Final Verdict
A gooseneck kettle opens up so many possibilities for aspiring coffee connoisseurs and home baristas. Whether you are trying out new AeroPress recipes or beginning your pour-over journey, the ability to control the temperature, flow rate, and precision targeting of your water is a game-changer. 
Any gooseneck kettle will improve your pour, but a quality model with important features like temperature control and keep-warm will take you to a whole new level. A good kettle can last a lifetime, so spending an extra few bucks is totally worth it. But I also understand that not everyone is ready to jump in with an open wallet, so I've tried to offer some excellent budget kettles, too. Everyone has the right to enjoy amazing coffee.