Newcomers to the coffee game want to start by mastering the brewing process. Weighing and grinding coffee beans just don't feel that important. That's a mistake. It's a mistake I made, and it's probably one that you are making. 
You can buy the best automatic pour-over coffee maker or espresso machine, and they'll certainly be an improvement over a low-quality coffee maker. But let's talk easy wins here, and weighing your coffee properly is just about the easiest win that you are going to find. The best coffee scales don't have to be expensive, and they are worth their weight in gold.
Quick Take: Best Coffee Scales
Are Coffee Scales Worth It?
Coffee is a finicky drink. Your goal is to extract the perfect amount of oils, sugars, and acids while leaving behind the extra components that make coffee bitter. Too little extraction leads to a sour, salty, overly acidic coffee. With Too much extraction, your drink becomes bitter, hollow, and tasteless. 
The coffee-to-water ratio is one of the most powerful tools you have for controlling the amount of extraction. If you are using an automatic drip coffee maker (the most common type of coffee maker), that ratio and the coffee grind size are probably the only controls you have over the process.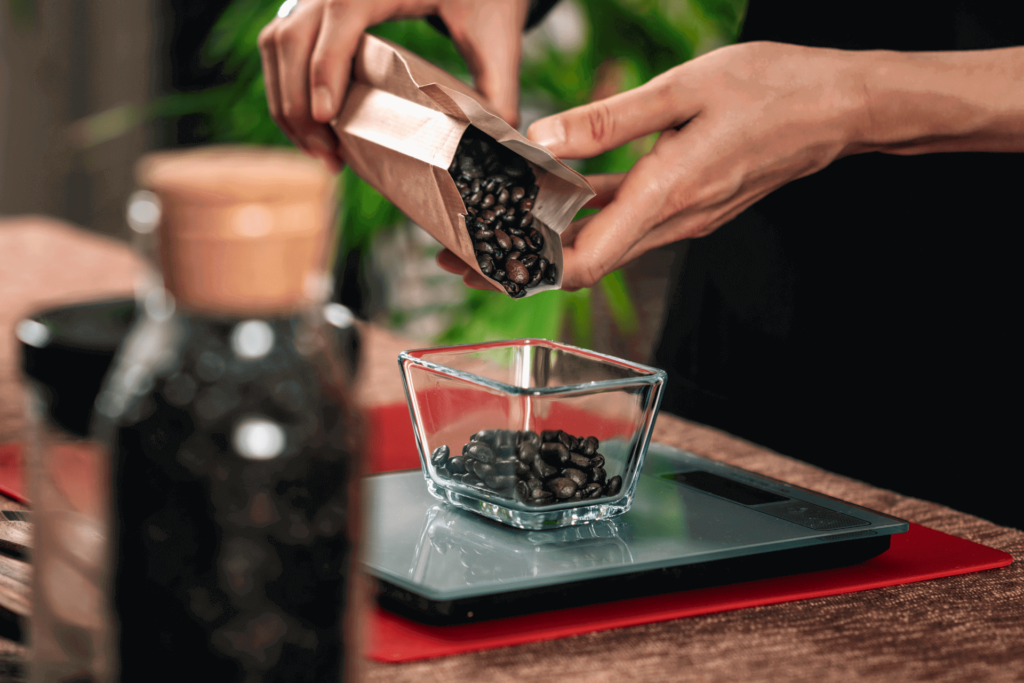 You probably already measure your coffee grinds with a tablespoon or a scoop. Volume measurement is easier, but it's nowhere near as precise. Grind size, roast level, and even the type of coffee bean can impact the density of the coffee grounds. You can't control for those factors, so volume measurements will always be prone to error. Weighing is the only way to reliably reproduce your favorite coffee recipe.
How to Choose a Coffee Scale
Precision
An accurate scale shows the correct number, but a precise scale shows it with more digits. For coffee, you should ideally have a scale that has increments at least as small as 0.1 grams. You can probably get by with a scale that has 1-gram increments if you are measuring larger portions. Some pour-over drinkers prefer a scale with increments of 0.01 grams, but I think that's overkill for 99.9% of coffee drinkers.
Battery life
If you are only making coffee at home, a scale that plugs into the wall might be fine. However, if you ever want to travel with your coffee equipment you need something battery-powered. Even at home, I like battery-powered scales instead of plug-in models. It's just easier to move and store my scale if there isn't a cord, and most kitchens have limited plugs.
Almost every digital scale has good battery life, but it's something to keep an eye out for in the coffee scale reviews. If you make a lot of coffee, a rechargeable model could also help you save money (and the environment) over time.
Responsiveness
When you are weighing coffee beans or grounds, you can take your time. However, if you plan to try manual coffee brewing methods, you'll likely be weighing water as you add it at a particular pour rate. In those circumstances, even the most accurate scale won't matter if it isn't updating quickly enough.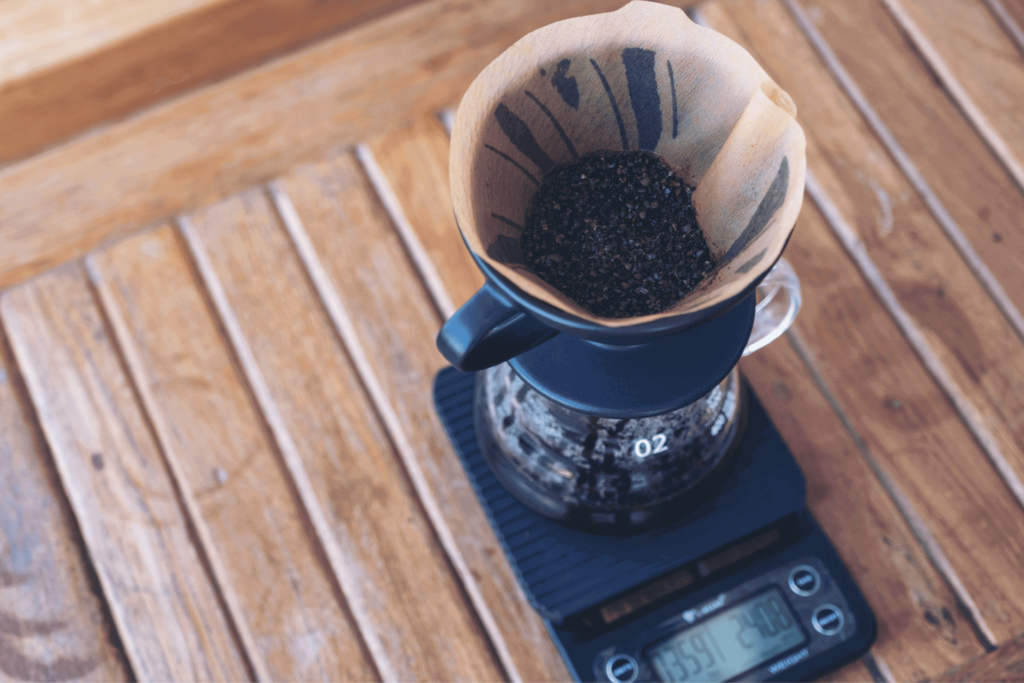 Quite a few coffee scales include a timer. No, the timer has nothing to do with weighing beans, but it does enable the device to serve two purposes. Many brewing methods (French press, pour-over, percolator, etc.) have specific requirements for brewing time. You can use a kitchen timer or your smartphone just fine, but a scale with a built-in timer can be convenient if you don't typically have a timer with second-length precision in your kitchen. A good timer can turn a standard coffee scale into a full-purpose brewing scale.
Other features
Responsiveness is often the biggest differentiating factor between a mid-range coffee scale and a premium coffee scale.
Size
You don't need a huge scale for coffee. Most of the time, you'll probably just be weighing a few tablespoons of coffee beans (or grounds). If you are going to try out recipes like AeroPress espresso that require you to have your coffee maker on the scale, you'll need a slightly larger one.
If you plan to use this scale with a small coffee grinder for traveling or camping, definitely pick up the smallest scale that fits your needs. Otherwise, just pick one that takes up a reasonable amount of counter space and holds the amount of coffee you typically grind.
Style
This scale is going to be a part of your coffee corner, so it doesn't hurt to find one that matches the decor. Some scales are available in multiple colors to help to some extent, but the styles can still vary quite a bit. Decide in advance how important this is to you and whether you want a scale that is modern, minimalist, artistic, or some other style.
Timer
You'll probably be using your digital coffee scale near a lot of hot water, so it's best if your scale is water-resistant. This is especially important for pour-overs, French press, AeroPress, and other methods that often have you weighing water or making coffee on top of the scale.
Make sure your scale has a tare (zero) button. Almost every scale does, but life becomes much more difficult if you buy a cheap scale that is lacking this key feature. No matter how good your mental math skills are, it's always easier to just start from zero.
An auto shut-off function is a huge energy saver. I'm a forgetful person, so my scale's auto-off timer saves me a lot of money on batteries. Some users don't like the risk of a scale turning off in the middle of a brew, which is the main reason for buying a scale without auto-off. I'll leave it to you to weigh (haha, pun) those factors, but I'm 100% on team auto-off.
Can you use a regular kitchen scale for coffee?
You certainly can! You can pick regular kitchen scales using these exact same criteria. If you already have a food scale that covers all your bases, there's no reason to buy a specific coffee scale. Sometimes, the best kitchen scale for coffee is the one that you already have.
Best Coffee Scales
Best coffee scale: Brewista Ratio pour-over coffee scale
The Ratio covers just about every coffee drinker's needs, with a range from 1 to 2000 grams and an accuracy of 0.1 grams. The scale has a water-resistant nano-coating, and the silicone pad offers both additional water resistance and temperature resistance, perfect for brewing methods that have your coffee maker sitting on top of the scale.
Brewista's scale has an auto-off function and a tare button. Its battery is rechargeable using the included micro-USB cord. The device weighs 0.88 pounds and measures 8.3 x 6.5 x 1.8 inches.
The coolest part of the Ratio is its coffee-specific features. You can specify a coffee-to-water ratio, and the scale will automatically. calculate the water needed based on your measured coffee grounds. The only downside of this feature is its limited range, which extends from a ratio of 1:14 to 1:20. That's fine for most drip or pour-over coffee, but it won't work for cold-brew and strong French press coffee.
There is a standard manual timer on the scale and an option to start the timer automatically when you begin pouring water.
All of that is great for any coffee lover, but I haven't gotten to what makes the Ratio the best pour-over coffee scale: The pour-rate meter.
The pour-rate meter is my single favorite feature on the Ratio. When making a pour-over or any other method that requires manually pouring water into your grounds, it's really hard to keep the pour rate steady. The Ratio displays two bars while you are pouring, one with the target pour rate and one with your actual pour rate. By comparing the two, you can determine whether you need to speed up or slow down your pour. It's a simple tool, but it's a huge boon for newcomers in the pour-over world.
Best high-end coffee scale: Acaia Pearl scale
I would never recommend an Acaia coffee scale to a pour-over or espresso novice. They're just overkill. Coffee pros, though, will love the Pearl's 20-millisecond ultra-fast response time, offering effectively instant feedback to any changes in weight. That's the responsiveness you'd expect in a true barista scale.
The Pearl is also one of the most durable coffee scales on the market. It's highly rugged, and the auto-zero tracking provides highly stable readings in situations that most scales just can't handle. The scale's readings have a 0.1-gram increment.
Acaia's scale has every bell and whistle you would expect from one of the best pour-over scales. I'm not just talking about auto-taring and an auto-timer, although it has those, too. The scale has Bluetooth, allowing it to connect to a smartphone. Acaia's app lets you determine brewing recipes, track the timer, and monitor your flow rate in real-time.
If you're looking for a companion to your smart coffee maker, you can't go wrong with a smart coffee scale — and they don't get much smarter than the Pearl.
Best budget coffee scale: Apexstone coffee scale with timer
You shouldn't have to break the bank to start making great coffee. You can pick up a coffee maker under $100 and an affordable coffee scale for a fraction of that price.
Apexstone offers everything you need to begin your coffee journey. It measures in 0.1-gram increments, with a minimum weight of 1 gram and a max of 3000 grams. I always recommend measuring your coffee in grams, but this scale also has four other units — ounces, pounds, milliliters, and grams per milliliter — which make a more versatile replacement for a general kitchen scale.
It runs on two included AAA batteries and has tare and auto-off functions as well as a built-in timer. The silicone mat is heat and water-resistant, and the scale comes with a hard plastic cover to protect it when not in use. Apexstone's coffee scale weighs 0.8 pounds and measures 9 x 6 x 2 inches.
Best espresso scale: Felicita Arc scale
Everything about the Arc is built with espresso in mind. The shape of the scale is not great for pour-over coffee makers, but it is ideal for holding a portafilter or side-by-side espresso mugs. Because of its shape and size, it also fits comfortably on any espresso machine's drip tray. While the Brewista Ratio may be the best scale for pour-over coffee, it can't compete with the Arc for espresso.
Between the auto-timer and auto-tare function, the entire thing is made for seamless operation. After all, your coffee scale shouldn't make brewing more complicated — it should make the process easier. The auto-off function is even customizable.
Just like Acaia, Felicita has a smartphone app for their scales that connects via Bluetooth. The app lets you track pour speeds and build brewing recipes. 
The Arc is very durable, with a rugged aluminum body that is water-resistant. And all of that is built into a sleek, minimalist design. It has a capacity of 2000 grams and measures in 0.1-gram increments. 
Felicita's rechargeable batteries are some of the longest-lasting in the industry, with the ability to go a full 20 hours of continuous use between charges.
Hario V60 drip coffee scale
Yes, it's the same Hario that brought you the V60 pour-over filter. The Hario drip scale is sleek, simple, and reliable. It doesn't have some of the fancier features of its competitors, but it has everything you need to get the job done.
The precision of the Hario V60 scale changes depending on the weight. From 2 to 200 grams, it increments by 0.1 grams. Above that, the increment increase to 0.2 grams between 200–500 grams and rises to 1.0 grams from 500–2000 grams. That weight range includes whatever tarred container you are using, so an espresso portafilter or a heavy manual brewer will probably put you in the 1.0 gram-increment range. That's fine for most purposes, but it makes some ultra-precise recipes difficult. 
There is a tare button and a timer with a manual start. Its streamlined display shows both the timer weight simultaneously, which is a must-have for on-scale brewing methods. The Hario scale can resist a bit of water, but it's not waterproof. The scale is not rechargeable and is instead powered by two AAA batteries. There's an auto power off after five minutes, and a running timer deactivates that feature.
The Hario coffee scale weighs just 0.58 pounds and measures 7.48 x 4.72 x 1.14 inches, making it incredibly portable. It's available in three colors: white, black, and stainless steel.
Brewista Smart Scale II
Why does Brewista need two scales? Well, they are built for two very different purposes. While the Ratio focuses on being a scale for Chemex and other pour-over and manual brewing methods, the Smart Scale II is all about espresso. It is built to fit under the group heads of most espresso machines and measures with an accuracy of 0.1 grams and a capacity of 2000 grams.
The machine's silicone mat offers both water and heat protection, and the nano-coating is built to be water-resistant. It comes with a clear case for protection while traveling, and that case doubles as a tray for weighing coffee beans.
Smart Scale II's six weighing modes offer a variety of ways to weigh and time your brewing. Most people will find one or two that fit their needs and ignore the rest, but power users might appreciate the range of espresso scale timer and weighing options.
Mode 1 (manual)  — Manual taring and timer.
Mode 2 (espresso) — Scale tares automatically, timer starts immediately.
Mode 3 (espresso) — Scale tares automatically, timer triggered manually.
Mode 4 (espresso) — Scale tares automatically, no timer.
Mode 5 (espresso) — Scale tares automatically, timer starts when scale senses weight.
Mode 6 (pour-over) — Manual taring, timer starts automatically.
The Smart Scale II is USB-rechargeable and has an auto-off feature to save energy. It weighs in at just 0.45 pounds and measures 8 x 6.5 x 2 inches.
Timemore digital coffee scale with timer
There's something to be said for an ultra-simplistic display. Timemore's scale is both incredibly easy to read and highly intuitive. They've done that by removing all of the bells and whistles and using a high-contrast LED screen. 
The style of this scale is sure to be divisive. I personally love the fact that, when turned off, it basically appears as a solid black brick on your countertop. You can thank the disappearing LED screen, which is only visible when turned on. The scale is also available in white if you prefer. 
At 0.84 pounds and 5.98 x 5.11 x 1.02 inches, it's fairly small but not the most lightweight option on this list. Timemore's scale has a scratch-resistant coating, and the rechargeable battery lasts an impressive 10 hours under continuous use.
Timemore's scale is accurate to 0.1 grams, with a minimum weight of 0.5 grams and a max weight of 2000 grams.
There is a tare function and a built-in timer. The auto-off triggers when the weight is unchanged for 3 minutes (or 15 minutes if the timer is running).
HuiSmart coffee scale with timer
HuiSmart's scale is a simple, budget pick that is clearly designed to work both as a coffee scale and a general kitchen scale. It measures in 0.1-gram increments and also works with four other common kitchen units (oz, lb, g/ml, ml).
It has a tare function, a timer, and an auto-off timer that activates after four minutes. The entire thing runs on two AAA batteries, weighs 0.66 pounds, and measures 7.87 x 5.12x 1.18 inches.
The scale comes with a protective silicone mat that is heat-resistant and water-resistant. It also has a lipped plastic tray that is perfect for holding ground coffee or beans during measurement. 
Ozeri Touch digital kitchen scale
The Ozeri touch is good enough for basic coffee weighing needs. It can measure anywhere between 1 gram and 5750 grams, a much wider range than most coffee scales. Along with grams, it can also display pounds, kilograms, and ounces. 
It has a taring function and an auto-off that activates after two minutes of inactivity. That's a bit too short for my taste, and there is no way to change it. Between that and the lack of a timer, I wouldn't recommend this for those looking to max out their coffee abilities.
However, it's perfectly fine for basic use, especially if you mostly just need a kitchen scale that happens to work for coffee. The sleek design and choice of five colors (black, lime green, engine red, teal blue, and white) make it an easy addition to the decor of most kitchens.
Oxo Good Grips coffee scale
If the name Oxo looks familiar, it's because they make some of the best coffee grinders on the consumer market.
Their scale measures in 0.1-gram intervals, and it can measure from a minimum of 0.5 grams up to a maximum of 3000 grams. That is an incredibly wide range for coffee, and it really opens up the potential to use this as a general coffee scale. It can also weigh in ounces or pounds.
This scale has a timer, tare function, and an optional auto-off function. Having an auto-off that you can disable really is the best of all worlds. 
Oxo's scale requires four AAA batteries and weighs 1.28 pounds. It's still pretty compact compared to many kitchen scales, but it's not travel-sized. If you want a scale that you can take for camping or digital nomad living, I recommend checking out other options in this list.
Coffee Gator scale with timer
The Coffee Gator scale is not the prettiest thing in existence, but it delivers a lot of power for its affordable price tag. It measures in 0.1-gram increments up to 3000 grams. There are also options for four other common kitchen units.
All of the standard functions are there, including a timer and tare function. The scale includes a heat-resistant rubber mat and a loading tray that makes this a great coffee bean scale. It runs on two included AAA batteries, weighs 1.08 pounds, and measures 7.48 x 5 x 1.18 inches.
Acaia Pearl Model S scale
The Pearl Model S is similar to the Pearl in almost every way. The higher price tag comes largely from the Model S's max capacity, which is a whopping 3000 grams! If you like everything about the Pearl but worry about your heavier coffee maker, the Model S offers an excellent alternative.
The Model S's dot-matrix display also has more functionality, including the ability to display recipes or a flow-rate indicator. The flow-rate practice mode is great for honing your barista skills, and the portafilter mode improves the Model S's ability to handle espresso brewing.
The only real downsides of the Model S compared to the standard Pearl are the higher price tag and slightly heavier weight. The latter is caused by the larger battery which powers the new features without reducing the battery life.
Final Verdict
Regardless of your budget, there is a scale for coffee that you can afford. You'll get more out of the premium models, especially if you intend to make pour-over coffee or espresso. But even a $10 scale will be better than using a coffee scoop. 
Can you get away with not weighing your coffee? Yea, absolutely. You could go your whole life without weighing a single bean. You could even buy a coffee maker with a built-in grinder that takes care of measuring the grounds for you. But a scale is one of the easiest, cheapest, and most reliable ways to level up your coffee.
One more time, here are my picks for the best coffee scales.