This post may contain affiliate links. Please read my disclosure for more info.
---
It's hard to beat Nespresso for convenient, delicious espresso and coffee. But with so many Nespresso machines to choose from, how do you find your perfect pod coffee maker?
This guide will help you choose between the Nespresso Vertuo vs Original machines. We'll look at the features of the machines, how easy they are to use, and the difference in coffee quality, price, and variety between the VertuoLine and OriginalLine.
Quick Comparison: Nespresso VertuoLine vs OriginalLine
VertuoLine

OriginalLine

Pros

Brews both espresso and drip coffee.
More cup sizes.
Optimizes brew for each capsule.

Cheaper capsules.
More machines to choose from.
Some machines make lattes, cappuccinos.

Cons

No 3rd-party capsules.
Lattes require a separate milk frother.

No drip coffee.
Few cup sizes.

  See on Amazon
  See on Amazon
Nespresso Vertuo vs Original: Machine Options and Prices
I'll cover the basic differences between the Nespresso VertuoLine and OriginalLine machines here. But If you want a deep dive into the features and use cases for all Nespresso models, check out my full Nespresso machine comparison.
Nespresso VertuoLine machines
There are only a handful of machines in this line, and they are very similar to each other. There's also only about a $50 price difference between the cheapest and most expensive Vertuo machines.
Because there are only a handful of models, it's not too hard to find the best Nespresso Vertuo machine for your kitchen. For most coffee drinkers, the decision comes down to the VertuoPlus Deluxe vs Vertuo Next.
The VertuoPlus Deluxe is a great option for most users. Its large, adjustable water tank is a real time and space saver. Meanwhile, the Vertuo Next boasts a smaller size and Wi-Fi/Bluetooth connectivity.
Nespresso OriginalLine machines
There's a lot more variety in Nespresso OriginalLine machines.
At the low-end, you have simple machines like the Essenza Mini and Inissia, which are compact, have limited features, and are available for $150–200. These machines can't make specialty drinks and offer few if any customization options.
In the mid-tier, at $300–400, you have machines like the Nespresso Expert that offer a few customizations (like water temperature controls), can make ristretto and Americanos, and have a few smart machine features like scheduled start times and drink recipes.
Finally, there are the high-end machines in the Lattissima and Creatista lines, which can cost $500–800. These models have milk tanks and sometimes built-in milk frothers, can make specialty coffee drinks (macchiatos, lattes, etc.), and have extra customization options (like froth control).
Which Is Easier to Use: Nespresso Vertuo or Original?
Nespresso Vertuo machines are designed to be incredibly easy to use. The first time I used a Vertuo machine, the sheer simplicity astounded me.
There are no knobs to turn and no settings to adjust. You just put in a pod, press start, and wait for your coffee to finish.
That simplicity does come with a downside, though. You can't tweak the coffee to your liking. Each pod makes one size of coffee with one intensity. The flavor comes through exactly the same every single time. The only control you have is your choice of a pod.
The low-end OriginalLine machines are almost as simple to use as the Nespresso VertuoLine machines. Instead of a single start button, you just press the button for the size of drink you want.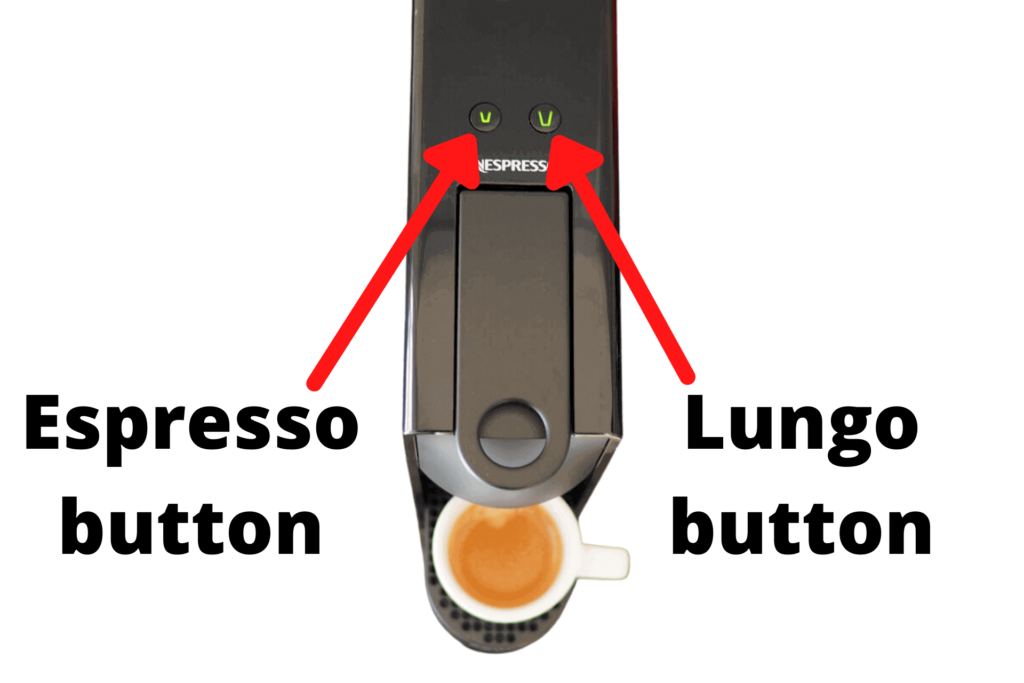 The higher-end Original Machines offer a lot more customization options. They can still make espresso in a single touch, but they also have options for making lattes, cappuccinos, macchiatos, and other types of espresso drinks.
With the high-end models, there's a big difference between Breville vs DeLonghi Nespresso machines, the two manufacturers that produce Nespresso coffee makers.
DeLonghi's high-end machines (like the Gran Lattissima) are much easier to use, with quick select buttons for all of their drinks.
Breville's high-end machines (like the Creatista Plus) are the most customizable Nespresso machines, but they have a slightly steeper learning curve.
OriginalLine vs VertuoLine: Coffee Quality
Convenience is great, but only if your coffee actually tastes good. Fortunately, both lines of Nespresso machines produce some of the best pod coffee you can get.
There are some differences, though, largely due to the unusual way that Vertuo machines brew coffee. In short: OriginalLine machines make better-tasting espresso while Vertuo machines produce more crema (the layer of foam on top of espresso).
Nespresso Vertuo machines use a centrifusion process that rapidly spins the pods while the coffee is brewing. This produces a very rich crema. The centrifusion produces enough pressure to make espresso, but the flavor of espresso isn't quite as good as from the Nespresso Original machines.
OriginalLine machines use a more traditional espresso brewing method. A skilled barista with a good espresso machine can definitely make better espresso, but these espresso machines can outdo most beginners with budget espresso machines.
Nespresso Pod Differences Between Vertuo and Original
The VertuoLine machines use a proprietary barcode-scanning technology, which is what allows them to automatically adjust the brew settings for each pod.
The barcodes prevent VertuoLine machines from using third-party pods. On the other hand, you can find OriginalLine pods from big coffee brands Lavazza and Illy alongside the Nespresso-branded capsules.
Nespresso pods aren't interchangeable between the two lines due to their shapes. Vertuo pods can only be used in VertuoLine machines, and Original pods can only be used in OriginalLine machines.
Nespresso pod sizes
VertuoLine pods are available in six sizes, each of which corresponds to a single cup size:
Espresso — 1.35 ounces
Double Espresso — 2.7 ounces
Gran Lungo — 5 ounces
Mug — 7.8 ounces
Alto — 14 ounces
Carafe — 18 ounces
Every VertuoLine model can take the five smallest capsule sizes, but only the Vertuo Next can use the carafe size.
OriginalLine machines have three cup sizes:
Ristretto — 0.85 ounces
Espresso — 1.35 ounces
Lungo — 3.7 ounces
Most lower-end Nespresso machines can only make ristretto and espresso, but higher-end machines can make all three sizes.
Because the Original machines don't read pod sizes, you can use any pod for any cup size, but each pod has 1–2 recommended cup sizes.
Nespresso pod cost
Vertuo pods cost about $0.70–1.10 each. Since there are no third-party pods, the only way to bring that cost down is with a reusable Nespresso pod.
Nespresso-brand Original pods cost $0.70–1.00 each. Nespresso-compatible capsules can run as low as $0.30, but the range will vary a lot. Pod-specific brands like Gourmesso are typically the best options for balancing quality and cost.
Nespresso pod variety
There are several dozens of companies making third-party that make OriginalLine pods. That's a huge advantage when it comes to variety. Whether you prefer flavored coffees, Colombian coffee beans, or third-wave coffees, you'll easily find Nespresso Original pods to match your taste.
With Vertuo pods, though, the varieties are more limited. Since these pods are all Nespresso-branded, the quality is always high, but you'll only have 35 varieties to choose from.
Still, even those few varieties give you some room to find your favorite flavor and intensity. You can even vary the strength of your coffee as the Nespresso caffeine content varies quite a bit from the decaf and half-caf up to the ultra-caffeinated Fortado Gran Lungo with twice the caffeine of a regular cup of coffee.
Frequently Asked Questions
Can you use Original Nespresso pods in a Vertuo machine?
No, Nespresso pods are not interchangeable between the two lines of machines. OriginalLine pods won't work in VertuoLine machines, and VertuoLine pods won't work in OriginalLine machines.
Should You Buy a Nespresso Vertuo or Original Machine?
If you're coming from regular drip coffee, you should go with a Nespresso Vertuo machine. They are also more convenient, which is the main reason people switch to pod coffee in the first place.
Espresso lovers, though, should consider the Nespresso Original machines. While both lines can make espresso, the OriginalLine is built specifically for espresso, and the high-end machines can even make your favorite lattes and other coffee shop drinks.
If you're still not sure about Nespresso, check out my article on whether Nespresso is worth it. If you just want convenient coffee and specialty drinks without the pods, the Ninja specialty coffee maker is another excellent option. And for you non-espresso drinkers, the new K-Supreme Plus Smart is the first Keurig model that gives Nespresso Vertuo machines a run for their money.